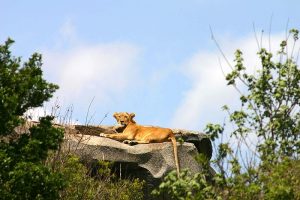 Match Wrap in Haiku
Lions stepping up
When the hammer doesn't fall
Mental toughness wins
Match Wrap
Penn State moved to 16-3 overall (8-0 in the B1G) as it swept Indiana (13-8, 2-6 Big Ten) on Saturday evening (25-16, 25-18, 25-18) in Bloomington.  The Nittany Lions were led offensively by 6-1 Jr. OH Ali Frantti, 6-1 Jr. OH Simone Lee , and 6-2 RS Fr. MH Tori Gorrell, each of whom had 7 kills, while 6-2 Jr. RS/Opp Heidi Thelen and 6-3 Jr. MH Haleigh Washington both recorded 6 kills, and 6-0 Jr. setter Abby Detering added 5 kills.  5-5 Fr. libero Kendall White led Penn State with 9 digs, with Frantti and Detering both chipping in with 6 digs.
Q&A with Talking Head
DigNittany: We're speaking today with Talking Head, who played D1 volleyball and has coached for many years.  Penn State went 2-0 this weekend, with sweeps over both Purdue and Indiana.  The Nittany Lions seemed to be fairly steady — with the exception of a couple of runs by their opponents in both matches — but were able to answer and come up with solid wins.  Your thoughts?
Talking Head:  It's not always how you win — especially on the road — it's that you get the win.  I think the team is balancing two things: they are striving for perfection, because that's the standard that the coaches set for them, but at the same time, they also realize that sometimes you've just got to be good enough.  And on the road, that's a good mantra to have, because you can get "heady" if things aren't working out perfectly for you, or you drop a game here or there.  When perfection isn't happening, you have to be able to put mistakes behind you, focus on doing your job, and just go out and get the points.  This team is just moving along, and in my view, getting tougher, and tougher and tougher — becoming really strong-minded as a unit.
DigNittany: Did you see that mental toughness in the Indiana match?
Talking Head: Both matches, but looking at the Indiana match, Simone Lee was just enough off that other people had to step up their games.  And they did.  Haleigh Washington continued to play really, really well.  Tori Gorrell had a strong match offensively and a very strong match on defense, and brought alot of energy.  I think the other players fed off of that.  And Ali Frantti was very good.  I think she had some really nice contacts.  And Heidi Thelen played well, and Abby Detering had a very solid match.  What that showed me is that Penn State's players have the mental toughness to hang in there even if the team's hammer isn't at her best.
DigNittany: How important was Penn State's serving game?
Talking Head: Really important.  I think Penn State's servers are consistently putting their opponents on their heels.  And it's pretty much across-the-board.  [5-2 RS Jr. DS] Laura Broerman came in and did a nice job.  [5-7 So. DS] Keeton Holcomb continues to bring a great, aggressive attack on her serve.  Haleigh Washington had a good service run.  [6-0 RS So. setter] Bryanna Weiskircher had a good service run.  5-8 Jr. DS Lainy Pierce had a good service run.  That type of aggressive serving, when the opposing team can't get into any kind of groove — especially on their home court — just makes everything else so much easier.
DigNittany: Abby Detering has been serving really well.  What do you think about her overall game so far?
Talking Head:  I'm really impressed with her.  She is quietly becoming a force.  Remember, she transferred in, and that can be difficult.  But Detering has embraced Penn State, and her teammates, and judging from what we're seeing on the court, it's mutual, and she's flourishing.
DigNittany: Changing gears here, last night Wisconsin had a close-call in a five-set win over Michigan, and Minnesota lost in five sets to Michigan State.  Granted, both were coming off of an emotional match against each other on Wednesday, and both those matches were road matches for them.  But Minnesota had looked unstoppable on Wednesday, and Wisconsin has looked very, very good.  Penn State probably is feeling pretty good right now, but are there lessons to be drawn from those two matches?
Talking Head:  I think Penn State has the mindset right now of "let's worry about what we can control.  It would be nice if we could win the Big Ten title, it would be nice to go undefeated in the Big Ten.  But let's just worry about Ohio State."  Our coaches do a great job of keeping the players aware that what happened to Minnesota last night, and what almost happened to Wisconsin, can happen to them, because if you're not prepared to play, and you're not prepared to take on a Big Ten opponent who is eager to beat you, and is going to throw everything at you that they can, you'll get nipped.  And that's not to put down Minnesota or Wisconsin.  It's just the reality of Big Ten play.  The chalkboard is completely erased every time two Big Ten teams step on the court.
DigNittany: We'll see what happens on Wednesday, when Penn State steps on the court in Rec Hall to take on the Buckeyes of Ohio State.  Thanks, as always, for your time.  Much appreciated.
Match Stats
Courtesy of GoPSUsports.com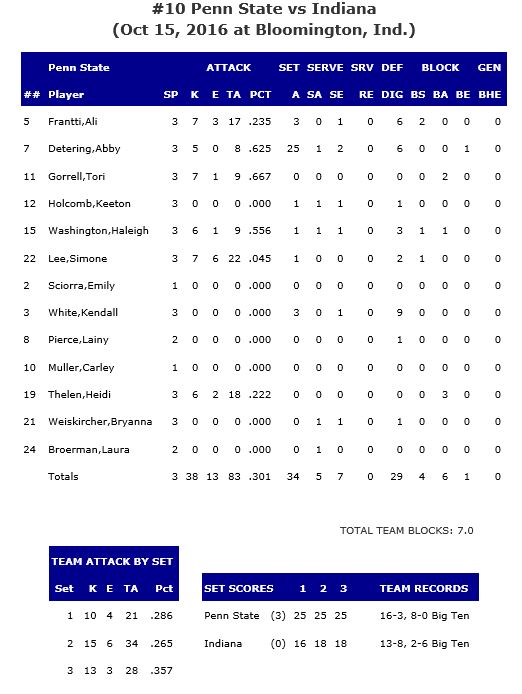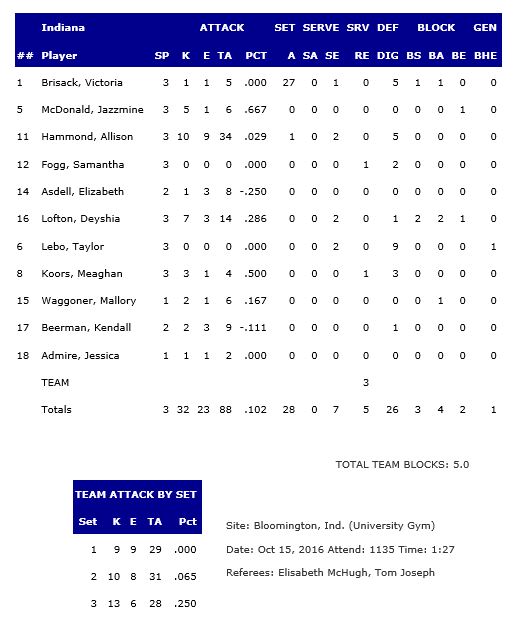 Credits