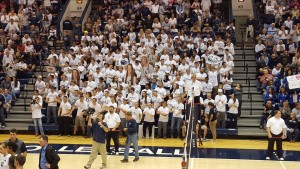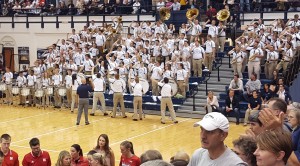 Coach Rose on the Ohio State Matches
I thought it was a good, intense match with a great conference opponent.   It's always tough playing Ohio State.  We started the week tied for second in the conference with them, so to go through the weekend and have a couple of victories, I think is great for the kids.

We didn't play great, but we did some things really well: we found one night we blocked really well, and both matches against Ohio State we hit well.  Aiyana [Whitney] was exceptional both nights and Haleigh was very strong offensively early in the match.
Match Recap
On "mischief night," #3 Penn State (21-2, 10-2) was all business, as it took down #11 Ohio State (19-5, 8-4) 3-1 (25-15, 25-16, 19-25, 25-14) at Rec Hall.

6-4 RS SR. MB Aiyana Whitney hit .550 (13 kills) and led the team with 4 blocks.  When asked about how it feels when the opponent is on a run (like Ohio State in the third set), Whitney said:
When they close the gap like that, sometimes people can tense up, and that's how errors happen,  so we just try and stay loose and control the ball and control what we're doing, and keep each other loose, so we can get a run.
Coach Rose said he thought Whitney was "an exceptional talent tonight."

Haleigh Washington also registered 13 kills (.445 attack %), with 4 digs and 2 blocks.  After the match, she commented on the importance of attitude in winning jousts:
Sometimes it's just the joust mentality — you've got to go up and you've got to score.  Sometimes you lose the joust — I lost one tonight, and that's really frustrating.  But other times you've got to go up and you've got to  be willing to score — you've just got to put the ball away.  It's just a mentality you've got to have — especially with aggressive plays  like the joust.
6-2 Sr. RS/OH Megan Courtney, back for her second match since her injury against Northwestern, and 6-1 So. OH Simone Lee both totaled nine kills, with Courtney adding 10 digs, and Lee contributing 3 blocks (2 solo).  Coach Rose discussed Courtney's play against Ohio State:
It's nice to see Megan [Courtney] back out there.  I thought she did a couple of things that made the team better.  I also thought she was a little rusty and doesn't have the pop she needs.


The backrow continued to improve, as 5-5 Fr. libero Keeton Holcomb tallied a match-high 12 digs and 5-5 Sr. DS  Kendall Pierce chipped in  with 8 digs.

6-0  Fr. setter Bryanna Weiskircher was solid, leading the team to a .364  attack % (42 assists),with 5 kills, 6 digs and 2 service aces.  Asked about Penn State's play in the later part of  the third set, Weiskircher said:
Things just got a little crazy.  We were doing a little more than we needed to, and just all around we were a little rough.  We got a little tense, and we figured we had the game in the bag, but obviously we didn't.  Coming out in the fourth set as strong as we did was definitely beneficial — getting things going again.
Coach Rose added:
When Ohio State controls the ball, Sandbothe is as good a hitter as you're going to see in the country.  I thought Ohio State was serving really tough.  We had four blocks in a row at one point, and then they called a time-out.  It was the first time all year we blocked four balls in a row and then we didn't block a ball the rest of the game.

It's a good win.  We have two more matches on the road next weekend.  It's a long conference season.  People say the Ohio State-Penn State trip is the toughest trip in the conference.  It's tough for both of us as well.  Ohio State was 6th in the country a couple weeks ago.  It's a special win when you can  beat a good team twice in the same week.
Although Penn State didn't get the sweep, they closed out the match with a dominating performance in the fourth — which started with a quirky rally that ended with a point for the Nittany Lions.   Washington described how plays like that can affect the course of a match:
I think there are huge things in a game, and we talk about all the time how there is one play in  a game that is a huge momentum shift.  I think that plays like that shift momentum and they change the mentality of  the game entirely, and I think that play really helped us get back on track.
Coach Rose added that Rec Hall is a great environment for the team:
It's great to play at home.  It's great to have a big crowd and the band.  Football weekends are always special.  Hopefully the players will  have the opportunity to enjoy the game tomorrow,  and we can sit back and watch other teams battle it out.
Taylor Sandbothe (10 kills, .474 attack %), Audra Appold (15 kills, .333 attack %), and Elizabeth Campbell (12 kills) were tops for the Buckeyes on offense.  Luisa Schirmer led Ohio  State with 11 digs — nearly half of which (five) came in the first set.
On Simone Lee's Serve, Young Players, Nia  Reed, Heidi Thelen, and Who Plays
In recent matches (though  not last night),  Simone Lee has been very effective with her serve.  Coach Rose talked about that, as well as the ups-and-downs of young players:
I think she has kind of a hybrid serve that she just hits hard.  She hit it really well on Wednesday, and didn't hit it really well  today.  But she's a young player, hasn't played alot in college, [but] played a really big role at her high school and club teams.

I think young players have a tendency to be more up-and-down than veteran players.  There's always the occasional young player that can avoid those peaks and valleys.
Asked about the progress of 6-2 Fr. OH  Nia Reed, Rose said:
I thought when [Reed] and  Heidi [Thelen] were sharing [the right side] spot when Megan was out that they both provided different things.  Actually, I thought that Heidi in warmups [last night] looked really good.  If Heidi can keep doing that, then we can put Aiyana out on a pin, and then I don't have to worry about some of the other people when they're getting a little crazy.

I don't really care who plays.  I  want to make the people happy.  I don't mind if the players are mad at me.
#1 USC Loses
Penn State appears poised to move up at in Monday's AVCA poll, as #1 USC was swept by Washington.  Stay tuned.
Match Stats
(Courtesy of GoPSUsports.com)