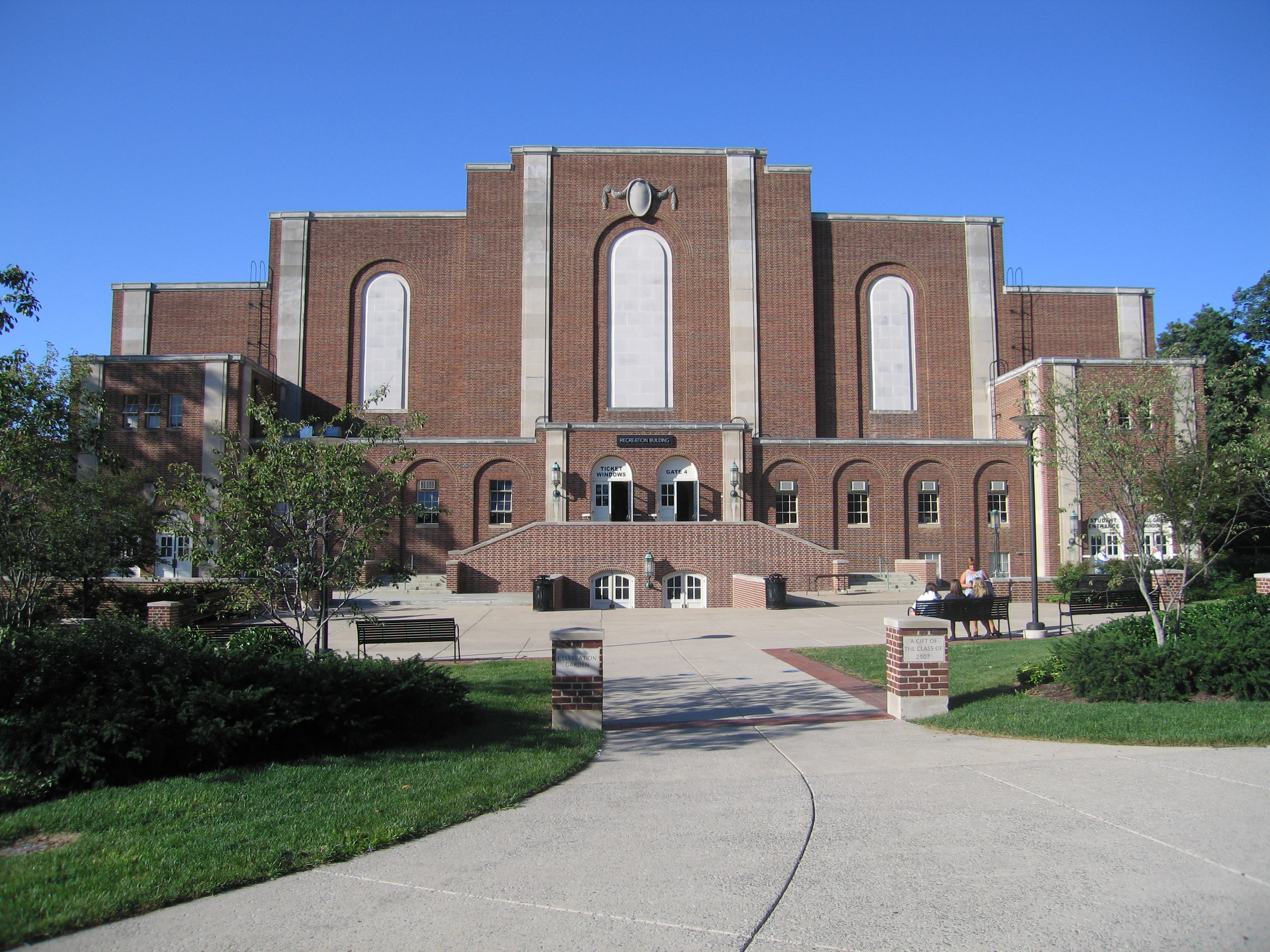 The Match: Illinois (21-4, 13-2 Big Ten) vs. Penn State (22-4, 12-3 Big Ten)
When & Where: November 13, 2010, 6:00 p.m. ET.; Rec Hall
Media Coverage: GameTracker; TV: Big Ten Network (Mike Wolf and Audrey Flaugh)
Match Snapshot
Coming into last Friday's match against #24 Northwestern in Evanston, Illinois had every reason to feel confident.  The Illini had shrugged off the loss of All-American OH Laura DeBruler — a great player and a great leader — to a season-ending injury (which came on the heels of  the season-ending injury to 6-3 Fr. MB  Anna Dorn, whom Illinois Head Coach Kevin Hambly had described in the preseason as "definitely our best athlete"), and the loss of 6-3 So. MB Erin Johnson to mono for six matches, and had put together an impressive seven-match winning streak. They were sitting in first place in the Big Ten with a 2 1/2 match lead over second place Penn State, and had already notched a victory over Northwestern when the two teams met in Champaign earlier this season.  That match, which Illinois won in five sets, had been all defense, all the time, with Illinois totaling 16 blocks and Northwestern 14.
Last Friday, none of that appeared to matter to the #24 ranked Wildcats,  who swept the then-#6 ranked  Illini (25-22, 25-23, 25-20), putting an end to Illinois' winning streak.  After its 3-1 victory last night over Ohio State, Illinois is still in first place in the Big Ten, with a 21-4 overall record (13-2 Big Ten), and is ranked #9 in the latest AVCA Poll, but its lead over Penn State has dropped to one match. 
So what happened?  
For one thing, the match was in Evanston, not Champaign, and home court advantage has been huge this season in the Big Ten.  For another, defense seemed to go out the window, as Northwestern  hit .375 for the match (.421 in the second set and .481 in the third set).  Meanwhile, Illinois' serve-pass game was sub-par. As llinois head coach Kevin Hambly put it:
They were really good and we weren't.  We lost the serve pass battle and when you do that you're not going to win. Then their middles got hot. We couldn't touch them.  This was not a defensive match at all.  It was all offense, the exact opposite of what it was at our place. We needed a pass to have great offense tonight and it didn't happen.
Against Northwestern, Illinois had only four blocks — none in the final two sets.  Not surprisingly, Northwestern's  middle hitters took advantage: Naomi Johnson hit .667 (14 kills, no errors) and Sabel Moffett hit .545 (12 kills, no errors). 
Meanwhile, Illinois had a good night offensively as well — just not as good as Northwestern.  6-2 Jr. OH Colleen Ward hit .342 (16 kills), 6-3 Jr. OH Michelle Bartsch hit .242 (12 kills), 6-3 So. MB Erin Johnson hit .308 (7 kills) and 6-1Sr. MB Johannah Bangert hit .364 (4 kills).  Coach Hambly noted:
Ward was really good tonight and our middles were really good tonight, but we didn't pass well enough to use them.
Last weekend, Penn State continued to play well on the road, with a sweep ( (25-17, 25-22, 25-21) of then-#15 Michigan on Friday, Nov. 5 and a 3-1 win (25-20, 22-25, 25-16, 25-19) over Michigan State on Saturday, Nov. 6.  The victories gave the Nittany Lions 20 wins for the 34th consecutive season.  Three Nittany Lions are attacking at .306 as a team, led by 6-5 Sr. Opp. Blair Brown (3.90 kps, .304 attack %), 6-1 Fr. OH Deja McClendon (3.37 kps, .310 attack %) and Sr. MH Arielle Wilson (2.71 kps, .421 attack % — good for 4th in the NCAA).  6-5 Fr. OH Ariel Scott (2.23 kps, .233 attack %) and 6-6 Fr. MH Katie Slay (1.14 kps, .405 attack %) also have stepped in with significant contributions in recent matches.  Slay  was named Big Ten Freshman of the Week and Big Ten Defensive Player of the Week for her efforts last weekend. 
Sophomore  Kristin Carpenter is averaging 10.84 assists per set (and 1.86 "Wow, Did She Really Jump That High? Hops per Set").  OK, we made that last category up.  But she really does get up there, and fast.  Penn State's 2.97 blocks per set ranks fourth in the NCAA,  with Arielle Wilson averaging 1.19 bps (49th in the NCAA, 6yh in the Big Ten), 6-3 Sr. MH Fatima Balza  averaging 1.16 bps, and  Katie Slay averaging 1.59 bps (which would tie her for second in the NCAA if she had played more matches — and had maintained that average).   Senior libero Alyssa D'Errico's 3.92 digs per set leads the team. 
Though many Penn State fans probably would like to forget the September 24th match in Champaign, the Penn State team certainly hasn't.  In that match, Illinois defeated Penn State in 5 sets at Huff Hall (25-17, 14-25, 19-25, 25-14, 15-17), snapping Penn State's 65-match Big Ten winning streak, which dated back to November. 8, 2006.  The victory left the all-time series between the two teams at 34-7 in Penn State's favor, and was Illinois' first win since 2003.   6-2 Jr. OH Colleen Ward had 16 kills to lead the Illini, followed by6-1 Sr. MB Johannah Bangert's 11 kills (no errors, 18 swings, .611 attack %).  Bangert also totaled 9 blocks (Illinois had 12 as a team).  In addition to those two players, Illinois will be looking to 5-10 Sr. All Big Ten S Hillary Haen, 6-3 Jr. OH Michelle Bartsch, 6-3 So. MB Erin Johnson, 5-9 Fr. L (and Big Ten Freshman of the Year candidate) Jennifer Bonilla, and 6-1 Fr. OH Jazmine Orozco.
For any of you who need a reminder, here's video from the September 24th match:
Oh, if that video doesn't give Penn State fans a moment of pause, here's Penn State Head Coach Russ Rose talking about his team and what can happen on any given night:
As we noted earlier, Big Ten women's volleyball teams have thrived at home this season.  But the Nittany Lions will need more than the home court advantage to beat Illinois.  The Illini are big, talented, and hungry to end Penn State's reign as Big Ten champions.  We'll have a DigNittany Q&A posted in a bit with further pre-match analysis. 
The Rosters
Here's Illinois' 2010 Roster
2010-11 Illinois Roster
No.

 
Name
 
Ht.

Position

 
Class

Hometown (Last School

)
18
 
Courtney Abrahamovich
 
5-8
DS
 
FR
Naperville, Ill. (Naperville Central)
13
 
Johannah Bangert
 
6-1
MB
 
SR
Washington, Mo. (Washington)
6
 
Michelle Bartsch
 
6-3
OH
 
JR
Maryville, Ill. (Collinsville)
3
 
Jennifer Bonilla
 
5-9
L/DS
 
FR
Reseda, Calif. (Marymount)
1
 
Laura DeBruler
 
5-10
OH
 
SR
Downers Grove, Ill. (Downers Grove North)
17
 
Hannah Deterding
 
5-8
S-DS
 
JR
White Heath, Ill. (Illinois Central/EIU)
5
 
Anna Dorn
 
6-3
MB
 
FR
Munster, Ind. (Munster)
2
 
Rachel Feldman
 
5-4
DS
 
JR
Normal, Ill. (Normal Community)
8
 
Hillary Haen
 
5-10
S
 
SR
Crystal Lake, Ill. (Prairie Ridge)
9
 
Jessica Jendryk
 
6-1
OH
 
RS FR
Wheaton, Ill. (Benet Academy)
12
 
Erin Johnson
 
6-3
MB
 
SO
Crystal Lake, Ill. (Crystal Lake South H.S.)
7
 
Nicole Kump
 
6-1
MB/OH
 
SR
Joliet, Ill. (Joliet Catholic)
11
 
Annie Luhrsen
 
5-10
S
 
RS SO
Wheaton, Ill. (Connecticut)
16
 
Tayler Onion
 
5-9
OH
 
SO
Industry, Ill. (Rushville-Industry)
15
 
Jazmine Orozco
 
6-1
OH
 
FR
Lakewood, Cailf. (Lakewood)
4
 
Colleen Ward
 
6-2
OH
 
JR
Naperville, Ill. (Florida)
10
 
Jackie Wolfe
 
5-9
S-DS
 
SO
Wheaton, Ill. (Wheaton-Warrenville South)
Here's Penn State's 2010 Roster:
2010 Team Roster