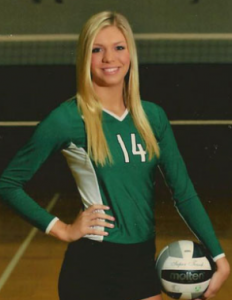 Here's an update on the confirmation on Instagram by Abby Detering, a 6-1 lefty setter, that she is transferring to Penn State (see her Instagram post).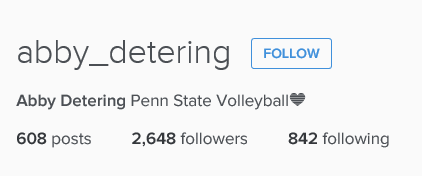 Here's an excerpt from Florida's press release when Abby signed with the Gators:
Detering is a 6-foot-1 setter . . . .  A lefty with an offensive mindset, Detering . . . runs a 5-1 offense at AVC and a 6-2 offense at Lake Catholic.  Detering was No. 52 on PrepVolleyball's Senior Aces and was honored by the site on their Top 50 Juniors and Soph 79 lists. Detering played for the USA Select A2 team in 2011, was named an All-American in both high school and club in 2011 and 2012, while picking up 2013 AAU All-American honors.
College Stats
Abby spent the previous two seasons at Florida, playing in seven matches as a freshman in 2014, and  29 matches (89 sets) as a sophomore in 2015.
| SEASON | SP | MP | K | K/S | E | TA | PCT | A | A/S | SA | SA/S | SE |
| --- | --- | --- | --- | --- | --- | --- | --- | --- | --- | --- | --- | --- |
| 2014 | 10 | 7 | 2 | 0.20 | 2 | 8 | .000 | 21 | 2.10 | 0 | 0.00 | 2 |
| 2015 | 89 | 29 | 10 | 0.11 | 1 | 15 | .600 | 58 | 0.65 | 25 | 0.28 | 33 |
| Total | 99 | 36 | 12 | 0.12 | 3 | 23 | .391 | 79 | 0.80 | 25 | 0.25 | 35 |
| SEASON | DIG | D/S | RE | BS | BA | TB | B/S | BE | BHE | PTS | PTS/S |
| --- | --- | --- | --- | --- | --- | --- | --- | --- | --- | --- | --- |
| 2014 | 4 | 0.40 | 0 | 0 | 0 | 0 | 0.00 | 0 | 0 | 2.0 | 0.20 |
| 2015 | 41 | 0.46 | 0 | 0 | 6 | 6 | 0.07 | 2 | 2 | 38.0 | 0.43 |
| Total | 45 | 0.45 | 0 | 0 | 6 | 6 | 0.06 | 2 | 2 | 40.0 | 0.40 |
High School Stats
Below are selected stats for Abby, courtesy of MaxPreps (for complete stats from MaxPreps, Click Here):