Below, thanks to Ethan K., is a transcript of Tuesday's media availability, with quotes from Head Coach Russ Rose, Grad. Student OH Taylor Leath, and RS Sr. setter Bryanna Weiskircher:
Coach Rose on freshman class' opening weekend: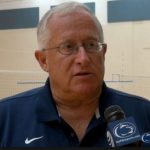 I thought all of them had some flashes of playing pretty well. I thought that, considering just the general nerves that come into play, that I wasn't surprised by some of the errors that were made. You start somewhere and you work from there. We're home again this weekend and then a week from now we're on the road playing against the No. 1 team in the country at Stanford. That will offer two totally different things.
Coach Rose on Temple:
Temple has a good roster of players that are international kids. Most of the teams that we've played over the years, when you have international players, their experience level is certainly much higher than normal freshmen that one might recruit in the U.S. They're comfortable playing the game. They're normally comfortable playing all six rotations.
Coach Rose on his 40 years at Penn State:
If somebody was going to say to me, 'We're going to do this for 40 years and we're going to get back to you, so you've got to write down some important things now,' I would say then and I'll say now, it's just not about me. It's about the players, it's about the administrators who have supported the program, it's about the coaches that have worked in our program and the other programs that I've been able to interact with over the 40 years that I've been here that have mentored me, educated me, and allowed me to shape how I wanted to run my program at Penn State. I'm pleased that I've been able to do it my way. I guess that's probably how I look at it.  The climate and culture's a lot different right now in college athletics than it was 40 years ago, for sure.
Coach Rose on some of his early mentors:
When I came here, I shared an office with coach Lorenzo, coach [Tom] Tait, and coach [Chuck] Medlar. I had a good relationship with coach Paterno. When I was young and single, I used to play golf every morning with all the former football coaches.
Coach Rose on Jonni Parker:

Jonni's played a lot of volleyball. She has a good awareness of the game and I think she's very competitive. She has a good sense of understanding where her skillset fits in. I don't think she goes out of that too much, even though we're placing her in a totally different position than what she previously played. She was a setter/hitter in her club and high school programs, and we're working with her on passing and hitting, which is not even emphasizing how good of a setter and leader she really is. But she'll be able to work on those things and still be able to contribute in those areas, for sure, in the future.
Coach Rose on Bryanna Weiskircher:
I think Bryanna has always had a great understanding of the game and a good skillset. I thought she played well last weekend. She could have easily been the MVP of the tournament for as well as we played and the importance she had on our team last week. She's always had a great serve. She's calm and she's a good leader. She knows what the expectations are for her. I think coaches probably have a lot more meetings with their setters than I have with Bryanna, because I'm confident that she has a good handle on the game.
Coach Rose on Taylor Leath:
When Taylor was young, I used to work with her and her sister. Her parents used to bring [them] and kind of drop them off at Rec Hall. We would teach them how to play when they were just entering high school. For sure we knew who she was. She wasn't really on our recruiting calendar right then because we had some other kids who had committed earlier.

When she graduated and reached out about coming here, we were very interested in that opportunity. It came at a great time for us. We needed somebody with the experience she has and how calm she is as a player. To me, she has such great maturity. That's really a good thing to have when you're saddled with a team with eight freshmen who are, at times, going all different directions. It's great to have somebody you don't have to worry about being high maintenance.
Bryanna Weiskircher on Gabby Blossom: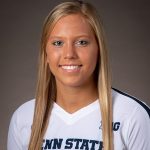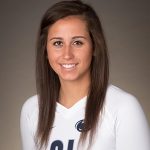 She has a lot of energy as a setter. Coach always says she has one speed and that's to go hard and go fast every day. She has great hands and she knows what she's doing, but it's obviously going to take some time.
Bryanna Weiskircher on what she's tried to pass down to the freshmen:
Just kind of the Penn State culture and tradition. You go hard every day. It doesn't matter what it is. Every opponent matters. Every play matters. Just listening to the things coach says and use that to make yourself a better athlete all around.
Bryanna Weiskircher on her favorite thing about Taylor Leath:
She gives really intense eyes. Whenever she gets a kill or something, she'll look you dead in the eye and her eyes get really wide. It's super cool cause I have that same kind of intensity where I'm not always jumping around screaming, but it's more of a 'Hell yeah, let's get this thing done' kind of thing.
Bryanna Weiskircher on playing for Russ Rose:
Obviously Russ is an absolute legend. He's created this Penn State volleyball tradition and culture from the ground up and I think it's incredible being able to play for him. One thing that drew me here was his dry sense of humor…It's awesome playing for him. He wants you to be the best player you can be and best person you can be. Because Penn State volleyball pushes you to the point where you don't think you can do it but you do, everything else in the world is a piece of cake from here.
Bryanna Weiskircher on Jonni Parker:
Jonni is a very calm person. She's smart and she wants to win. She's kind of like I am. Business is business and let's get it done. It's something that's important in her game because she doesn't get too high and she doesn't get too low when things start to go bad. Keeping calm throughout the whole thing is great.
Bryanna Weiskircher on the program's lofty expectations:
Obviously, Penn State volleyball, we always expect a lot. At the end of the year it's to win that national title. It doesn't matter whether we have eight freshmen. I came in with a group of eight freshmen and we had that same goal. Yes, there are going to be some rollercoaster rides. We're going to be up and we're going to be down, but that comes with youth. Obviously, the whole season is about progressing, and in the end that's what we want is to get better every day.
Bryanna Weiskircher on how her sister inspired her:
I grew up watching my older sister. She's 10 years older than I am. She was a setter and I was always like, 'I want to be like you' even though I was bigger than her and I was always hitting.
Taylor Leath on coming to Penn State:

It's such a surreal experience, honestly. I lived here for seven years of my life – from fourth grade through senior year of high school. It's been amazing to have the opportunity to have an experience somewhere else and then also be able to have this one here. I grew up with Penn State volleyball. I grew up watching players like Megan Hodge and Deja McClendon.
Taylor Leath on growing up in Rec Hall:
We were gym rats. Sometimes our dad would just leave us here and coach would be in his office and he would just see us down here and give us some knowledge. What makes those experiences so cool is that he can see my growth as a human being.
Taylor Leath on Bryanna Weiskircher and Gabby Blossom:
Bryanna is a vet. She's a fifth-year senior like me, Nia [Reed], and Bayleigh [Hoffman]. She has a mature sense of the way that she plays. She's really calm and collected and she makes smart decisions. Gabby, she's some of that new energy. She's young, she hasn't really been in the college gym before. She [offers] a little bit more of a fresh perspective.
Taylor Leath on what she learned at North Carolina:
Here, stepping into a leadership role, a lot of that comes from my experiences at UNC – in terms of understanding different leadership styles, understanding how different girls need different things from you, and understanding how you have to be consistent.
Taylor Leath on Nia Reed's playing style and personality:
I've known Nia forever. I think, as a player, she's a go-getter. She is so aggressive. It's amazing to see how we were when we were young and playing and how much better she's gotten now. As a person, she is one of the people who can always make you smile. You always need that energy. They'll call Bryanna mom and me grandma. Nia's like the cool aunt. She just has such a young essence to her spirit. You can't help but always remember why you love volleyball, why you're happy to play, and why you're happy to just live life when you're with her.