Fantastic Crowd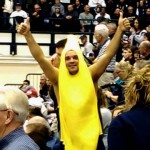 "I thought the crowd was fantastic. It was a great day for Penn State athletics, with the football team becoming bowl eligible and the field hockey team winning their NCAA game against Boston College and the effort we had tonight." Penn State Head Coach Russ Rose in an interview with Patrick Kowalski, Daily Collegian Staff Writer
The official attendance for Saturday night's match between Penn State (26-3, 14-2 in the B1G) and Minnesota (16-11, 6-10 in the B1G) was a Rec Hall season-high of 5,569.  The crowd (and always great Volleyball Pep Band) were enthusiastic and vocal, helping the Nittany Lions down the Gophers 25-20, 25-12, and 25-23 for their ninth consecutive sweep.  Banana Fan (pictured at right) was a one-person cheering section (though weak on the trivia contest held after the second set).
The Three-Headed Monster
"The three-headed monster of Haleigh, Nia and Aiyana was very good. It's good when the setter recognizes who's playing well and can get them the ball."  Penn State Head Coach Russ Rose in an interview with Patrick Kowalski, Daily Collegian Staff Writer
Directed by 5-11 setter Micha Hancock, Penn State hit .315 as a team (that's a pretty good team hitting %, generally speaking, but It's 40 points below the team's season average!)
The Nittany Lions were led by 6-4 RS Jr. Opp/RS Aiyana Whitney, who had a match-high 17 kills (.682 attack %), with 6-3 Fr. MH Haleigh Washington (9 kills, .353 attack %, 6 blocks) and 6-2 Sr/ MH Nia Grant (8 kills, .462 attack %) making up the other two heads of Coach Rose's three-headed monster.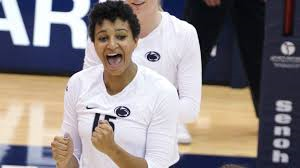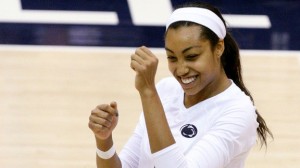 Steady 5-6 Sr. libero Dominique Gonzalez registered 14 digs, as the team held Minnesota to a .080 attack %.
For Minnesota, 6-1 Jr. OH Daly Santana had 8 kills,6-1 So. MH Paige Tapp chipped in 7 kills (.429 attack %, with 5 blocks), and5-11 Fr. OH Alyssa Goehner had 5 kills and 8 digs.
 Match Stats (Courtesy of GoPSUsports.com)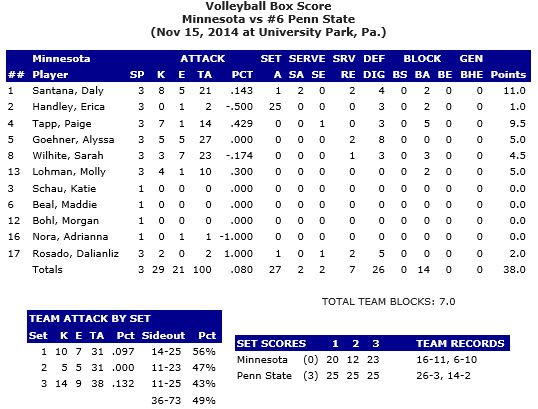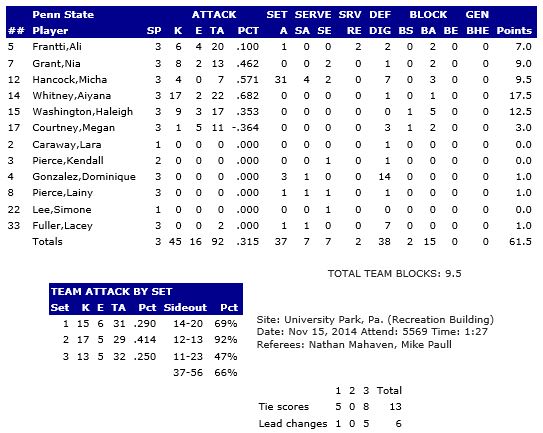 _______________________________
Photo Credits
A lioness in Ishasha Southern sector of Queen Elizabeth National Park (Southwestern Uganda. By

Cody Pope

. Permission is granted to copy, distribute and/or modify this document under the terms of the

GNU Free Documentation License

, Version 1.2 or any later version published by the

Free Software Foundation

; with no Invariant Sections, no Front-Cover Texts, and no Back-Cover Texts. A copy of the license is included in the section entitled

GNU Free Documentation License

.
Banana Fan.  By nyline.
Photos of Aiyana Whitney, Haleigh Washington and Nia Grant courtesy of GoPSUsports.com