Photo by DAVID ILIFF. License: CC-BY-SA 3.0
WPXI.com in Pittsburgh has posted a short article and video interview with former Penn Stater Christa Harmotto.  Here's an excerpt:
Christa Harmotto is used to winning in volleyball.  At Hopewell high school, she was the state player of the year. While at Penn State, she won two national championships.  Harmotto now plays professionally in Italy, but all of that seems to pale in comparison to being selected to the Olympic team.
For the complete article, including the video, Click Here.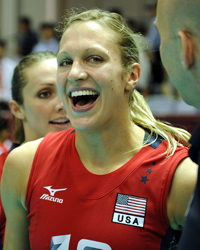 Christa Harmotto – Photo courtesy of GoPSUsports.com