Penn State women's volleyball held its 15th weekly media availability of the season prior to practice Tuesday afternoon at Rec Hall.
Head coach Russ Rose, redshirt senior outside hitter Tori Gorrell, and sophomore defensive specialist Jenna Hampton fielded questions ahead of this weekend's NCAA regionals in Stanford, California.
The No. 11 seed Nittany Lions will play Cincinnati Friday at 8 p.m. ET at Maples Pavilion for a chance to go to the Elite Eight. Gorrell combined for 21 kills in wins over Princeton and Towson this past weekend at Rec Hall, while Hampton totaled 16 digs and three assists.
Gorrell is having a fantastic final season after switching positions from middle blocker and is currently fourth on the team with 250 kills. Hampton, the likely successor to Kendall White at libero, is fourth among Nittany Lions with 176 digs this season.
Coach Rose on whether there's a sense of familiarity heading out to Palo Alto:
"We're familiar with the hotel and the facility. We've been out there a number of times. Certainly, we're familiar with the Stanford team because we schedule them every year, but we're playing Cincinnati. The location is one that we're familiar with because we were there [twice] last year and two years ago as well. We played there a couple years ago in the Big Ten/Pac-12 Challenge. It doesn't make the trip easier, but we're familiar with going out there."
Coach Rose on what he's learned over the years about long travel in the NCAA tournament:
"From my experience, it's just part of the entire experience. The top players and the top teams have the ability to handle the various challenges associated with whatever is placed in front of you. Travel, whether it's a short distance or a long distance, there are always challenges. You have problems with your flight, you have problems with losing your luggage. There's not cars, there's not hotels. All of those things happen. We just have to hope that the players have the ability to focus on the things that they can control and they're ready to play. Certainly, I always deal with it in that sort of light. I tell the players that they should be excited about the opportunity to still be playing and that they're responsible for getting themselves prepared to play, getting adequate rest, watch what they're doing, and be ready to go."
Coach Rose on takeaways from last weekend's wins over Princeton and Towson:
"When we lost the first set to Towson, I thought a couple of the kids were pressing a little bit, but I think they were pressing in the first set and Towson was playing really well. I don't think it was any different than the week before when we were down 2-0 to Wisconsin and Wisconsin was hitting .500. The quality of your opponent is always a factor when you're playing. If the other team is playing great, you have to acknowledge the fact that the other team is playing great. It doesn't make a difference if people perceive that to be a shocker. It's game time and you have to go out and play. If the other team is playing great and you're not playing well, then it may be a short night. If you're playing well and they're playing well, then you have to find a way to grind and have to find a way to kind of shrink the variables that are going to make a difference in winning and losing. I called a timeout at 24-21 not to think that all of a sudden we were going to come up with a five-point play, but to identify the fact that, 'Hey, we need to get focused and realize that we have more sets. The other team is passing really well and playing really well. We can't give somebody a six- or seven-point lead early in the set and think that all of a sudden we can turn it on.' Because it's really hard to pull that off."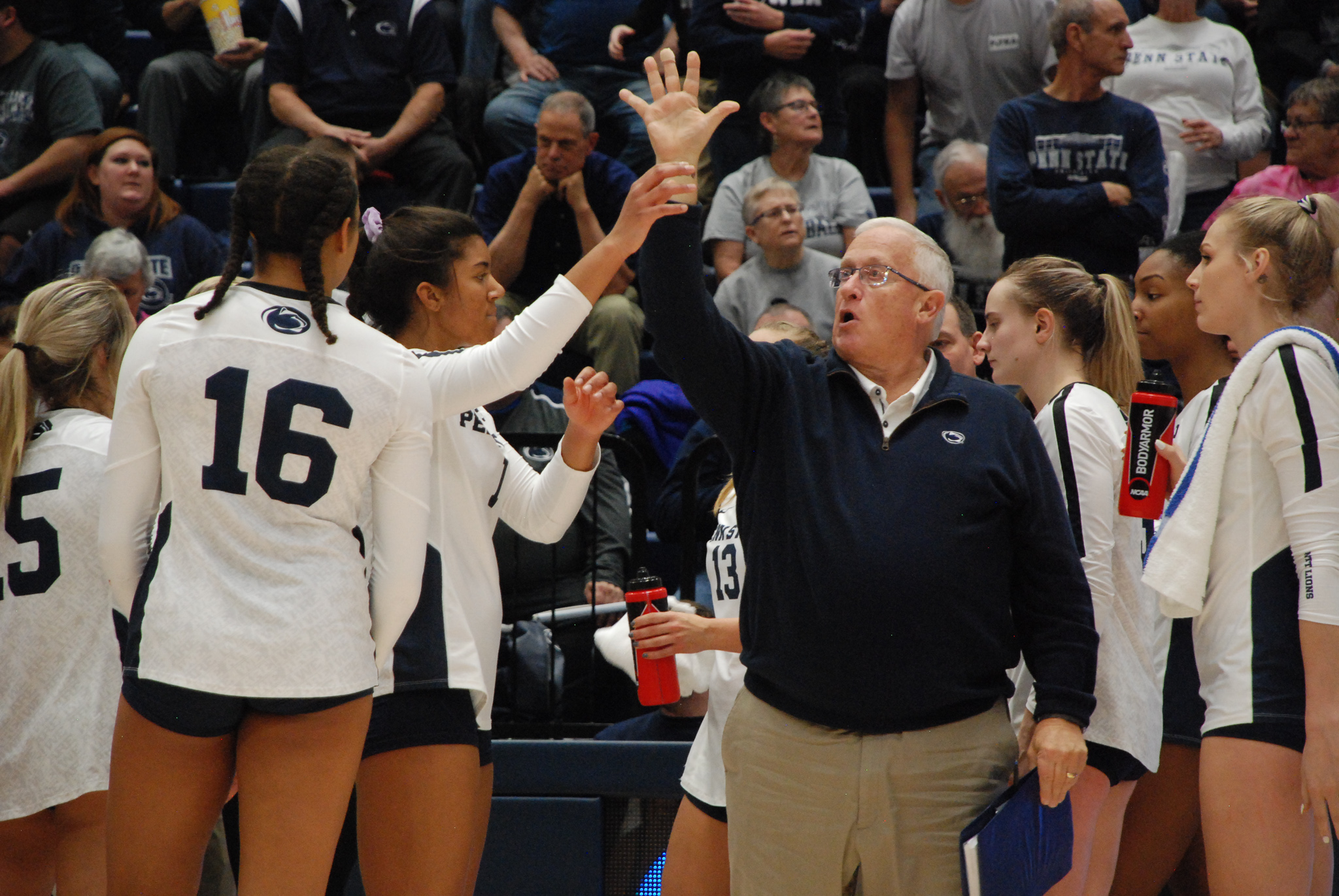 Coach Rose on what impresses him about Jordan Thompson and what kind of challenges she poses for his team: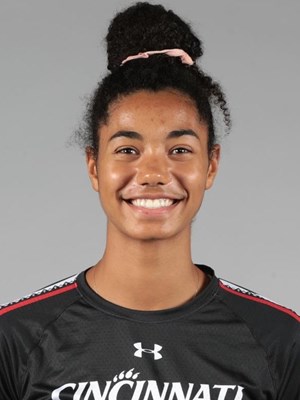 "I think what would impress everybody about Jordan Thompson is the development that she's made as a college player. The opportunity that she had playing with the U.S. national team last year certainly provided her with the confidence to take her game to another level. Certainly, we haven't played anyone like her this year. She's the only one in the country that went for 50 kills in one night. [Cincinnati's] there based on the fact that their team played well last week against a really fine opponent in Pittsburgh. She's a major contributor to her team's success, but it's a team sport and there are a lot of other individuals on that team who scored a lot of points as well. I wouldn't say we're going to ignore her contributions to the outcome, but we have to realize that we can't just say, 'Hey, let's just worry about this one player.' There are still five other people on the floor who are involved in the outcome. I just think that you have to do what you do well and recognize and respect that every team has players who do things really well. She plays right side for the national team and the national team is one of the top teams in the world. She's played against some of the top players in the world, and now she's playing college volleyball. Their team has the luxury of having a player who has that experience and nobody else does, but, hey, it's a team game and you go out there and play. That's the joy of college sports. There's no reason to think that you can't go out there and be successful. I think she's great."
Coach Rose on the energy and leadership that Kendall White has brought to the program the last four years: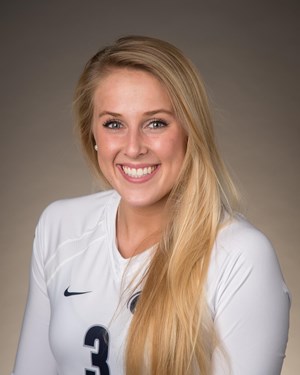 "She's a very unique individual and plays really hard. She has one speed. I'm sure she's looking forward to trying to dig Jordan [Thompson] and is trying to lead her team to victory — no different than other people on the other teams are trying to lead their team to victory. She's been really resilient, very physically tough, very mentally tough. I recruited her for some specific characteristics and she is as I expected her to be. A lot of it is energy, a lot of it is toughness, a lot of it is things that I think other coaches might not have been as open to dealing with as I was. I think I feel the same way. I think a lot of us are acquired tastes. I'm a big fan of what Kendall brings to the table. I'm willing to deal with that and have enjoyed the four years that we've been together. I would just say that, 'What you see is what you get.' She's very competitive, she's aggressive, and she's not shy."
Coach Rose on the contributions of this year's coaching staff:
"Every year, the staff always makes great contributions, and every year I have to change my role based on the strengths of the staff. Dennis [Hohenshelt] was with me before he left and went to coach at Virginia. [Upon his return], he was able to do some things that he was familiar with before. Katie [Schumacher-Cawley] was a former player and then was a head coach. She came in and does different things. Chris [Rose], outside of being my son, is a very passionate volleyball guy who I feel cares a great deal about the program and wants the players to get better and is certainly good at training and getting in the gym and hitting balls and doing things, which I think is very paramount to developing the talent. I think the staff always has a major part of it."
Coach Rose on what it was like playing Cincinnati in the first NCAA volleyball tournament back in 1981:
"I remember they had a couple of great players and I remember the coach. It was a long time ago. I remember the coach saying they were going to come up here and kick our butts, and I was like, 'Uh, who would say that?' He believed that was going to happen and, well, it didn't happen. X number of years later, I still don't think you should ever say that. When the NCAA decided to get into offering championships on the women's side, that was a significant event. It changed things around quite a bit and certainly they offered a whole lot of different things that weren't available in the AIAW. I thought the AIAW offered a lot of great things as well. I thought their rules were the clearest rules at that point in time. They were the clearest-written rules. When [the NCAA tournament] started, I was a member of the volleyball committee for the first four or five years, so I was also kind of in on the development of it and really enjoyed the education that I had working with Ruth Berkey, who was the person who was coordinating it from the NCAA office, and the people who I worked with from the various schools that were a member of that first committee. There were some athletic directors and some other coaches. I remember it very fondly about how it worked. If they were talking about your team, then you had to leave the room. We were in a different situation. We weren't really supported at a very high level at that point in time. We were in the Atlantic 10 conference, so we were not a major factor in the championship formula even though we had a good team. When we joined the Big Ten is when things really changed for Penn State volleyball. That's when we became fully funded. That's when things really changed. That's the direction when it changed for us."
Coach Rose on his reaction to Cincinnati beating Pitt in the round of 32:
"I mean, I felt for Pittsburgh, because I've been where they were that evening. There's a lot of pressure on a team when you're at home. There's a lot of pressure on a team when you're one of the top teams in the country. We lost one year when we were 44-0, so we lost when we were one of the top teams in the country and the championships were out east. I felt for [Dan Fisher] and those players, because I know how that feels, but I'm not rooting for any team. Cincinnati lost to Pitt earlier in the year and then they beat Pitt. We lost to Pitt and then we beat Pitt. It's just part of the competitive experience. It's, 'Who wins that day?' There were a number of other matches that were really close that could have gone either way."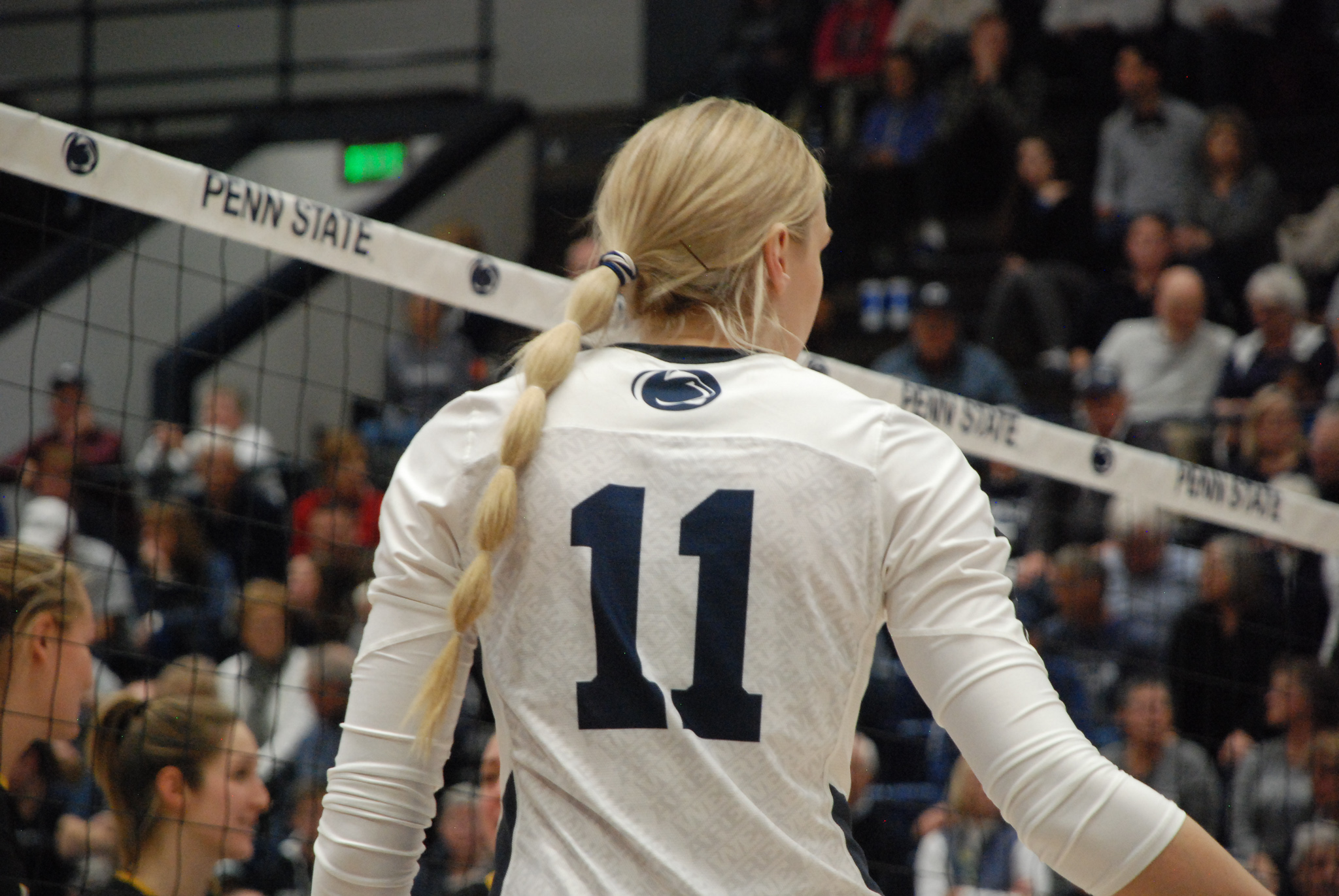 Tori Gorrell on being familiar with Palo Alto: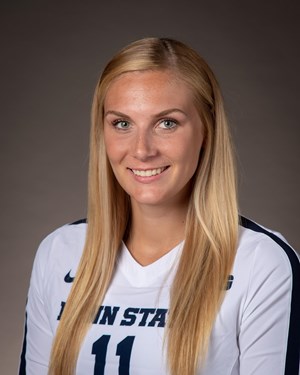 "I definitely think it helps. Stanford has a really cool venue. It's a great atmosphere. They've got great fans. Being out there, I know that our [Penn State] alumni association in California is one of the biggest in the country, so I think we'll still have a lot of fans there. I think it will be really helpful that we've played there before."
Tori Gorrell on how the team has approached the one-and-done mentality:
"I know that coach always prepares us for one-and-done-type scenarios. We have a lot of drills in practice that, you know, if it's the end of the drill and you lose, there are punishments. It's kind of the same if you lose in the tournament. You're out. The season ends. Your career ends. There are always a lot of great ways to prepare for that, but our mentality going into every game is that it could be your last game. There could be injuries or just you're not playing well enough and you never get to play again. We're always preparing for everything like it's the NCAA championship."
Tori Gorrell on Kendall White's mindset during her final weekend playing at Rec Hall:
"Kendall is always fiery. She's got great energy all the time. It doesn't matter if it was her first game her freshman year or her last game in Rec Hall. She's always brought the same energy. She's an amazing player and I'm going to miss playing beside her. Kendall's always been a really consistent rock and player for this program. Her breaking the career digs [record] is something amazing, because I know the last girl who had it, Kaleena Walters, now Davidson, she was a former coach here and we still get to see her, as she's married to our strength and conditioning coach Cam Davidson. So that was really cool to see her do that. She really deserves it. She's been such an amazing player throughout the years. Kendall brings such a great energy that you just want to feed off of. She'll be jumping up and down like throwing herself at you. She's so amazing and I just hope somebody wants to carry on a piece of the Kendall tradition of being fiery at all moments. Kendall is a player who people will know forever, because she has such a legacy here at Penn State, so I think it's really cool playing alongside her. She's somebody who just upholds this Penn State tradition."
Tori Gorrell on the fact that she also will never play in Rec Hall again:
"I don't think it's really kicked in yet, because there's still lots more volleyball to be played, but it was really cool. I got to talk to a lot of fans who had been watching me throughout my five years here. There's just a really great connection with Rec Hall. It's such a beautiful facility and run amazingly. There are so many great people who come out every year. It's sad but I'm also really happy that I got to experience such an amazing career here. Every girl who's ever come through this program knows that feeling and everybody who's going to come through this program is going to know it, but every girl at every school ever has gone through that. It's always strange moving on and there's new things that await everybody, but I'm just looking forward. I'm not really reflecting back on the past yet, because it's not over. I think maybe when it is over, I'll look back and be a little upset, but for now I'm definitely just looking forward to the next match."
Tori Gorrell on Jenna Hampton calling her the team's best hair braider:
"Our team has so many [pregame rituals]. I couldn't even go through all of them. Some people have individuals ones. Some people have group ones where I have to do multiple people's hair. I've always loved doing hair. The fact that I get to bond with Jenna, Kendall, and Jonni [Parker] before the game and just know what's going on in their heads and doing their hair is just such an important thing. There are a lot of important team-bonding things, and braiding their hair is just one of them. I love that."
Tori Gorrell on what she wants Penn State fans to remember about her as a player:
"I was actually told this a little while ago, 'That you can be a nice person and also be really fierce and scary on the court.' I hope people remember me like that. Hopefully I'm a little bit intimidating on the court, but also a really nice person to talk to after the games or when passing by me on the street or something."
Tori Gorrell on a few of the team's parents bringing their blue-and-white-striped overalls to Palo Alto:
"I heard that Kendall's mom is going to be bringing them, and my dad is like, 'Does that mean I have to bring them?' I think they are threatening to bring the overalls, yes."
Tori Gorrell on the team's pregame three-on-three matches and watching the defensive specialists take swings:
"Oh, I love it. It makes me laugh throughout the year. There's been so many girls throughout my time who have done it. Kendall, first of all, kills me when she does it, because she takes a full swing at every ball and I'm like, 'How are you even warm yet to be doing this?' She gets up there and then Emily [Sciorra] is on the right side when Keeton [Holcomb's] setting and I think they're just hilarious, because they're going all out like this is the game of their lives when they're playing three-on-three. They are so funny and I've just watched so many girls throughout the years do it, and they always have so much fun. I think it just brings a really positive energy to our team before we start the game to see them go all out in a nonchalant game."
Tori Gorrell on her reaction to seeing Cincinnati beat Pitt:
"I was out for dinner with my family and Kendall's family and Jonni's family. We were all shocked, but it was such a great [match]. Obviously everybody looks forward to kind of getting revenge on a team that they're 1-1 with, but for Cincinnati to beat Pitt, that's an amazing win for their program. They've got great players, so they deserved it. I went back and watched the game and it was a really crazy, intense match with some really good plays from some really good players. I've gotten to know some of the Pitt girls throughout the years, because we always practice with them in the spring and they even have a couple Canadian girls, [Layne Van Buskirk and Sadie Dick], so I'm heartbroken for them, but I know that they gave it their all during that match. Good for Cincinnati, unfortunate for Pitt, but Pitt was a really good team all year and they had an amazing season."
Tori Gorrell on whether she feels like the team has come together on the road:
"Things develop throughout the years and the players being together and traveling together and just spending almost every waking moment together, besides when you're in classes or sleeping, there's a lot of different ways for teams to grow and develop. Being on the road was one of them. People are going to have to grow at home and away, because you're never going to play every single match at home. Being on the road is definitely really important for this team to get better and confident."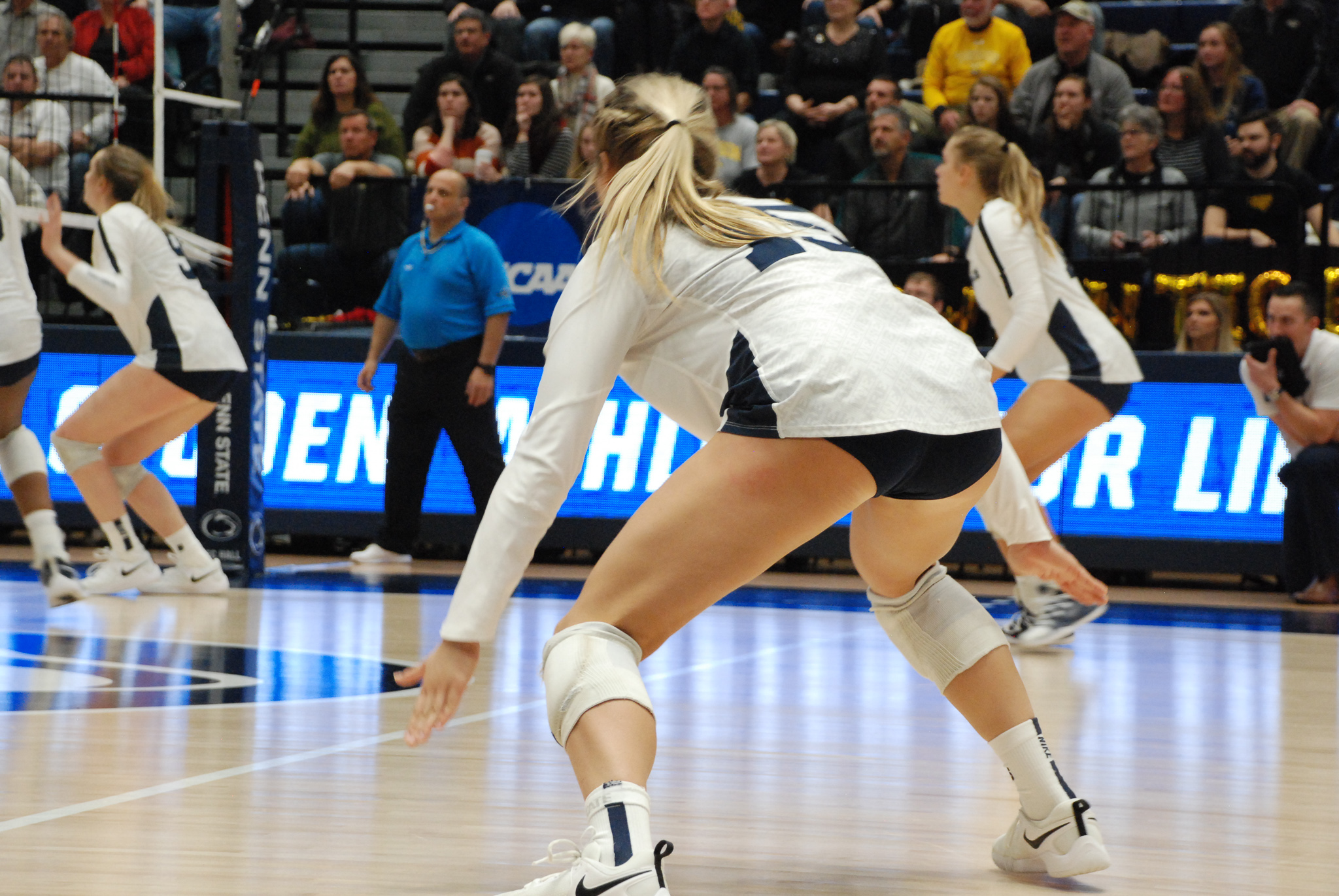 Jenna Hampton on how she would describe this time of the season: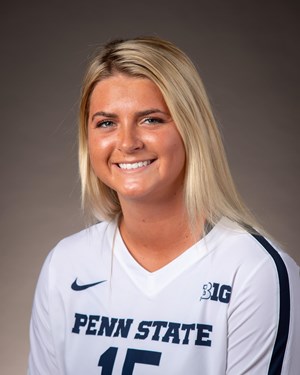 "It's definitely the most exciting part. It's what you've trained for all year. It's something that you look forward to. Especially playing in the Big Ten, it gives you an advantage because it's a great match every time. It's super competitive. It's definitely exciting and something we've been looking forward to and training really hard for."
Jenna Hampton on being prepared to travel across the country:
"For me, personally, growing up and playing club, I think we're kind of used to traveling a lot. Throughout the years in volleyball, you're fortunate enough to go to a lot of states. It definitely is a drain, and a five-hour flight is a pretty long time, but I think it's something we're used to. It is a disadvantage, I would say, but not a huge one."
Jenna Hampton on having her finals done already:
"Finals week is next week, so we kind of all take care of that. I was fortunate enough not to have any during finals week. I still have stuff to make up, because we're missing this week, but Jim [Weaver] and our program does a really good job helping us, like if we're missing [class], contacting our teachers, and they're usually very understanding with it. They make it very easy, but I know a couple girls are kind of stressing over it."
Jenna Hampton on learning from Kendall White the last two years:
"Like everyone says, Kendall's an amazing player. She's someone who is definitely super inspiring, because her love for the game is just so strong. It makes you want to play harder for her, too, because of how hard she goes for her teammates. I'm definitely going to miss her a lot. I've learned so much from her. She's definitely going to be missed. She's an amazing player and really embodies a true Penn Stater."
Jenna Hampton on Jonni Parker flying into the scorer's table to track down a ball against Towson: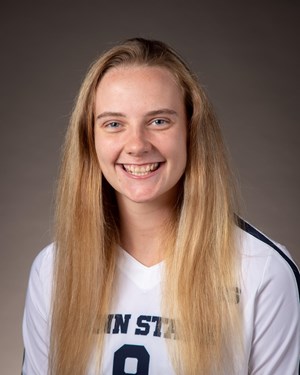 "We love that. Like I said about Kendall, when you see people make plays like that, it just makes you want to play harder for them. That's one of my favorite parts of the game is a crazy play where you have to go make a diving save like that, because it really gets the crowd going, gets your team going, and it's a really good energy booster. You've got to play hard."
Jenna Hampton on what she admires about Gabby Blossom's game and how she would describe their friendship: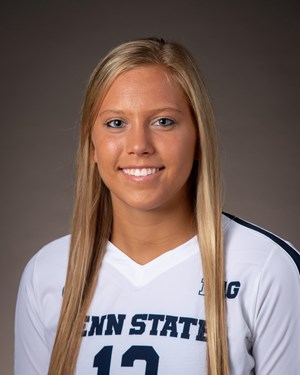 "Gabby is definitely one of my best friends. She's so genuine and she's a great teammate. She really cares about others and she's so aggressive. I think that's why coach really likes her and what I love about her. She goes hard. She makes plays that make you want to be better. She truly is just a great person on and off the court. I love that girl."
Jenna Hampton on Cincinnati beating Pitt:
"Every team is different. Some people are going to have good days and bad days. I think Pitt's a really good team. They beat us this year and we [beat them]. I definitely did want to play them, like Tori said, to get revenge, but Cincinnati also has had a remarkable season. They have great players and they deserve to be where they are right now."
Jenna Hampton on her favorite play she's been a part of during this year's tournament:
"I love scramble plays. There was this one play where it was off the block and I made a dive, then [Kendall] made a great save, and then it was Lauren [Clark] who got a kill. It was so exciting. That really got the crowd going, because it was our last [home] game and we were tied 1-1, so we really needed the energy. I think that was a good turning point, because Lauren just went off after that. It was really good to see."
Big time save by Jenna Hampton!!! 😲#NCAAVB | @PennStateVBALL pic.twitter.com/2A9G4VwRf3

— NCAA Volleyball (@NCAAVolleyball) December 8, 2019
Jenna Hampton on Lauren Clark's development as a player this season: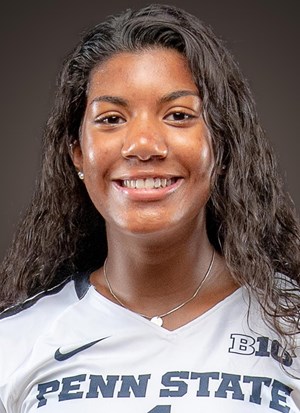 "Lauren has grown so much throughout the season. She wasn't shy, but when she would get on the court, she was a little antsy. I think her confidence is definitely rising because of how she's playing right now. She brings so much energy now to the court. You'll see her jump up and down. It just shows how much fun she's having and it's really cool to see, especially as a freshman. I don't think she's nervous anymore going in. She's super confident and it's really cool."
Jenna Hampton on some things she's learned about taking care of her body that maybe she wasn't doing as a freshman:
"I never really stretched and drank a lot of water [in the past], and that's the most important thing. We're really lucky to have such a good trainer and nutritionist who really emphasize the importance of drinking all the time. We have hydration tests. It really keeps our bodies going. We make sure to stretch after practice all the time, so I think that's really helped me. Again, we're just so fortunate to have a staff that cares about that, because it is very important for how you play on the court."
Jenna Hampton on her preferred activity on long flights:
"I definitely have to do some studying, so that's not my preferred activity. I usually watch some Netflix. Some Gossip Girl and Grey's Anatomy. I do listen to music from time to time. I'm someone who doesn't listen to music a lot because the earbuds hurt my ears, so I'm usually the go-to movie person. I play it out loud, because everybody else has their music, so I can play it out loud. Definitely movies, for sure."