Penn State women's volleyball has enjoyed excellent play from its defensive specialists this season, and they're a main reason for the team's success of late.
The Nittany Lions enter Sunday's away match at Rutgers 22-4 overall and 15-2 in Big Ten play, having won 13 of their last 14 contests. Wisconsin, Nebraska, Penn State, and Minnesota are still battling it out for the conference crown with three matches remaining in the regular season.
Penn State's defense has allowed by far the fewest service aces in the Big Ten (67) heading into Sunday. Opposing teams have averaged just .074 aces per set thanks to the tremendous floor coverage of Kendall White, Jenna Hampton, and Keeton Holcomb, among others. The Nittany Lions have also held their opponents to a meager .172 hitting percentage.
"I think Kendall, Jenna, and Keeton have been passing exceptional and playing great defense and really holding it down for us back there," assistant coach Katie Schumacher-Cawley said earlier this month.
White, who is making her case as the best libero in program history, currently sits just 56 digs away from breaking Kaleena (Walters) Davidson's record of 1,957. The senior's value as a vocal leader and stabilizing force on the floor is unquestioned.
"What I like about Kendall is that she plays hard every day," head coach Russ Rose said. "Even when she's dinged up, I don't have to worry about her lingering by the training room or complaining about this and that hurting. I like players who are tough and value the opportunity to compete and represent the school or their country or whatever group they're associated with."
Ohio State's star libero Kylie Murr, who played for the same club (Munciana) as White before college, has a chance to earn Big Ten freshman of the year honors. Murr currently leads the conference by a wide margin with 511 digs — 41 more than Iowa's Halle Johnston and 129 more than White.
The trio of White, Hampton, and Holcomb makes up Penn State's top three options at defensive specialist, but a handful of others have also made important contributions at the position during big moments this season.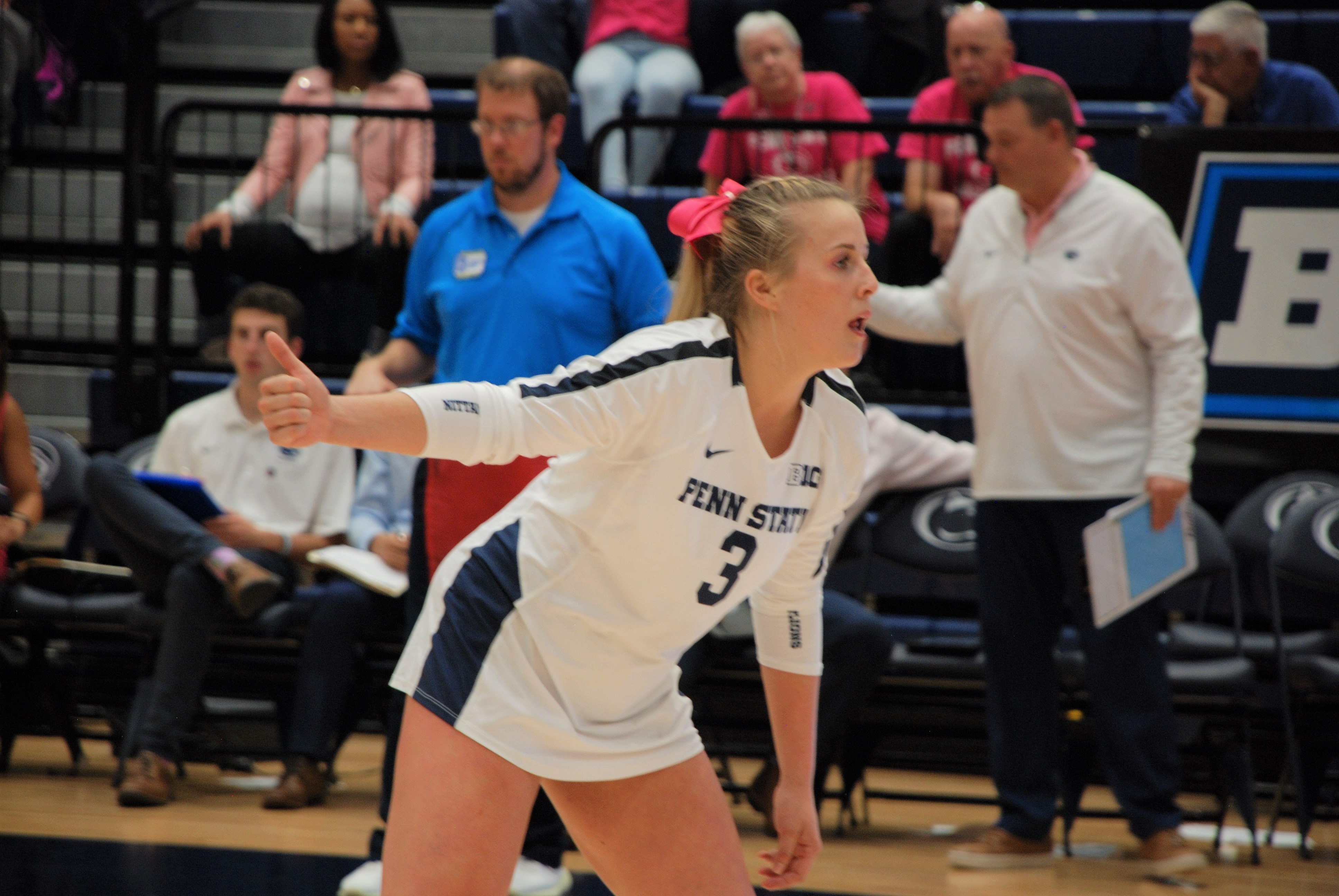 Emily Sciorra and Macall Peed are usually Rose's next choices to serve, pass, and play defense. Sciorra, a senior from Chantilly, Virginia, is having the best season of her career with 23 digs in 55 sets — more than doubling her previous best for digs in a season already. Her career-high eight digs were key in a 3-2 road win over Pitt on Sept. 22.
"Emily has always been a really positive team player with a great energy and spirit," Rose said.
Peed's lefty serve provides a changeup for opponents and has garnered six aces so far. The freshman from San Diego has also showcased impressive range and toughness on the defensive end, tallying 26 digs in 36 sets.
Hampton, the heir apparent to White at libero next season, has started 10 matches at defensive specialist for the Nittany Lions as a sophomore, while Holcomb has started seven matches in her final season. Hampton and Holcomb have practically mirrored each other's production with 134 and 133 digs, respectively.
"I've learned so much from Kendall," Hampton said. "She's just so aggressive and very confident. I think that's what's really good about her. She goes for every ball, she reads the play well, she just has a really good volleyball IQ."
Hampton's gravity-defying dives are captivating to watch, drawing plenty of astonished reaction from the Rec Hall crowd. She also has a knack like White for flying full-bore into the bench to keep a ball alive. Holcomb, on the other hand, has an uncanny ability to deftly receive the other team's hardest serve to help keep Penn State and setter Gabby Blossom in system.
Kristin Krause, a redshirt junior captain with exceptional knowledge of the game, and freshman Molly Russell have had a chance to contribute recently and have each performed well in limited action. Krause came in to serve in a huge moment at the end of the Nebraska loss, while Russell picked up her third dig of the season in a win over Illinois last weekend.
"I think it's cool to be in such a gym where you're competing every single day," Holcomb said. "It's not a comfort thing. Everyone's good. We compete every day for our spots, it's not handed to us."