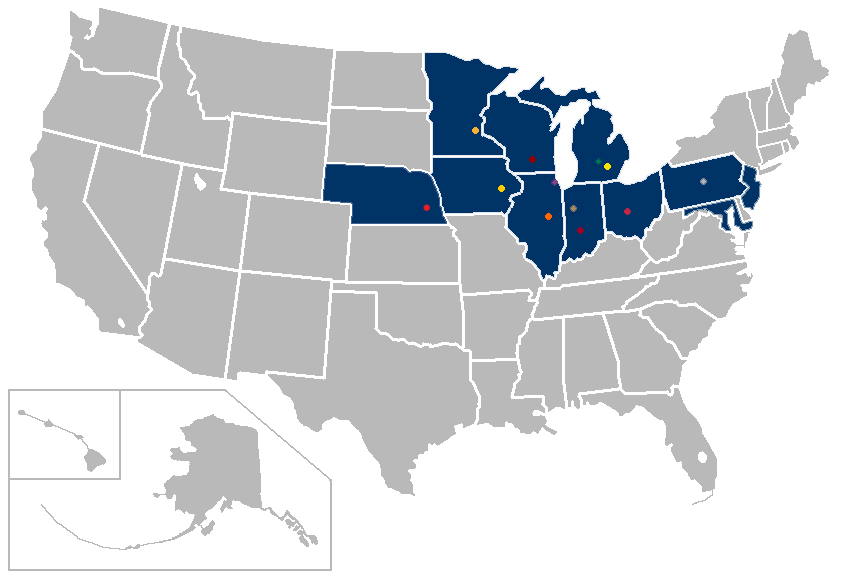 The B1G Gets B1GGER (Do the Rich Get Richer?)
Maryland to the Big Ten is a done deal, with Rutgers reportedly next in line. Volleyball fans are just along for the ride (note how many times the word "volleyball" is used in the excerpt from ESPN, below, and in the video report from Andy Katz):
The University of Maryland's Board of Regents voted Monday to accept an invitation to join the Big Ten and begin competition in the conference in the 2014-15 academic year.

Meanwhile, Big East Conference sources told ESPN that Rutgers will be announced as the 14th member of the Big Ten on Tuesday. Rutgers' Board of Governors passed a vote Monday authorizing athletic director Tim Pernetti to accept the Big Ten's invitation, the New York Daily New reports.

"Today is a watershed moment for the University of Maryland," said university president Wallace D. Loh in a release. "Membership in the Big Ten Conference is in the strategic interest of the University of Maryland."

Loh added it would "ensure the financial vitality of Maryland Athletics for decades to come," and offer opportunities to boost the "education, research, and innovation" of the university.
The Week in Review
By Lionsfan
With a win at Indiana and a Gopher upset of the Huskers, Penn State clinched the outright Big Ten championship on Friday– it's 15th title since joining the league in 1991.  But the team had no time to celebrate, facing ranked Purdue the next night in West Lafayette. The Lions held off a tough Boiler squad for a hard-fought 3-1 win in Mackey Arena — which will host one of the tournament regionals.  If Penn State is able to advance, the probability is high that this location will be their destination, making last Saturday night's match an invaluable experience for the Nittany Lions.
But there's no time to celebrate anything.  Outside of UCLA (see below . . . yikes!), the Lions face perhaps the next-stiffest test before Selection Sunday: visits from Ohio State and Michigan State.  We know Rec Hall is a tough place for opposing teams to notch a victory, but a smaller crowd due to the holiday may limit some of that advantage.  A top seed most likely isn't in jeopardy, but the undefeated homecourt season is . . . along with all-important momentum heading into December.  Best of luck to the team!
Tracking No. 1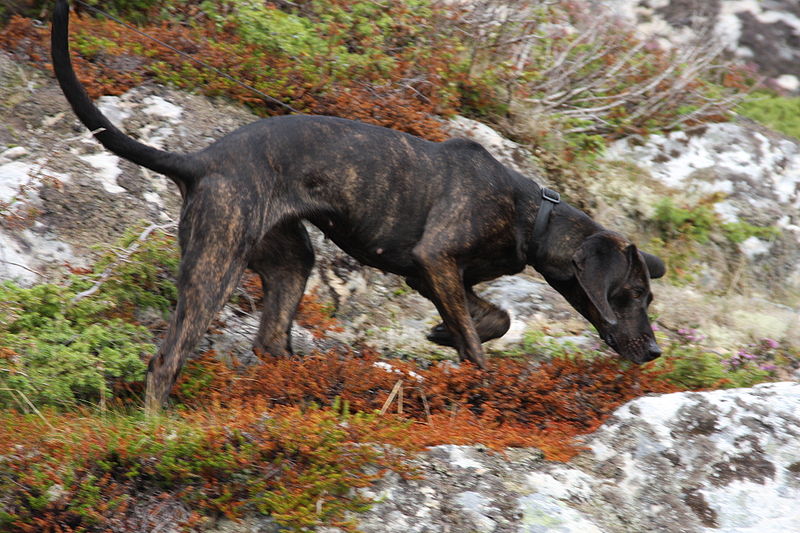 Penn State hops back to the top spot in the polls this week (well, except for DigNittany's North Pole Poll — see below), its 6th week in that position.  Stanford and Nebraska each held the position for 3 weeks apiece, while UCLA held the top spot for two weeks (one being the preseason poll).
Those rankings should come as no surprise to poll historians.  Guess who the top 4 all-time teams are in #1 rankings?  Through 2011, Nebraska had 82 weeks at the top spot, followed by Penn State (68), UCLA (54) and Stanford (51).  It may be cold at the top, but some teams don't seem to mind the cold.
5-Set Thrillers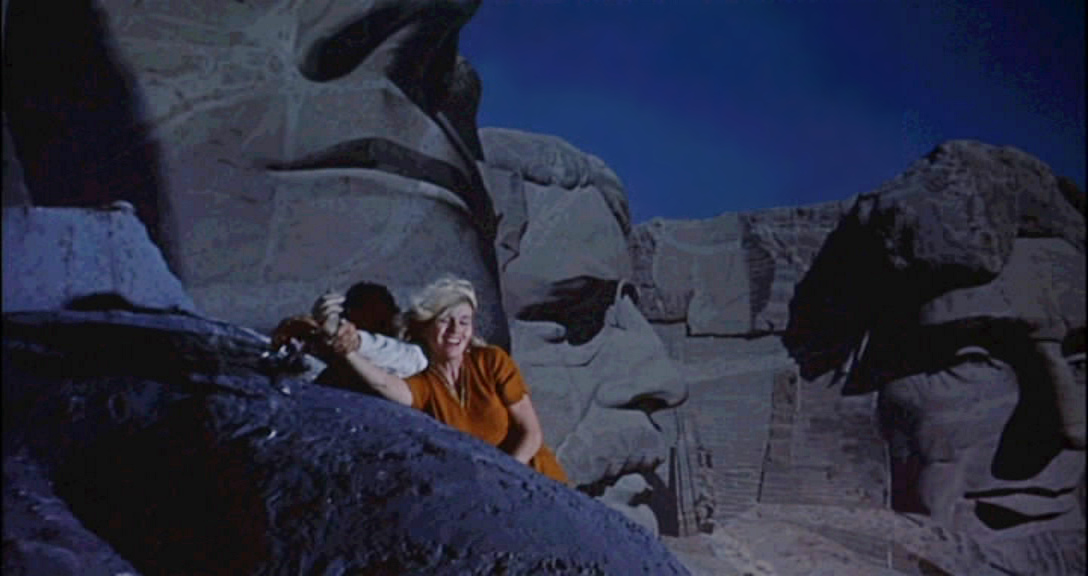 Two of the most exciting matches all season (and quite possibly any season) unfolded hours apart on Friday night in the two power conferences.  Here's what GoGopherSports had to say about Minnesota's 3-2 win over Nebraska:
Trailing 2-1, Minnesota came back to upset No. 9 Nebraska in five sets (25-12, 15-25, 22-25, 25-19, 21-19) in front of 5,368 fans at the Sports Pavilion. The win over the Cornhuskers marked the first since Oct. 4, 1980. . . . The two teams were close in every statistical category.  Minnesota outhit the Huskers, .287 to .263 and narrowly out-dug them, 56-54.  As Nebraska held an 11.0-10.0 lead in blocks, the Gophers had 69 kills to its 63.
It's just one of the barn burners that the Sports Pavilion has hosted over the years, including their 5-set matches against Penn State in 2010 and 2011.
Later that night, another classic unfolded in Seattle. We'll let GoHuskies.com (and a bit of video) describe it:
Head Coach Jim McLaughlin has been a part of many great matches and great wins during his time turning the Huskies into a national championship program.  But perhaps no win in his career in volleyball was quite so unbelievable, improbable, and jaw-dropping as tonight's victory over fourth-ranked Oregon at Alaska Airlines Arena.  Washington somehow waved away fourteen match points, twelve of them coming in the marathon fifth set, and then won it on UW's first and only match point, a 26-24, 16-25, 21-25, 32-30, 25-23 win in front of 4,136 euphoric fans.

The sixth-ranked Huskies (21-5, 12-5 Pac-12) played Houdini in the fifth set, and while no records are readily available, it's hard to imagine a UW team ever stepping up under pressure for 14 match points, and then winding up with the win.  Making the run all the more impressive was that it came without UW's offensive leader, sophomore Krista Vansant, who landed awkwardly and suffered what appears to be a sprained ankle early in the fourth set, and did not return to the match.

"I don't know if I've been a part of a match like that, but it's a match I'll remember and so will (our players).  Our crowd was just, I don't know I can't put words to it, they were unbelievable," said McLaughlin. "I've coached a lot of teams, and you get late in a season and it's easy to let things affect you, and easy to pout and not bring the right vibe. Krista goes down, and we actually up the energy level. I just think this teaches us not to hang our heads and keep fighting and we can prevail."
Time will tell if Vansant returns (she did not play the next match against Oregon State); the Huskies will most likely need her for a deep tourney run. (And great to see such great crowds for both matches…two of the toughest places to play in, and two sets of knowledgeable fans.)
Here's the video:
Trojan Surprise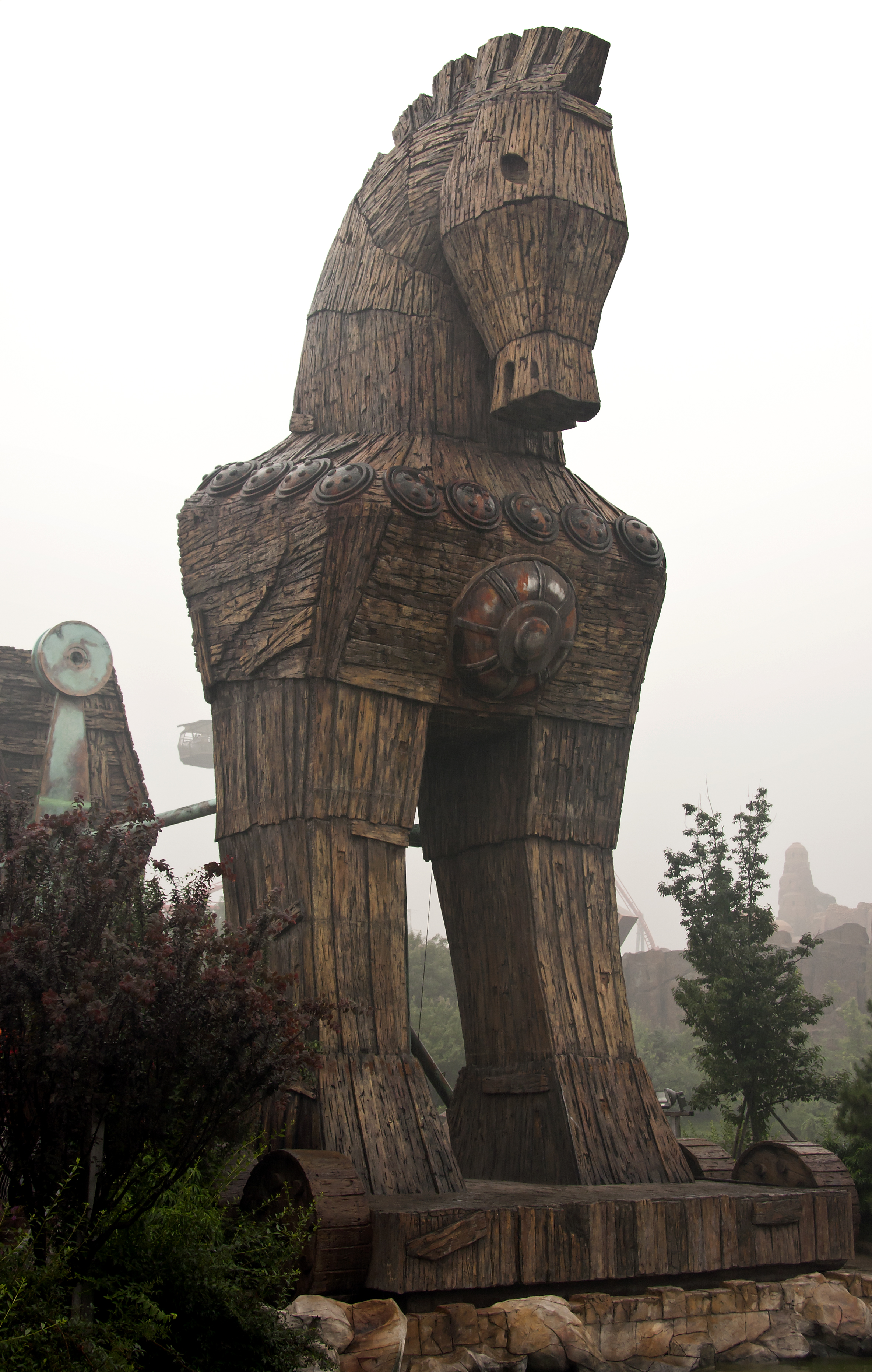 We were beginning to think Stanford might be unstoppable, and then Southern Cal stopped the top-ranked Cardinal in a 3-1 victory at the Galen Center.  For all the deserved talk of the Stanford freshmen, it was a rookie who gave them so much trouble.  Here's an excerpt from USCTrojans.com:
Four USC players logged double-double matches, but offensively, the Trojans leaned on freshman outside hitter Samantha Bricio who had match-high honors with 19 kills (5e, 62att,.226) and recorded a career high with 22 digs for her 10th double-double of the season.  Bricio added two service aces to lead all players with 21.0 points.
The loss for Stanford was its first conference blemish, and also halted a 22-match win streak.  Stanford rebounded to defeat UCLA and already has the Pac crown. The team with the biggest challenge this week?  UCLA, who has to play Oregon and USC (ouch!) with pecking order for tournament seeding on the line.
ACC Comes Full Circle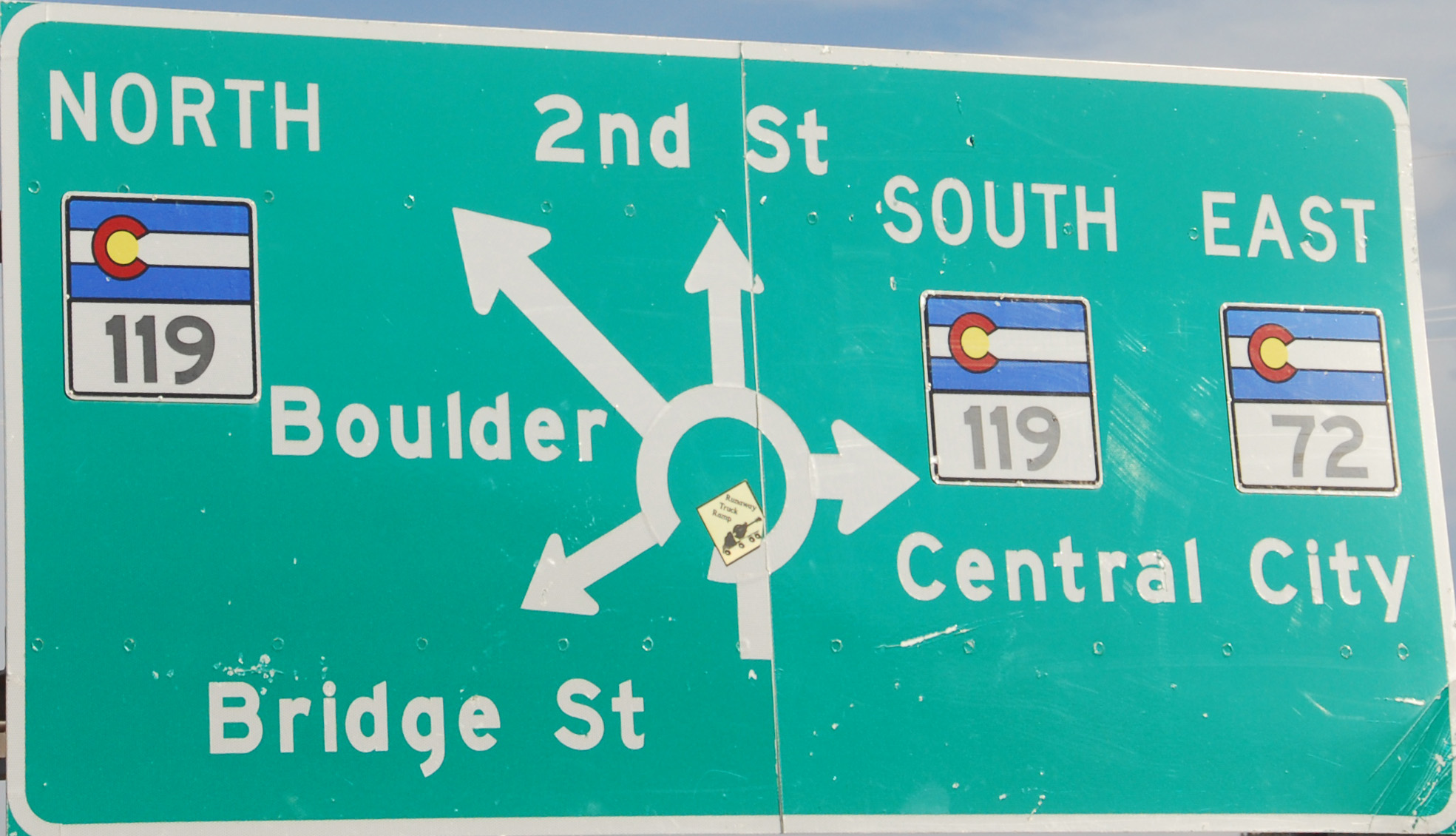 Who knew that the bookend matches in the ACC would be so vital?  Florida State and Miami opened their conference slates against each other, with the homecourt advantage helping the Hurricanes to a 3-1 upset win of their in-state rival.
Now Miami (25-4) travels to Tallahassee to meet the Seminoles (26-3) for the season finale — and the winner gets the conference title all to themselves, as both sit at 17-2 in the ACC. Could you have scripted it any better?
We expect a huge battle that brings out the fight in both teams.  Be sure to hop online at 1:00 p.m. ET on Friday as ESPN3 will broadcast the match.  (Sounds like a good leftover turkey sandwich opportunity, if you ask us.)  Could a Miami win push them to a tourney seed?
Here's a look at some ACC stats (we've included stats for Maryland, in honor of their just-announced move to the Big Ten starting in 2014-15):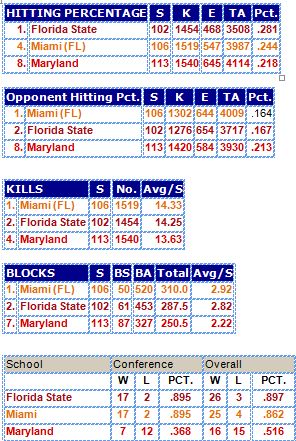 No Respect?
Two more conference wins, a 23-7 record (11-7 B1G)…and still no ranking in the AVCA poll for Michigan State? In a week when two teams lingering toward the bottom of the poll (Purdue and Kansas State) dropped both of their matches? Okay, so the Boilers beat the Spartans 3-2 twice this year and both of their weekend losses were to teams ranked ahead of them…but we still think it's crazy there isn't room in the poll for MSU (especially considering one of KSU's losses was to unranked Texas Tech).
DigNittany's North Pole Poll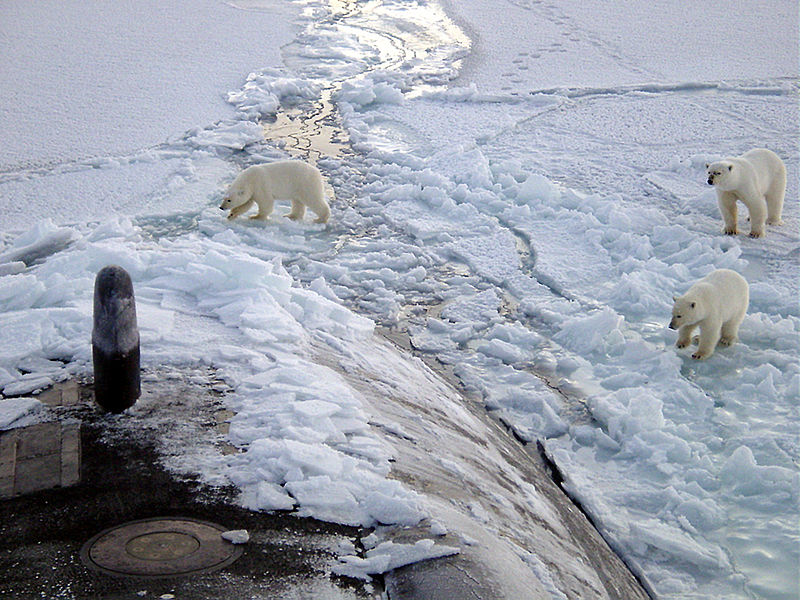 One week to go in the regular season, and then on to the NCAA Tournament.  With Stanford's loss, the AVCA, Rich Kern, Pablo — they all love Penn State (for now).  At DigNittany's North Pole Poll, we love Penn State too, but we're not quite ready to rank them #1 — that position goes to Stanford.  Something about those freshmen.  So many of them.  And so good.
DigNittanyVolleyball's North Pole Poll (It's Cold at the Top) 11-19-12
Rank
DigNittany's
North Pole
Poll

Wins
Losses
North Pole
Poll Points
NCAA RPI
11-19-12
Russ Rose's
Top 10
(as voted
in the
AVCA Poll)
John Dunning's
Top 10
(as voted
in the
AVCA Poll)
Lionsfans'
Top 10

DigNittany's
Top 10
(as voted
by our
slacker staff)
1
(10 Pts)
Stanford
25
3
39
1
Stanford
Penn State
Stanford
Stanford
2
(9 Pts)
Penn State
27
2
37
2
Penn State
Stanford
Penn State
Penn State
3
(8 Pts)
Texas
23
3
30
3
Oregon
Texas
Texas
Texas
4
(7 Pts)
Oregon
23
4
26
11
UCLA
Oregon
UCLA
Oregon
5
(6 Pts)
UCLA
21
6
25
8
Texas
USC
USC
UCLA
6
(5 Pts)
USC
26
4
21
10
Washington
UCLA
Washington
USC
7
(4 Pts)
Washington
22
5
18
12
USC
Washington
Oregon
Washington
8
(3 Pts)
Hawai'i
24
2
9
16
Hawai'i
Hawai'i
Nebraska
Hawai'i
9
(2 Pts)
Nebraska
21
6
8
5
Nebraska
Minnesota
Minnesota
Nebraska
10
(1 Pts)
Minnesota
22
7
4
7
Louisville
Nebraska
Louisville
Louisville
Lionsfan Looks Ahead
by Lionsfan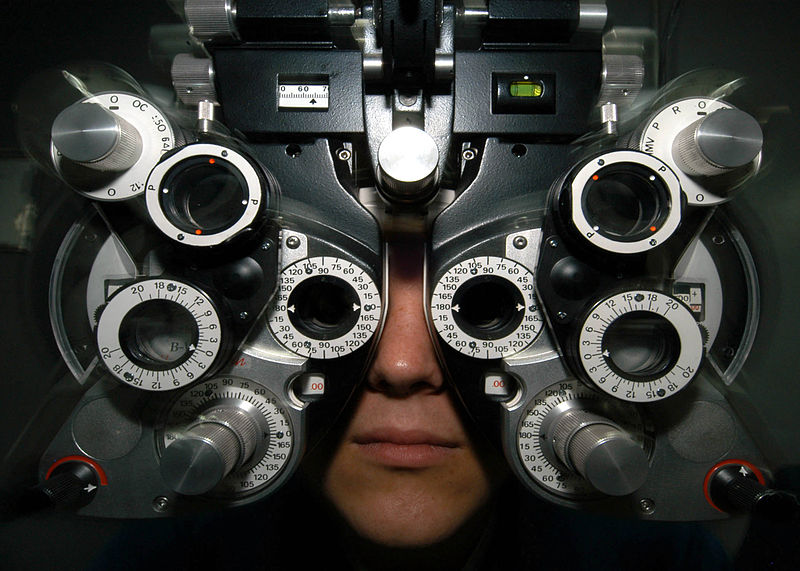 Hottest Teams
Penn State
USC
Iowa State
Losing Steam: Purdue, Kansas State
This Week's AVCA Top Ten Action
Penn State vs. #14 Ohio State, vs. Michigan State
Stanford vs. Colorado, @ Cal
Texas @ #18 Iowa State
USC @ Oregon State, @ #7 UCLA
Washington vs. Arizona State, @ Washington State
Oregon vs. #7 UCLA, @ Oregon State
UCLA @ #6 Oregon, vs. #4 USC
Hawaii vs. Cal State Fullerton, vs. UC Riverside
Louisville vs. Belmont (I think)
Nebraska vs. Iowa, vs. Northwestern
Other Key Clashes This Week
#12 Florida State @ #23 Miami (live on ESPN3.com on Friday)
Upset Alerts
#1 Penn State vs. #14 Ohio State/Michigan State
#2 Stanford @ Cal
#3 Texas @ #18 Iowa State
#24 UNC @ N.C. State
#25 Kansas State vs. Oklahoma
"Receiving Votes" Team Most Likely to Crack Top 25: Trick Question (No Poll Next Week)
Lionsfan's Completely Uninformed Big Match Picks
Penn State over Ohio State (*crosses fingers*)
Texas over Iowa State
UCLA over USC
Oregon over UCLA
Next Week's Top 10
No Poll Next Week (which we think is a little silly…there should be a final regular season poll that takes all regular season matches into account!)
RPI Bracket Watch
This is the RPI that matters most, the one the selection committee probably looks at in their preliminary sketches. Losses won't mean as much as they usually would during this last week, and may just shift a seed up or down. Here's my best guess:
Purdue Regional: 1. Penn State, 2. Florida State, 3. Washington, 4. Tennessee
Texas Regional: 1. Texas, 2. UCLA, 3. Kansas, 4. Florida
Nebraska Regional: 1. Nebraska, 2. Louisville, 3. USC, 4. BYU
Cal Regional: 1. Stanford, 2. Minnesota, 3. Oregon, 4. Hawaii
*Trying to figure out the subregionals just gives me a headache.  Ohio State, Kansas State and Iowa State seem like the biggest threats outside of the Top 16 (probably put Miami in that group, too), but Purdue has to be in Purdue, so none of them will end up there.  If Kansas gets a #2 seed, it will probably be in West Lafayette, which could push Washington somewhere else.  And what if Iowa State beats Texas?  Shouldn't that be enough to earn a #4 seed?