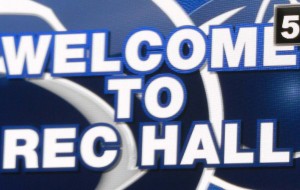 UNIVERSITY PARK, Pa. – Fresh off an undefeated weekend on the road, No. 3 Penn State women's volleyball (8-1) returns home to wrap up the non-conference portion of the 2014 slate, hosting the Penn State Alumni Classic. The Nittany Lions open the tournament with a doubleheader Friday, Sept. 19 with matchups against Eastern Illinois and DePaul at 4 p.m. and 7:30 p.m., respectively. PSU is set to square off against UIC Saturday, Sept. 20 at 9 a.m., before taking on East Carolina at 8 p.m. in Rec Hall.

PROMOTIONAL SPOTLIGHT
Penn State will raise two banners this weekend in celebration of the 2013 national championship season. The Nittany Lion hoist the Big Ten Championship banner Friday evening before raising the 2013 NCAA national championship banner in a special ceremony before Saturday evening's match. Fans can also take their picture with both trophies prior to the match, as they will be on display on the west mezzanine level in Rec Hall. Fans can also get into all four Penn State women's volleyball matches free of charge if they bring their football ticket or ticket stub with them to the door.

The Nittany Lions went 4-0 on the road last weekend to capture the Villanova Classic crown with a four-set win against American and a trio of straight-set victories against Villanova, Yale and No. 24 Kansas.

* Senior Micha Hancock earned Villanova Classic MVP honors, while senior Nia Grant and redshirt junior Aiyana Whitney were each honored on the All-Tournament team.

* Seniors Nia Grant and Micha Hancock highlighted the Big Ten Weekly awards as Grant was named Player of the Week and Hancock was selected as Setter of the Week. The duo were both instrumental in all four Nittany Lion victories this past weekend, having posted season and career high marks.

For the complete release from GoPSUsports, Click Here.
DigNittany's Challenge: Fill Rec Hall for the Alumni Classic, and Win Dinner (with Tip and Willow)
OK, 2809 of you Penn State fans did terrific job in the TCU match for the Penn State Classic — you came, you saw, the Nittany Lions conquered, but we know the Nittany Nation can do better — if 2200 more of you come out to any of the four matches the Penn State Women's Volleyball team plays this weekend at Rec Hall, we'll call that a sell out (capacity for volleyball is probably closer to 5300, but we're not going to quibble) and everyone in attendance will win dinner at date to-be-determined  — with our two cats, Tip and Willow (pictured below).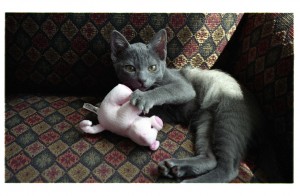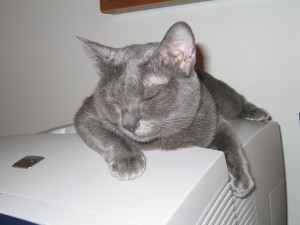 Tip and Willow are probably the two biggest Penn State fans going, and very knowledgeable, so it should be fun (with the caveat that they get to choose the menu, so you might well be looking at a bowl of Max Senior Roasted Chicken Kibbles). Even more fun? Watching this terrific Penn State team at Rec Hall, with 4999 good friends cheering on the Nittany Lions!
So come on out for today's matches, and then come out again for Saturday's matches (they are conveniently scheduled so that you can also watch the Penn State football team against UMass).  The schedule is below:
(Click Images for More Info)
2014 Penn State Stat Leaders
Attack Leaders (9-14-14)

Setting Leaders (9-14-14)

Serving Leaders (9-14-14)

Rcpt/Dig Leaders (9-14-14)

Blocking/Points Leaders (9-14-14)