Stat Joust
Here's the latest stat joust, comparing team and individual statistics (B1G matches only) for Penn State, Wisconsin (because it's riding high in first place in the ), and Penn State's next opponent — Maryland.
B
1G

Team Stats (B

1G

Matches Only)
The biggest difference we see with looking only at the B

1G

matches is that Penn State is leading the B

1G

in blocking, whereas looking at all matches, it ranks 5th in the B

1G

Maryland is a decent blocking team
Maryland is a good serving team (or at least, they have a good average of service aces/set)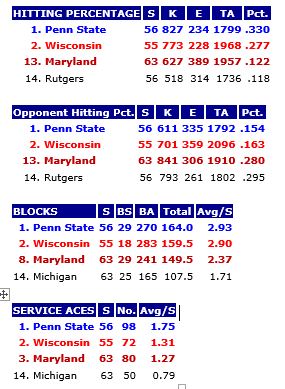 B
1G

 Individual Stats (B

1G

Matches Only)
Penn State and Wisconsin are dominating the individual hitting statistics.  All we can say is Carlini.  Actually, we can also say Haleigh (Washington and Nelson) and Aiyana (Whitney), Nia (Grant) and Dominique and Courtney (Thompson and Thomas, respectively).
Aiyana Whitney is having a terrific B

1G

 season — 4th in attack %, 10th in kills, and 10th in points.  All the more impressive given that she is only one-third of Penn State's Three-Headed Monster.
It's very nice to have Micha Hancock on your team.
Nia Grant too.
Ali Frantti too.
Dom Gonzalez too.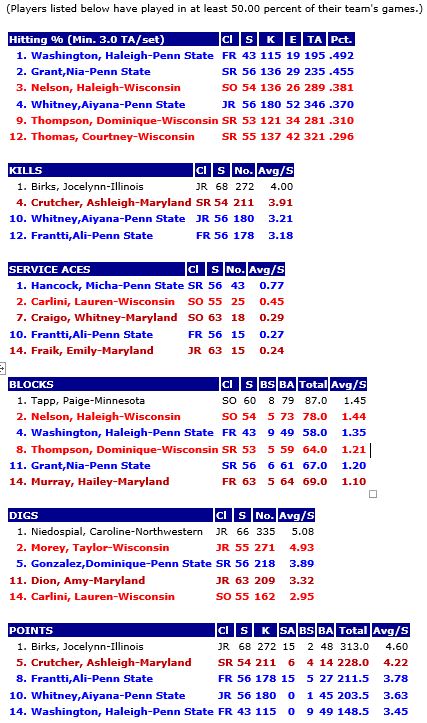 Penn State Stats –  11-19-14
Attack Leaders: 11-19-14

Setting Leaders: 11-19-14

Serving Leaders: 11-19-14

Rcpt/Dig Leaders: 11-19-14

Blocking/Points Leaders: 11-19-14
___________________________________
Photo Credits