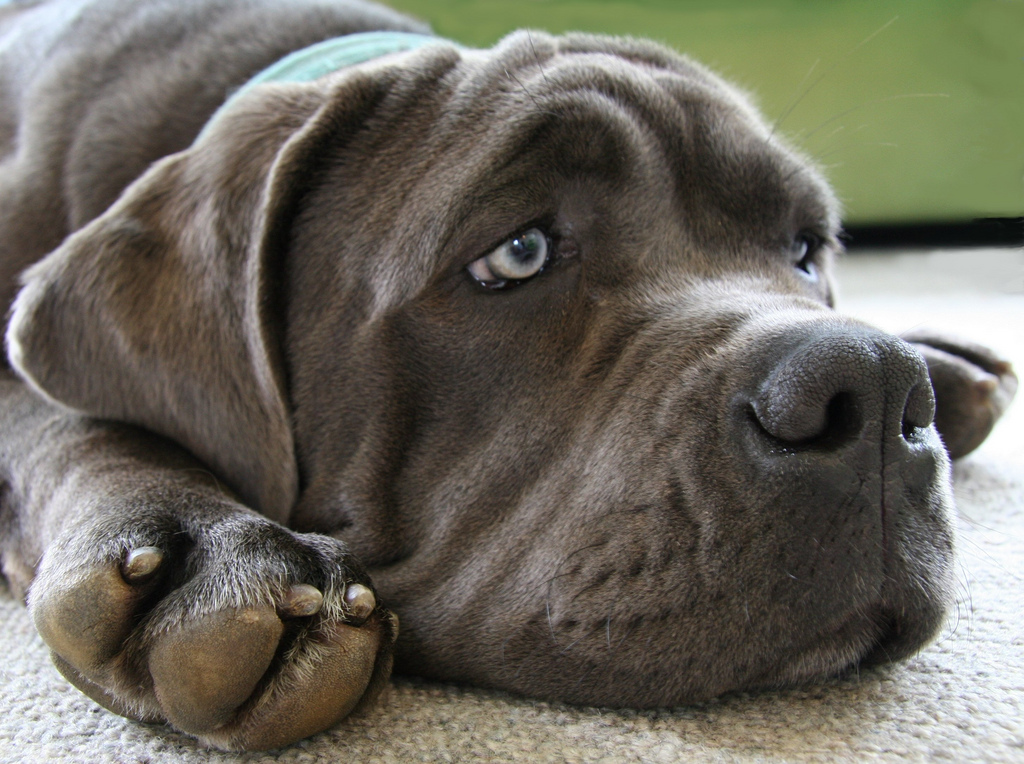 Almost everyone gets upset sometime — just ask Lucy (pictured above)
Dog Days in Chicago?
DigNittany: Today we're talking again with Club Coach, who has coached numerous top club and college players, for his thoughts following Oregon State's 3-2 upset win over the Nittany Lions Saturday evening (17-25, 25-17, 11-25, 15-12) in the Chicago Classic at Mother McAuley Gymnasium.
In that match, Penn State committed 26 attack errors compared to 18 for Oregon State, and had 13 service errors compared to Oregon State's 11.  That's 5.2 attack errors/set  for Penn State (without adjusting for the 15-point fifth set), compared to an average of 3.8 attack errors/set going into the match, and 2.6 service errors/set for Penn State, compared to 2.35 going into the match.
On Oregon State Upset and the Impact of Errors
DigNittany: What are your thoughts about Penn State's loss to Oregon State, and the impact of attack errors and service errors on a match like that?
Club Coach: There are a ton of good volleyball teams out there, with Oregon State University being one of them.  Penn State has a significant advantage in talent, but errors are an equalizer, especially with rally scoring.
Errors not only award your opponent a free point, but they also create anxiety and doubt on your own side.   Too often, errors beget more errors — especially from the service line.  Players start thinking about not making errors, which almost assures they will make them.  The biggest advantage Penn State had over OSU was having Ariel Scott and Deja McClendon, but when those two are only average, the Nittany Lions drop an entire level in my opinion.  The good news is, those two are great veterans and I think you will see them on a mission in the coming weeks.
Looking at Penn State's Win over Louisville (and Is Rally Scoring Leading to More Upsets?)
DigNittany: On the subject of upsets, Louisville, whom Penn State defeated in the Active Ankle Challenge Tournament 3-0 (25-20, 25-17, 25-18), has been on something of an upset streak of its own. Since losing to Penn State, Louisville has won six straight matches, defeating then-#10 Kentucky 3-1, sweeping then-#11 Purdue, and defeating Illinois 3-2.
Louisville was ranked No. 31 in the AVCA's preseason poll, after having captured the Big East regular season title in 2011, with a 24-9 record (13-1 in the Big East), and returned All-Big East Player of the Year, 5-11 Sr. OH Lola Arslanbekova, and All-Big East selection 5-10 Jr. OH Emily Juhl, and added 5-11 Jr. S Hannah Kvitle, a transfer from Saint Louis, and 5-10 S Katie George, the National High School Player of the Year.  Still, many discounted Penn State's win.
What are your thoughts about the Cardinals (and Penn State's win over them in the Active Ankle tournament) in light of Louisville's winning streak?
Club Coach: Louisville is a very good team, they have a great staff,  and Penn State was very fortunate to win that match.  In terms of "upsets," the ones you mentioned were based on pre-season rankings, which involve a great deal of speculation and reward teams for what they accomplished in the previous season.
In the end, I think Louisville is a better team than Kentucky and Illinois, so to me those matches really weren't upsets.  When it comes time to seed teams for the NCAA tournament, Penn State's win over Louisville will really help the Nittany Lions.  It will be a win against a BCS conference champion that has big time wins versus other NCAA participants.
College volleyball is really getting better, with far more competitive teams than in years past.  Ten years ago you would literally never see a 24th ranked team beat a 5th ranked team — something that happens commonly in college basketball.  With more schools funding their programs, more exceptional coaches, and, in particular, rally scoring, youre going to see a lot of these kinds of "upsets" — as we are already this season.  To me, rally scoring  is a wild-card, and gives less-talented teams a far greater opportunity to beat a better team.
DigNittany: Thanks so much for your time. We appreciate it.