Penn State women's volleyball defensive specialist Emily Sciorra is making the most of her senior year, spending this weekend dancing in THON 2020.
Although she's extinguished her collegiate eligibility on the court, Sciorra is doing her part to fight pediatric cancer as one of four representatives from Penn State's Student Athlete Advisory Board (SAAB).
Since 1998, SAAB members have raised more than $830,000 for the Four Diamonds Fund, including more than $44,000 this year alone. Last year, THON raised $10,621,683.76 in total.
Four Diamonds donates a significant amount of the funds raised toward pediatric cancer research, while also making sure families need not worry about the cost of treatment for their loved ones at the Penn State Children's Hospital in Hershey, Pennsylvania.
Sciorra kindly took some time to speak with DigNittanyVolleyball about her experience dancing in THON. She and the rest of the 700-plus dancers will be on their feet for 46 hours straight at the Bryce Jordan Center this weekend.
The Chantilly, Virginia, native said she knew about THON before arriving at Penn State and has experienced it with her teammates over the years, but getting the chance to dance in the event has helped things come full circle for her.
"I definitely knew what it was about," Sciorra said. "We always had a smaller part in it. Our team got to come in for the pep rally, which is one of my favorite parts of THON weekend, because we get to compete with other teams and I'm competitive.
"We put a lot of time into our dance, so that's always fun, but it's always short. I never got to see the whole event all together. I kind of wanted to step out of my comfort zone and see what it's all about."
Sciorra said she kicked around the idea of dancing in THON in her head, but decided she wanted to give it a shot once senior year rolled around.
"Honestly, it was kind of last-minute," Sciorra said. "I thought about it throughout the years, but toward the middle of senior year, I was like, 'This is my last year. I might as well go out with a bang and do something fun.'"
Sciorra described the feeling of hearing she was selected to represent SAAB alongside Penn State women's soccer players Sarafina Valenti and Kerry Abello and men's soccer player Pierre Reedy this year.
"It was really cool," Sciorra said. "We have six spots. Out of the 800 student-athletes we have, it's really cool to be able to fill one of those six spots. It's just cool. I was excited, then the closer it got, I got nervous, but I'm happy with how it's going right now."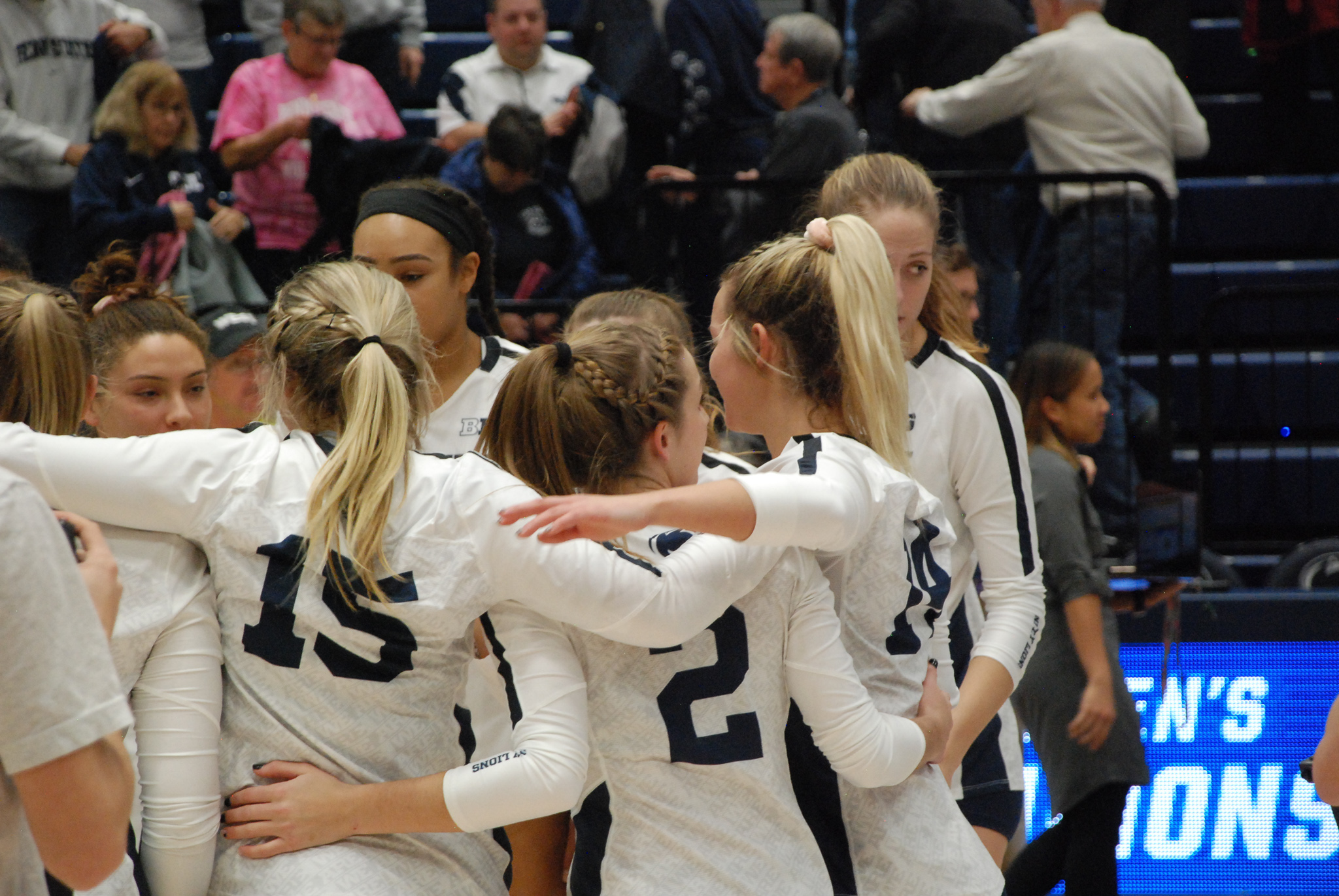 Sciorra said one of the highlights of the weekend for her so far has been playing with the kids and interacting with her fellow dancers.
"We played a lot of games at this area called the playground," Sciorra said. "We were playing four square and this little volleyball game and cornhole. That was kind of when it was the lull of people. It kept us busy and kept me on my feet. It was a fun time."
Head coach Russ Rose has mentioned how Sciorra was one of the fittest players on the team, saying she was always in excellent shape when it came to conditioning. That hard work has clearly paid off this weekend.
"I think, from the sports mentality of it, I just have a stronger mental toughness, because I know my body's hurting," Sciorra said. "I've been through times during volleyball where my body is absolutely hurting, but it kind of makes you push through a little more."
Sciorra said she's enjoyed being able to spend the weekend with Abello, Reedy, and Valenti, who is dancing in THON for the third straight year.
"It's fun," Sciorra said. "They keep me on my toes. We're always looking around for each other, just running around. Sarafina has been here. This is her third year, so she's a veteran giving us what we need when we need it."
Valenti, a backup goalkeeper for the Nittany Lions, provided plenty of tips for Sciorra in the lead-up to THON weekend.
"She helped me a lot with what to pack, because I figured, once I'm here, I would learn along the way," Sciorra said. "She definitely helped me with what to pack, making sure I'm hydrated throughout the week, just kind of the basic things."
Sciorra and the rest of the women's volleyball team will take the stage for the annual pep rally Saturday, where they will have the chance to show off their dance moves in front of a packed house.
Although she didn't provide any specifics about what to expect from this year's routine, Sciorra gave a slight hint.
"I'm very excited. I have my American flag pants all ready to go."
Sciorra put together the best season of her Penn State career in 2019, tallying 32 digs, six aces, and three assists during the program's third straight Elite Eight run.
Those who would like to donate to Sciorra's THON campaign can do so securely right here.