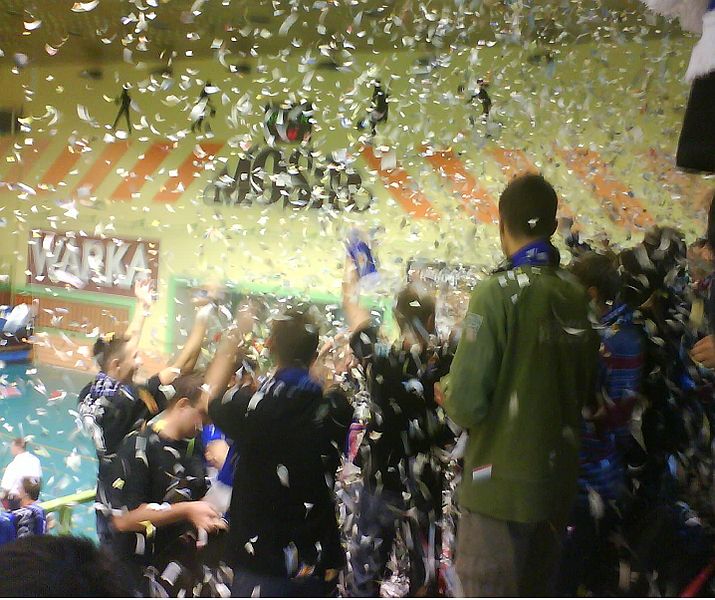 Fanalysis with (R)uffda
We've gone and done it again.  We've asked (R)uffda to comment on the upcoming Minnesota-Penn State match (In Part II of this Fanalysis, we'll be speaking with another Minnesota fan on Saturday).  We're a bit nervous, even though he did an OK job last year when the Gophers visited Rec Hall, as the Nittany Lions came through with a 3-1 victory.  But he didn't perform nearly as well, from our perspective, when Penn State visited Minnesota at the end of the season.  The red-hot Gophers polished-off the Nittany Lions 3-2, and we harbor a lingering suspicion that somehow (R)uffda's Q&A was to blame.
But, we're willing to test that theory, so here's another Q&A with (R)uffda: 
DigNittany:  Last month, we asked you for keys to the USC and Oregon matches that would give you a sense of how your Gophers were positioned to start the season. You mentioned three: 1) would Minnesota be competitive against USC; 2) how would 5-10 Sr. OH Hailey Cowles hold up in the front row;  and 3) would they beat Oregon.
The answer to #1 was yes.  Though Minnesota lost to USC, the match was certainly competitive, as the Gophers won the first two sets before USC regrouped to take the match 3-2.  As to Cowles, she struggled against USC, but bounced back against Oregon, so we'd call that a wash.  And your Gophers did beat Oregon.  It may have been closer than you envisioned, but Penn State fans would gladly have settled for that victory. 
Since then, your Gophers have had their ups and downs.  Early "ups" were the back-to-back sweeps of Texas.  An early "down" was the 3-2 loss to Kansas.
This past weekend, Minnesota dropped one at home to now-#1 Illinois – a match in which 6-1 Jr. OH/MB Brianna Haugen had her first career start (7 kills), and Hailey Cowles  had a season's best 16 kills and 10 digs.  But your team bounced back with a 3-1 win over Northwestern.  5-11 Fr. S Kellie McNeil made her first appearance at setter, and Cowles had another double double, registering 10 kills and 16 digs.
In some ways, your Gophers remind us of our Nittany Lions – running hot and cold, a bit unpredictable.   Which Minnesota team do you expect to show up against Penn State?  The one that took out Texas twice (say that fast ten times), or the one that started slow against Northwestern, losing the first set 25-12, before rallying to take the match 3-1?
(R)uffda: I am beginning to believe the Gopher team that swept Texas twice may have been an anomaly. What made that weekend so encouraging was the quality of the passing, especially after they seemed to struggle in that area against USC and Oregon the weekend before. Well guess what? Passing has been a problem ever since those Texas matches and was the main reason they lost to Illinois last Friday.
So what do I expect? I expect passing is still going to be an issue.  If it's not an issue, the weekend will be a heck of a lot easier.  Bri Haugen started ahead of 6-2 Jr. OH Katherine Harms in both matches last weekend, but Harms came in for her against Northwestern and ended up with 6 blocks.  I suspect Harms will be back in there. 
Hailey Cowles is hitting .084 on the year and is a blocking liability (one block assist for the entire weekend). She is, however, playing solid defense and passing well.  I don't think any of these things, good and bad, are likely to change as the season goes on, although we do hope she has more matches like she did against Illinois, where she hit .200.
DigNittany: We've been fans of Ashley Wittman and Tori Dixon since we first saw them play last season. How have they been doing this year?  
(R)uffda: Wittman had her worst match as a Gopher against Illinois, but, after a slow start, had 20 kills against Northwestern.  Dixon did not have a good weekend. That said, they have both been playing very well this year — at an AA level, in my opinion.
For me, the biggest question for the upcoming weekend will be who is setting.  Kellie McNeil replaced Mia Tabberson at the end of game 1 against Northwestern (a 12-25 shellacking) and quarterbacked the team the rest of the way. I was very impressed by her setting, her blocking and the improved chemistry, although her connection with the middles was off and on.
That said, I am a big Tabberson fan.  It's a real dicey situation for Coach Bush. Tabberson's a junior and McNeil is a frosh. This needs to be handled carefully, I would think. You have Tabberson who has a lot of DI experience and seemed to be coming into her own this year; and you have McNeil who was the top setter in this year's freshman class who you really don't want to see riding the bench for two years.
This is also the one position where Coach Bush has some options. I suppose that is a good thing, although I'm not positive it is.
DigNittany: Let's move from players to coaches. With 11 matches in the books, what differences have you noticed this season between the coaching style of Coach Bush compared to the style of Mike Hebert?
(R)uffda: Well, the Gophers have only been home for 4 matches, although I did see the USC and Oregon matches on TV. I'm not sure I've seen enough of the team to answer that question. There are obvious differences with new techniques, such as swing blocking, which her assistants (Alfee Reft and Chris Tamas) have brought to the program — and I'd guess Hugh McCutcheon had a say in that, as well. But given the short bench she has, I'm not sure she has had a lot of opportunities to show us just what her style is. I think she's trying to have a more aggressive serving style, but the results are mixed on that.
Ask me this question in another month, OK?
DigNittany: Will do.  Back to players: which player would you say has been the most pleasant surprise for the Golden Gophers this season?
(R)uffda: 6-2 Sr. MB Ariana Filho.  I was hoping she would elevate her game for her senior season and she has. Her hitting has been very good, but she is also leading the team in blocks, a major step forward for her — it's not her best skill. She is also serving quite a bit this year and, I believe, has been effective. It appears to me that the team is growing more and more comfortable involving her in the offense. This is a good sign. They need kills from both Ariana and Harms.
DigNittany: We are huge fans of 5-8 Sr. L Jessica Granquist.  How does she compare to some of the great Minnesota backrow players from the past, and is there any way we can trick her into playing for Penn State the rest of this season, starting Saturday night?
(R)uffda: Again, I've only seen the six matches, but I will say that her weekend against Texas was right up there with Paula Gentil's best. She passed great and was truly spectacular on defense. Jess has improved every year of her career — and now she is improving on 2010, when she was the Big Ten Defensive Player of the Year.  As a Gopher fan, one has to like that.
She's not going to be traded. I suggest you sneak Kaleena into the lineup.
DigNittany: So what's your prediction for the match?
(R)uffda: I think a LOT depends on the Ohio State match on Friday. If the Gophers can get their game under control, especially serve receive, and win that match, I could see them have the confidence to find a way to win the match against the Lions. But that is not what I think is going to happen. I think they will probably struggle against the Buckeyes and, I hope, win. But I expect problems against the Lions.
And who will be setting?
It's not as if I think Penn State is the better team.  I actually don't think they are.  I'm just not sure this Gopher team is quite at the point where they can take down the Lions on their own court.  Too much history working against them.
I hope I am wrong. And I really hope they don't go into that match with a 1-2 record.
 DigNittany: Thanks very much for taking the time to share your thoughts with us.