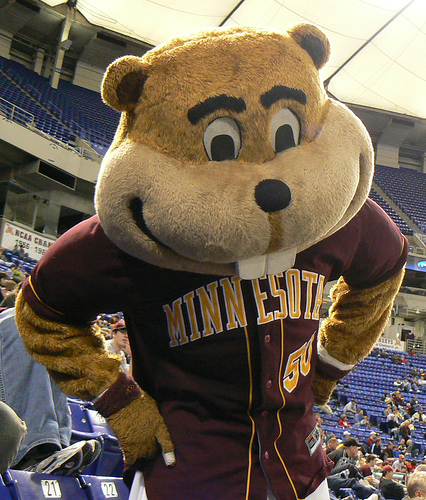 Goldy the Gopher is all smiles.  That worries us.   
Penn State (17-5, 10-2 Big Ten) visits the Sports Pavilion this Friday to take on Minnesota (13-8, 6-6 Big Ten).  Both teams are coming off big wins – Penn State having defeated then-#1 Nebraska 3-1 in Rec Hall, and the Golden Gophers having swept then #-3 ranked Illinois — at Illinois – the highest-ranked team Minnesota had ever defeated.  Very, very impressive. We're here with Ugopher, a Minnesota fan, to get the skinny on the season so far for the Golden Gophers, and what to expect in Friday night's match.
DigNittany:  After your Gophers were swept by Northwestern (25-23, 25-23 and 25-21), not many people would have predicted a win against Illinois, let alone the 25-19,  25-20,  25-15 sweep.  Two things struck us about the match: Kellie McNeil took over at setter, and, like Penn State against Nebraska, Minnesota dominated at the service line (7 aces and 5 errors (+2) compared to no aces and 11 errors (-11) for Illinois).  How important was the switch to McNeil for the win over Illinois, and what other factors were key to that win?  Oh, and how do you hit .088 in a set (as Minnesota did in the third set) and win?
Ugopher: First, let me apologize in advance for not being (R)uffda. But, then, no one can be, which might be a good thing.
Wish I could have seen this match. And, you are right, not many would have predicted a sweep of Illinois a night after being swept by Northwestern.  However, Northwestern always (at least it seems like it to me) plays Minnesota very tough.
There has been a lot said about Minnesota's serving this season — the lack of aces and the number of errors.  The team has been working on not only serving the ball to specific spots on the court but also putting some pace on the serve.  It seems like it is starting to pay off for the Gophers.  Of course, zero aces and eleven errors by the Illini helped!
Regarding McNeil. There are some who have felt that the change was overdue.  And it might have happened earlier, but Mia Tabberson was playing fairly well.  What McNeil gives Minnesota is a big block on the right side. The lack of the block on that side hurt Minnesota the first time they faced Illinois — a match in which 6-2 Sr. OH Colleen Ward and 6-3 Sr. OH Michelle Bartsch had their way against the Gophers.
How do you hit .088 in a set when your opponent hits .115 and still win? Skill, baby, pure skill. Actually, I suspect that serving success (or lack thereof by Illinois), had as much to do with that set as in any other.
What impressed me more about that set is that Minnesota trailed 12-15 in the set and rallied to win. Unlike the night before, when they led by a similar margin yet lost. The Gophers have had spurts this year where they have had leads mid-to-late in the set and haven't been able to close it out.
DigNittany:  About McNeil, do you think she will be the starting setter on Friday, and how does she differ from Tabberson?
Ugopher: Will Coach Rose be reading this? If so, Tabberson starts and all game planning should be focused on her!
If Coach Bush's comments after the Illinois match are an indication, McNeil will be the starter this weekend. McNeil had seen some action earlier in the year at setter (against Kansas where she came into the match in the third set, starting against Northern Iowa, and then being inserted in the second set against the first match against Northwestern) and results were mixed. Which, I suppose, could be be expected as she received few reps during practice.
The coaching staff's reasoning for not starting McNeil earlier is that they felt McNeil could provide a certain energy to the team should Tabberson have an off night. They weren't sure what would happen if they started McNeil and had to bring in Tabberson.
What McNeil brings to the match is more athleticism and her block. Tabberson has worked hard to improve her game and she has. She is definitely the leader on the court when she is playing. McNeil is a quieter than Tabberson but that may change with playing time.
It sounds like McNeil will be receiving a majority of the reps in practice and her time may be here. That should, hopefully for MN, improve her communication and connection with MN's middles.
FYI – Gopher freshman setter Kellie McNeil and Viking rookie quarterback Christian Ponder got starts this weekend leading their teams to victories. Coincidence?
Coach Laura Bush is interviewed after the Illinois match
DigNittany:  Against Nebraska, Penn State's two star hitters, Deja McClendon and Ariel Scott, both had very solid matches – a welcome development, as they often had not both been "in the building" at the same time.  We noticed that Tori Dixon had a great statistical match against Illinois – with six kills, zero errors (.667), four aces, three digs and six blocks – but that Ashley Wittman only hit .083 (10 kills, 7 errors, on 36 attempts), although she had 10 digs. Dixon is hitting .360 for the season, and Wittman is hitting .246, so we'd guess that was something of an anomaly.  Do you expect both  Dixon and Wittman to be "in the building" offensively on Friday night?  And what can you tell us about their performances this season generally (they are two of our favorite players, by the way)?
Ugopher: To be honest, I expected more from Dixon this season. But her numbers aren't what they could be due to Minnesota's passing issues. Which is also why Wittman's numbers, percentage-wise, have also been down.
One of Tabberson's setting strengths is the back set, either for the slide or the right side attack.  But when MN's passing breaks down, that strength is negated.
Because McNeil hadn't been receiving the setting reps early in the year, it isn't surprising she struggled early in connecting with the middles. I'm sure that the Gophers will be working on this during this week's practices.
And, when the passing is on for Minnesota and they can force the opponent to honor either Dixon or Filho (who is also having a solid season), hitting lanes open for Wittman.  However, too many times this season the passing has broken down and Wittman has been forced to go against double blocks.
A perfect example of this was earlier this season against Nebraska.  Minnesota played and passed well in the first two sets and Wittman had 14 kills in the first two sets.  However, Nebraska began serving stronger in the last part of the match, MN's passing broke down, and Wittman was going up against strong blocks continually and she managed only six kills the rest of the match.
And speaking of Nebraska, last Saturday's match was the first time I had seen Scott on the right side.  And, she was impressive.  Minnesota will need to slow her down, maybe even more so than Deja.  Which means that MN's serving will need to be as effective as it was against Illinois.  If either Ariel or Deja would like to take the night off, that's fine with me!
DigNittany:  With only six home matches to date, Minnesota has had a truly brutal schedule for the first half of the season – as of the Illinois match, only 13 teams had played fewer home matches, and only 23 other teams had played only six matches at home.  If the Gophers don't win out, will they have to recruit new fans?  We're kidding, of course, but we are interested in your thoughts on the atmosphere at the Sports Pavilion, and the importance of the home-court advantage.
Ugopher: Well, I have gotten a lot of fall golf in this year and my lawn looks fantastic!  But it has been a very difficult schedule for Gopher fans. Hard to continue to grow the fan base when you are in for one weekend and they go off on the road for two weeks. And, even the Northwestern match was on a Sunday, going up against the Minnesota Vikings, and this weekend's matches are going up against high school sectional finals.
But, enough whining!  Our team is back in the Pavilion where they belong and we are ready to welcome them. And, hopefully, they will be able to use the late season home stretch, six of the final eight matches are at home, to gain momentum to secure a tournament spot, a top 16 seed, and a spot in the regional which they will be hosting.
And, next week will be a Minnesota volleyball fan's nirvana!  The Gophers face Michigan State on Wednesday, the state high school tournament is being held Thursday – Saturday, and the Michigan match is scheduled for Sunday. Outstanding!

DigNittany:  Any other thoughts on the match?
Ugopher: For Minnesota to win, they will need to receive serve well (especially against Micha Hancock) and 6-2 Jr. Opp Katherine Harms will need to have a solid match.  When Harms has a solid match it really opens things up for Wittman and Cowles.
Minnesota also needs to start strong.  In their biggest matches at home this season (two against Texas, and matches against Illinois and Nebraska), Minnesota has come out strong.  They were able to keep that going against Texas but faltered against Illinois and Nebraska.  They need to start strong to gain confidence and get the crowd involved.  If they can do that, and avoid the set three let down, they have a good shot at winning.  In seven of their eight losses, they have lost the third set. In eleven of their thirteen wins, they have won the third set.
Also, the match starts at 8:00 Central time, 9:00 Eastern. If Minnesota can push the match four or five sets, perhaps the Nittany Lions will be thinking more about going to bed than playing! Whoo hoo! Advantage Gophers!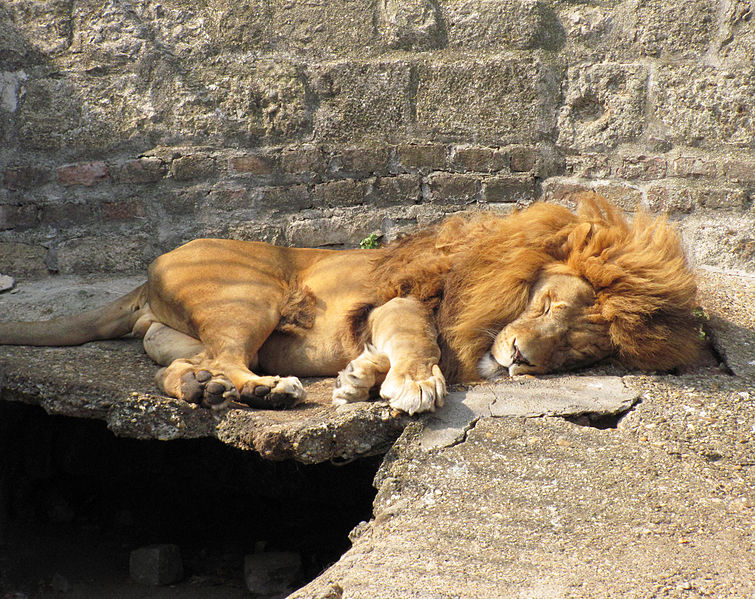 Ugopher wonders whether Minnesota can catch the Nittany Lions napping
DigNittany: Last season's 3-2 win over Penn State at the Sports Pavilion (we think it was a fantastic match, except for that ending part where Minnesota won) was Minnesota's first win over Penn State since 2004.  But it also was Penn State's last loss in the 2010 season, as the Nittany Lions went on to win the national championship for the fourth-straight year.  What's your prediction for this match, and if Minnesota wins, could you somehow guarantee us another national championship run?  It only seems fair.
Ugopher: Last year's match was one for the ages and I feel that the Big Ten Network has done the volleyball community a great disservice by not replaying the match in its entirety (or, in any length, for that matter. Give us the last three sets, anyway!). I feel fortunate that I was able to attend in person.
I remember as the teams left the court after the second set that I hoped the Gophers would at least push the match to an hour and a half.  Little did I know!  Felt great for Lauren Gibbemeyer that night. She really put the team on her back and willed the Gophers to a win that evening.
You should feel thankful that Minnesota provided you with the type match needed to prepare them for the tournament. Can we expect a championship ring for our role in your success?
My prediction? Minnesota wins games 1 and 3, PSU 2 and 4. Game 5 goes to Minnesota 16-14!  If this plays out this way, I also predict that I will not be able to talk for a week.
DigNittany:  Thanks so much for taking the time to share your thoughts.  We really appreciate it.
Ugopher: Thanks for asking. Given Penn State's success in the Big Ten and against the Gophers, I have tried to "hate" the Nittany Lions.  But your fans, players, and coaches make it just too difficult to do so. I took a trip to Happy Valley a couple of years ago and was treated well.  The players have been gracious. And Russ even said "hi" to me once.