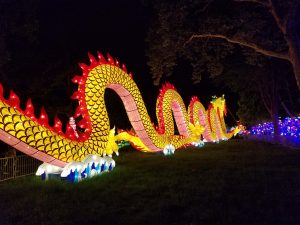 Ok, our staff has been draggin'; we've been draggin'; the guy pictured on the left has been dragon.  (Ouch — puns, the lowest form of humor.)
So we're just now turning to our 2016  Penn State Women's Volleyball Season Preview.
Point 1:  We're up in the Air about 2016.  Here's the thing: for us, at least, this is a hard team to figure out in advance.  In truth, we're pretty much up in the air about their prospects.  The 2015 season ended on a decidedly down note, as Hawai'i swept the Nittany Lions (22-25, 25-27, 16-25) in the Sweet 16 round of the NCAA Tournament, at the Wells Fargo Arena in Des Moines, Iowa.
Although that was last year, and this is a new team, with new players, the AVCA Preseason Poll has the Nittany Lions ranked exactly where they ended up last season — #9.  In fact, four of the top-ten teams are ranked exactly where they were at the end of last season.  Not sure whether that reflects remarkable season-to-season consistency for the top programs, lack of imagination by the voters, or, in the absence of real information about the contenders, sticking with the tried-and-true.
Rank
Team
(1st Place
Votes)
2015
Final
Record
2015
Final Rank
1
Nebraska
(60)
32-4
1
2
Texas
(3)
30-3
2
3
Minnesota
30-5
3
4
Wisconsin
26-7
10
5
Kansas
30-3
4
6
Hawai'i
29-2
7
T-7
Washington
31-3
6
T-7
Southern
California
33-3
5
9
Penn State
28-6
9
10
Florida
25-7
8
The B1G 2016 Preseason Poll had a comparable ranking for Penn State  — #4, behind unanimous #1 choice Nebraska, #2 Minnesota, and #3 Wisconsin.  Here's what GoPSUsports had to say in its release:
UNIVERSITY PARK, Pa. — No. 9 Penn State women's volleyball has been selected fourth in the 2016 Big Ten Preseason Poll, released by the conference this morning. Additionally, juniors Haleigh Washington and Ali Frantti have been named to the 2016 Preseason Big Ten Volleyball Team.

The pair of Preseason All-Big Ten honors are the second straight for Washington and Frantti, who each earned the honor in 2015. Washington is also among a group of just four honorees to be voted to the team by a unanimous decision from the league's 14 head coaches. [Click Here for the complete release from GoPSUsports.com]
Point 2: The Players Want to Prove the Polls Wrong.  Whether those rankings prove to be too high, too low, or just perfect, at the 2016 Media Day Press Conference (Click Here for video) 6-3 Jr. MB Haleigh Washington (a 2015 First Team AVCA All-American), 6-1 Jr. OH Ali Frantti, and 6-1 Jr. OH Simone Lee all noted that, although rankings are "just a number," and don't define the team or its season, they want to prove the team is better than the voters think.
It's undoubtedly true that rankings don't define a team or its season.  When the Nittany Lions take the court on tonight against West Virginia (7 p.m.), and then against  Georgia Southern and No. 19 North Carolina on Saturday, Aug. 27 at 10 a.m. and 7 p.m., respectively, they will be missing two Second Team AVCA All-Americans in OH Megan Courtney and RS/Opp Aiyana Whitney.  That's alot of leadership, experience, and talent to replace.  This year's players will have to prove on the court, every match, all season, that they are up to that task.
Point 3: There Are Lots of Job Opportunities.  Coach Rose on who plays:
I'm a big believer in just telling the truth – there's no reason to do anything other than to tell the players my opinion based on the knowledge that I have.  I don't think that there's any benefit for me to blow smoke.  I tell my players I want to win, so it removes some of the b.s. where they think I'm going to play them because they're a senior or a junior. I'm going to play the best players.  But I'm not going to tell a kid "Give me your scholarship, because I'm going to bring in somebody better."  That's not, in my opinion, how you treat people.  [From "A Conversation with Russ Rose, DigNittanyVolleyball.com, posted June 26, 2016]
Of course, some players are clear choices — Haleigh Washington, Ali Frantti, and Simone Lee are in that category.  6-0 RS So. Setter Bryanna Weiskircher is the incumbent, but she may be challenged by Florida transfer 6-0 Jr. setter Abby Detering.
Other question marks?  How much will 6-2 Jr. MB Heidi Thelen play?  Same question for 6-1 RS So. OH Nia Reed.  Both players have talent (Thelen, in particular, has demonstrated very good blocking skills), but in 2015, neither played well enough to nail down a starting spot.
And what about the two redshirts — 6-2 RS Fr. MB Tori Gorrell and 6-3 RS Fr. Opp. Jelena Novakovic?  With the graduation of Aiyana Whitney, there certainly is a job opening at Opposite.  But who will fill it?  Coach Rose may not have made an opening-match decision as of Friday morning. Finally, with the graduation of Kendall Pierce, who finished the 2015 as the starting libero, there is an opening at libero.  Will 5-7 So. Keeton Holcomb reclaim the job she won to start the 2015 campaign?  Maybe 5-6 Jr. Lainy Pierce?  Or will one of the many incoming freshman backrow players take the spot?  5-5 Fr. DS/L Kendall White garnered the most accolades during her prep career, but we doubt accolades factor into Coach Rose's determination of who starts.
Point 4: It's a Team Game. 
I think all volleyball coaches would say the same thing: it's a team game.  You could be really good as a group, and in volleyball, that's really a major factor.  And players and teams can get hot.  In a one-and-done tournament like the NCAA Volleyball tournament, that can also be a factor. . . . Each year I know, after I get a realistic look at our roster, whether I'm confident that we really have a chance to win [the NCAA title] or whether we'll have to get lucky to win it.  Sometimes you have to get lucky to win it.  You don't always have to have the best team.   [From A Conversation with Coach Rose, DigNittanyVolleyball.com, posted June 26, 2016.]
First, it's clear in determining playing time, Rose values who plays better together, as team, not necessarily who is the "better" individual player.  So that's an imponderable when looking at who wins the starting jobs (unless you've managed to infiltrate the Penn State practices.)  Second, if Coach Rose has made his assessment of Penn State's 2016 chances, he's not telling (or at least, he's not telling us.)
Below is a quick look at the 2016 Penn State players, including transfers and newbies, with a bit about how they've done, and some buzz (a heady brew of speculation, rumor, and under informed guesswork) on how they may perform this season.
The Buzz
Returning Players and Transfers
#15 6-3 Jr. MB Haleigh Washington: Washington's team-leading 1.38 blocks per set in 2015 helped the team lead the B1G in blocks per set, and finish third in NCAA D1.  She's obviously an exceptional attacker, who is working on completing the other facets of her game.  We think Washington will have a big year in 2016.
#5 6-1 Jr. OH Ali Frantti: A veteran six-rotation player who will have lots of responsibilities on her plate in 2016.  Started all 34 matches in 2015, finishing tied for third on the team with 2.63 kills per set, fourth on the team with 1.83 digs/set, and totaling 303 kills.  Frantti will be looking to rebound from what some viewed as a disappointing 2015 campaign (there were times in 2015 where she didn't look 100% physically, though that's pure speculation on our part.)  We think she will rebound, though she'll be tested with added responsibilities following the graduation of Megan Courtney.
#22 6-1 Jr. OH Simone Lee: Simone Lee arrived at Penn State as a highly-touted PrepVolleyball.com Senior Ace, and she has showed flashes of that talent throughout her career.  Without her hot hitting against Wisconsin in the NCAA Regionals in 2014, Penn State may not have won the match and the 2014 NCAA Championship.  But she also has been inconsistent.  The buzz is that Lee is a much improved attacker this season, with the ability to score points in a variety of ways, and that she has really been pounding the ball.  All we can say is "Go Simone."  She'll be needed as an attacker, a net presence, and a leader.
#21 6-0 RS So. Setter Bryanna Weiskircher: Weiskircher is an experienced player who has set and succeeded at all levels. In 2015 she played in all 34 matches, starting 33 (with Wilma Rivera starting one).  Led Penn State to a .295 hitting %, averaging 10.83 assists per set, and registered a team-high 40 aces (0.35 aces/set.)  Her 2.23 digs/set ranked third on the team.
#7 6-0 Jr. Setter Abby Detering: Abby is an experienced setter with a strong net game and good enthusiasm for competition.  In 2015 for Florida, she saw action in 29 matches (89 sets), averaged 0.65 assists per set, and registered three aces in back-to-back NCAA Tournament matches (against New Hampshire (12/3) and Florida State (12/4).
#19 6-2 Jr. MB Heidi Thelen: The word is that Thelen's physical play is much improved, and that she has been playing multiple positions in the front row.  Last season, Heidi totaled 41 kills in 23 matches and finished third on the team with 1.05 blocks/set.  She matched her career-high with nine blocks at No. 23 Michigan and totaled a career-high seven kills on .875 hitting, with one block, in the NCAA second round match against Dayton (12/5).
#11 6-2 RS Fr. MB Tori Gorrell: At 6-1, Tori may be a bit undersized for a middle, but she competes hard and has been making good strides in her net play.  We wouldn't be surprised to see her as a starter at some point in 2016.
#6 6-1 RS So. OH Nia Reed: A net player with the physical tools to win a game.  Reed played in 11 matches in 2015 (21 sets) with 20 kills and six blocks.  The issue for Reed has been twofold — recovering from knee surgery that ended her freshman campaign in 2014 before it began (injured in warmups, no less) and honing her technique.
#16 6-3 RS Fr. Opp. Jelena Novakovic: Jelena has been battling health issues but appears to be past that and is working on becoming a front row sub.
#23 6-3 RS So. OH Clare Powers: From St. Mary's college in California. Clare is a six-rotation outside hitter with tons of high level volleyball experience. She played for Vision VBC and was All State and All Region in high school.  At St. Mary's she was named to the all WCC freshman team in 2014.
#12 5-7 So. DS/L Keeton Holcomb: Keeton is an experienced and confident passer who definitely will battle for the starting libero position.  In 2015, Keeton played in 32 matches (28 starts) and led the team with 3.05 digs per set.
#8 5-8 Jr. DS Lainy Pierce: A confident server and backrow player.  Saw action in 21 matches in 2015 (48 sets), with 18 digs and three aces.  Lainy will definitely be in the mix for a spot in the backrow rotation.
#13 5-6 Sr. DS Taylor Krause: One of the tri-captains with a good feel for the game and PS volleyball.  A backrow player.  Played in 25 matches in 2015 (53 sets) including against Dayton in the second round of the NCAA Tournament.
#4 5-10 So. Setter Wilma Rivera: An experienced setter with a strong serve and quickness in the backrow.  She played in 20 matches in 2015 (50 sets), with 78 digs, 27 assists and six aces.
#24 5-2 RS Jr. DS Laura Broerman: Injured for the 2015 season, Laura played in 16 matches in 2014, including six Big Ten matches and an appearance in the NCAA Tournament opener against Siena.
#14 5-3 RS Fr. Setter Caroline Graham: From Haiti via UCLA, Caroline played on the Haitian National Team and took a year off of volleyball while attending school at UCLA. She decided she missed volleyball too much not to continue playing and said she always dreamed of coming to Penn State. Caroline has numerous best setter accolades in the Caribbean league and in various tournaments.
Newbies
#3 5-5 Fr. DS/L Kendall White: From Muncie, Indiana. Kendall is said to be dynamic and explosive — a fiery libero who is fearless when it comes to chasing down a ball.  During her prep career, it was common to see her diving into the stands to make a play. Kendall's high school team won the Indiana state championship this past season, with Kendall as the all-time dig career leader. Among her many accolades, Kendall was also named the Indiana Gatorade Player of the Year in 2015.
#2 5-4 Fr. DS Emily Sciorra: a defensive specialist from the Chantilly, Virginia area, Emily is quick, yet balanced, and is reported to have a calming and neutralizing effect on her team. She played club ball with Virginia Elite VBC and Metro VBC, and was named to the all-conference and all region teams in her area in 2013, 2014, and 2015. She added a first team all-state to her list of accolades in 2015.
#9 6-1 Fr. OH Emily DeMure: From Granite Bay, California,  Emily is six rotation hitter and setter. She reportedly can hit on both pins, in the middle and set some out of the back row as well.  She is said to be a springy athlete, with a great jump and a live arm.
#17 5-7 Fr. DS Kristin Krause: The younger sister of Taylor Krause, Kristin is a setter from Allentown, PA and plays for one of the most competitive high schools in the state, Parkland High. She has won numerous individual awards and is a fierce competitor. Reportedly has good defensive skills and a tough serve.
#18 5-6 Fr. DS Allison Farrell: From Glenbard East, Illinois and a member of Sports Performance, one of the best volleyball clubs in the country. She has a brother who currently attends Penn State, was a member of the men's volleyball team and now helps on the women's side as well.
Credits
Dragon Lantern, by Nyline.
Dwarf honey bee (Apis florea), worker foraging on Zilla spinosa, Nahal Roded, Eilat Mountains, Israel, January 17, 2013. This bee species is invasive in Israel and Jordan. by Gideon Pisanty (Gidip). This file is licensed under the Creative Commons Attribution 3.0 Unported license.