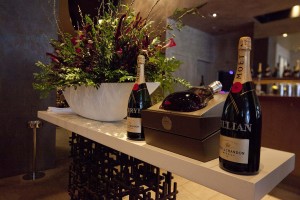 For some fans of #1-ranked Penn State (12-0), Wednesday night's match against #16-ranked Wisconsin (8-3) might have seemed a bit same-old same-old — another match, another sweep (25-21, 25-16, 25-20).
But Head Coach Russ Rose would tell you "Not so fast."
"I thought it was a great opening match ahead of a long and demanding conference season against a very strong opponent.  Every time you play against a Big Ten team, you're going to be forced to deal with different strengths of the other team.

We had some ideas for trying to neutralize Lauren Carlini, who is the setter and does so many things for them.  I thought we executed the game plan really well.  I thought [Ali Frantti and Haleigh Washington] along with [Megan Courtney] and [Aiyana Whitney] hit really well tonight.

There will be no doggin' it for the Nittany Lions

But . . . there are 19 more matches in conference play.  There's no reason to celebrate anything. . . . It's a good situation in some areas, but we have to get a lot better, because Minnesota is coming to town and they just beat 10th-ranked Ohio State 3-0 [in Columbus].  You can't get too excited about one match and you can't get too down about one match.  Winning one's not going to lead to others and if you don't play your cards right it's not too hard to let one loss beat you twice.


6-2 So. OH Ali Frantti led a balanced Penn State attack with 14 kills (to go with 6 digs and 2 blocks).
6-3 So. MB Haleigh Washington continued what has been a very productive season by racking up 11 kills (14 swings, .786 attack %), 5 blocks, and 2 service aces.
But when asked  how she felt after the match, she focused on anything but her personal accomplishments:
I was walking down the hall and I was listening to the band and I was looking at Frantti and I was watching Coach walk down the hall and I'm just really proud to be a  part of the this program. It's incredible we get to play here and we get to represent Penn State in such a positive way.
Asked about her personal accomplishments [she's leading NCAA D1 in hitting], she focused instead on areas in which she needs to improve:
I making some common mistakes.  I need to be better in the backrow.  I need to make more plays, I need to cover more balls to help my teammates out more.  I think my attacking can be a little bit smoother, it can be smarter.  I think my blocking needs to be more dynamic.  I think I can bring more to my game.
Or, as Coach Rose then pointed out:
Outside of that, after leading the nation in hitting last year, she's leading it again this year.  So yeah, she's had a pretty good couple of weeks.


6-2 Sr. OH Megan Courtney totaled 10 kills and a team-high 14 digs (her fourth double-double of the season), while 6-4 RS Sr. RS/Opp Aiyana Whitney registered 10 kills on .400 hitting.  6-0 RS Fr. setter Bryanna Weiskircher directed the team to a .376 attack % with 43 assists and 5 digs. Penn State out blocked Wisconsin 7-5 and had 44 digs to 34 for the Badgers.
Wisconsin's 6-2 Jr.  setter Lauren Carlini had 10 digs and 36 assists, but only 1 kill (.000 attack %) and no service aces (two service errors) and no blocks.  Dynamic 5-11 So. Kelli Bates registered 9 kills and 9digs.
The Badgers can take some comfort from history: Following their loss to Penn State in last season's Big Ten opener, they won 19 straight matches and captured the Big Ten title.
Credits
"From the Moët Hennessy Portfolio (6147266422)" by Financial Times – From the Moët Hennessy Portfolio. Licensed under CC BY 2.0 via Wikimedia Commons.
Sleeping puppies.  "Kelpievalpar." Licensed under Public Domain via Wikimedia Commons.
Match Stats
(Courtesy of GoPSUsports.com)