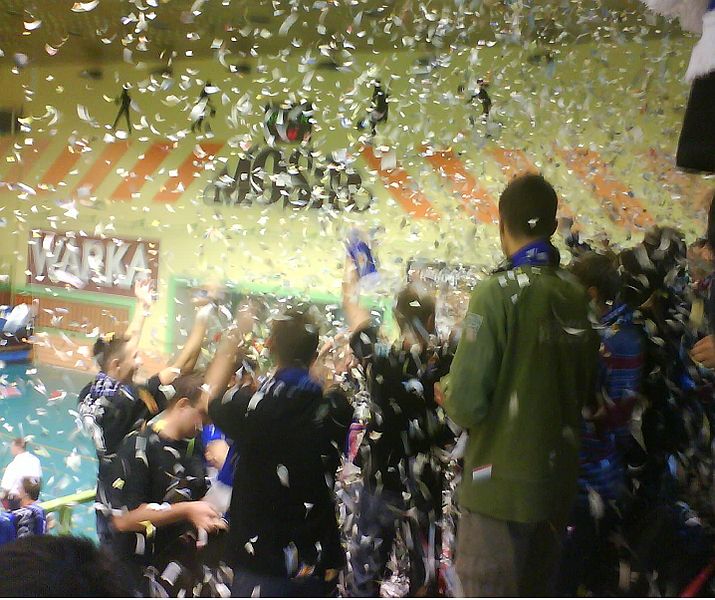 What: Minnesota (8-4, 1-2 Big Ten)  vs. Penn State (9-4, 2-1 Big 10)
When: October 1, 2011 6:00 p.m. ET (Early start!)
Where: Rec Hall
Media: Live on BTN (Big Ten Network)
Our apologies, we've had a bit of an internet wardrobe malfunction, and don't have access to our normal toolkit, so we haven't added rosters and videos to this Game Day Preview, as we had planned.  But we do, thankfully, have a thoughtful Fanalysis, thanks to mplssetter, who kindly agreed to put in the time to help us out with this take on this evening's match.
DigNittany: The big news for Minnesota in the off-season was the retirement of Mike Hebert, and the hiring of interim Head Coach of Laura Bush to hold the fort until Hugh McCutcheon takes over after the Olympics. With 11 matches in the books, how do you think Coach Bush has done, and what differences have you noticed this season in her coaching style compared to that of Coach Hebert?
mplssetter: First, of all, DigNittany, let me start by thanking you for asking me to do this. I was just thinking how I don't spend enough time on volleyball. There are still a few minutes in the day I could be looking over box scores and mulling over line ups. To answer your question though, I think Coach Bush has done a great job considering the circumstances. I'm sure it's not an easy position to be in as a interum head coach. I think she's done a good job of bridging the gap between what Dr. Hebert established and what Hugh's system is going to be.  Not to mention dealing with some obstacles like Love transferring and two incoming players not being available to play this season.
DigNittany: We've always assumed you played setter at some point (we didn't rule out the possibility that you own an Irish setter, but our guess is it's the former that led you to your internet handle). As a former setter, what can you tell us about the play of Mia Tabberson (6-2 Jr.) and Kellie McNeil this season?
mplssetter: As a matter of fact, I was the star setter on my 6th grade gym class team at Garfield Elementary. We were called the Garfield Fighting Cats. So I think that qualifies me to critique this year's setters… [Editor's Note: We do too!] I have been impressed with Mia's development this year. I like the leadership role she has taken on this year and she seems a lot more confident out there. Technically, her set location is much better, in particular her slides. She's also connecting better with the middles in front of her as well. She seems to be running a slightly faster set to the outside than last year. I think she is one of the best setters in the Big10 this season.
She can still improve on her defense though. I haven't seen a lot of McNeil in game situations. (I missed the Northwestern match.) Sounds like she did a good job. In the spring she appeared pretty nervous, but showed signs of greatness. I do like that she has great hands, is speedy, and has a huge vertical. She's very athletic and I would not be surprised to see her surpass Mia at some point this season or next.
DigNittany: We noticed that Brianna Haugen made her first career start against Illinois. Tell us about her, and whether you think she'll start against Penn State?
mplssetter: Haugen is a junior MB that has seen limited playing time so far in her career at MN. Being a team player, she has been training this season to backup pretty much all positions across the net. I've been rooting for her this season. I'm a little surprised that we have not seen more of her on the left for Cowles in the front row. During the spring and summer practices she was hitting OH. It seemed like by late August when I saw them practice, she had improved her timing and footwork on the outside and was hitting with some authority. I would like to see her get a shot on the left.
Against Illinois, she did start in place of Harms on the right side. I assume it was to put a bigger blocker up infront of Ward/Bartsch. She did a decent job and got some kills. I remember one in particular when she hit using a slide approach which was interesting. I really don't know if she'll start against PSU, I think a lot will depend on how the OSU match goes. If I were the coach, I would probably put Harms back in there and hope that she is more on than off. When Harms is on, she's almost unstoppable. Plus, she is a very energetic player and I felt like they could have used some of her energy on the floor against IL.
DigNittany: Has 5-10 Sr. OH Hailey Cowles' performance this season met your expectations? How has it differed?
mplssetter: Well, I like Hailey and I like the type of player she is.  She will come at you hard, despite being undersized. I like how crafty she is. Plus she's a nice person. That being said, I think for the Gophers to make a run to the final four, she is going to have to hit at least .150-.200. It's tough to win if your OH2 is hitting negative. I'm hoping that she gets back to playing the way she did when she was on the final four all tournament team. I do have to say though, I think her rehab must of went pretty well because she seems to be back to full strength and taking a ton of swings. Last year there were three notable ACL injuries at the beginning of the season (Cowles, Hockaday, and Dorton). Cowles is the only one that is back playing six rotations.
DigNittany: Which player would you say has been the most pleasant surprise for the Golden Gophers this season?
mplssetter: Ruffda already mentioned Filho, so I'll  go with Tabberson. I wasn't real big on her last year when she was competing against Nucci. However, I think she got better at the end of the season. I thought she played pretty well in MN's win over PSU. I think she's continued to improve at a higher rate than I was expecting.
DigNittany: So what's your prediction for the match?
Mplssetter: This is a tough match to call in my opinion. The teams are pretty evenly matched statistically. PSU has
the advantage in blocks which is something that concerns me. I think if the Gophers want to win, Dixon/Wittman must have good matches. Cowles has to hit for a reasonable percentage. And they MUST receive serve well. That is what killed
them against IL. If PSU's block gets hot, the gophers are toast. MN will also need to focus on Scott and Deja. MN will need to frustrate the younger lions and force them into making mistakes. I don't MN will be at all intimidated.
DigNittany: Thanks very much for taking the time (which you probably had to borrow from somewhere, sorry about that!) to share your thoughts with us.  We really appreciate it!