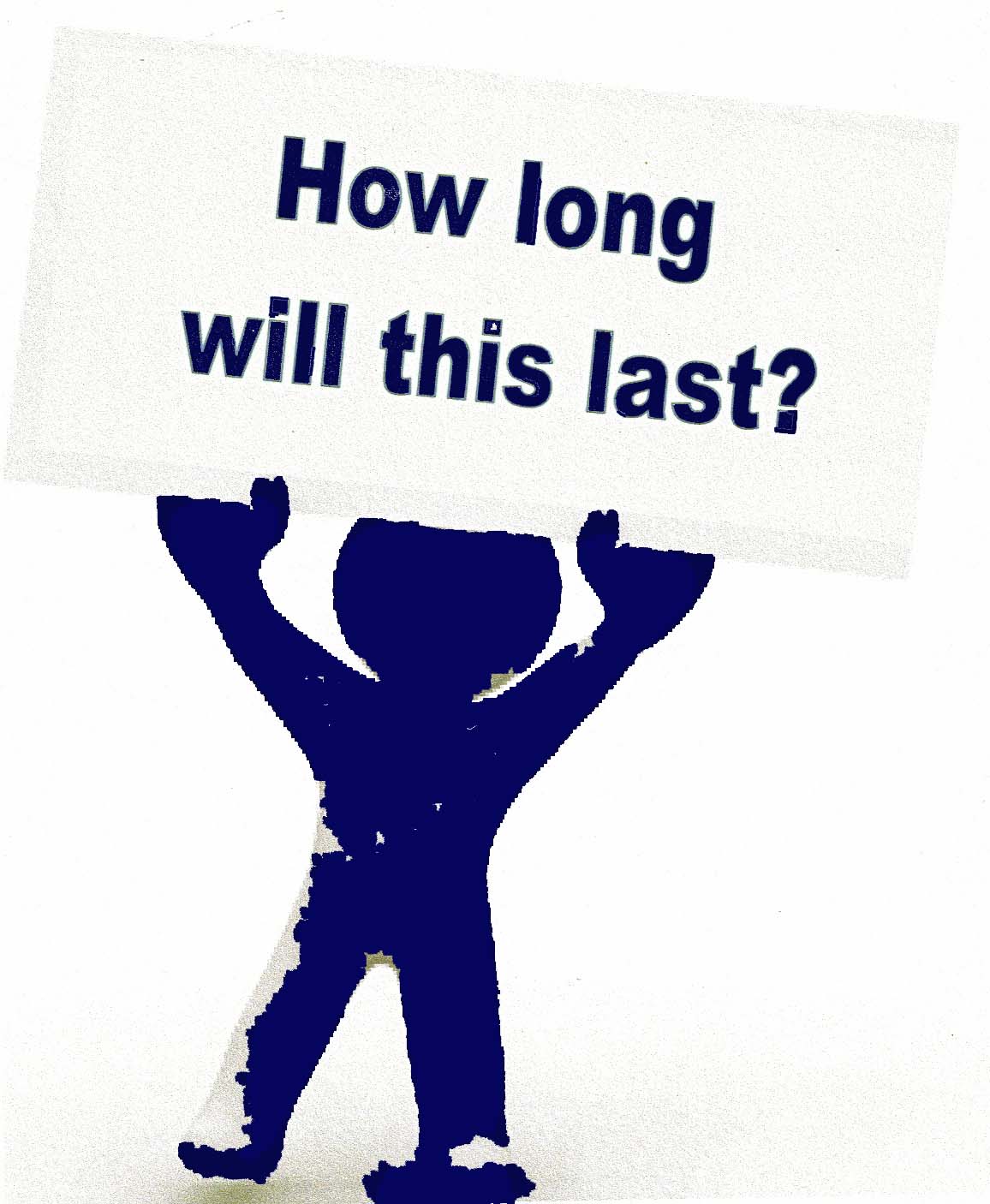 There's the optimistic outlook (see Beatles video above, "It's Getting Better all the Time"), and there's the pessimistic outlook (see Sign-Carrying Blue Guy, above the optimistic Beatles video).
When it comes to the 2012 Penn State Women's Volleyball team, we trend towards the Beatles — the stats make it pretty clear, things are better in 2012 than they were in 2011.  But that Sign-Carrying Blue Guy does have a point: can the Nittany Lions continue to improve, and carry that improvement through the crucible of the NCAA Tournament?
Who knows.  But take a look at the comparison of performances from 2011 to 2012.  You've got to admit, its getting better.
[Editor's Note: Our crack team of statisticians and researchers have let it be known that they consider proofreading to be outside the scope of their collective bargaining agreement (i.e. we pretend to pay them; they pretend to work).  So undoubtedly there are errors in these tables.  Please let us know if you find any.]
Attack Leaders - 2012 vs. 2011 (as of 11-10-12)
Year
Name
Class
Sets
Played
Matches
Played
Matches
Started
Kills
Kills/Set
Attack
Errors
Total
Attacks
Hitting
Pct.
2012
Scott, Ariel
Jr.
95
27
26
346
3.64
103
851
.286
2011
Scott, Ariel
So.
118
33
31
418
3.54
136
1083
.260
2012
McClendon, Deja
Jr.
94
27
27
307
3.27
97
852
.246
2011
McClendon, Deja
So.
122
33
33
432
3.54
144
1090
.264
2012
Slay, Katie
Jr.
92
26
22
224
2.43
45
414
.432
2011
Slay, Katie
So.
122
33
33
257
2.11
63
502
.386
2012
Courtney, Megan
Fr.
90
27
26
182
2.02
71
485
.229
2011
Martin, Maddie
So.
98
33
24
141
1.44
60
410
.198
2012
Grant, Nia
So.
94
27
27
160
1.70
42
311
.379
2011
Grant, Nia
Fr.
117
32
32
151
1.29
44
309
.346
2012
Hancock, Micha
So.
95
27
27
104
1.09
25
197
.389
2011
Hancock, Micha
Fr.
121
33
32
110
0.91
34
246
.309
2012
Team
n/a
95
27
27
1384
14.57
408
3275
.298
2011
Team
n/a
122
33
33
1676
13.74
564
4159
.267
2012
Opponents
n/a
95
27
27
1022
10.76
581
3242
.136
2011
Opponents
n/a
122
33
33
1377
11.29
684
4077
.170
Set/Serve Leaders - 2012 vs. 2011 (as of 11-10-12)
Year
Name
Class
Sets
Played
Matches
Played
Matches
Started
Assists
Assists
/Set
Service
Aces
Service
Aces/Set
Service
Errors
2012
Hancock, Micha
So.
95
27
27
1090
11.47
53
0.56
95
2011
Hancock, Micha
Fr.
121
33
33
1275
10.54
91
0.75
76
2012
Gonzalez, Dominique
So.
95
27
0
74
0.78
19
0.20
21
2011
Longo, Ali
So.
117
33
0
90
0.77
32
0.27
30
2012
Courtney, Megan
Fr.
90
27
26
24
0.27
8
0.09
28
2011
Carpenter, Kristin
Jr.
100
33
4
76
0.76
14
0.14
37
2012
Fuller, Lacey
So.
92
27
1
12
0.13
12
0.13
13
2011
Gonzalez, Dominique
Fr.
84
29
6
19
0.23
8
0.10
21
2012
Team
n/a
95
27
27
1268
13.35
135
1.42
241
2011
Team
n/a
122
33
33
1549
12.70
209
1.71
288
2012
Opponents
n/a
95
27
27
977
10.28
75
0.79
156
2011
Opponents
n/a
122
33
33
1293
10.60
113
0.93
202
Recept/Dig Leaders - 2012 vs. 2011 (as of 11-10-12)
| Year | Name | Class | SP | MP | MS | RE | Dig | Dig/S |
| --- | --- | --- | --- | --- | --- | --- | --- | --- |
| 2012 | Gonzalez, Dominique | So. | 95 | 27 | 0 | 15 | 349 | 3.67 |
| 2011 | Longo, Ali | So. | 117 | 33 | 0 | 19 | 397 | 3.39 |
| 2012 | McClendon, Deja | Jr. | 94 | 27 | 27 | 26 | 266 | 2.83 |
| 2011 | McClendon, Deja | So. | 122 | 33 | 33 | 22 | 245 | 2.01 |
| 2012 | Hancock, Micha | So. | 95 | 27 | 27 | 0 | 226 | 2.38 |
| 2011 | Hancock, Micha | Fr. | 121 | 33 | 32 | 4 | 279 | 2.31 |
| 2012 | Courtney, Megan | Fr. | 90 | 27 | 26 | 19 | 173 | 1.92 |
| 2011 | Martin, Maddie | So. | 98 | 33 | 24 | 21 | 156 | 1.59 |
| 2012 | Fuller, Lacey | So. | 92 | 27 | 1 | 2 | 142 | 1.54 |
| 2011 | Carpenter, Kristin | Jr. | 100 | 33 | 4 | 12 | 182 | 1.82 |
| 2012 | Team | n/a | 95 | 27 | 27 | 75 | 1401 | 14.75 |
| 2011 | Team | n/a | 122 | 33 | 33 | 113 | 1729 | 14.17 |
| 2012 | Opponents | n/a | 95 | 27 | 27 | 135 | 1278 | 13.45 |
| 2011 | Opponents | n/a | 122 | 33 | 33 | 209 | 1671 | 13.70 |
Blocking and Points Leaders - 2012 vs. 2011 (as of 11-10-12)
Year
Name
Class
SP
MP
MS
Block
Solo
Block
Assist
Total
Blocks
/Set
Blocking
Errors
Points
Points
/Set
2012
Scott, Ariel
Jr.
95
27
26
11
63
74
0.78
3
391.5
4.12
2011
Scott, Ariel
So.
118
33
31
5
81
86
0.73
2
471.5
4.00
2012
McClendon, Deja
Jr.
94
27
27
13
39
52
0.55
5
349.5
3.72
2011
McClendon, Deja
So.
122
33
33
13
48
61
0.50
6
482.0
3.95
2012
Slay, Katie
Jr.
92
26
22
12
113
125
1.36
8
292.5
3.18
2011
Slay, Katie
So.
122
33
33
27
146
173
1.42
11
359.0
2.94
2012
Courtney, Megan
Fr.
90
27
26
21
51
72
0.80
8
236.5
2.63
2011
Martin, Maddie
So.
98
33
24
5
34
39
0.40
2
180.0
1.84
2012
Grant, Nia
So.
94
27
27
4
86
90
0.96
10
207.0
2.20
2011
Grant, Nia
Fr.
117
32
32
13
94
107
0.91
4
224.0
1.91
2012
Hancock, Micha
So.
95
27
27
6
60
66
0.69
4
193.0
2.03
2011
Hancock, Micha
Fr.
121
33
32
5
54
59
0.49
9
233.0
1.93
2012
Team
n/a
95
27
27
67
427
280.5
2.95
41
1799.5
18.94
2011
Team
n/a
122
33
33
76
503
327.5
2.68
40
n/a
n/a
2012
Opponents
n/a
95
27
27
37
277
175.5
1.85
38
1272.5
13.39
2011
Opponents
n/a
122
33
33
51
341
221.5
1.82
69
n/a
n/a