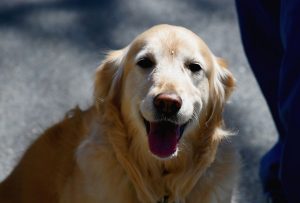 Three weeks ago, we posted that we've reached a point where we need to defray the out-of-pocket costs of DigNittanyVolleyball and the DigNittanyVolleyball Forum, which currently are approximately $1,000 per year.  .
Your response has been fantastic.  With a contribution today April 2, 2017), we met the $1,000 goal, so we can continue without online ads or charging a subscription fee (whether either of those options would generate enough revenue is uncertain).
Thank you all.
________________________________________________
We're leaving the PayPal button, below, because we fear our slacker staff will be too lazy to go back and install when we solicit contributions for next year.  But again, we're good for this season, thanks to all of you.
If you are under 18, we would rather you don't contribute.  Save that money for your own future!
Please note, this is not a tax-deductible donation.
__________________________________
Credits
Happy Golden dog, by liz west from Boxborough, MA – happy golden, CC BY 2.0, https://commons.wikimedia.org/w/index.php?curid=14758944.  This file is licensed under the Creative Commons Attribution 2.0 Generic license.