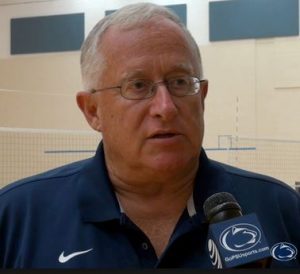 There isn't much to say about this match.  Either it was an outlier, and the team will refocus, snap back, and play well from here on out in the Tournament.  Or it wasn't.  Here's what Coach Rose had to say after the match:
Opening Statement by Head Coach Russ Rose
I'd first like to recognize Howard on a great season and a terrific effort tonight against us.  I thought they played hard, I thought they played well, and it sure looked like they were having a lot more fun on the other side of the net than we were.  I'd like to acknowledge their efforts.  We started well, and then in the second game we made nine unforced errors.  You do that in the NCAA Tournament and you're going to lose a game and find yourself in trouble.  I thought that even though we won the third and fourth games, we also had two stretches in each game where we gave three or four points away.  It wasn't a great effort.  I'm disappointed in a lot of things, but I thought Ali [Frantti] passed really well.  I thought Haleigh [Washington] and especially Tori [Gorrell] hit really well.  I thought Tori was our best attacker this evening.

Q. Coach, what did you say to your team in between the second and the third set?

RR: We have a lot of seniors. When I got to the room one of them was already yelling at everyone else so I didn't have to say a lot. I think that the players are aware of what they have to do and they understand the level of play that it takes to advance. We will have to be better tomorrow or we will be disappointed tomorrow night. I do also think that Pitt looked a lot better than we did tonight.

Q. What impressed you the most about this Howard team, being that they are undersized and do not have the same level of talent that you do?

RR: They played very hard and they always played hard. I think that Shaun Kupferberg does a great job with his team. Howard University is going to attract a different level of players because of why they are electing to go to school there and hey they play with great pride and enthusiasm. On the floor, when they did something good, they were smiling and happy. We have not lost a game to them in the last couple of years. They earned this game; we did not just give it to them. I did not throw subs in there. They played hard and that is what the NCAA Tournament is about. If we had a younger, more experienced team we could have lost our composure and lost the match. It is a match in the NCAA Tournament that if you are
not ready to play, someone can catch your attention fast and I think that Howard did that this evening.

Q. Howard hit zero in three of the sets and .355 in the second set, what were they doing differently and what were you doing differently?

RR:I think that our serving was not good, and they elevated theirs. When you lose 25-10 you might as well go for the fences because it is not like they are saying you got them where you want them. I think that we made a couple mistakes early, which made the match close, and when we tried to come back in the end, they earned good side-outs to get some points. It was not that we were not trying but we made nine errors, a mix of passing, service and net violations. We also did some things that maybe were a little but uncharacteristic but they are also part of the game and it happens when players start to press a little bit.

Q. It did not seem like Simone Lee was getting blocked necessarily but it seemed like Howard had her lined up every time she was taking a swing, what do you have to say about that?

RR: I do not think that Simone had a very good night, but that can happen.

Q. Were you expecting to get good efficiency out of your middles tonight?

RR: Tori Gorell played really well last week during Minnesota. We realize now how unfortunate it was that we did not set her more during the year because she wasn't able to get recognized in any awards when she is now hitting close to 500. I thought that she was good in the last couple matches. We need to be better Pitt is good at what they do. We have played them in the springtime over the past couple of years. They are good team who is well coached and has a lot of enthusiasm but at the end of the day they did not come here just to have a good time at the NCAA tournament.

Q. After the VCU match, the Pitt coach said that last year he thought that his team faded in the last couple of sets on serves and passes, but he thought that were much better equipped this year. What do you think about this?

RR: I thought that they passed really well tonight. They are good all the time. They won the ACC, I mean all the teams here were conference champions. We were an at-large team because we were the number one seed. I think that Pitt is very good and the ACC is a strong conference. For them to navigate that conference as strong as they did, I think our players can recognize the need to improve their performance.

Q. Tori, do you feel like you had a decent amount of room to work with, as far as hitting and finding open spaces?

TG: Yes. All year all the coaches, especially coach, have been telling me to move around, find open spaces, don't just hit one's but also hit three's and pushes. Tonight I thought that the setters did a really good job of finding me in the gap.

Q. How do you think Heidi Thelen has adapted to the right side this year? What do you guys need to work on as a team?

HW: I think that Heidi has filled the role pretty well. I remember last year she was being introduced to the right side which made it more uncomfortable, but I think this year she has really gotten into the niche and accepted the role. You can see this more especially when she is swinging out of system. Last year she would be a little more nervous and reserved but this year she looks cleaner. Things we need to work on tomorrow to get ready for Pitt would have to be serving more aggressively to get Pitt out of their system. I also think that our blocking needs to be a little bit cleaner. I think that our blocking tonight was a little bit too high and sloppy. Pitt has a lot of good weapons and is going to swing really hard so we need to make sure that we are disciplined on our block.

Q. Did you feel like during the game today that there was any sort of pressure about being the number one seed?

RR: We had a great practice yesterday, so I thought that we were ready to play but Howard is a different team to play because they are small and athletic/quick. There are no excuses because they played really hard. I do not think it was the pressure of expectations but if that is the case that is unfortunate because life is going to have those sorts of demands on you. If you do not have those expectations for yourself you are probably not going to achieve many great things.

Q. Haleigh Washington and Ali Frantti, you guys started and finished the sets strong and played this Howard team in 2015. What do you think the biggest difference is in your game from then and now, and how do you think playing them before helped you tonight?

HW: I think that a lot changes over a year. You get more physical, stronger, have better vision and especially being a senior I have four years under my belt so when things get scrappy in the set you keep a level head. I think compared to last year versus now, those physical and mental changes of growing and maturing helped us tonight.

Q. Coach, Abby Detering had a few uncharacteristically poor sets throughout the match, what do you attribute that to? 

RR: I am not sure. Maybe because the outside hitters were struggling that she tried to force the ball into the middles, and then there were two or three balls that they didn't connect on.  I agree with you.  I did not think the setting was very good tonight.
Match Stats
(Courtesy of GoPSUsports.com)