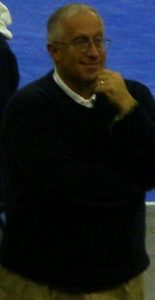 We sat down on August 13th with Russ Rose, who is starting his 39th season as head coach of the Penn State Women's Volleyball team.  Below is the interview, lightly edited for length and clarity:
DigNittany: This is the 39th year you've overseen preseason practices for Penn State women's volleyball. Do you run things the same way now as you did in the early years, or have things changed?
Coach Rose: One thing that's different is this is the first time in the 39 years I've been at Penn State that there's a mandated day off.  So yesterday was the mandated day off.  I think the top players value rest but they understand the importance of work if they want to become one of the top players.
DigNittany: You've said that you have a team's attention much more following a loss than you do coming off a victory. The past two seasons ended in losses in the Sweet 16 – earlier than you (and certainly the fans) would have wanted. Do you think you have this year's team's attention about what it takes to win?
Coach Rose: I think two years ago when we lost, we didn't play great against Hawaii — a team we had never lost to before.  This past year, after winning the first two sets against Nebraska, and having a swing for the victory there, I think we put a lot of energy to get to that position, but more important I thought the benefit that Nebraska had earned by being the home team gave them a lot more energy and reserve to finish the match.  But when you only score six points in a set like we did in the fifth set against Nebraska, players don't have much room to talk and coaches don't have much room to talk either.
DigNittany: Haleigh Washington, Simone Lee, and Lainy Pierce are the three senior captains this season. How have they been as leaders?


Coach Rose: Haleigh has been one of the top players in the country, certainly offensively, and I think she can interact well with the middles, I think Simone is establishing herself as a premier outside player, and I think Lainy communicating with the back row gives us coverage for all of the positions.  I think Haleigh and Simone in particular have demonstrated through their hard work that they're worthy of that position — and that's not to say other people haven't worked hard, it's just that sometimes some people emerge more than others.
DigNittany: Obviously it's early, but can you tell us anything about the three newcomers: Kat Cather, Cami May and Michaela Putnicki?
Coach Rose: Kat has been a bit dinged up so I really can't comment on her.  Cami is a middle/right-side, so she'll play both positions.  Cami could theoretically hit left, middle or right, whereas Heidi Thelen is more a middle/right.  One of Cami's strengths is she's really mature and just a really solid kid.  She enrolled at Penn State early and I thought she transitioned to college really well.  Michaela is a good six-rotation player.  She can pass, she can play defense, she can hit.  She has a good volleyball IQ.  She's certainly not as physical as the older players or some of the top outsides in the country.  But there's always a need for someone like Michaela who can play the game and make plays all the time.


DigNittany: Against Nebraska in the Sweet 16 you used what's been described as a modified 6-2. With both Abby Detering and Bryanna Weiskircher returning at setter, you could do that this season. What are some of the advantages and disadvantages?
Coach Rose: In our case, if everyone's healthy, and we have more arms, the 6-2 might give us a little more pressure on the opponent offensively.  One of the advantages is that both Abby and Bryanna are very strong servers.  So if we're running a system that's keeping both of them on the floor at some point in time, we're at least guaranteed that we're going to have some pressure from the end line.
DigNittany: What can you tell us about Haleigh Washington, Simone Lee and Ali Frantti so far this preseason?

Coach Rose: So far, all three are looking good.  I think part of a long season is that it can be even longer if you're one of the players who has major passing, hitting and blocking responsibilities, like Ali and Simone (who were both six-rotation players last season), and Haleigh (other than the passing).  If we can find a way to get them fewer reps during the week, maybe they're fresher on the weekends.  But it's a difficult balance, because if the younger kids are good enough to play, they should be playing, but if you're just playing them just because the older kids are beat up, then you're going to lose because the older kids are beat up and the younger kids aren't ready to play.  I thought Ali played great at the end of last year and in the Nebraska match, and Nebraska was very good.  Nebraska, Minnesota and Wisconsin were all #1 at some point during the season.  We were preseason #9 and finished #10.  So even though we had windows of opportunity against all those teams, we didn't play the way a team needs to play if you're going to be one of the top three teams in the country.


DigNittany: Nia Reed and Heidi Thelen both return. Your thoughts on them so far?
Coach Rose: You hope they continue to get better with experience and knowledge.  Certainly Heidi played a bigger role last season than Nia did.  Nia had an injury early in her career that took her out of a season, so in my mind she's still playing catch-up in some aspects of her game, because you need to be able to do a variety of things to play the game.  You can't be doing just one thing.  Nia is a very strong and physical player, with a willingness to work hard.  She's at a place where a couple of kids right now are ahead of her in line, and she's trying to work her way up the line.
DigNittany: Tori Gorrell is back for her sophomore year after what most fans would view as a promising freshman season. Your thoughts on Tori for 2017?

Coach Rose: Tori is stronger and tougher than last year.  I thought she played well on our trip to Brazil.  Reports that we had on her play with the Big Ten team that traveled to Europe this summer were that she represented herself and Penn State well.  She's not the biggest player but she's physical and she's quick.  Her dad played a lot of games as a pro football player, so I know there's toughness in the DNA.
DigNittany: Any thoughts on returning backrow players?


Coach Rose: Kendall White plays very hard.  She came from a great high school and club experience.  She's a competitor and knows how to play, and brings a good toughness to the team.
DigNittany: What about Lainy Pierce and Emily Sciorra?

Coach Rose: Lainy played a bigger role as a freshman because that team just needed her to come in serve and play a position.  Now there's more things she has to do to help the team.  She's got to be a little better passer, she's got to be a little better defensive player, in addition to still having one of our best serves.  Emily was the most pleasant surprise in Brazil.  I thought she played really well.  She passed well, she was a relentless defensive player and is certainly our quickest player in the back row.  So I think she'll be getting a lot more opportunities this year than she did last year.
DigNittany: This year will be the third consecutive season with associate head coach Salima Rockwell, assistant coach Craig Dyer and director of volleyball operations Jon Parry all returning, plus long-time Penn State assistant coach (and former Virginia head coach) Dennis Hohenshelt has returned as the volunteer assistant coach.  How important is staff continuity and experience?
Coach Rose: Staff continuity is very important.  I have a lot of confidence in the relationship that we all have with each other, and that frees me up to do some things and be a little more hands-on in some areas.  The best thing about Dennis's return is we hit the ground running in a lot of ways.  Not only was he here before, but he was here during an era when we won four national championships, so his contribution is a significant one.  His five years at Virginia make him a better, more knowledgeable coach.
DigNittany: Last two questions. You worked several summers at Nippersink Resort in Wisconsin – which, among other things, involved watching the performances of comedians who traveled the summer resort circuit. Did that shape your sense of humor at all, and do you think it helped prepare you in any way for coaching?
Coach Rose:  Well, I knew all of their jokes.  Comedians like Stu Alan and Don Rickles, they all had a routine.  They gave the same show Monday, Tuesday, Wednesday and Thursday night.  It wasn't like a new show every time.  Watching them shaped my ability to talk in front of any group of people on any notice.
DigNittany: Thanks so much for your time.  We appreciate it.
Credits
Photo of Russ Rose, by PennStateFan from Wikipedia.  This work is licensed under the Creative Commons Attribution-ShareAlike 3.0 License.
Photos of Rec Hall and Penn State staff and players courtesy of GoPSUsports.com.