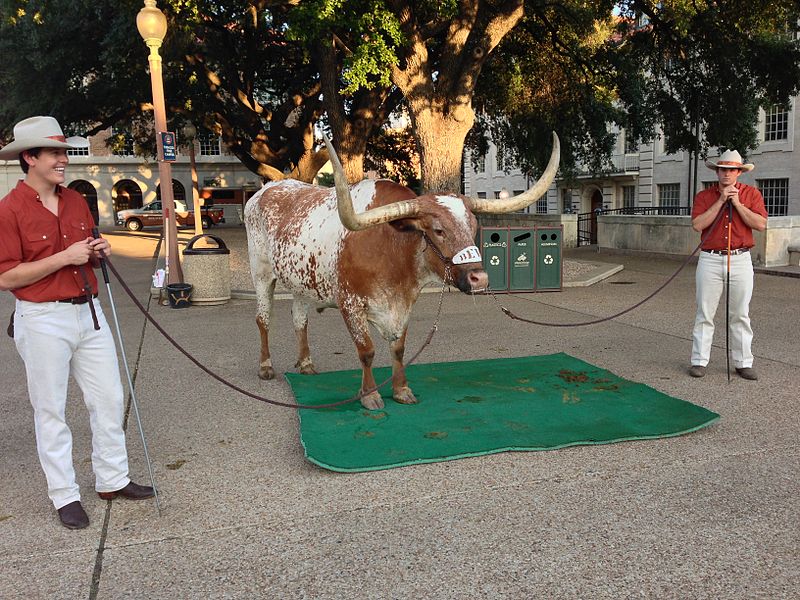 We don't get the Longhorn Network, so we may watch with Bevo at his barn on Saturday
Club Coach on the Nike Big 4 Classic
Penn State is coming off a successful opening weekend in Rec Hall, having earned back-to-back-to-back sweeps over Dabrowa, a top Polish professional team, Syracuse, and then-#19 Louisville, and now it's on to the Nike Big 4 Classic in Austin Texas.  Because we don't get the Longhorn Network (we finally understand that "hook'em" cheer from Texas fans — they're talking about hooking up to the Longhorn Network), we probably won't be watching on Saturday when #1 ranked Penn State (2-0) takes on #6-ranked Texas at 2:00 p.m. ET, or  on Sunday when the Nittany Lions face off against #8-ranked Florida.
But it won't be for lack of interest (we approached Bevo, pictured above, to see if he would let watch in his crib, err stall, but he fed us a line of bull, so that probably won't work out).  We're really looking forward to these matches, and asked Club Coach, who has coached numerous NCAA women's college volleyball players, his thoughts about the tournament and these two teams.  Here's what he had to say:
Club Coach on Texas vs. Penn State
The Penn St Nittany Lions travel to Austin to take on defending National Champions Texas, and perennial power Florida for their first big tests of the season. This will be a great opportunity for PSU to see where they are as a team, and also begin to find some answers in regards to a line-up. Competition has been fierce — especially at the outside hitting position — and this level of competition should provide them with some answers.

Texas returns a great nucleus from last year's champions, highlighted by All-Americans 6-3 Sr. OH Bailey Webster and 6-3 Jr. OH Haley Eckerman, who have to be considered the best left-side tandem in the country. These two outside hitters give the Longhorns a great point scorer in all 6 rotations.

The Longhorns also return standouts 6-1 Jr. MB/OH Khat Bell, 6-3 So. MB Molly McCage, and 5-11 Sr. S Hannah Allison. The Longhorns present a great challenge for Penn St as they are one of a handful of teams who can match PSU's size, talent and experience.

Although Texas is a strong contender to win it all this season, they didn't hit the ground running the first weekend, suffering a loss to Hawaii (see video below), and narrowly avoiding an upset from a very good San Diego. The question mark early in the season for Texas is passing and ball control, an area Hawaii and San Diego were able to exploit.

Penn State, although off to an impressive start, is still a team in the making, trying to find the right combinations of players — especially at the outside hitter spot, where they have 5 to 6 players who all are capable of playing at a high level. This weekend will give them a great opportunity to evaluate players against the highest level of competition in a sold out arena. This should be an exciting match, with two very explosive teams trading bombs. I think PSU is further ahead right now than Texas and I like the Lions in a tough 4-game match.
Club Coach on Penn State vs. Florida
Florida has proven to be year in and year out one of the best teams in the country, and this year is no different. Ranked pre-season #8, Florida is led by a duo of big time attackers in All-American 6-2 Sr. MB Chloe Mann and last year's National Freshman of the Year 6-0 So. OH Ziva Recek. Mann led the country in attacking hitting .444 for the season. Recek, although only a sophomore, has a ton of experience. Led by head coach Mary Wise, this is a Gator team that will make noise this season. This is a match where I think PSU is more balanced and that will be the difference. I look for PSU to take this match in 4 games, with the offensive load being shared by multiple players.
Thrill of the 'ville on the Nike Big 4 Classic
We also asked our old friend and Florida fan par excellence, Thrill of the 'ville, for his thoughts on the tournament.  Here's what he had to say:
DigNittany: What are you most looking forward to in the Tournament?

Thrill of the 'ville: The thing I am most looking forward to from the Nike Big 4 is the early measuring stick it provides for all of the programs involved. Penn State, Florida, and Stanford all had first weekend opponents that were very favorable for them. Those three teams were able to work on game situations, testing rotations, etc., while not having to worry too much about the team across the net.

Texas on the other hand was thrown right into the fire by starting with a very tough Hawaii team in the islands. Although that resulted in a tough loss, it is the only loss the teams in this tournament suffered, and is definitely not one that should raise big concerns for Longhorn fans. So although the routes to this weekend were different, everyone has some experience under their belts and should be firing on, or near, all cylinders, which should make this weekend very exciting for any volleyball fan, even if their allegiance is not to one of the four teams playing in Austin.

DigNittany: As a Florida fan, what worries you the most?

Thrill of the 'ville: As previously mentioned, Florida has yet to face an opponent near their caliber, and that worries me. Penn State and Stanford are ranked #1 and #2, respectively, in the latest AVCA poll and, although they haven't had an opportunity to prove it yet this season, their historical track record suggests they both will be very good. Florida also has a younger and less experienced team than its two opponents who have played not only played in big matches, but won the ones they played.

DigNittany: Care to make any predictions?

Thrill of the 'ville: I am typically a fan of trying to find an upset, but this weekend my predictions remain safe based on the pairings. I can't see Penn State and Stanford each doing anything but finishing the weekend 2-0. If they play to their potential, both the Nittany Lions and Cardinal are just too talented, experienced, and well coached to stumble with Florida or Texas. That's not a knock at the Gators or 'horns, both of which are great programs, but rather a compliment to Stanford and PSU, who look to be in a class of their own at the moment.

And that's where I feel we get jipped in the tournament's format, because we're being denied the more even pairings of Florida/Texas and Penn State/Stanford . . . the latter of which could be a National Championship preview. I am, in fact, in such awe of this PSU team that I marked the date of their match that is closest to my location, because I need to see this team in person.

DigNittany: Thanks to both Club Coach and Thrill of the 'ville for taking the time to speak with us.
Penn State Preview with Steve Aird
GoPSUsports.com interviewed Penn State assistant coach Steve Aird. Here's what Coach Aird had to say about the Nike Big 4 tournament:
Penn State Roster
Penn State 2013 Team Roster
| Number | Name | Position | Year/Class | Height | Hometown | State/Nation |
| --- | --- | --- | --- | --- | --- | --- |
| 1 | Scott, Ariel | RS | 4/Sr. | 6-4 | Ridgewood | New Jersey |
| 2 | Caraway, Lara | DS | 2/So. | 5-4 | Evans City | Pennsylvania |
| 3 | Pierce, Kendall | DS | 2/So. | 5-6 | Eden | New York |
| 4 | Gonzalez, Dominique | DS | 3/Jr. | 5-6 | San Antonio | Texas |
| 6 | Martin, Maddie | OH | 4/Sr. | 6-2 | Tampa | Florida |
| 7 | Grant, Nia | OH | 3/Jr. | 6-2 | Warren | Ohio |
| 8 | Denny, Erica | MH | 3/Jr. (RS) | 6-5 | Centennial | Colorado |
| 9 | Prieto Cerame, Paulina | OH | 1/Fr. (RS) | 6-2 | Miami | Florida |
| 10 | Muller, Carley | DS | 1/Fr. | 5-7 | Manhattan Beach | California |
| 12 | Hancock, Micha | S | 3/Jr. | 5-11 | Edmond | Oklahoma |
| 13 | Krause, Taylor | DS/S | 1/Fr. | 5-6 | Allentown | Pennsylvania |
| 14 | Whitney, Aiyana | OH | 2/So. (RS) | 6-5 | Ridgewood | New Jersey |
| 15 | Harding, Maggie | DS | 4/Sr. | 5-6 | State College | Pennsylvania |
| 16 | Slay, Katie | MH | 4/Sr. | 6-6 | Raleigh | North Carolina |
| 17 | Courtney, Megan | S/OH | 2/So. | 6-2 | Dayton | Ohio |
| 18 | McClendon, Deja | OH | 4/Sr. | 6-1 | Louisville | Kentucky |
| 23 | Robertson, Kelly | MB | 1/Fr. | 6-0 | Allentown | Pennsylvania |
| 24 | Broerman, Laura | DS | 1/Fr. | 5-4 | Colorado Springs | Colorado |
| 33 | Fuller, Lacey | DS | 3/Jr. | 5-6 | San Diego | California |
Texas Post-Hawai'i Interview with Coach Jerritt Elliott
If you only looked at this video, you probably would think Texas beat Hawai'i handily — in the video, the Wahine don't score a single point. As if to underscore that point, at one point it sounds like Coach Elliott says "We're going to keep on winning."
Anyway, p.r. spin aside, the Longhorns are one heck of a team, and our money (if we had any) would be on Texas to defeat Penn State on Saturday: Texas is the defending National Champion, they have a ton of talent, they are well-coached, and they're playing at home. But it should be a hard-fought match, which we look forward to watching, if Bevo will let us in the barn.
Texas Roster
| # | Full Name | Academic Year | Pos. | Ht. | Hometown / Highschool | Previous School |
| --- | --- | --- | --- | --- | --- | --- |
| 1 | Khat Bell | Jr. | Middle Blocker/Outside Hitter | 6-1 | Mesquite, Texas / North Mesquite | |
| 2 | Tiffany Baker | Jr. | Outside Hitter | 6-3 | Carrollton, Texas | Tennessee |
| 3 | Pilar Victoria | Fr. | Outside Hitter | 5-11 | Caguas, Puerto Rico | |
| 5 | Molly McCage | So. | Middle Blocker | 6-3 | Spring, Texas / Klein Collins | |
| 6 | Kat Brooks | So. | Libero | 5-4 | Honolulu, Hawaii / Punahou | |
| 7 | Nicole Dalton | So. | Outside Hitter/Setter | 6-2 | Parker, Colo. / Chaparral | |
| 9 | Amy Neal | So. | Libero/Outside Hitter | 5-10 | Austin, Texas / Lake Travis | |
| 10 | Haley Eckerman | Jr. | Outside Hitter | 6-3 | Waterloo, Iowa / East | |
| 11 | Chiaka Ogbogu | Fr. | Middle Blocker | 6-2 | Coppell, Texas / Coppell | |
| 12 | Hannah Allison | Sr. | Setter | 5-11 | Siloam Springs, Ark. / Siloam Springs | |
| 15 | Sara Hattis | So. | Middle Blocker | 6-4 | Rio Rancho, N.M. / Cleveland | |
| 16 | Sarah Palmer | Sr. | Libero | 5-10 | Kailua, Hawaii / Hawaii Baptist Academy | |
| 21 | Chloe Collins | Fr. | Setter | 5-7 | Cypress, Texas / Cypress Woods | |
| 22 | Megan Futch | Sr. | Libero | 5-8 | Stevenson Ranch, Calif. / West Ranch | |
| 23 | Bailey Webster | Sr. | Outside Hitter | 6-3 | Baltimore, Md. / St. Paul's School for Girls | |
Interview with Florida Coach Mary Wise
Florida Roster
| # | Name | Position | HT | CL | Hometown/School |
| --- | --- | --- | --- | --- | --- |
| 16 | Simone Antwi | MB | 6′ 2″ | So. | Fairfax Station, Va./South County |
| 2 | Dana Backlund | S/OH | 5′ 10″ | So. | Wildomar, Calif./Murrieta Valley |
| 12 | Denise Belcher | OH | 5′ 11″ | Fr. | Apopka, Fla./Apopka |
| 8 | Taylor Brauneis | S | 5′ 10″ | Sr. | Crystal Lake, Ill./Prairie Ridge (Louisville) |
| 6 | Mackenzie Dagostino | S | 5′ 10″ | So. | Tampa, Fla./Berkeley Prep (Maryland) |
| 3 | Alex Holston | RS/S | 6′ 1″ | Fr. | Olney, Md./Sherwood |
| 15 | Shaïnah Joseph | MB/OH | 6′ 0″ | Fr. | Ottawa, Ontario/Ecole Secondaire Catholique Franco-Cite |
| 7 | Gabby Mallette | OH | 6′ 2″ | So. | Orange Park, Fla./Bolles School |
| 10 | Chloe Mann | MB | 6′ 2″ | Sr. | Gainesville, Fla./Eastside |
| 11 | Madison Monserez | DS | 5′ 6″ | Jr. | Orlando, Fla./Bishop Moore |
| 20 | Nikki O'Rourke | DS | 5′ 6″ | So. | Clearwater, Fla./Clearwater |
| 30 | Holly Pole | DS | 5′ 7″ | Jr. | Ocala, Fla./Vanguard |
| 9 | Živa Recek | OH | 6′ 0″ | So. | Kočevje, Slovenia/Gimnazija Kočevje |
| 17 | Noami Santos-Lamb | OH | 5′ 11″ | R-So. | Carolina, Puerto Rico/Carvin |
| 5 | Taylor Unroe | DS | 5′ 7″ | Jr. | Muncie, Ind./Burris |
Stanford Roster
2013 Roster

| No. | Name | Pos. | Ht. | Yr. | Hometown (High School) |
| --- | --- | --- | --- | --- | --- |
| 12 | Ajanaku, Inky | MB | 6-3 | So. | Tulsa, Okla. (Bishop Kelley) |
| 1 | Bai, Lydia | OH | 6-2 | Jr. | Irvine, Calif. (Arnold O. Beckman) |
| 3 | Boukather, Morgan | OH | 6-1 | Jr. | Newport Beach, Calif. (Corona del Mar) |
| 22 | Bugg, Madi | S | 6-0 | So. | Apex, N.C. (Cardinal Gibbons) |
| 23 | Burgess, Jordan | OH | 6-1 | So. | Fort Myers, Fla. (Berkeley Preparatory) |
| 10 | Gilbert, Kyle | L/DS | 5-7 | Jr. | Encinitas, Calif. (Santa Fe Christian) |
| 16 | Howard, Brittany | OH | 6-3 | So. | Los Altos, Calif. (Mountain View) |
| 4 | Humphreys, Kelsey | S | 6-0 | Fr. | Newport Beach, Calif. (Corona del Mar) |
| 18 | Kennedy, Grace | OH | 6-3 | Fr. | Newport Beach, Calif. (Corona del Mar) |
| 20 | Luck, Mary Ellen | DS | 5-10 | Sr. | Houston, Texas (Stratford) |
| 17 | Lutz, Merete | MB | 6-8 | Fr. | Houston, Texas (Mirabeau B. Lamar) |
| 8 | McGehee, Megan | MB | 6-2 | So. | Lee's Summit, Mo. (Lee's Summit West) |
| 7 | Vanjak, Ivana | OH | 6-4 | Fr. | Bad Soden, Germany (Albert-Einstein-Schule) |
| 6 | Williams, Rachel | OH | 6-0 | Sr. | Los Gatos, Calif. (Archbishop Mitty) |
| 2 | Wopat, Carly | MB | 6-2 | Sr. | Santa Barbara, Calif. (Dos Pueblos) |