Jonni Parker is an outstanding, all-around volleyball player who makes dazzling plays for Penn State, but the sophomore star is also a quintessential example of poise and sincerity off the court.
After matches at Rec Hall, Parker is often swarmed by fans of all ages seeking autographs and photo opportunities. The amazing thing about Parker is that she somehow finds a way to make each person she interacts with feel special and genuinely appreciated.
They are the only thing on her mind at that given moment, even though she has a multitude of responsibilities — both academic and athletic — swirling through her head on a daily basis.
Parker has the ability to take over a match offensively on any given night, showcased by her career-high 29 kills against Minnesota last season, but she's also an extremely versatile player who can pass, block, and carve opponents up with her vicious jump serve. She could even be a great college setter if Gabby Blossom didn't have that job locked down.
Last season's Big Ten freshman of the year and a two-time All-Big Ten first team selection already, Parker leads the team in aces with 41 heading into Friday's Sweet 16 showdown against Cincinnati in Stanford, California. Her 386 kills so far this season also pace the Nittany Lions.
Head coach Russ Rose discussed where the Casstown, Ohio, native has improved the most a few weeks ago before Penn State's final home stand of the regular season against Wisconsin and Minnesota.
"I think she has a way better awareness of shot selection," Rose said. "Her responsibility and role is totally different than it was last year. She's had to carry a different load. She's had to do different things."
"I think one of Jonni's great traits is that she plays really well with other people," Rose said. "While a lot of players complain about everything, Jonni doesn't complain about anything."
Parker is well on her way to another All-American season and has clearly taken on a significant leadership role as one of three captains on this year's team alongside Blossom and Kristin Krause. Parker said last year's NCAA tournament, which culminated in a 3-1 loss to eventual national champion Stanford in the Elite Eight, has helped prepare her and the rest of the Nittany Lions for hopefully another deep run.
"I think last year really helped this year's team a lot, especially being as young as we are," Parker said. "We've had a lot of experience this season and last season and I think it's prepared us from that standpoint, but also I think this team has grown a lot this year. We've overcome a lot of things."
The 6-foot opposite hitter and education major reflected on what being a leader means to her earlier this season before one of the team's practices in the South Gym at Rec Hall.
"Being a leader I think, to me, is not only being able to take care of yourself, but more importantly being able to help out your teammates and helping them succeed," Parker said. "I think it's really important if maybe I'm not so much having a good game, I can still help my teammates and make sure they're succeeding."
Rose has called upon freshman defensive specialist Macall Peed to serve for Parker at times during the season. Rather than head straight to the bench for some rare rest, Parker will often give Peed words of encouragement and make sure she's ready for what the other team is going to throw at her.
"Sometimes when Macall will come in for me, I'm going to try and help her the best I can and make sure she plays at the potential she can play at. At this point, we have a lot of young people on the floor, but we can't be afraid to step up and make sure we all take that leadership role."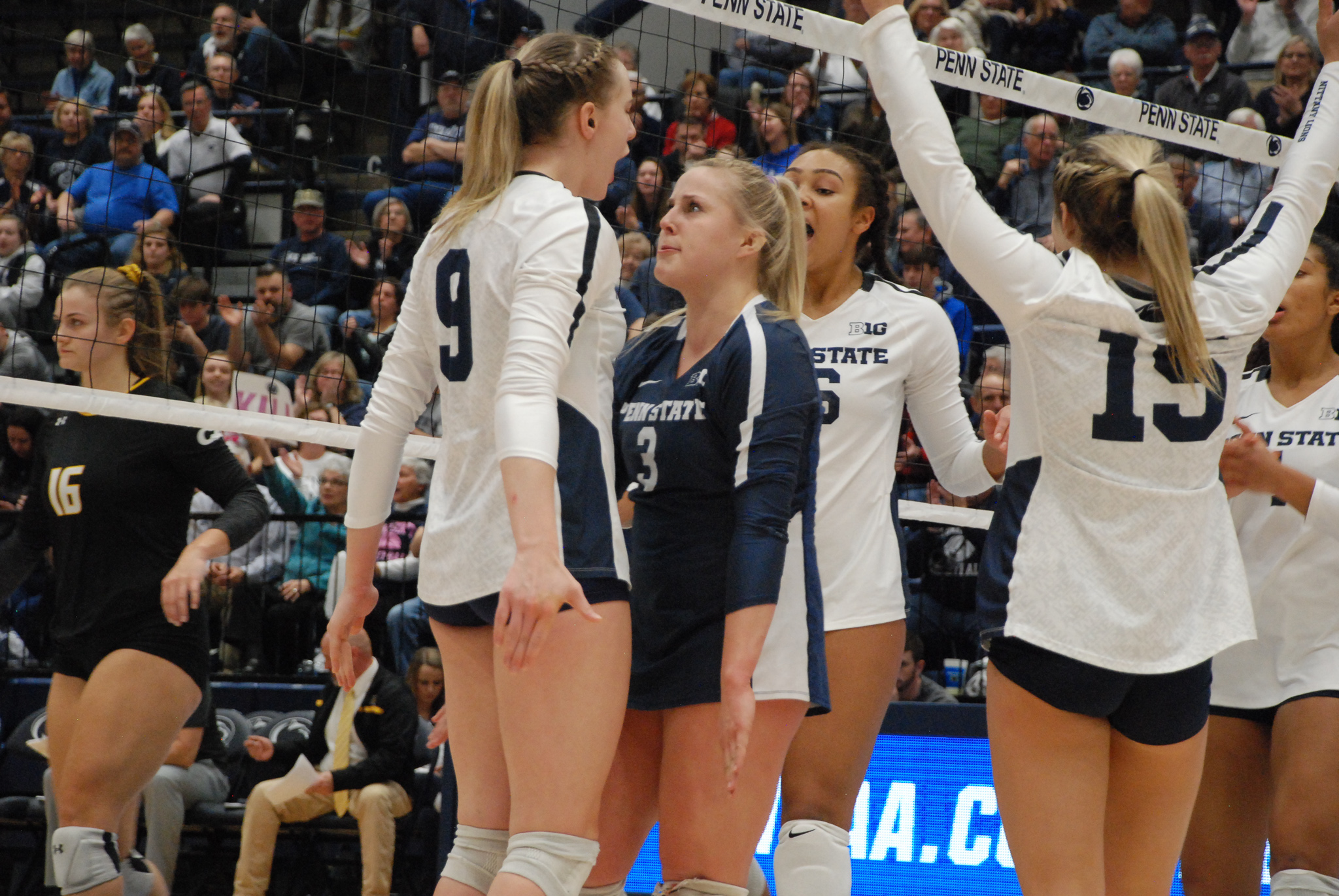 Parker, who was club teammates with Kendall White at Munciana (Yorktown, Indiana) prior to Penn State, took a page out of White and Jenna Hampton's playbook when she flew over the scorer's table chasing after an errant pass during the second set of last Saturday's 3-1 win over Towson.
When describing a few of the team's main strengths this season, Parker immediately shined a light on Penn State's backcourt, including senior Keeton Holcomb, as well as the standout play of classmates Kaitlyn Hord and Serena Gray.
"Our back-row [players] are killing it right now. Kendall, Keeton, and Jenna are all amazing defensive players," Parker said. "I think our middles are doing really well and their hitting percentages are up there among the top in the country. I think that gives the team a lot of confidence in our play."
Tori Gorrell, who is having an excellent season of her own after moving to outside hitter as a redshirt senior, was quick to point out Parker as one of the younger players who has stepped up and is playing beyond her years.
"Obviously Jonni Parker always stands out," Gorrell said. "She's such a great person and she's so mature. She plays like a senior, which is amazing. Her leadership is really awesome."