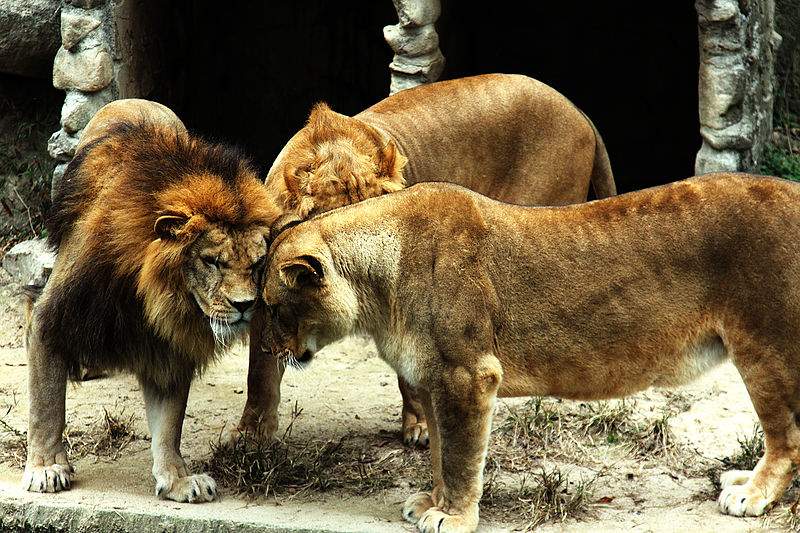 The win over Nebraska was a team effort by a team that cares
Lions Still Undefeated in Devaney Center (1-0)
In a post earlier this week (Pride of Lions ("How Much Do You Care Edition")), we noted that the Penn State-Nebraska match "really will come down to how much do the players on the two teams care. What are they going to do to give their teams a chance to have success? What will they be willing to wager all the time, throughout the entire match?"
Without taking anything away from Nebraska, we think the Penn State players answered that question in dramatic fashion last night, in front of a Devaney Center record crowd of  8,561 fans.  After losing the first set 22-25, the Nittany Lions won the second set 25-23, won the third set 26-24 (after trailing by six points), and won the fourth set 26-24 (after being down 23-20).
Penn State is now 28-2 (19-1 in the B1G), has won 19 consecutive matches, and is still undefeated in the Devaney Center (full disclosure, last night was the first match they played there).
6-4 Sr. RS/Opp Ariel Scott led Penn State (which hit .255 as a team) with 17 kills, and also contributed five digs and four blocks.   6-2 So. OH Megan Courtney put down 14 kills and 12 digs (her sixth double-double of the season) with four blocks.  6-1 Sr. OH Deja McClendon totaled 13 kills (.310 attack %) after a slow start in the first set, and added 13 digs and two solo blocks.  6-6 Sr/ MH Katie Slay had five total blocks, and 5-6 Jr. libero Dominique Gonzalez registered 11 digs.
For the Huskers, 6-3 Fr. RS Amber Rolfzen totaled a career-high-tying 16 kills, with 15 digs (and a .389 attack %).  Twin sister 6-3 Fr. OH Kadie Rolfzen  totaled 12 kills (.258 attack %) and 18 digs.  6-2 Sr. OH Kelsey Robinson totaled 14 kills (.216 attack %) and five blocks.   6-3 So. MB Cecilia Hall had seven blocks.
Cook Talks
Amber Rolfsen and Kelsey Robinson Post-Match Interviews

Nebraska Wins All But One Point in the Match — and Still Loses!!
We understand the notion of showcasing your team's successes, even in a losing effort.  But we respectfully submit that the video below overdoes that idea just a tad.  In our quick viewing, the video only includes footage of one Penn State point — the last one.
So, big props to Nebraska for posting the three videos we've included from their website.  But this one really doesn't reflect that this was an astonishingly great match, with heroics on both sides.  It doesn't show how both teams fought back after the other team made a great play, to put down a dramatic kill of their own.
In case you get confused by the video, Penn State won the match 3-1 (22-25, 25-23, 26-24, 26-24):

Lions Never Say Die
Like New Orleans, the Penn State team showed resilience and refused to lose. Here's Steve Earle singing his great song, "This City," which, we think, speaks to that spirit.
This city won't wash away
This city won't ever drown
Blood in the water and hell to pay
Sky tear open and pain rain down
Doesn't matter, let come what may
I ain't ever going to leave this town
This city won't wash away
This city won't ever drown
Ain't the river or the wind to blame
As everybody around here knows
Nothing holding back Pontchatrain
Except for a prayer and a promise's ghost
This town's digging our graves
In solid marble above the ground
Maybe our bones will wash away
But this city won't ever drown
This city won't ever die
Just as long as our heart beat strong
Like a second line stepping high
Raising hell as we roll along
Gentilly to Vieux Carré
Lower 9, Central City, Uptown
Singing jockamo fee nané
This city won't ever drown
Doesn't matter cause there ain't no way
I'm ever going to leave this town
This city won't wash away
This city won't ever drown
Match Stats
Courtesy GoPSUsports.com