First, I'd like to congratulate Pitt and their program on not only a great season, a great match tonight. We've been playing them in the spring and played them last year and they're doing a terrific job there. I have great respect for the program and we feel great to have advanced today. It was a tough match against a good opponent, that's what you can expect this time in the tournament. I'm not surprised that there are challenges out there because all the teams that have advanced are good at what they do and a lot of times it is a big gut check out there. But I thought that we hung in there at critical times. Obviously Haleigh [Washington], Simone [Lee] and Ali [Franti] had good nights offensively. I thought Abby [Detering] and Kendall [White] did a great job defensively.

Head Coach Russ Rose's Opening Statement following the 3-1 win over Pittsburgh on Saturday night, December 2nd
Match Wrap
After an underwhelming performance by the Penn State women's volleyball team against Howard on Friday night, some fans were uncertain what to expect from the Nittany Lions when they took the court on Saturday night against the ACC co-champion University of Pittsburgh Panthers.  Not to worry, Penn State fans, this team has your back (and each other's backs).   Penn State defeated the Panthers 3-1 (25-20, 23-25, 25-22, 25-19), in this 2nd Round 2017 NCAA Women's Volleyball Championship matchup.  After splitting the first two games, the Nittany Lions seemed to get stronger as the match went on — particularly in blocking, where the team posted a combined total of 14 blocks in the 3rd and 4th games, after registering a total of 3 in the first two games.  With the win, Penn State advances to their 15th straight Regional, but for the first time since 2010, Penn State will host the Regional at Rec Hall.  This is a great treat for Penn State fans, who we hope will turn out en-masse to cheer on the Nittany Lions!
You can see the complete match stats after the post-match quotes, below.
Post Match Quotes
With Coach Rose, Kendall White, Simone Lee and Abby Detering
(Courtesy of GoPSUsports.com)
Q. Coach, the team had three blocks total in the first two sets, and 14 more blocks in the second two sets.  Did they do something different or did you do something different?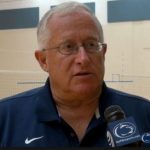 RR: "One of the problems is we missed six serves earlier and the missing of serves decreases the opportunity for digs and blocks. I think we had a good game plan on what we wanted to do. I thought early, both teams were doing a good job of avoiding the block and I thought our size wore them down a little bit at the end. I thought Haleigh [Washington] and Tori [Gorrell] did a real nice job of blocking. Heidi [Thelen] had a couple of good blocks and certainly Simone [Lee] had a couple good blocks on their right side player. It's a tough match; it's what it is. We're going to do some things well and other teams are going to do some things better than we do and we have to try and find our way in the match to transfer to what it is we do well."
Q. Coach and Simone [Lee] from both of your perspectives, Coach first of all what did Simone do better tonight than last night?
RR: "There's a lot of weight on people that occupies what they think. I think she kind of got caught up a little bit last night, with the first match after last weekend. But, I thought she bounced back great tonight and all of the players there's a lot of things that they all have to do they're not all one dimensional so if you struggle in one area the key is to not let it impact other areas of your game because the team has needs that you're responsible for. Simone [Lee] did a real nice job and you know it's a challenge for all of the players. They care a lot; they're seniors and they're trying to extend their season as long as they can and that's the life that exists in college sports."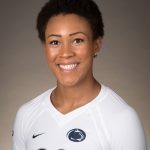 SL: "I think coach said it best, just trusting what I know and trusting that my teammates have my back. I think that's huge you know. Like coach said we're not one dimensional, we all do a lot of different things. But, making sure that if I'm not doing one thing right then I've got to do something else right. Knowing that every time I'd step on the court my teammates would say 'hey, I've got you on this' or 'hey, don't forget to do this'. It's so helpful; it's a team sport for a reason. I can't thank my teammates enough for helping me bounce back tonight."
Q. Kendall [White] what do you think made the defense successful tonight?

KW: "I think we did a really good job scouting Pitt. We know they're a small team and they hit hard. They're going to hit what they hit and they are going to try and hit off of our hands because that's what they do. They are going to try and beat us with pace and speed. We just did a good job of setting up around our block, especially because in the second two games we had so many and it was really helpful to block up front. So, just scouting."
Q. How did you think Abby [Detering] did tonight on defense?
KW: "Abby did great on defense tonight. I thought she did a great job flying after balls that were off the block. Abby's a competitor, she plays with a lot of heart and that is what defense is about." RR: "Kendall [White] loves defense. She likes to play defense. You have to get in there and have balls hit at you and make plays. Pitt keeps the ball in play; they don't make a lot of errors. We were fortunate they missed a couple of serves at the start of the fourth game because they had only missed three serves up to that point in time. I think it was a match of teams doing what they do well. Whenever a team got a little lead, they had to sit on it and try and nurse it to the end."
Q. Simone [Lee], after the way the second set win last night and the second set tonight, can you describe the determination you guys had coming out of the break, going into the third today?
SL: "We just knew that we had to play better. We knew that it was going to be a battle; we knew that Pitt wasn't going to roll over and we knew that we had to keep fighting no matter what. We had to pick up our passing just a little bit more and I think that when we did that in the third and fourth set and it really did help us be successful in the last few points of the game. I think just knowing that we have to work a little bit harder, because they're not going to fall over and they're going to fight. We've got to know that we've got to respect them, respect the game we've got to make sure that we do everything we can to push it till the end."
RR: "Yesterday, in the game we lost we made nine errors in the second game. You make nine errors, you're going to lose the game. Pitt lost a game to VCU and they made eight errors in that game. Whether players lose their concentration or there are adjustments that are made, there are a lot of moving parts. We're appreciative of the university putting in bids to host, because it is not a guarantee. So we're appreciative and we look forward to hosting next weekend and we know that we are going to have to play better once again."
Q. For any of you, this is the second time that you've seen Pitt in the second round, how does this year's team and this year's match stack up to the last time you guys played them?
RR: "It was last year we went four games with them as well. We lost the first game and won the next three. As I said in my opening statement, Pitt is very good, they won the ACC this year, that's a great conference to have success in, there are a lot of schools that take it seriously. I'm not surprised by their success and would expect success into the future. They made a great commitment to the program and the staff and all of the things that you need to have to be successful are happening at Pitt right now."
Q. Abby [Detering], in the middle of the third set you guys had a six to one run and five of the points were from Haleigh [Washington], how fired up were you guys and especially Haleigh at that point?

AD: "I mean Haleigh [Washington] is an amazing player, so just giving her the ball you know nine out of ten times she is going to score. Just, getting that lead having her score and do so well just had the whole team pumped up."
RR: "I thought we made a lot of errors tonight that if we do again, we are probably going to be in trouble. At the end, we made a lot of hitting errors, a lot of things that you have to be a little better at."
Q. You mentioned the errors, Pitt hardly made any unforced errors tonight how difficult is it to play a team that doesn't really shoot itself in the foot too much?
RR: "It's tough, we are usually that team. We made four errors a game and they made six errors a game that is if my mind is right. That is enough to win and lose. They do a lot of things really well. I thought we overpowered them at a couple of positions and that is where one of our advantages were this year. Most of those players graduate, we'll have to reassess where we are headed into the future."
Match Stats
(Courtesy of GoPSUsports.com)