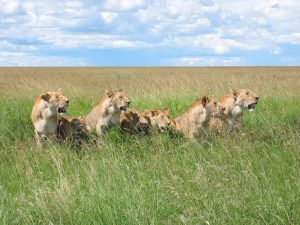 Match Wrap in Haiku
Clemson had no match

for Heidi, Haleigh, Simone

Lions sweep Tigers
Post Match Quotes
Coach Rose – Opening Statement
I thought we played well.  I thought it was great to have such a big crowd [3902].  The students and the band always make a great contribution to the evening.  I thought we passed pretty well, and [5-5 Fr. libero] Kendall [White] was really good defensively [15 digs] and [6-3 Jr. MB] Haleigh [Washington] [8 kills, .583 attack %] and [6-2 Jr. RS/MB] Heidi [Thelen] [8 kills, .500 attack %] were able to have good nights offensively.  I think Heidi's been hitting really well, and 6-1 Jr. OH Simone [Lee] [10 kills, .364 attack %] is taking some big swings.  I don't know how ready we are to go into the Big Ten, but when we were 2-3, I didn't know how soon we were going to be ready to go into the Big Ten either.  So we feel a little bit better about how we're playing.  We've got alot of things to work on, but I'm pleased with where we are right now.
Asked what's been going right in the past six matches, Rose said:
I'm not naïve.  We lost to three teams that are ranked in the top 20 and we didn't play great against those teams.  They were better than we were on those days.  I think the players want to do better.  Passing makes a big difference.  I think [6-0 Jr. setter] Abby [Detering] is becoming a bit more comfortable.  In two of the three losses I was changing setters back and forth.  I think Abby has gotten better, and I think Kendall's playing really well, and [5-6 So. DS] Keeton [Holcomb] was really good tonight.  When we can get some back row kids to come in and not make mistakes, then it really gives us some opportunities to compensate for the fact that we're not as physical as alot of teams.  We're happy to see where we are.  We'll start Big Ten play this week, and for the next ten [weeks] we'll play two matches that all have the same value.  It's a marathon, it's not a sprint.
Heidi Thelen and Coach Rose on Heidi's Transition to RS/Opp from MB
Heidi:

I actually like the right side alot.  It's different — the timing is different, blocking is different.  It's what the team needs.

Coach Rose:

I thought that one ball where [Heidi] hit high, deep over the top into the corner was a shot that demonstrates that she's learning some of the different things you can do.  I think we have alot of players who are very patterned where they hit the ball, and the Big Ten is a very non-forgiving conference to patterns.  So seeing her do that shot was a very positive thing from where I was sitting.
Coach Rose on Simone Lee's Hitting (among other topics)
Earlier to day against Howard, she needed to hit the roll shot, she hit the roll shot and scored three or four times.  Simone is a really physical kid, and once we start getting into Big Ten play, every team that comes in here will have multiple [good] players, so we're going to have to defend players like that.  I thought [6-1 Jr. OH] Ali [Frantti] was much better tonight.  I liked when she was going to go into the stands and save a ball.  It's just like her brothers — they're hockey players, and she was thinking 'maybe there's a fight' and she was going for it — going straight into the crowd, no hesitation, two, three steps up.  Everybody's happier when you win, and players need some confidence, they need to get stronger, they need to be better serving.  Nothing's ever guaranteed.  But I'm pleased.  I hope Simone's resting, because she's been getting alot of swings up.
Haleigh Washington on the Team's Improvement
Just like Heidi hit that shot down the line, that's getting better, and now we're getting better.  And it's little things every day, every game.  And that's one little thing that we need to keep going forward with as we get into Big Ten play.
Coach Rose on Tori Gorrell and Emily Sciorra and other Freshman Back Row Players
Tori's a really competitive kid.  She's a little quirky, I think, but she's competitive.  I think she's going to be undersized in alot of matchups, but she blocked well against Stanford, so I don't think she's afraid of competition.  I'm  way more upbeat on the freshmen back row players than some of the older kids right now.  I think they are a breath of fresh air.  They are quick and they don't know what they don't know.
Match Stats
Courtesy of GoPSUsports.com