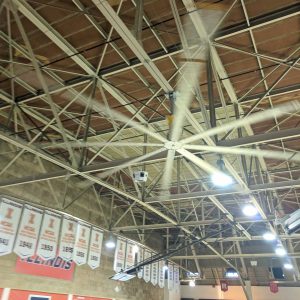 On Saturday night, deep into game 1, Illinois was leading Penn State 19-18. Penn State Head Coach Russ Rose called time out.  Following that timeout, Penn State recorded 34 consecutive kills without an attack error, until a Simone Lee cross-court shot went wide in the third set.
Not surprisingly, Penn State took that first set 30-28, withstanding five set points for the Illini, and took the next two sets as well (25-11, 25-15), to move to 21-1 for the season (11-1 in the B1G).  Illinois dropped to 16-7 (7-5 in the B1G).
Once again, the Nittany Lions were led by 6-1 Sr. OH Simone Lee, who finished the match with 16 kills (.406 hitting %).  6-2 Sr. RS/Opp Heidi Thelen — increasingly a go-to hitter — totaled 10 kills (.444 hitting %), as did 6-3 Sr. MB Haleigh Washington (with a gaudy .769 hitting % — no errors!!).  Washington also registered 7 total blocks (one solo).  5-5 So. libero Kendall White tallied a match-high 13 digs with 5 assists.  6-0 Sr. setter Abby Detering dished out 20 assists, picked up 9 digs, and put down 5 kills (.500 hitting %).  Fellow setter 6-1 RS Sr. Bryanna Weiskircher collected 21 assists and 6 digs.
For the Illini, So. Jacqueline Quade was tops with 16 kills (.406 hitting %), RS So. Beth Prince registered 9 kills, and Fr. Megan Cooney added 7 kills for the match.  Star setter 6-2 Jr. Jordyn Poulter delivered 34 assists, while Fr. libero Morgan O'Brien (filling in for injured Brandi Donnelly) led the Illini with 10 digs.  The top blocker was Fr. Tyanna Omazic, who ended the math with 3 total blocks.
Match Stats
Courtesy of GoPSUsports.com