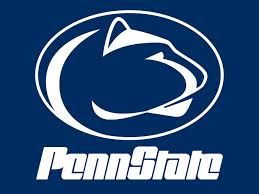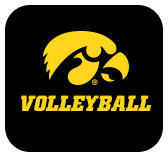 On a night when BTN was whipping us from match-to-match in the televised Big Ten Volleyball Extravaganza (still a work in progress), #1-ranked Penn State (24-2, 13-2 in the B1G) managed to stay focused on the task at hand, sweeping Iowa (12-16, 2-13 in the B1G) 25-16, 25-23, 25-18.
It was the sixth-consecutive match in which Penn State swept Iowa, but the Nittany Lions had their share of struggles.  In the second set, Iowa ran off five consecutive points to lead 9-5, before falling 25-23.  If Hawkeye head coach Bond Shymansky is looking for bright spots, one is that the Hawkeyes hit .387 in the second set.
After the match, Shymansky said:
Any time that you're in a tight set with Penn State, you really have to perform at your best.  We didn't perform our best at the service line, and made too many errors down the stretch. We didn't take care of the ball enough. They showed why they are the number one team. I thought their consistency was so much better than ours. That's something we continue to work on as a group.
Penn State's 6-0 RS Fr. setter Bryanna Weiskircher directed the team to a .323 attack %, with 32 assists, 5 digs and 3 blocks, spreading the ball around to five Nittany Lions who registered at least six kills: 6-4 RS Sr. MB Aiyana Whitney (10 kills, .643 attack %) 6-2 So. OH Ali Frantti (11 kills, .348 attack %), 6-3 So. MB Haleigh Washington (8 kills), 6-2 Sr. OH Megan Courtney (9 kills, plus a team-high 10 digs), and 6-1 So. OH Simone Lee (6 kills, 3 blocks).
The backrow defense was led by 5-6 Fr. libero Keeton Holcomb and 5-8 Fr. DS Wilma Rivera, who both totaled 7 digs.
Iowa was led by 6-1 Jr. OH Lauren Brobst, who finished with 10 kills, 6-1 Jr. setter Loxley Keala (33 assists), and 5-8 So. DS Annika Olsen, with 13 digs.
Match Stats
(Courtesy of GoPSUsports.com)