West Lafayette Regional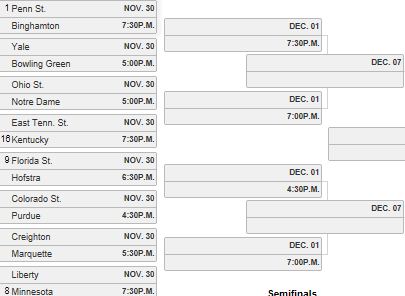 Remember that Big 12 regional in Omaha three years ago? We thought the committee learned its lesson, but apparently not.
This year the committee has placed four of the top five B1G teams in the West Lafayette Regional, and two mild upsets would advance all of them to Mackey Arena.
The only pretty sure bet is that Penn State will advance past its first two opponents (thankfully, no Temple in this bracket, as in the 2002 "Temple Stuns Penn State" upset in the second round, in Rec Hall!).
Other than that, who knows? Purdue would present a challenge to the Lions playing at home, but the Boilers have two big obstacles to getting back home: Mountain Valley champ Colorado State took UCLA to 5 in the regular season and is always a tournament lurker (remember last year when the Rams beat seeded Oregon on a neutral site? Or 2009, when they upset Washington in Fort Collins?).
Door Number Two?  ACC champ and #9 seed Florida State is undefeated at home this season.
Should the seeds hold, Minnesota would get a third crack at the Lions . . . will it be the charm? After getting handled at home, the Gophers took a set off the Lions in Rec Hall.  Does a neutral court provide the closest battle yet between these two conference foes? Plus, how much damage can Missouri Valley champ Creighton (28-3) do?
Best First Round Match-up (tie):
Creighton vs. Marquette
Colorado State vs. Purdue
Best Potential Second-Round Match-up (tie)
Purdue vs. Florida State
Ohio State vs. Kentucky
Unseeded Spoiler
Potential Cinderella (tie)
Advancing to Regionals
Okay, I'm a homer . . . I'm predicting an all B1G Regional.
Advancing to the Final Four
Considering its record against the top challengers, it would be silly not to predict Penn State. The Lions are the clear favorites in this quarter, but past results aren't always an indication of future success. Minnesota has some Final Fours in its history, too, while Purdue may just ride the crowd to a shocker.
Omaha Regional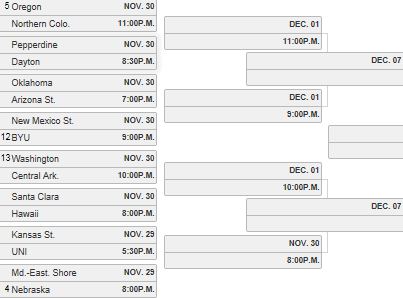 You have to wonder if the selection committee intentionally creates brackets using tournament history as an impetus. How else to describe two possible meetings that recall monster matches from recent years?
In 2011, Kansas State stunned Nebraska in Omaha in the Second Round, and the two could easily meet again.  If given the chance for a rematch, we think the Huskers won't let this one get away.
Need more déjà vu?  A third round match could pair Nebraska with tournament nemesis Washington — who upset the Huskers in 2010, two years after the Huskers mounted an incredible comeback against the Huskies, defeating Washington in a 5-set stunner to advance to the Final Four.
Both of those matches took place in Seattle, and we're betting the Huskers would love a chance to fight the Huskies in Omaha (and that begs the question: just how healthy is Krista Vansant, a potential game-changer for Washington?).
But unseeded Hawaii — ranked No. 8 in the AVCA poll — might prevent that matchup from happening.  Since the NCAA expanded to 64 teams in 1998 and started seeding the top 16, Hawaii has never been unseeded.  Uncertainty about their perceived weaker conference schedule hasn't seemed to stop them before . . . can they rise to the challenge this year?
This is by far the most loaded and toughest quarter to predict, with plenty of potential spoilers looking to make a statement.  Oregon hopes to make the biggest one of all.  The Ducks didn't get to host the early rounds the last two tournaments in which they were seeded; look for them to savor every second of it this year.
Best First Round Match-up
Um, almost all of them? Look for Pepperdine/Dayton, Oklahoma/ASU, Santa Clara/Hawaii and Kansas State/Northern Iowa to all be competitive.
Best Potential Second-Round Match-up (tie)
Hawaii vs. Washington
Kansas State vs. Nebraska
Unseeded Spoiler (tie)
Potential Cinderella
Advancing to Regionals
Oregon
Arizona State
Washington
Nebraska
Advancing to the Final Four
Nebraska, with a potential Second Rround matchup with Kansas State and with the likelihood that it will face either Hawaii or Washington in the third round, faces a stiff challenge just making the Regional Final.  Compared to the Huskers, Oregon has a much easier path.
On the other hand, Nebraska has perhaps the best home-court advantage in the nation — and they will need it to make it through this minefield. The Ducks have proven verrrrry tough on the road, but the team and coach may be in for a hostile environment unlike any they've ever seen.  Plus, can Oregon — with a team and coach unfamiliar with deep runs in the tournament — keep their nerves and concentration in such a high-pressure environment if they make the Regional Final?
Perhaps the toughest quarter to predict.  In the end, I think Nebraska's experience and crowd leads them to an emotional four-victory run.
Austin Regional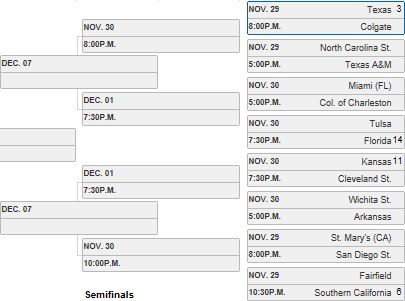 To understand the significance of the potential coaching matchup for this Regional's Final, we present a little history.  From the USCTrojans.com:
During his tenure at USC, Mick Haley has guided his teams to two national championships (2002 and 2003), six NCAA Final Four appearances (2002, 2003, 2004, 2007, 2010 and 2011) and 11 consecutive NCAA Tournament appearances. USC has finished the season ranked nationally in the top five a total of seven of 11 times under Haley.

Before entering the international spotlight, Haley spent 17 successful seasons (1980-96) at Texas, where he was 522-137-1 overall, won two national championships, 13 Southwest Conference titles and earned 15 NCAA tournament berths…

Following the Olympic Games in Sydney, Australia, Haley joined the 2000 USC squad midway through the collegiate season, but allowed Interim Head Coach Jerritt Elliott to complete the year. From the bench, Haley served as a mentor to the team and its coaching staff as the Trojans reached the NCAA Championship Semifinals for the first time in 15 years. Haley officially took the reins of the program in 2001.
As to Elliot, prior to his appointment as head coach at Texas in April of 2001, he posted two remarkable seasons as the interim head coach at the University of Southern California. He compiled a record of 50-12 while leading the Women of Troy to their first NCAA Semifinals appearance in 15 years and first-ever share of the Pac-10 Conference title. In 2000, USC finished the season ranked No. 4 nationally by both the AVCA and Volleyball Magazine while going 29-3 en route to the NCAA Semifinals. Elliott was honored as Pac-10 Coach of the Year both seasons, as well as being named the 2000 Pacific Region Coach of the Year.
From TexasSports.com:
Elliott has a keen eye for young talent and he has developed a reputation as one of the nation's best recruiters. All but one of his recruiting classes have been ranked nationally, and he has a total of six top-two recruiting classes (2003, 2006, 2007, 2008, 2011 and 2012 classes) on his Texas resume and seven overall, including his classes at USC (2000 and 2001). Elliott's 2011 class was his first top-ranked class at Texas after previously bringing in four classes that ranked second. His philosophy of recruiting "to win national championships" – not just filling perceived needs of a team – has proven successful, as his last two classes as the head coach at USC went on to win back-to-back national titles in 2002 and 2003. . . . Prior to his two years as interim head coach, Elliot spent four years at USC as an assistant coach under head coach Lisa Love. As an assistant at USC, Elliott helped guide the Women of Troy to finish in the top 15 nationally all four years."
The two teams met in the 2007 regional final, with No. 5 seed USC sweeping No. 4 Texas. Can anyone stop a 5-year anniversary rematch? Florida's last tournament trip to Austin wasn't so kind, and Kansas is in new territory:
The Jayhawks are making their fourth all-time NCAA Tournament appearance, all under 15-year head coach Ray Bechard. Kansas is 2-3 all-time in the postseason and making its first appearance since earning three-straight bids from 2003-05.
Kansas will serve as a host for the first time in school history.  Can its feel-good story continue? Bechard proved he can ready his team: In 2004, the Jayhawks defeated Santa Clara before taking the Huskies to 5 in Seattle.
Best First Round Match-up (tie)
Arkansas vs. Wichita State
Saint Mary's vs. San Diego State.
Best Potential Second-Round match-up (tie)
Texas vs. Texas A&M
Florida vs. Miami
Unseeded Spoiler
Potential Cinderella
Advancing to Regionals
On paper, this regional looks like the most likely to advance its top four seeds:
Advancing to the Final Four
Both Mick Haley and Jerritt Elliott have grown accustomed to taking teams to the Final Four, but only one can do it this time. USC was swept 4 times on the road during conference play, and Gregory Gym will be more hostile than any of those venues. Advantage, Longhorns.
Berkeley Regional
One of the greatest rivalries of all sports could get another chapter in December. In addition to their Pac battles during the regular season, UCLA and Stanford have met in a regional semi-final (UCLA winning 3-1 in 1993), four regional finals (the Cardinal prevailing 3-1 in 2007; the Bruins 3-0 in 1991 and 1990, and 3-2 in 1981) and three championship matches (Stanford prevailing 3-1 in 1994 and 1992; the Bruins winning 3-2 in 1984).
Are these two titans destined to meet again? We'd be silly to bet against it, so we won't . . . though this bracket contains perhaps the most dangerous lower-seeded team in Iowa State.  The Cyclone's 3-2 victory over No. 3 Texas was their 10th win in a row, and coach Kristy Johnson-Lynch knows how to get ready for the tournament, having reached the Elite Eight in 2011 and in 2008, when Iowa State stunned seeded teams Minnesota and Oregon (that came one year after the Cyclones also upset seeded teams San Diego and Wisconsin in the first two rounds).
The other big question out of this region: How good is Louisville on the road against the big girls?  The third round could provide the answer.  Plus, this quarter gives us more evidence that the committee likes to mess with the teams' minds: Cal and UNC will face off in the first round again, one year after the Tar Heels stunned the Bears 3-2 in Malibu.
Best First Round Match-up (tie)
Michigan State vs. San Diego
Tennessee vs. Michigan
Cal vs. UNC
(Actually, I'm pretty intrigued by the Western Kentucky/LMU matchup, too . . . like the Omaha region, this one is packed with 'em)
Best Potential Second-Round Match-up
Louisville vs. Michigan/Tennessee
Unseeded Spoiler
Potential Cinderella
Advancing to Regionals
UCLA
Stanford
Louisville
Iowa State
UCLA and Stanford should have no problems (UCLA faces a potential Cinderella in the second round), and while upset watches lurk in the other two subregionals, the home-court advantage of Louisville and Iowa State should advance them as well.
Advancing to the Final Four
When it comes to tourney time, experience means a lot . . . and defending champ UCLA has it. The Bruins have lost two of their last three matches, so they are down and out, right?  Oh wait . . . they dropped three of their last five in 2011! Hmm…you're not fooling us, Bruins!
Even though they haven't beaten Stanford this year (losing in 5 at Maples and 4 in Pauley), we're betting that when the stakes are the highest, experience will pay off. Stanford could very well be the best team in the nation, but a late-season loss (halting a 22-match win streak) shows they are vulnerable like everyone else.
Can Stanford's Fab Freshmen get it done in the tournament?  Could we be witnessing the beginning of a dominant run of Cardinal titles?  Quite possibly.  But for now, I'll go with UCLA (plus, I have a strange feeling about a potential Iowa State/Stanford matchup).