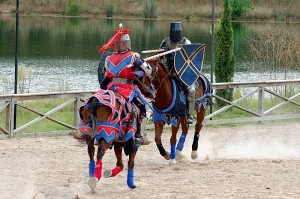 Less than 24 hours after its 3-1 win over Maryland Thursday night,  Penn State (22-2, 11-2 in the B1G) travels to New Brunswick NJ to take on the Scarlet Knights of Rutgers (4-20, 1-11 in the B1G).  The match starts at 7 p.m. ET and will be streamed on BTNPlus (a pay service — click on the logo below for more info).
Date
(Time)
Opp
Site
Media
11-06-15
(7:00 p.m. ET)
New Brunswick,
NJ

No TV




According to a blog post on GoPSUsports.com, the team will travel by bus to Rutgers.  At right is our conception of what that bus should look like (as you can see, we think it should be able to float).
Massey Rankings picks Penn State in 3:

About Rutgers
After picking up a historic victory over Maryland a week prior, Rutgers has dropped its last three contests, all of which were on the road. Most recently, the Scarlet Knights fell to Nebraska (3-0) and Iowa (3-0).

Leading RU is sophomore outside hitter Meme Fletcher (Overland Park, Kan.) with 3.86 kills per set, a mark that ranks fourth in the Big Ten. Senior setter Anna Sudbury (Tomahawk, Wisc.) ranks 11th in the conference with a team-high 8.76 assists per set. On the defensive side, junior middle Mikaela Matthews (San Diego, Calif.) leads the team with 1.09 blocks per set, while seniors Ali Schroeter (Bakersfield, Calif.) and Ronnie Komisarek (San Manteo, Calif.) split the roll at libero with 3.30 and 3.00 digs per set, respectively.
Stat Joust – Penn State Rutgers (Is It Fair for a Lion to Have to Joust with a Knight?)
Conference Only Stats
| Hitting Percentage | S | K | E | TA | Pct. |
| --- | --- | --- | --- | --- | --- |
| Purdue | 47 | 660 | 233 | 1594 | .268 |
| Penn State | 50 | 664 | 223 | 1646 | .268 |
| Wisconsin | 44 | 605 | 208 | 1548 | .256 |
| Michigan | 46 | 628 | 236 | 1613 | .243 |
| Nebraska | 47 | 650 | 227 | 1763 | .240 |
| Minnesota | 47 | 641 | 222 | 1760 | .238 |
| Michigan State | 43 | 566 | 230 | 1463 | .230 |
| Ohio State | 49 | 644 | 260 | 1671 | .230 |
| Illinois | 49 | 652 | 275 | 1747 | .216 |
| Northwestern | 45 | 585 | 259 | 1580 | .206 |
| Iowa | 44 | 549 | 251 | 1601 | .186 |
| Maryland | 47 | 570 | 284 | 1654 | .173 |
| Indiana | 43 | 530 | 287 | 1513 | .161 |
| Rutgers | 41 | 435 | 261 | 1426 | .122 |
| Opp. Hitting Pct. | S | K | E | TA | Pct. |
| --- | --- | --- | --- | --- | --- |
| Nebraska | 47 | 585 | 288 | 1774 | .167 |
| Minnesota | 47 | 611 | 306 | 1814 | .168 |
| Penn State | 50 | 610 | 309 | 1741 | .173 |
| Wisconsin | 44 | 550 | 260 | 1593 | .182 |
| Illinois | 49 | 658 | 292 | 1803 | .203 |
| Ohio State | 49 | 613 | 268 | 1686 | .205 |
| Purdue | 47 | 599 | 260 | 1645 | .206 |
| Michigan State | 43 | 537 | 236 | 1453 | .207 |
| Michigan | 46 | 641 | 237 | 1644 | .246 |
| Northwestern | 45 | 571 | 206 | 1463 | .249 |
| Iowa | 44 | 617 | 217 | 1595 | .251 |
| Indiana | 43 | 561 | 186 | 1386 | .271 |
| Rutgers | 41 | 583 | 183 | 1438 | .278 |
| Maryland | 47 | 634 | 208 | 1521 | .280 |
| Blocks | S | BS | BA | Total | Avg./S |
| --- | --- | --- | --- | --- | --- |
| Nebraska | 47 | 19 | 240 | 259 | 3.0 |
| Penn State | 50 | 39 | 222 | 261 | 3.0 |
| Wisconsin | 44 | 11 | 216 | 227 | 2.7 |
| Minnesota | 47 | 19 | 215 | 234 | 2.7 |
| Ohio State | 49 | 36 | 178 | 214 | 2.6 |
| Illinois | 49 | 18 | 209 | 227 | 2.5 |
| Michigan State | 43 | 26 | 148 | 174 | 2.3 |
| Purdue | 47 | 30 | 158 | 188 | 2.3 |
| Rutgers | 41 | 11 | 164 | 175 | 2.3 |
| Northwestern | 45 | 38 | 111 | 149 | 2.1 |
| Michigan | 46 | 21 | 140 | 161 | 2.0 |
| Maryland | 47 | 22 | 136 | 158 | 1.9 |
| Indiana | 43 | 11 | 128 | 139 | 1.7 |
| Iowa | 44 | 21 | 102 | 123 | 1.6 |
| Blocks by Opponents | S | BS | BA | Total | Avg./S |
| --- | --- | --- | --- | --- | --- |
| Purdue | 47 | 14 | 154 | 168 | 1.9 |
| Penn State | 50 | 17 | 151 | 168 | 1.9 |
| Wisconsin | 44 | 17 | 143 | 160 | 2.0 |
| Nebraska | 47 | 26 | 133 | 159 | 2.0 |
| Ohio State | 49 | 22 | 160 | 182 | 2.1 |
| Minnesota | 47 | 25 | 152 | 177 | 2.1 |
| Illinois | 49 | 20 | 188 | 208 | 2.3 |
| Michigan State | 43 | 34 | 142 | 176 | 2.4 |
| Michigan | 46 | 32 | 168 | 200 | 2.5 |
| Northwestern | 45 | 24 | 184 | 208 | 2.6 |
| Indiana | 43 | 17 | 192 | 209 | 2.6 |
| Maryland | 47 | 19 | 224 | 243 | 2.8 |
| Rutgers | 41 | 28 | 173 | 201 | 2.8 |
| Iowa | 44 | 27 | 200 | 227 | 2.9 |
| Service Aces | S | No. | Avg./S |
| --- | --- | --- | --- |
| Nebraska | 47 | 59 | 1.3 |
| Maryland | 47 | 61 | 1.3 |
| Iowa | 44 | 53 | 1.2 |
| Indiana | 43 | 46 | 1.1 |
| Northwestern | 45 | 50 | 1.1 |
| Ohio State | 49 | 50 | 1.0 |
| Minnesota | 47 | 48 | 1.0 |
| Purdue | 47 | 40 | 0.9 |
| Michigan State | 43 | 40 | 0.9 |
| Rutgers | 41 | 35 | 0.9 |
| Penn State | 50 | 47 | 0.9 |
| Wisconsin | 44 | 36 | 0.8 |
| Michigan | 46 | 30 | 0.7 |
| Illinois | 49 | 31 | 0.6 |
| Service Aces by Opponents | S | No. | Avg./S |
| --- | --- | --- | --- |
| Nebraska | 47 | 19 | 0.4 |
| Penn State | 50 | 36 | 0.7 |
| Illinois | 49 | 36 | 0.7 |
| Michigan | 46 | 33 | 0.7 |
| Minnesota | 47 | 36 | 0.8 |
| Wisconsin | 44 | 41 | 0.9 |
| Iowa | 44 | 42 | 1.0 |
| Indiana | 43 | 46 | 1.1 |
| Ohio State | 49 | 53 | 1.1 |
| Northwestern | 45 | 51 | 1.1 |
| Michigan State | 43 | 48 | 1.1 |
| Maryland | 47 | 56 | 1.2 |
| Rutgers | 41 | 55 | 1.3 |
| Purdue | 47 | 71 | 1.5 |
Individual Leaders
(Must have competed in at least 50% of team's games)
| Hitting Percentage | S | K | E | TA | Pct. |
| --- | --- | --- | --- | --- | --- |
| Haleigh Washington, Penn State | 50 | 136 | 29 | 258 | .415 |
| Haleigh Nelson, Wisconsin | 44 | 101 | 18 | 217 | .382 |
| Faye Adelaja, Purdue | 47 | 107 | 27 | 211 | .379 |
| Danielle Cuttino, Purdue | 47 | 110 | 30 | 229 | .349 |
| Taylor Sandbothe, Ohio State | 48 | 127 | 33 | 279 | .337 |
| Aiyana Whitney, Penn State | 50 | 151 | 39 | 333 | .336 |
| Gabrielle Hazen, Northwestern | 30 | 62 | 19 | 129 | .333 |
| Maddie Slater, Northwestern | 45 | 94 | 29 | 200 | .325 |
| Alyssa Garvelink, Michigan State | 43 | 95 | 34 | 188 | .324 |
| Amber Rolfzen, Nebraska | 47 | 113 | 29 | 271 | .310 |
| Romana Kriskova, Wisconsin | 43 | 105 | 32 | 239 | .305 |
| Molly Lohman, Minnesota | 40 | 58 | 18 | 134 | .299 |
| Abby Cole, Michigan | 46 | 142 | 48 | 316 | .297 |
| Hannah Tapp, Minnesota | 47 | 117 | 36 | 274 | .296 |
| Mikaela Gunderson, Iowa | 44 | 87 | 26 | 207 | .295 |
(Must have at least 3.33 attacks per set)
| Kills | S | No. | Avg./S |
| --- | --- | --- | --- |
| Daly Santana, Minnesota | 47 | 215 | 4.6 |
| Jocelynn Birks, Illinois | 43 | 180 | 4.2 |
| Annie Drews, Purdue | 47 | 195 | 4.1 |
| Adreene Elliott, Maryland | 47 | 186 | 4.0 |
| Elizabeth Campbell, Ohio State | 48 | 157 | 3.3 |
| Kadie Rolfzen, Nebraska | 47 | 156 | 3.3 |
| Megan Courtney, Penn State | 36 | 118 | 3.3 |
| Symone Abbott, Northwestern | 45 | 144 | 3.2 |
| Amelia Anderson, Indiana | 42 | 135 | 3.2 |
| Meme Fletcher, Rutgers | 41 | 131 | 3.2 |
| Michelle Strizak, Illinois | 46 | 144 | 3.1 |
| Abby Cole, Michigan | 46 | 142 | 3.1 |
| Audra Appold, Ohio State | 44 | 136 | 3.1 |
| Lauren Brobst, Iowa | 44 | 135 | 3.1 |
| Aiyana Whitney, Penn State | 50 | 151 | 3.0 |
| Lauryn Gillis, Wisconsin | 44 | 133 | 3.0 |
| Kelli Bates, Wisconsin | 44 | 132 | 3.0 |
| Mikaela Foecke, Nebraska | 43 | 129 | 3.0 |
| Service Aces | S | No. | Avg./S |
| --- | --- | --- | --- |
| Adreene Elliott, Maryland | 47 | 20 | 0.4 |
| Bryanna Weiskircher, Penn State | 50 | 19 | 0.4 |
| Allison Hammond, Indiana | 22 | 9 | 0.4 |
| Makayla Lundin, Indiana | 5 | 2 | 0.4 |
| Mikaela Foecke, Nebraska | 43 | 15 | 0.3 |
| Annika Albrecht, Nebraska | 47 | 14 | 0.3 |
| Daly Santana, Minnesota | 47 | 14 | 0.3 |
| Kelsey Wicinski, Maryland | 47 | 14 | 0.3 |
| Ashley Mariani, Iowa | 44 | 14 | 0.3 |
| Luisa Schirmer, Ohio State | 48 | 13 | 0.3 |
| Loxley Keala, Iowa | 44 | 12 | 0.3 |
| Haleigh Nelson, Wisconsin | 44 | 12 | 0.3 |
| Holly Toliver, Michigan State | 42 | 11 | 0.3 |
| Anna Sudbury, Rutgers | 41 | 11 | 0.3 |
| Lydia Dimke, Purdue | 12 | 3 | 0.3 |
Blocks
S
BS
BA
Total
Avg./S
Amber Rolfzen, Nebraska
47
5
69
74
1.6
Tionna Williams, Wisconsin
44
4
63
67
1.5

Haleigh Washington, Penn State

50

14

56

70

1.4

Ali Bastianelli, Illinois
48
3
63
66
1.4

Mikaela Matthews, Rutgers

15

1

20

21

1.4

Paige Tapp, Minnesota
47
5
54
59
1.3
Taylor Sandbothe, Ohio State
48
13
45
58
1.2
Cecilia Hall, Nebraska
47
5
51
56
1.2
Gabrielle Hazen, Northwestern
30
12
23
35
1.2

Aiyana Whitney, Penn State

50

5

48

53

1.

1
Danielle Cuttino, Purdue
47
10
40
50
1.1
Alyssa Garvelink, Michigan State
43
10
39
49
1.1
Haleigh Nelson, Wisconsin
44
3
44
47
1.1
Molly Lohman, Minnesota
40
2
41
43
1.1
Hannah Tapp, Minnesota
47
4
45
49
1.0
Faye Adelaja, Purdue
47
8
38
46
1.0

Eden Frazier, Rutgers

41

3

39

42

1.

0
Aspen Luedtke, Rutgers
1
0
1
1
1.0
Credits