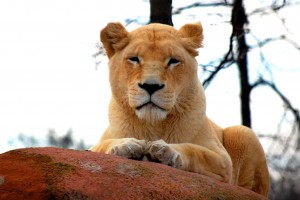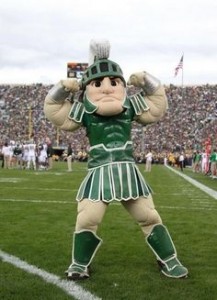 [Editor's Note: This is being posted two days early, as the entire staff is traveling tomorrow and Saturday]
On Wednesday night, Michigan State roared past #6-ranked Ohio State in straight sets (25-20, 25-19, and 26-24) in front of an appreciative home crowd in Jenison Field House.  After the match, Michigan State head coach Cathy George had this to say:
We wanted to come out and set the tone. Our players did a nice job of executing our game plan, and I think that we're seeing our team not only improve, but mature as we work our way through the schedule. We'll enjoy this tonight, but its a quick turnaround as we get ready to host Penn State on Saturday.
Penn State's experience on Wednesday night was somewhat different, as they found themselves trailing a determined Michigan team 2 sets to 1, before rallying to take the match 3-2 (25-18, 22-25, 18-25, 25-20, 15-7).
About Penn State
The Nittany Lions will need solid performances from RS Sr. Aiyana Whitney (who led the Nittany Lions in the Michigan match with a career-high 18 kills), So. MB Haleigh Washington (a career-high 17 kills, with a .593 attack % against the Wolverines) and So. OH Simone Lee (13 kills against Michigan).  Head Coach Russ Rose will also be looking for good things from RS Fr. setter Bryanna Weiskircher (53 assists, a .268 team attack %, and 12 digs) and a bounce-back match from So. OH Ali Frantti (who led the team against the Wolverines with 17 digs, but was limited to 8 kills).  If Penn State can replicate their blocking performance against Michigan, Coach Rose will be very happy: the Nittany Lions, led by career highs from So. MB Heidi Thelen (9 blocks) and Whitney  (8 blocks) out-blocked the Wolverines 17.0-7.0.
About Michigan State
The Spartans have alot of firepower and talent.  Here are some of Michigan State's key players :
Stat Joust: Penn State and Michigan State
as of 10-22-15 (All Opponents)
| Hitting Percentage | S | K | E | TA | Pct. |
| --- | --- | --- | --- | --- | --- |
| Penn State | 69 | 916 | 276 | 2218 | .289 |
| Purdue | 65 | 923 | 317 | 2178 | .278 |
| Nebraska | 66 | 935 | 304 | 2377 | .265 |
| Michigan State | 71 | 1016 | 382 | 2490 | .255 |
| Wisconsin | 65 | 912 | 325 | 2323 | .253 |
| Minnesota | 67 | 913 | 315 | 2364 | .253 |
| Ohio State | 81 | 1130 | 431 | 2864 | .244 |
| Iowa | 74 | 990 | 379 | 2536 | .241 |
| Illinois | 66 | 923 | 355 | 2365 | .240 |
| Michigan | 75 | 1021 | 381 | 2712 | .236 |
| Northwestern | 64 | 873 | 348 | 2286 | .230 |
| Maryland | 83 | 1036 | 455 | 2807 | .207 |
| Indiana | 77 | 1008 | 481 | 2642 | .199 |
| Rutgers | 74 | 865 | 425 | 2548 | .173 |
| Opp. Hitting Pct. | S | K | E | TA | Pct. |
| --- | --- | --- | --- | --- | --- |
| Penn State | 69 | 790 | 454 | 2368 | .142 |
| Ohio State | 81 | 900 | 463 | 2807 | .156 |
| Purdue | 65 | 734 | 382 | 2213 | .159 |
| Minnesota | 67 | 797 | 408 | 2392 | .163 |
| Nebraska | 66 | 779 | 377 | 2396 | .168 |
| Wisconsin | 65 | 786 | 384 | 2343 | .172 |
| Michigan State | 71 | 817 | 394 | 2392 | .177 |
| Illinois | 66 | 804 | 380 | 2357 | .180 |
| Northwestern | 64 | 751 | 336 | 2197 | .189 |
| Michigan | 75 | 970 | 437 | 2733 | .195 |
| Indiana | 77 | 850 | 357 | 2379 | .207 |
| Iowa | 74 | 944 | 382 | 2518 | .223 |
| Maryland | 83 | 1058 | 417 | 2658 | .241 |
| Rutgers | 74 | 1040 | 320 | 2563 | .281 |
| Blocks | S | BS | BA | Total | Avg./S |
| --- | --- | --- | --- | --- | --- |
| Penn State | 69 | 55 | 332 | 221.0 | 3.20 |
| Minnesota | 67 | 35 | 310 | 190.0 | 2.84 |
| Wisconsin | 65 | 18 | 317 | 176.5 | 2.72 |
| Nebraska | 66 | 29 | 292 | 175.0 | 2.65 |
| Illinois | 66 | 33 | 269 | 167.5 | 2.54 |
| Ohio State | 81 | 58 | 292 | 204.0 | 2.52 |
| Michigan State | 71 | 38 | 278 | 177.0 | 2.49 |
| Purdue | 65 | 41 | 232 | 157.0 | 2.42 |
| Maryland | 83 | 49 | 265 | 181.5 | 2.19 |
| Northwestern | 64 | 47 | 181 | 137.5 | 2.15 |
| Michigan | 75 | 40 | 220 | 150.0 | 2.00 |
| Rutgers | 74 | 20 | 242 | 141.0 | 1.91 |
| Iowa | 74 | 35 | 206 | 138.0 | 1.86 |
| Indiana | 77 | 29 | 221 | 139.5 | 1.81 |
| Blocks by Opponents | S | BS | BA | Total | Avg./S |
| --- | --- | --- | --- | --- | --- |
| Penn State | 69 | 16 | 185 | 108.5 | 1.57 |
| Nebraska | 66 | 31 | 159 | 110.5 | 1.67 |
| Purdue | 65 | 15 | 199 | 114.5 | 1.76 |
| Minnesota | 67 | 44 | 186 | 137.0 | 2.04 |
| Ohio State | 81 | 35 | 264 | 167.0 | 2.06 |
| Michigan State | 71 | 39 | 219 | 148.5 | 2.09 |
| Michigan | 75 | 42 | 247 | 165.5 | 2.21 |
| Wisconsin | 65 | 32 | 227 | 145.5 | 2.24 |
| Maryland | 83 | 38 | 298 | 187.0 | 2.25 |
| Northwestern | 64 | 25 | 241 | 145.5 | 2.27 |
| Rutgers | 74 | 39 | 258 | 168.0 | 2.27 |
| Indiana | 77 | 22 | 320 | 182.0 | 2.36 |
| Illinois | 66 | 33 | 250 | 158.0 | 2.39 |
| Iowa | 74 | 36 | 301 | 186.5 | 2.52 |
| Service Aces | S | No. | Avg./S |
| --- | --- | --- | --- |
| Maryland | 83 | 123 | 1.48 |
| Indiana | 77 | 109 | 1.42 |
| Purdue | 65 | 84 | 1.29 |
| Minnesota | 67 | 82 | 1.22 |
| Iowa | 74 | 87 | 1.18 |
| Northwestern | 64 | 74 | 1.16 |
| Ohio State | 81 | 92 | 1.14 |
| Penn State | 69 | 77 | 1.12 |
| Michigan State | 71 | 79 | 1.11 |
| Rutgers | 74 | 77 | 1.04 |
| Nebraska | 66 | 67 | 1.02 |
| Wisconsin | 65 | 53 | 0.82 |
| Illinois | 66 | 49 | 0.74 |
| Michigan | 75 | 50 | 0.67 |
| Service Aces by Opponents | S | No. | Avg./S |
| --- | --- | --- | --- |
| Illinois | 66 | 40 | 0.61 |
| Nebraska | 66 | 46 | 0.70 |
| Minnesota | 67 | 49 | 0.73 |
| Penn State | 69 | 51 | 0.74 |
| Wisconsin | 65 | 54 | 0.83 |
| Indiana | 77 | 64 | 0.83 |
| Michigan | 75 | 64 | 0.85 |
| Maryland | 83 | 73 | 0.88 |
| Michigan State | 71 | 67 | 0.94 |
| Iowa | 74 | 73 | 0.99 |
| Ohio State | 81 | 81 | 1.00 |
| Northwestern | 64 | 69 | 1.08 |
| Rutgers | 74 | 96 | 1.30 |
| Purdue | 65 | 85 | 1.31 |
Individual Leaders
(Must have competed in at least 50% of team's games)
| Hitting Percentage | S | K | E | TA | Pct. |
| --- | --- | --- | --- | --- | --- |
| Haleigh Washington, Penn State | 69 | 187 | 30 | 340 | 0.462 |
| Faye Adelaja, Purdue | 54 | 126 | 28 | 231 | 0.424 |
| Maddie Slater, Northwestern | 64 | 139 | 32 | 278 | 0.385 |
| Haleigh Nelson, Wisconsin | 65 | 157 | 31 | 332 | 0.380 |
| Taylor Sandbothe, Ohio State | 81 | 241 | 50 | 505 | 0.378 |
| Danielle Cuttino, Purdue | 65 | 136 | 36 | 274 | 0.365 |
| Jazzmine McDonald, Indiana | 42 | 80 | 21 | 162 | 0.364 |
| Abby Cole, Michigan | 72 | 222 | 53 | 469 | 0.360 |
| Mikaela Gunderson, Iowa | 74 | 156 | 33 | 349 | 0.352 |
| Paige Tapp, Minnesota | 67 | 173 | 43 | 371 | 0.350 |
| Katie Stadick, Illinois | 64 | 187 | 53 | 398 | 0.337 |
| Allyssah Fitterer, Michigan State | 66 | 171 | 50 | 372 | 0.325 |
| Aiyana Whitney, Penn State | 69 | 209 | 60 | 471 | 0.316 |
| Gabrielle Hazen, Northwestern | 48 | 100 | 34 | 212 | 0.311 |
| Cecilia Hall, Nebraska | 63 | 114 | 42 | 232 | 0.310 |
(Must have at least 3.33 attacks per set)
| Kills | S | No. | Avg./S |
| --- | --- | --- | --- |
| Daly Santana, Minnesota | 67 | 297 | 4.43 |
| Annie Drews, Purdue | 65 | 274 | 4.22 |
| Jocelynn Birks, Illinois | 54 | 214 | 3.96 |
| Meme Fletcher, Rutgers | 59 | 233 | 3.95 |
| Elizabeth Campbell, Ohio State | 80 | 301 | 3.76 |
| Amelia Anderson, Indiana | 76 | 285 | 3.75 |
| Michelle Strizak, Illinois | 63 | 225 | 3.57 |
| Lauren Brobst, Iowa | 74 | 250 | 3.38 |
| Symone Abbott, Northwestern | 64 | 214 | 3.34 |
| Adreene Elliott, Maryland | 83 | 276 | 3.33 |
| Megan Courtney, Penn State | 58 | 189 | 3.26 |
| Brooke Kranda, Michigan State | 69 | 220 | 3.19 |
| Kadie Rolfzen, Nebraska | 62 | 197 | 3.18 |
| Lauryn Gillis, Wisconsin | 65 | 204 | 3.14 |
| Abby Cole, Michigan | 72 | 222 | 3.08 |
| Service Aces | S | No. | Avg./S |
| --- | --- | --- | --- |
| Abbie Kraus, Northwestern | 64 | 24 | 0.38 |
| Holly Toliver, Michigan State | 51 | 19 | 0.37 |
| Bryanna Weiskircher, Penn State | 69 | 23 | 0.33 |
| Daly Santana, Minnesota | 67 | 21 | 0.31 |
| Brooke Peters, Purdue | 64 | 20 | 0.31 |
| Amanda Neill, Purdue | 65 | 19 | 0.29 |
| Abby Bentz, Maryland | 79 | 22 | 0.28 |
| Taylor Lebo, Indiana | 72 | 20 | 0.28 |
| Megan Tallman, Indiana | 65 | 18 | 0.28 |
| Kelsey Wicinski, Maryland | 83 | 22 | 0.27 |
| Rachel Minarick, Michigan State | 70 | 19 | 0.27 |
| Haleigh Washington, Penn State | 69 | 18 | 0.26 |
| Annika Albrecht, Nebraska | 66 | 17 | 0.26 |
| Amy Dion, Maryland | 83 | 21 | 0.25 |
| Molly Kelly, Iowa | 73 | 18 | 0.25 |
| Haleigh Nelson, Wisconsin | 65 | 16 | 0.25 |
| Blocks | S | BS | BA | Total | Avg./S |
| --- | --- | --- | --- | --- | --- |
| Amber Rolfzen, Nebraska | 52 | 7 | 78 | 85 | 1.63 |
| Haleigh Washington, Penn State | 69 | 19 | 87 | 106 | 1.54 |
| Paige Tapp, Minnesota | 67 | 12 | 81 | 93 | 1.39 |
| Tionna Williams, Wisconsin | 61 | 6 | 76 | 82 | 1.34 |
| Danielle Cuttino, Purdue | 65 | 15 | 68 | 83 | 1.28 |
| Haleigh Nelson, Wisconsin | 65 | 6 | 72 | 78 | 1.20 |
| Gabrielle Hazen, Northwestern | 48 | 11 | 46 | 57 | 1.19 |
| Megan Tompkins, Michigan State | 52 | 6 | 55 | 61 | 1.17 |
| Taylor Sandbothe, Ohio State | 81 | 21 | 73 | 94 | 1.16 |
| Heidi Thelen, Penn State | 52 | 7 | 53 | 60 | 1.15 |
| Ali Bastianelli, Illinois | 64 | 8 | 65 | 73 | 1.14 |
| Katie Stadick, Illinois | 64 | 6 | 66 | 72 | 1.13 |
| Molly Lohman, Minnesota | 60 | 7 | 60 | 67 | 1.12 |
| Alyssa Garvelink, Michigan State | 71 | 14 | 63 | 77 | 1.08 |
| Abby Cole, Michigan | 72 | 18 | 56 | 74 | 1.03 |
| Digs | S | No. | Avg./S |
| --- | --- | --- | --- |
| Caroline Niedospial, Northwestern | 64 | 319 | 4.98 |
| Annika Olsen, Iowa | 74 | 348 | 4.70 |
| Justine Wong-Orantes, Nebraska | 66 | 303 | 4.59 |
| Brandi Donnelly, Illinois | 66 | 300 | 4.55 |
| Taylor Morey, Wisconsin | 65 | 296 | 4.55 |
| Valeria Leon, Ohio State | 81 | 359 | 4.43 |
| Dalianliz Rosado, Minnesota | 67 | 283 | 4.22 |
| Amanda Neill, Purdue | 65 | 250 | 3.85 |
| Amy Dion, Maryland | 83 | 300 | 3.61 |
| Abby Monson, Michigan State | 71 | 255 | 3.59 |
| Megan Courtney, Penn State | 58 | 203 | 3.50 |
| Keeton Holcomb, Penn State | 68 | 229 | 3.37 |
| Courtney Harnish, Indiana | 77 | 259 | 3.36 |
| Tiffany Morales, Michigan | 60 | 194 | 3.23 |
| Ali Schroeter, Rutgers | 74 | 231 | 3.12 |