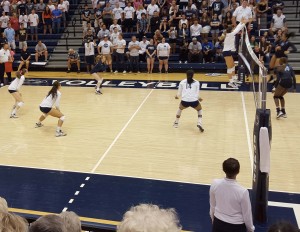 This weekend, #1-ranked Penn State (3-0), the defending NCAA champion, welcomes two solid Pac-12 teams to Rec Hall, facing off against Colorado on Friday night and #2-ranked Stanford on Saturday night.  Although Stanford is certainly the more formidable opponent, we doubt Head Coach Russ Rose, with a freshman setter, a new libero, and a new middle blocker, is looking past the Buffalos, to the Cardinal.
For one thing, the Buff's, who went 2-1 at their own tournament, are fully capable of knocking off Penn State.  Colorado lost their first match in four to San Diego (now ranked #23 in the AVCA poll), but rebounded to beat Florida State in five (dropping the Seminoles from #9 to #14) and topped Oklahoma (the poor Sooners lost all three matches, two of them in five sets).
From the cubuffs.com website:
Senior Alexis Austin led all four teams with 60 kills to earn a spot on the Omni Classic All-Tournament team. She averaged 4.29 kills per set and hit .254 while adding 1.21 digs and 0.50 blocks per set. Austin currently ranks fifth in the Pac-12 in kills.

Also earning all-tournament honors was senior Nicole Edelman. She, along with sophomore Gabby Simpson, directed the Buffs to a .240 hitting percentage. Edelman averaged 5.93 assists per set, as well as 1.64 kills, 1.29 digs and 0.43 blocks per set. Simpson handed out 4.43 assists per set, and added 2.00 kills, 1.43 digs and 0.71 blocks per set.

Defensively, junior Cierra Simpson picked up 3.29 digs per set, which ranks 10th in the Pac-12. She recorded 23 digs in the five-set win over Oklahoma.

CU's freshmen had a great first weekend. Naghede Abu is the top blocker on the team with 0.92 blocks per set, while Aidan Lea hit .462 (12 kills, 0 errors, 26 attacks) in three matches. Lea stepped up after replacing Joslyn Hayes who left CU's match against FSU due to injury. She did not play the rest of the tournament.
And Coach Rose only has to look back to 2011 to find an eerily similar situation, where the less-heralded opponent defeated Penn State.   That year, Penn State opened the season by hosting the Rockvale Outlets/AVCA College Volleyball Showcase, facing Oregon on Friday night, and facing . . .  wait for it . . . a Pac 12 team that was ranked the #2 team in the land — that year it was Southern Cal.   And, like this season, Coach Rose was breaking in a freshman setter (Micha Hancock) and a new middle blocker (Nia Grant) on a defending national champion team.  But the Nittany Lions were tripped up on Friday night by Oregon, 3-1, which was led by the outstanding 6-3 redshirt Jr. OH Alaina Bergsma, .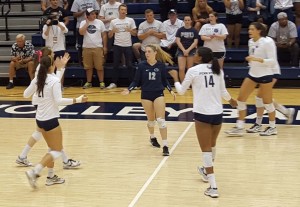 The Nittany Lions came back the next night to defeat USC in a steamy Rec Hall (with Hurricane Irene bearing down on the East Coast).  The Trojans, whose roster included 6-3 OH Alex (the Planet) Jupiter, 5-11 S Kendall Bateman, 6-4 MB Lauren Williams, 6-2 Jr. OH Katie Fuller, and So. L Natalie Hagglund, were loaded with talent, but Penn State prevailed 3-2.  The match served as a coming out party for 5-11 Fr.  Micha Hancock, who wowed the crowd with her bomb of a serve (six aces), and 6-2 Fr. Nia Grant at MB.  Oh, and 5-6 Jr. Kristin Carpenter debuted at . . . Libero (where she totaled a career-best 20 digs).
After that match, Coach Rose praised the crowd:
It was the best crowd for a women's volleyball match that I have seen in 33 years.  I want to applaud the crowd and the student section and the band especially for keeping the building alive.  I thought we saw some great performances tonight.  I thought a couple of people stepped up in a huge way.  It was a nice collective team effort.
It will take a similar team effort by the Penn State (and what we hope will be a sellout crowd) this weekend to remain undefeated.
Join the conversation on the DigNittanyVolleyball.com Forum.
Date
(Time)
Opponent
Site

Media
2014
Record
9-4-15
(7:30 p.m. ET)
B

1G

/
Pac-12
Challenge


Colorado

Rec
Hall

No TV






20-14
(11-9 in
Pac-12
#21 AVCA
Poll)

Penn State Attack Leaders
Penn State Setting Leaders
Penn State Serving Leaders
Penn State Rcpt/Dig Leaders
Penn State Blocking Leaders