Click images for more info
Date
(Time)
Opp
Site
Media
11-11-15
(8:00 p.m. ET)
Iowa City

No TV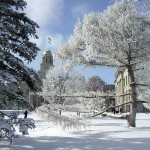 Ahhh, Iowa City in the Fall.  Actually, it probably isn't frozen-over in Iowa City right now, but we like the photo.  Frozen or not, #1-ranked Penn State (23-2, 12-2) will visit Iowa (12-15, 2-12) tonight for an 8 p.m. ET match against the Hawkeyes in Carver-Hawkeye Arena.  It's known as a somewhat cavernous venue, which can pose a problem for visiting teams, but don't let that 2-12 B1G record fool you, regardless of the venue, so can Iowa.
After the Nittany Lions swept the Hawkeyes in Rec Hall on October 3rd in a  match that was closer than the 3-0 score indicated (26-24, 25-16, 25-23), Head Coach Russ Rose had nothing but praise for the Hawkeyes:
Iowa played with great energy, and had they not missed six serves in the last game, we could still be playing right now. . . . Iowa's a good team.  Iowa, against Nebraska last week, had two deuce games in a three-game match.  So doing that with [Nebraska] and with us — Iowa's very good.  It's a new staff, they have a new energy, the kids are playing hard, and the coaches are doing a great job.  They're going to beat somebody, and I hope it's not us when we go back to Iowa City.
That's not just coach-speak: according to Hawkeyesports.com, Iowa has the sixth-toughest strength of schedule in Division I Volleyball — #3 in the B1G.  If the Hawkeyes catch Penn State looking ahead to their next match against some team whose name escapes us (right on the tip of our tongues), which is supposed to be some kind of important test for Penn State, and a real challenge, Iowa could spring a surprise on Penn State.  Can anyone say "Trap Match"?  If Iowa should pull off the upset, it will be their first win after dropping the first 48 contests in a series that started in 1991.
About Iowa
Key players for Iowa include 5-8 So. libero Annika Olsen, who leads the B1G in total digs (460) and digs/set (4.84);  6-1 Jr. setter Loxley Keala, who holds the Iowa record with 5,471 career assists, leads the B1G in total assists this season (1,052) and ranks #5 in the B1G in assists/set (11.07);  6-0 Sr. MB Mikaela Gunderson, who ranks #8 in the B1G in hitting % (.341); 6-0 Fr. RS Reghan Coyle, who started for the first time in her young career in matches last week against Indiana and Purdue, totaling 12 kills, 10 digs and a pair of aces; and 6-3 So. MB Jess Janota, who led Iowa in the Indiana and Purdue matches with 30 kills and a .442 attack percentage.
In Penn State's first match against the Hawkeyes, 6-2 Sr. OH Megan Courtney registered 12 kills and 13 digs, 6-3 So. MB Haleigh Washington totaled 11 kills, and 6-0 RS Fr. setter Bryanna Weiskircher guided the team to a .330 attack %, with 34 assists and 10 digs.
Big Ten Volleyball Extravaganza
As you can see from the table at the top of this post, the match will be streamed live online via BTN Plus (click the logo, above, for a direct link — it's a subscription service).  BTN is also trying out what it is calling "The Big Ten Volleyball Extravaganza — similar to the ESPN Whiparound — which will feature live segments from all seven conference matches tonight.  The program will be hosted by BTN's Mike Wolf  from the BTN studio in Chicago.
Heidi Thelen Speaks Interview on GoPSUsports
We found this video of Penn State's 6-2 So. MB Heidi Thelen on the B1G site (obviously, our slacker staff missed it on GoPSUsports.com):
National Letter of Intent Day
It's National Letter of Intent day.  Sometimes Penn States issues a press release.  Sometimes they don't.  We'll be looking out for one, but we may not provide any updates today — slacker staff nowhere to be found.  In the meantime, here's a link to our Recruiting Matrix, and to the list of Class of 2016 verbal commitments we're aware of.
Stat Joust: Penn State and Iowa
(B1G Matches Only)
| Hitting Percentage | S | K | E | TA | Pct. |
| --- | --- | --- | --- | --- | --- |
| Penn State | 53 | 709 | 230 | 1743 | .275 |
| Purdue | 52 | 727 | 255 | 1753 | .269 |
| Wisconsin | 50 | 694 | 233 | 1741 | .265 |
| Nebraska | 50 | 697 | 240 | 1856 | .246 |
| Ohio State | 55 | 732 | 281 | 1884 | .239 |
| Minnesota | 54 | 738 | 257 | 2021 | .238 |
| Michigan | 53 | 725 | 284 | 1904 | .232 |
| Illinois | 53 | 712 | 297 | 1906 | .218 |
| Michigan State | 49 | 627 | 276 | 1647 | .213 |
| Northwestern | 49 | 635 | 288 | 1747 | .199 |
| Iowa | 49 | 613 | 275 | 1751 | .193 |
| Maryland | 50 | 616 | 297 | 1776 | .180 |
| Indiana | 46 | 564 | 305 | 1609 | .161 |
| Rutgers | 47 | 503 | 299 | 1616 | .126 |
| Opp. Hitting Pct. | S | K | E | TA | Pct. |
| --- | --- | --- | --- | --- | --- |
| Nebraska | 50 | 619 | 306 | 1870 | .167 |
| Minnesota | 54 | 708 | 357 | 2082 | .169 |
| Wisconsin | 50 | 611 | 303 | 1800 | .171 |
| Penn State | 53 | 646 | 328 | 1837 | .173 |
| Illinois | 53 | 708 | 321 | 1970 | .196 |
| Ohio State | 55 | 691 | 300 | 1902 | .206 |
| Purdue | 52 | 663 | 284 | 1795 | .211 |
| Michigan State | 49 | 616 | 258 | 1618 | .221 |
| Michigan | 53 | 748 | 275 | 1933 | .245 |
| Northwestern | 49 | 631 | 228 | 1622 | .248 |
| Iowa | 49 | 684 | 239 | 1754 | .254 |
| Indiana | 46 | 608 | 199 | 1479 | .277 |
| Maryland | 50 | 680 | 222 | 1640 | .279 |
| Rutgers | 47 | 670 | 197 | 1629 | .290 |
| Blocks | S | BS | BA | Total | Avg./S |
| --- | --- | --- | --- | --- | --- |
| Penn State | 53 | 42 | 235 | 277 | 3.0 |
| Nebraska | 50 | 21 | 250 | 271 | 2.9 |
| Minnesota | 54 | 23 | 259 | 282 | 2.8 |
| Illinois | 53 | 19 | 246 | 265 | 2.7 |
| Wisconsin | 50 | 14 | 242 | 256 | 2.7 |
| Ohio State | 55 | 39 | 198 | 237 | 2.5 |
| Michigan State | 49 | 26 | 178 | 204 | 2.3 |
| Purdue | 52 | 33 | 168 | 201 | 2.3 |
| Northwestern | 49 | 40 | 123 | 163 | 2.1 |
| Rutgers | 47 | 11 | 174 | 185 | 2.1 |
| Michigan | 53 | 24 | 170 | 194 | 2.1 |
| Maryland | 50 | 22 | 152 | 174 | 2.0 |
| Indiana | 46 | 11 | 140 | 151 | 1.8 |
| Iowa | 49 | 21 | 114 | 135 | 1.6 |
| Blocks by Opponents | S | BS | BA | Total | Avg./S |
| --- | --- | --- | --- | --- | --- |
| Penn State | 53 | 17 | 159 | 176 | 1.8 |
| Purdue | 52 | 14 | 166 | 180 | 1.9 |
| Nebraska | 50 | 26 | 145 | 171 | 2.0 |
| Ohio State | 55 | 22 | 178 | 200 | 2.0 |
| Wisconsin | 50 | 19 | 167 | 186 | 2.1 |
| Minnesota | 54 | 26 | 188 | 214 | 2.2 |
| Illinois | 53 | 22 | 200 | 222 | 2.3 |
| Michigan State | 49 | 40 | 170 | 210 | 2.6 |
| Michigan | 53 | 33 | 210 | 243 | 2.6 |
| Indiana | 46 | 19 | 202 | 221 | 2.6 |
| Maryland | 50 | 21 | 232 | 253 | 2.7 |
| Northwestern | 49 | 25 | 221 | 246 | 2.8 |
| Iowa | 49 | 30 | 210 | 240 | 2.8 |
| Rutgers | 47 | 32 | 198 | 230 | 2.8 |
| Service Aces | S | No. | Avg./S |
| --- | --- | --- | --- |
| Nebraska | 50 | 64 | 1.3 |
| Maryland | 50 | 67 | 1.3 |
| Iowa | 49 | 57 | 1.2 |
| Indiana | 46 | 50 | 1.1 |
| Ohio State | 55 | 61 | 1.1 |
| Minnesota | 54 | 57 | 1.1 |
| Northwestern | 49 | 54 | 1.1 |
| Penn State | 53 | 51 | 1.0 |
| Wisconsin | 50 | 43 | 0.9 |
| Michigan State | 49 | 44 | 0.9 |
| Michigan | 53 | 40 | 0.8 |
| Purdue | 52 | 44 | 0.8 |
| Rutgers | 47 | 39 | 0.8 |
| Illinois | 53 | 33 | 0.6 |
| Service Aces by Opponents | S | No. | Avg./S |
| --- | --- | --- | --- |
| Nebraska | 50 | 23 | 0.5 |
| Penn State | 53 | 38 | 0.7 |
| Illinois | 53 | 40 | 0.8 |
| Michigan | 53 | 42 | 0.8 |
| Wisconsin | 50 | 45 | 0.9 |
| Minnesota | 54 | 46 | 0.9 |
| Iowa | 49 | 46 | 0.9 |
| Indiana | 46 | 51 | 1.1 |
| Ohio State | 55 | 61 | 1.1 |
| Northwestern | 49 | 53 | 1.1 |
| Michigan State | 49 | 55 | 1.1 |
| Maryland | 50 | 59 | 1.2 |
| Purdue | 52 | 75 | 1.4 |
| Rutgers | 47 | 67 | 1.4 |
Individual Leaders
(Must have competed in at least 50% of team's games)
| Hitting Percentage | S | K | E | TA | Pct. |
| --- | --- | --- | --- | --- | --- |
| Haleigh Washington, Penn State | 53 | 143 | 29 | 269 | .424 |
| Haleigh Nelson, Wisconsin | 50 | 122 | 19 | 253 | .407 |
| Faye Adelaja, Purdue | 52 | 119 | 30 | 235 | .379 |
| Danielle Cuttino, Purdue | 52 | 122 | 34 | 252 | .349 |
| Taylor Sandbothe, Ohio State | 54 | 142 | 33 | 313 | .348 |
| Aiyana Whitney, Penn State | 53 | 163 | 41 | 355 | .344 |
| Amber Rolfzen, Nebraska | 50 | 123 | 30 | 283 | .329 |
| Maddie Slater, Northwestern | 49 | 101 | 30 | 218 | .326 |
| Mikaela Gunderson, Iowa | 49 | 96 | 28 | 224 | .304 |
| Gabrielle Hazen, Northwestern | 34 | 69 | 24 | 148 | .304 |
| Tionna Williams, Wisconsin | 50 | 108 | 36 | 241 | .299 |
| Hannah Tapp, Minnesota | 54 | 136 | 42 | 318 | .296 |
| Romana Kriskova, Wisconsin | 49 | 117 | 37 | 270 | .296 |
| Molly Lohman, Minnesota | 47 | 67 | 21 | 158 | .291 |
| Kadie Rolfzen, Nebraska | 50 | 168 | 44 | 430 | .288 |
| Alyssa Garvelink, Michigan State | 49 | 102 | 41 | 212 | .288 |
| Jazzmine McDonald, Indiana | 32 | 62 | 24 | 132 | .288 |
(Must have at least 3.33 attacks per set)
| Service Aces | S | No. | Avg./S |
| --- | --- | --- | --- |
| Adreene Elliott, Maryland | 50 | 24 | 0.5 |
| Bryanna Weiskircher, Penn State | 53 | 19 | 0.4 |
| Allison Hammond, Indiana | 25 | 10 | 0.4 |
| Makayla Lundin, Indiana | 5 | 2 | 0.4 |
| Annika Albrecht, Nebraska | 50 | 17 | 0.3 |
| Daly Santana, Minnesota | 54 | 17 | 0.3 |
| Mikaela Foecke, Nebraska | 46 | 16 | 0.3 |
| Ashley Mariani, Iowa | 49 | 15 | 0.3 |
| Luisa Schirmer, Ohio State | 53 | 15 | 0.3 |
| Loxley Keala, Iowa | 49 | 14 | 0.3 |
| Kelsey Wicinski, Maryland | 50 | 14 | 0.3 |
| Haleigh Nelson, Wisconsin | 50 | 13 | 0.3 |
| Lydia Dimke, Purdue | 16 | 4 | 0.3 |
| Haleigh Washington, Penn State | 53 | 13 | 0.2 |
| Rachel Minarick, Michigan State | 49 | 12 | 0.2 |
| Elizabeth Campbell, Ohio State | 54 | 12 | 0.2 |
| Taylor Sandbothe, Ohio State | 54 | 11 | 0.2 |
| Amanda Neill, Purdue | 52 | 11 | 0.2 |
| Kayla Morin, Northwestern | 49 | 11 | 0.2 |
| Anna Sudbury, Rutgers | 47 | 11 | 0.2 |
| Holly Toliver, Michigan State | 48 | 11 | 0.2 |
| Ashley Evans, Purdue | 51 | 10 | 0.2 |
| Abbie Kraus, Northwestern | 46 | 10 | 0.2 |
| Dalianliz Rosado, Minnesota | 54 | 9 | 0.2 |
| Ali Schroeter, Rutgers | 47 | 9 | 0.2 |
| Taylor Lebo, Indiana | 46 | 9 | 0.2 |
| Molly Kelly, Iowa | 49 | 9 | 0.2 |
| Ali Stark, Illinois | 53 | 9 | 0.2 |
| Taylor Hughes, Ohio State | 41 | 9 | 0.2 |
| Sarah Wilhite, Minnesota | 50 | 9 | 0.2 |
| Valeria Leon, Ohio State | 55 | 9 | 0.2 |
| Paige Tapp, Minnesota | 54 | 9 | 0.2 |
| Kelly Hunter, Nebraska | 50 | 8 | 0.2 |
| Julia Conard, Illinois | 42 | 8 | 0.2 |
| Lauren Carlini, Wisconsin | 50 | 8 | 0.2 |
| Caroline Niedospial, Northwestern | 49 | 8 | 0.2 |
| Megan Tallman, Indiana | 43 | 8 | 0.2 |
| Taylor Morey, Wisconsin | 50 | 8 | 0.2 |
| Amy Dion, Maryland | 50 | 8 | 0.2 |
| Ronnie Komisarek, Rutgers | 47 | 8 | 0.2 |
| Alyssa Klostermann, Iowa | 36 | 7 | 0.2 |
| Reagan Davey, Iowa | 38 | 6 | 0.2 |
| Caroline Knop, Michigan | 37 | 6 | 0.2 |
| Blocks | S | BS | BA | Total | Avg./S |
| --- | --- | --- | --- | --- | --- |
| Amber Rolfzen, Nebraska | 50 | 6 | 74 | 80 | 1.6 |
| Ali Bastianelli, Illinois | 52 | 3 | 71 | 74 | 1.4 |
| Haleigh Washington, Penn State | 53 | 14 | 58 | 72 | 1.4 |
| Tionna Williams, Wisconsin | 50 | 4 | 67 | 71 | 1.4 |
| Paige Tapp, Minnesota | 54 | 5 | 65 | 70 | 1.3 |
| Taylor Sandbothe, Ohio State | 54 | 14 | 52 | 66 | 1.2 |
| Haleigh Nelson, Wisconsin | 50 | 6 | 52 | 58 | 1.2 |
| Cecilia Hall, Nebraska | 49 | 6 | 51 | 57 | 1.2 |
| Gabrielle Hazen, Northwestern | 34 | 13 | 29 | 42 | 1.2 |
| Aiyana Whitney, Penn State | 53 | 7 | 52 | 59 | 1.1 |
| Alyssa Garvelink, Michigan State | 49 | 10 | 44 | 54 | 1.1 |
| Molly Lohman, Minnesota | 47 | 3 | 49 | 52 | 1.1 |
| Naya Crittenden, Illinois | 41 | 3 | 42 | 45 | 1.1 |
| Mikaela Matthews, Rutgers | 21 | 1 | 22 | 23 | 1.1 |
| Hannah Tapp, Minnesota | 54 | 4 | 51 | 55 | 1.0 |
| Katie Stadick, Illinois | 53 | 2 | 50 | 52 | 1.0 |
| Danielle Cuttino, Purdue | 52 | 10 | 41 | 51 | 1.0 |
| Faye Adelaja, Purdue | 52 | 8 | 42 | 50 | 1.0 |
| Eden Frazier, Rutgers | 47 | 3 | 42 | 45 | 1.0 |
| Krystalyn Goode, Michigan | 40 | 5 | 33 | 38 | 1.0 |
| Aspen Luedtke, Rutgers | 1 | 0 | 1 | 1 | 1.0 |
| Tori Blake, Wisconsin | 1 | 0 | 1 | 1 | 1.0 |
| Digs | S | No. | Avg./S |
| --- | --- | --- | --- |
| J Wong-Orantes, Nebraska | 50 | 246 | 4.9 |
| Annika Olsen, Iowa | 49 | 242 | 4.9 |
| Brandi Donnelly, Illinois | 53 | 237 | 4.5 |
| Caroline Niedospial, Northwestern | 49 | 210 | 4.3 |
| Dalianliz Rosado, Minnesota | 54 | 229 | 4.2 |
| Taylor Morey, Wisconsin | 50 | 212 | 4.2 |
| Amanda Neill, Purdue | 52 | 196 | 3.8 |
| Kelsey Wicinski, Maryland | 50 | 188 | 3.8 |
| Valeria Leon, Ohio State | 55 | 194 | 3.5 |
| Ali Schroeter, Rutgers | 47 | 165 | 3.5 |
| Courtney Harnish, Indiana | 46 | 159 | 3.5 |
| Abby Monson, Michigan State | 49 | 162 | 3.3 |
| Keeton Holcomb, Penn State | 53 | 168 | 3.2 |
| Megan Courtney, Penn State | 39 | 125 | 3.2 |
| Daly Santana, Minnesota | 54 | 162 | 3.0 |