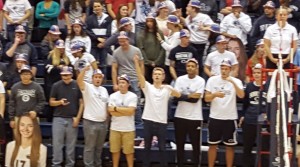 Although #7-ranked Ohio State downed #18 Purdue (15-3, 6-1 in the B1G) last night in five sets (25-15, 25-27, 24-26, 25-23, 15-9), the Boilermakers came very close to knocking off the Buckeyes, and would like nothing better than to do just that to Penn State (16-2, 5-2 in the B1G) tonight.
Penn State won its match last night against Indiana, and although Coach Rose saw some good things from his new lineup (6-2 RS Fr. Nia Reed started at RS, replacing the injured Megan Courtney, while Simone Lee moved to OH and 5-4 Sr. DS Lara Caraway started in the back row), he said his team would need to play significantly better to defeat Purdue:
I thought Aiyana [Whitney] had a strong night blocking.  We certainly, on a stat sheet looked good [blocking].  I thought our hitting was pretty neutral this evening.  You can't hit .240 and anticipate having great success in a sport where numbers make a difference.
(click images for more info)
Date
(Time)

Opp.
Site

Media
10-17-15
(7:00 p.m. ET)
Rec Hall
Univ. Park,
PA

No TV





About Purdue
In the Ohio State match, Purdue showed that it has multiple options on offense.  6-4 Sr. Annie Drews totaled 17 kills and 11 digs, followed by 6-1 Fr. OH Alexa Smith (13 kills, 13 digs and 2 aces), 6-4 So. MB Danielle Cuttino (9 kills), 6-0 Sr. OH Sam Epenesa (9 kills), and 6-1 RS Jr. MB Faye Adelaja (8 kills).  5-8 Sr. libero Amanda Neill came up with 20 digs, followed by Smith (13), Fr. Brooke Peters (12) and Drews (11).  For the season (prior to the Ohio State match) Annie Drews leads the team with 4.32 kills/set, followed by Faye Adelaja (2.39 — and a team-best .452 attack %), Sam Epenesa (2.21), Danielle Cuttino (2.12) and 6-0 So. OH Azariah Stahl (2.10).  Purdue's .294 team attack % leads the B1G.  The back row has been anchored by 5-8 Sr. libero Amanda Neill (3.91 digs/set, with 16 aces). 6-1 So. setter Ashley Evans has contributed 2.68 digs/set.
Click Here for post-Ohio State match video from Purdue head coach Dave Shondell
Penn State leads the series 51-6, having won the last eight contests.
Penn State Stats (prior to Indiana Match)
2015 Statistics
Attack Leaders: 2015 (last checked: 10-11-15)

Setting Leaders: 2015 (last checked 10-11-15)

Serving Leaders: 2015 (last checked 10-11-15)

Rcpt/Dig Leaders: 2015 (last checked 10-11-15)

Blocking Leaders (last checked 10-11-15)