The Match: Penn State vs. Illinois
When & Where: September 24, 2010, 8:00 p.m. ET.; Huff Hall, Champaign, Illinois
Media Coverage: Game Tracker and BTN Tape Delay – Sunday, September 26th, 7:00 p.m. E.T.
The Last Time: Last year, on November 13th (a Friday, no less), the Penn State Women's volleyball team faced a very tough Illinois team that was ranked #5 in the AVCA poll and had won eleven matches in a row. As it turned out, Penn State swept Illinois (20-25, 25-27, 15-25), but the victory didn't come easily.  Comparing the match to Illinois' earlier loss to Penn State in Champaign (25-11, 25-17, 25-17), Illinois Head Coach Kevin Hambly said
Last time we had a lot to regret, but I don't think we have a lot to regret tonight. . . . We certainly wish we could have that second set back, but we competed and put ourselves out there this time."
Illinois Snapshot:
This Friday, the Illini will take on the Nittany Lions in Huff Hall after starting off with a 7-0 record (and a #3 AVCA Poll ranking), before dropping two of their last three matches — a 3-2 heartbreaker to then-#7 (now #4) Nebraska in Lincoln on September 11th (when the Illini were without star Senior All-American OH Laura DeBruler, who was diagnosed on September 7th with mononeucleosis, and without 6-3 Jr. Opp. Michelle Bartsch from midway in the third set, when she left the match with an apparent ankle injury) and a 3-2 loss to Cincinnati  on September 17th in Louisville.
The good news for the 8-2 Illinis — very good news — is that DeBruler has been medically cleared to play on Friday against Penn State.  According to The Daily Illini, Coach Hambly says DeBruler is "good to go, she's cranked."  Hambly says that even at 80 percent,  DeBruler is "one of the best players in the country."
DeBruler will be joined by 5-10 Sr. Setter Hillary Haen (2nd nationally with 12.67 assists/set) , 6-1 Sr. MB Johannah Bangert (11th nationally with a .434 hitting percentage), 6-2 Jr. OH Colleen Ward (the outstanding transfer from Florida who is ranked 22nd nationally with 4.32 kills/set), Bartsch, 6-1 Fr. OH Jazmine Orazco, and 5-9  Fr. L/DS Jennifer Bonilla. 
Penn State Snapshot
Penn State — 10-1 with a solid 3-1 victory over now-#3 Florida and a 3-0 spanking by now-#1 Stanford —  is led by First Team AVCA All Americans Blair Brown  (Sr., Opp., 3.56 kills/set; .348 attack %) and Arielle Wilson, (Sr., MH,  #7 nationally with a .456 attack %; 31st nationally with 1.29 blocks/set), standout defender Fatima Balza (Sr., MH, 8th nationally with 1.48 blocks/set), Sr. L  Alyssa D'Errico (3rd nationally with 0.79 aces/set), Cathy Quilico. Newcomer Deja McClendon (Fr., OH, 3.45 kps, .371 attack %) and Kristin Carpenter (So. Setter ).  6-6 Fr. MH (and blocker extraordinaire) Katie Slay has seen increased playing time in recent matches. 
The Rosters
Here's the 2010 Illinois Roster: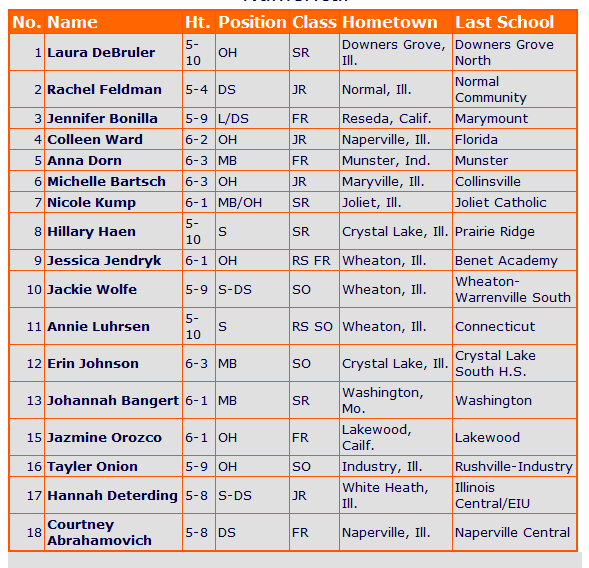 Here's Penn State's 2010 Roster:
2010 Team Roster
Stat Joust
We'll have in-depth pre-match analysis in our next post, but until then, here are selected NCAA team and individual rankings for Illinois and Penn State as of 9-20-10: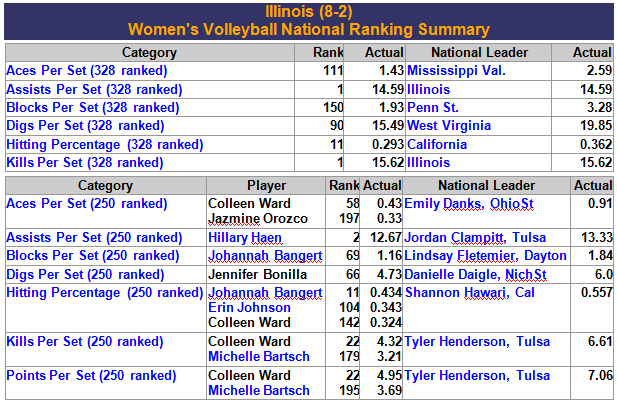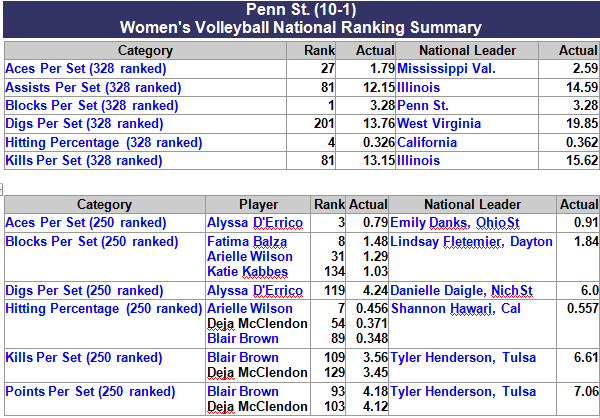 Nostalia
More for nostalgia than for any relevance to the upcoming match with Illinois, here are video highlights from the September 2009 match in Champaign: