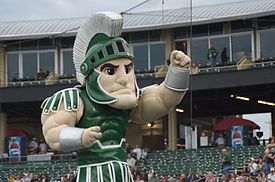 If Penn State (18-2, 7-2 in the B1G) had any doubts about how tough Michigan State (14-6, 6-3 in the B1G) will be, it only has to look at this graphic:

The Spartans took it to the #6-ranked Buckeyes in the first two sets, and held on, winning a deuce set to take the match 3-0.
So it will be a challenge for the visiting Nittany Lions, with two streaks on the line: the Spartans have won four consecutive matches (having won at Iowa on Oct. 10, and at home over Maryland (3-1), Rutgers (3-0), and Wednesday night against Ohio State), and Penn State has won three straight matches over Michigan State, dating back to September 27, 2013, when the then #15-ranked Spartans shocked then-#1 Penn State 3-2 (23-25, 24-26, 25-19, 25-19, 9-15) in the 2013 Big Ten season opener at Rec Hall.
Bottom line: Michigan State is very good. Match info below:
6 Things to Know About the Spartans (plus 2 Bonus Things)

1. Rachel Minarick is Very Good.  Michigan State has alternated between a 6-2 and a 5-1 this season. 6-2 So. setter Rachel Minarick has played in all 20 matches (starting 19), averaging 8.89 assists/set — good for 11th place in the B1G.   She also is averaging 0.60 blocks/set, 2.24 digs/set, 1.18 kills/set (.288 attack %), and 0.25 service aces/set — good for 13th in the B1G.  5-10 Sr. setter Halle Peterson, who has played in 17 of 19 matches (starting 11) and 47 of 68 sets for the Spartans, has averaged 4.26 assists/set.
Following MSU's wins over Rutgers (in which Minarick recorded her sixth double-double of the season, tied her season bests in digs (12) and blocks (4) and directed the Spartans to a season-best .425 attack %), and Maryland, (46 assists, 4 blocks and 9 digs), Minarick was named Big Ten Setter of the Week.  It was the second time she earned the award this season — the first being on September 21st, after MSU's match against North Carolina, in which Minarick recorded the 11th triple-double in MSU history (11 kills, 25 assists and 10 digs — plus 4 service aces).  According to MSU's SID, Minarick is the only player in the Big Ten with a triple-double this season.


2.  Alyssa Garvelink is also Very Good.  So is Brooke Kranda.  6-4 So. MB Alyssa Garvelink was named the Big Ten Player of the Week after totaling a combined 23 kills and hitting .588 in MSU's wins over Maryland and Rutgers last week.  She hit .647 (12-1-17) against Rutgers and .529 (11-2-17) against Maryland.   She had another good match against Ohio State — 10 kills and .467 attack %.  6-6 So. MB/Opp Brooke Kranda, who is 12th in the B1G with 3.19 kills/set (.228 attack %) and averaging .70 blocks/set.

3. Allyssah Fitterer is Heating Up.  Against Maryland last week, 6-2 Jr. MB/Opp Allyssah Fitterer had her best match (statistically) since the first weekend of the season: 13 kills (.500 attack %) and 8 blocks.  She did even better against Rutgers — 6 kills and a gaudy .750 attack %.   She kept up her torrid pace against the Buckeyes, with 9 kills and a .467 attack %.  As of 10-22-15, Fitterer's .325 attack % ranked 12th in the Big Ten, and she is averaging 2.59 kills/set and 0.79 blocks/set.
4. Chloe Reinig Shines Since Return from Injury.  Although she didn't have a good match against Ohio State, in the matches against Maryland and Rutgers, 6-4 Jr. OH Chloe Reinig had her two best hitting performances since returning to the Spartan lineup after missing seven matches with injury. Against Maryland, she hit .346, with 4 blocks and 3 digs. Against Rutgers, she hit .375, with 7 kills.

5.  Good Golly Miss Holly (Tolliver) —  Killing It!  With the exception of a very good night serving (4 service aces), 6-2 So. OH Holly Toliver might want a redo for the Ohio State match.  But prior to that match she was on fire!  Against Maryland, Tolliver registered 11 kills, 10 digs and a block, and against Rutgers she totaled 9 kills (.333 attack %) with 6 digs.  And, with those 4 service aces, Toliver ranks 2nd in the B1G with 0.37 service aces/set!
6.  Backrow Demons Spartans.  5-5 So. libero Abby Monson, who was named the Big Ten Defensive Player of the Week on Sept. 21st, led all players with 16 digs in the Maryland match.  Against the Buckeyes, Monson totaled 11 digs, and is averaging 3.59 digs per set (10th in the B1G).  5-7 Sr. DS Kristen Muir tallied 13 digs against Maryland 10 digs against Rutgers, while 5-2 Fr. DS Sarah Washegesic is averaging 1.42 digs/set for the season.
Bonus #1.  MSU's 3-1 victory over Maryland last Wednesday was  Spartan head coach Cathy George's 200th at Michigan State.  Congrats Cathy!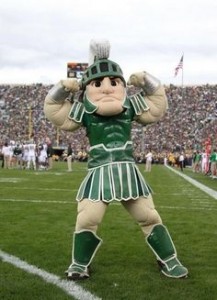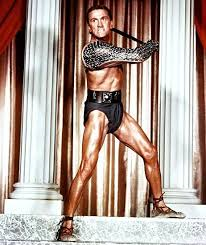 Bonus #2. We have been told, by Spartan fans, that Spartan fans don't like other people referring to Michigan State as "Sparty."
We're fine with that, although we will admit, before we knew, we kind of liked the name: reminded us of feisty and jaunty.
Still, we've learned our lesson.  Going forward, we only use "Sparty" to refer to that feisty, jaunty guy (the one on the left, not the one on the right.)
Stat Joust: Penn State and Michigan State
— as of 10-22-15 (All Opponents)
| Hitting Percentage | S | K | E | TA | Pct. |
| --- | --- | --- | --- | --- | --- |
| Penn State | 69 | 916 | 276 | 2218 | .289 |
| Purdue | 65 | 923 | 317 | 2178 | .278 |
| Nebraska | 66 | 935 | 304 | 2377 | .265 |
| Michigan State | 71 | 1016 | 382 | 2490 | .255 |
| Wisconsin | 65 | 912 | 325 | 2323 | .253 |
| Minnesota | 67 | 913 | 315 | 2364 | .253 |
| Ohio State | 81 | 1130 | 431 | 2864 | .244 |
| Iowa | 74 | 990 | 379 | 2536 | .241 |
| Illinois | 66 | 923 | 355 | 2365 | .240 |
| Michigan | 75 | 1021 | 381 | 2712 | .236 |
| Northwestern | 64 | 873 | 348 | 2286 | .230 |
| Maryland | 83 | 1036 | 455 | 2807 | .207 |
| Indiana | 77 | 1008 | 481 | 2642 | .199 |
| Rutgers | 74 | 865 | 425 | 2548 | .173 |
| Opp. Hitting Pct. | S | K | E | TA | Pct. |
| --- | --- | --- | --- | --- | --- |
| Penn State | 69 | 790 | 454 | 2368 | .142 |
| Ohio State | 81 | 900 | 463 | 2807 | .156 |
| Purdue | 65 | 734 | 382 | 2213 | .159 |
| Minnesota | 67 | 797 | 408 | 2392 | .163 |
| Nebraska | 66 | 779 | 377 | 2396 | .168 |
| Wisconsin | 65 | 786 | 384 | 2343 | .172 |
| Michigan State | 71 | 817 | 394 | 2392 | .177 |
| Illinois | 66 | 804 | 380 | 2357 | .180 |
| Northwestern | 64 | 751 | 336 | 2197 | .189 |
| Michigan | 75 | 970 | 437 | 2733 | .195 |
| Indiana | 77 | 850 | 357 | 2379 | .207 |
| Iowa | 74 | 944 | 382 | 2518 | .223 |
| Maryland | 83 | 1058 | 417 | 2658 | .241 |
| Rutgers | 74 | 1040 | 320 | 2563 | .281 |
| Blocks | S | BS | BA | Total | Avg./S |
| --- | --- | --- | --- | --- | --- |
| Penn State | 69 | 55 | 332 | 221.0 | 3.20 |
| Minnesota | 67 | 35 | 310 | 190.0 | 2.84 |
| Wisconsin | 65 | 18 | 317 | 176.5 | 2.72 |
| Nebraska | 66 | 29 | 292 | 175.0 | 2.65 |
| Illinois | 66 | 33 | 269 | 167.5 | 2.54 |
| Ohio State | 81 | 58 | 292 | 204.0 | 2.52 |
| Michigan State | 71 | 38 | 278 | 177.0 | 2.49 |
| Purdue | 65 | 41 | 232 | 157.0 | 2.42 |
| Maryland | 83 | 49 | 265 | 181.5 | 2.19 |
| Northwestern | 64 | 47 | 181 | 137.5 | 2.15 |
| Michigan | 75 | 40 | 220 | 150.0 | 2.00 |
| Rutgers | 74 | 20 | 242 | 141.0 | 1.91 |
| Iowa | 74 | 35 | 206 | 138.0 | 1.86 |
| Indiana | 77 | 29 | 221 | 139.5 | 1.81 |
| Blocks by Opponents | S | BS | BA | Total | Avg./S |
| --- | --- | --- | --- | --- | --- |
| Penn State | 69 | 16 | 185 | 108.5 | 1.57 |
| Nebraska | 66 | 31 | 159 | 110.5 | 1.67 |
| Purdue | 65 | 15 | 199 | 114.5 | 1.76 |
| Minnesota | 67 | 44 | 186 | 137.0 | 2.04 |
| Ohio State | 81 | 35 | 264 | 167.0 | 2.06 |
| Michigan State | 71 | 39 | 219 | 148.5 | 2.09 |
| Michigan | 75 | 42 | 247 | 165.5 | 2.21 |
| Wisconsin | 65 | 32 | 227 | 145.5 | 2.24 |
| Maryland | 83 | 38 | 298 | 187.0 | 2.25 |
| Northwestern | 64 | 25 | 241 | 145.5 | 2.27 |
| Rutgers | 74 | 39 | 258 | 168.0 | 2.27 |
| Indiana | 77 | 22 | 320 | 182.0 | 2.36 |
| Illinois | 66 | 33 | 250 | 158.0 | 2.39 |
| Iowa | 74 | 36 | 301 | 186.5 | 2.52 |
| Service Aces | S | No. | Avg./S |
| --- | --- | --- | --- |
| Maryland | 83 | 123 | 1.48 |
| Indiana | 77 | 109 | 1.42 |
| Purdue | 65 | 84 | 1.29 |
| Minnesota | 67 | 82 | 1.22 |
| Iowa | 74 | 87 | 1.18 |
| Northwestern | 64 | 74 | 1.16 |
| Ohio State | 81 | 92 | 1.14 |
| Penn State | 69 | 77 | 1.12 |
| Michigan State | 71 | 79 | 1.11 |
| Rutgers | 74 | 77 | 1.04 |
| Nebraska | 66 | 67 | 1.02 |
| Wisconsin | 65 | 53 | 0.82 |
| Illinois | 66 | 49 | 0.74 |
| Michigan | 75 | 50 | 0.67 |
| Service Aces by Opponents | S | No. | Avg./S |
| --- | --- | --- | --- |
| Illinois | 66 | 40 | 0.61 |
| Nebraska | 66 | 46 | 0.70 |
| Minnesota | 67 | 49 | 0.73 |
| Penn State | 69 | 51 | 0.74 |
| Wisconsin | 65 | 54 | 0.83 |
| Indiana | 77 | 64 | 0.83 |
| Michigan | 75 | 64 | 0.85 |
| Maryland | 83 | 73 | 0.88 |
| Michigan State | 71 | 67 | 0.94 |
| Iowa | 74 | 73 | 0.99 |
| Ohio State | 81 | 81 | 1.00 |
| Northwestern | 64 | 69 | 1.08 |
| Rutgers | 74 | 96 | 1.30 |
| Purdue | 65 | 85 | 1.31 |
Individual Leaders
(Must have competed in at least 50% of team's games)
| Hitting Percentage | S | K | E | TA | Pct. |
| --- | --- | --- | --- | --- | --- |
| Haleigh Washington, Penn State | 69 | 187 | 30 | 340 | 0.462 |
| Faye Adelaja, Purdue | 54 | 126 | 28 | 231 | 0.424 |
| Maddie Slater, Northwestern | 64 | 139 | 32 | 278 | 0.385 |
| Haleigh Nelson, Wisconsin | 65 | 157 | 31 | 332 | 0.380 |
| Taylor Sandbothe, Ohio State | 81 | 241 | 50 | 505 | 0.378 |
| Danielle Cuttino, Purdue | 65 | 136 | 36 | 274 | 0.365 |
| Jazzmine McDonald, Indiana | 42 | 80 | 21 | 162 | 0.364 |
| Abby Cole, Michigan | 72 | 222 | 53 | 469 | 0.360 |
| Mikaela Gunderson, Iowa | 74 | 156 | 33 | 349 | 0.352 |
| Paige Tapp, Minnesota | 67 | 173 | 43 | 371 | 0.350 |
| Katie Stadick, Illinois | 64 | 187 | 53 | 398 | 0.337 |
| Allyssah Fitterer, Michigan State | 66 | 171 | 50 | 372 | 0.325 |
| Aiyana Whitney, Penn State | 69 | 209 | 60 | 471 | 0.316 |
| Gabrielle Hazen, Northwestern | 48 | 100 | 34 | 212 | 0.311 |
| Cecilia Hall, Nebraska | 63 | 114 | 42 | 232 | 0.310 |
(Must have at least 3.33 attacks per set)
| Kills | S | No. | Avg./S |
| --- | --- | --- | --- |
| Daly Santana, Minnesota | 67 | 297 | 4.43 |
| Annie Drews, Purdue | 65 | 274 | 4.22 |
| Jocelynn Birks, Illinois | 54 | 214 | 3.96 |
| Meme Fletcher, Rutgers | 59 | 233 | 3.95 |
| Elizabeth Campbell, Ohio State | 80 | 301 | 3.76 |
| Amelia Anderson, Indiana | 76 | 285 | 3.75 |
| Michelle Strizak, Illinois | 63 | 225 | 3.57 |
| Lauren Brobst, Iowa | 74 | 250 | 3.38 |
| Symone Abbott, Northwestern | 64 | 214 | 3.34 |
| Adreene Elliott, Maryland | 83 | 276 | 3.33 |
| Megan Courtney, Penn State | 58 | 189 | 3.26 |
| Brooke Kranda, Michigan State | 69 | 220 | 3.19 |
| Kadie Rolfzen, Nebraska | 62 | 197 | 3.18 |
| Lauryn Gillis, Wisconsin | 65 | 204 | 3.14 |
| Abby Cole, Michigan | 72 | 222 | 3.08 |
| Service Aces | S | No. | Avg./S |
| --- | --- | --- | --- |
| Abbie Kraus, Northwestern | 64 | 24 | 0.38 |
| Holly Toliver, Michigan State | 51 | 19 | 0.37 |
| Bryanna Weiskircher, Penn State | 69 | 23 | 0.33 |
| Daly Santana, Minnesota | 67 | 21 | 0.31 |
| Brooke Peters, Purdue | 64 | 20 | 0.31 |
| Amanda Neill, Purdue | 65 | 19 | 0.29 |
| Abby Bentz, Maryland | 79 | 22 | 0.28 |
| Taylor Lebo, Indiana | 72 | 20 | 0.28 |
| Megan Tallman, Indiana | 65 | 18 | 0.28 |
| Kelsey Wicinski, Maryland | 83 | 22 | 0.27 |
| Rachel Minarick, Michigan State | 70 | 19 | 0.27 |
| Haleigh Washington, Penn State | 69 | 18 | 0.26 |
| Annika Albrecht, Nebraska | 66 | 17 | 0.26 |
| Amy Dion, Maryland | 83 | 21 | 0.25 |
| Molly Kelly, Iowa | 73 | 18 | 0.25 |
| Haleigh Nelson, Wisconsin | 65 | 16 | 0.25 |
| Blocks | S | BS | BA | Total | Avg./S |
| --- | --- | --- | --- | --- | --- |
| Amber Rolfzen, Nebraska | 52 | 7 | 78 | 85 | 1.63 |
| Haleigh Washington, Penn State | 69 | 19 | 87 | 106 | 1.54 |
| Paige Tapp, Minnesota | 67 | 12 | 81 | 93 | 1.39 |
| Tionna Williams, Wisconsin | 61 | 6 | 76 | 82 | 1.34 |
| Danielle Cuttino, Purdue | 65 | 15 | 68 | 83 | 1.28 |
| Haleigh Nelson, Wisconsin | 65 | 6 | 72 | 78 | 1.20 |
| Gabrielle Hazen, Northwestern | 48 | 11 | 46 | 57 | 1.19 |
| Megan Tompkins, Michigan State | 52 | 6 | 55 | 61 | 1.17 |
| Taylor Sandbothe, Ohio State | 81 | 21 | 73 | 94 | 1.16 |
| Heidi Thelen, Penn State | 52 | 7 | 53 | 60 | 1.15 |
| Ali Bastianelli, Illinois | 64 | 8 | 65 | 73 | 1.14 |
| Katie Stadick, Illinois | 64 | 6 | 66 | 72 | 1.13 |
| Molly Lohman, Minnesota | 60 | 7 | 60 | 67 | 1.12 |
| Alyssa Garvelink, Michigan State | 71 | 14 | 63 | 77 | 1.08 |
| Abby Cole, Michigan | 72 | 18 | 56 | 74 | 1.03 |
| Digs | S | No. | Avg./S |
| --- | --- | --- | --- |
| Caroline Niedospial, Northwestern | 64 | 319 | 4.98 |
| Annika Olsen, Iowa | 74 | 348 | 4.70 |
| Justine Wong-Orantes, Nebraska | 66 | 303 | 4.59 |
| Brandi Donnelly, Illinois | 66 | 300 | 4.55 |
| Taylor Morey, Wisconsin | 65 | 296 | 4.55 |
| Valeria Leon, Ohio State | 81 | 359 | 4.43 |
| Dalianliz Rosado, Minnesota | 67 | 283 | 4.22 |
| Amanda Neill, Purdue | 65 | 250 | 3.85 |
| Amy Dion, Maryland | 83 | 300 | 3.61 |
| Abby Monson, Michigan State | 71 | 255 | 3.59 |
| Megan Courtney, Penn State | 58 | 203 | 3.50 |
| Keeton Holcomb, Penn State | 68 | 229 | 3.37 |
| Courtney Harnish, Indiana | 77 | 259 | 3.36 |
| Tiffany Morales, Michigan | 60 | 194 | 3.23 |
| Ali Schroeter, Rutgers | 74 | 231 | 3.12 |