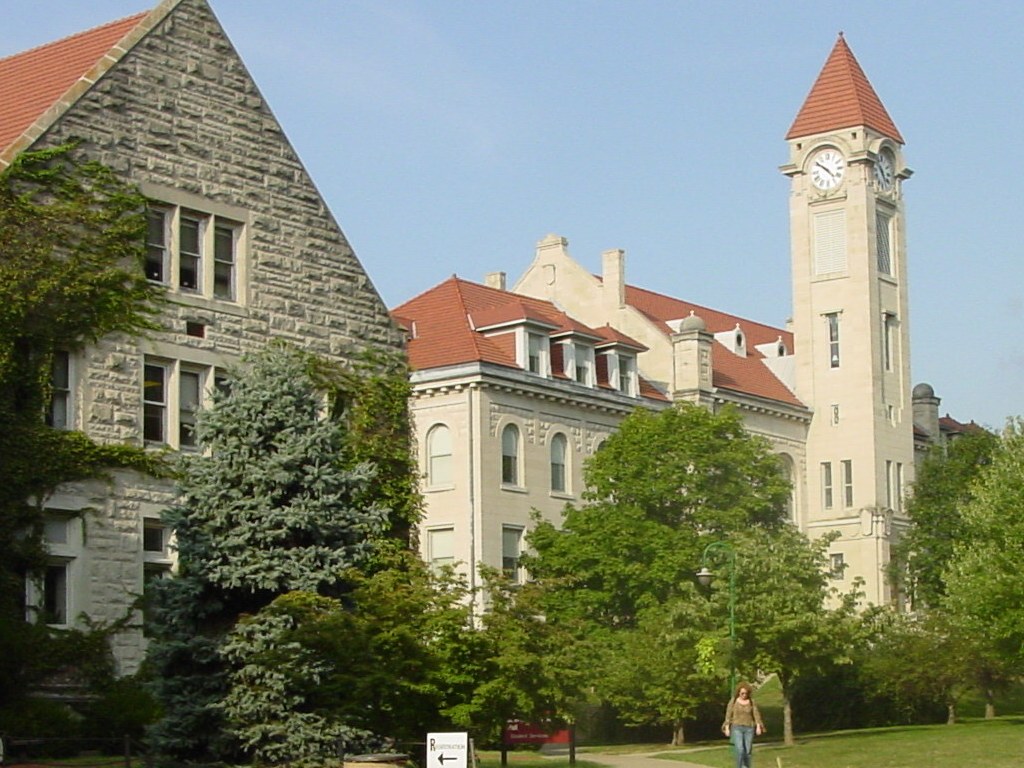 Photo by jdfrens, Wikipedia Commons
The Match: Penn State (13-2; 3-1 Big Ten) vs. Indiana (12-4, 0-4 Big Ten)
Where and When: Bloomington, IN., 7:00 p.m. E.T.
Media Coverage: Game Tracker
Match Snapshot:
Indiana started off gangbusters, slicing through its pre-Big Ten opponents with relative ease.  The Big Ten schedule has been a different story, as the Hoosiers have yet to record a victory.  Indiana is 0-4 in Big Ten play, with its most recent loss this past Sunday, to Minnesota, 3-0 (25-19, 25-21, 25-20).   One bright spot for Indiana has been the stellar play of 6-3 Sr. MB Ashley Benson (who was out with an injury for the Minnesota match), who already holds Indiana's single-season hitting percentage and total blocks records, as well as the career record for blocks (526).  In the Big Ten, her .444 attack % is second only to Penn State's  6-3 Sr. MH Arielle Wilson's .462.  She is 6th in both kills/set (3.70) and blocks/set (1.30).  Other key players for the Hoosiers include 5-2 Jr. L Caitlin Cox  (8th in the Big Ten with 3.87 digs/set), 6-3 Jr. S. Mary Chaudoin (8th in the Big Ten with 10.21 assists/set) and 6-1 Sr. MB Taylor Wittmer .
For Penn State, 6-3 Sr. MH Arielle Wilson (2.79 kills/set, .462 attack %, 1.223 blocks/set), 6-5 Sr. Opp. Blair Brown (3.63 kills/set, .324 attack %), 6-1 Fr. OH Deja McClendon (3.53 kills/set, .356 attack %) lead the way offensively. In addition to Wilson, Brown , and McClendon, key players for Penn State include 6-3 Sr. MH Fatima Balza (1.37 bps), 6-6 Fr. MH Katie Slay (1.48 blocks/set – best among Big Ten freshmen), 5-9 Sr. L Alyssa D'Errico (4.08 dps, .67 aces/s), 5-6 So. S Kristin Carpenter (10.14 asst./s), 6-5 Jr. OH Katie Kabbes (1.98 kps) and 5-1 Sr. DS Cathy Quilico (1.88 dps).
Rosters and Stats
Here are the Rosters for the Nittany Lions and the Hoosiers, followed by a statistical comparison of the two teams and their players:
Penn State
2010 Team Roster
Indiana
| | | | | | | | | |
| --- | --- | --- | --- | --- | --- | --- | --- | --- |
| No. | | Name | Pos. | | Yr. | | Ht. | Hometown/High School |
| 10 |   | Benson, Ashley | Middle Blocker |   | SR |   | 6-3 | Bloomington, Ind./North H.S. |
| 8 |   | Chaudoin, Mary | Setter |   | JR |   | 6-3 | Peachtree City, Ga./Starrs Mill |
| 1 |   | Cox, Caitlin | Libero |   | JR |   | 5-2 | Springport, Ind./New Castle Chrysler |
| 13 |   | Enterline, Lindsay | Outside Hitter |   | RS SO |   | 6-0 | Monroeville, Ind./Heritage |
| 5 |   | Granado, Whitney | Setter |   | SO |   | 5-9 | Riverside, Calif./Woodcrest Christian |
| 12 |   | Hansen, Caitlin | Defensive Specialist |   | FR |   | 5-4 | Indianapolis, Ind./Roncalli |
| 2 |   | Haverly, Jordan | Outside Hitter |   | SO |   | 6-1 | Cherry Valley, Ill./Rockford Keith Country Day |
| 15 |   | Henderson, Jade | Outside Hitter |   | FR |   | 5-10 | Cincinnati, Ohio/Ursuline Academy |
| 7 |   | Hicks, Melanie | Defensive Specialist |   | FR |   | 5-7 | Louisville, Ky./Assumption |
| 11 |   | Marschall, Kelci | Right-side Hitter |   | SO |   | 6-2 | New London, Ohio/Wooster |
| 16 |   | Matula, Laura | Defensive Specialist |   | SO |   | 5-6 | Munster, Ind./Munster |
| 3 |   | Obeime, Ivie | Outside Hitter |   | SO |   | 5-9 | Carmel, Ind./Brebeuf Jesuit Preparatory |
| 20 |   | Thrower, Samantha | Middle Blocker |   | SO |   | 6-2 | Sycamore, Ill./Sycamore |
| 9 |   | Wittmer, Taylor | Middle Blocker/Right-side |   | SR |   | 6-1 | Loogootee, Ind./Loogootee |