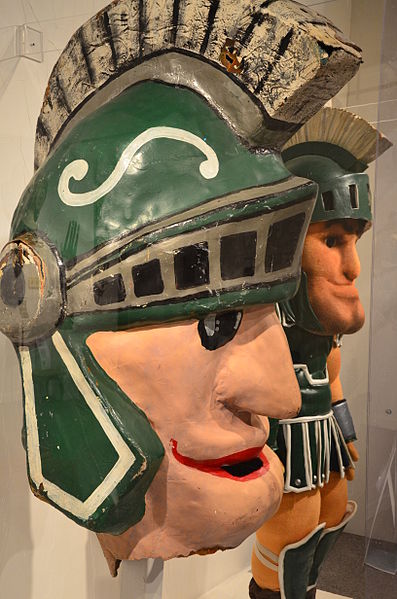 Lions Meet Spartans in Big Ten Finale
When Penn State and Michigan State meet Saturday night in East Lansing, the Nittany Lions (22-7, 15-4 Big Ten),  will be coming off a 3-1 victory over Ohio State in Columbus and looking for a successful ending to a regular season that had plenty of bumps, but also featured some nice accomplishments, like the come-back win against USC in Rec Hall and the victory over Nebraska.  The Spartans (21-10, 10-9 Big Ten), on the other hand, dropped their Wednesday night match against Michigan (20-11, 8-11),  in Ann Arbor, 3-1, and will be looking for redemption.  Plus, a victorious send-off for their seniors — yes, it's Senior Night in East Lansing.
Penn State will be looking to 6-1 So. OH Deja McClendon, who registered 15 kills and 16 digs against Ohio State, and 6-6 So. MH Katie Slay and 6-4 So. RS/Opp Ariel Scott, who totaled 12 kills each (Slay's on .733 hitting!) against the Buckeyes.  6-2 So. OH Maddie Martin continued her her solid offensive play, with 10 kills and a .304 attack %, though she did have three recevie errors in three sets.   The irrepressible 6-2 RS So. Darcy Dorton (who appears to have introduced a new sideline celebration — the "Choir" — which we love), 6-4 Sr. Katie Kabbes,  and 6-5 Fr. OH Aiyana Whitneyalso saw action against Ohio State.
In Michigan State's loss, 6-2 Sr. OH senior Kyndra Abron's 15 kills led the team, and 5-4 Fr. DS/L Kori Moster (who leads the Big Ten in digs/set) totaled 23 digs.  MSU's head coach Cathy George had this to say:
Tonight just wasn't our night.  There were moments where we seemed timid, and sat back offensively.  We needed to be on the attack from the get go, and be physical all night.  Although we do retain the State Pride Flag, it would have been nice to have pulled out the win, especially this late in the season as we begin looking forward to the NCAA Tournament.  We need to get back at it on Saturday, and make sure we are ready for a tough Penn State team.
For Michigan State, the key concept in that quote may be the importance of playing physical.  Penn State has the size to match-up with the Spartans, but, as Cathy George says (albeit about her Spartans) the Nittany LIons must be on the attack from the get go — take the crowd out of the Senior Night euphoria, and take charge.   It would be nice if 5-11 Fr. S  Micha Hancock  and 5-6 So. L Ali Longo could both run off a couple of point-runs during their serves (hey, it's the Thanksgiving Holiday, we're allowed to ask for too much), and if both Deja and A. Scott could have peak performances.  But however it happens, we'll be happy with a solid performance (OK, with a win that features solid performances, with low-error, efficient volleyball by the Nittany Lions).
Here's a Stat Joust comparison — Big Ten stats only — of Penn State, Michigan State, and Ohio State prior to Wednesday night's matches:
ATTACK PERCENTAGE

S

K

E

TA

Pct.

1.

Nebraska

68

919

309

2364

.258

2.

Penn State

68

943

327

2433

.253

4.

Michigan State

69

925

385

2321

.233

5.

Ohio State

68

943

382

2431

.231
Opponent Attack
Pct.

S

K

E

TA

Pct.

1.

Nebraska

68

830

430

2433

.164

4.

Penn State

68

809

373

2375

.184

6.

Michigan State

69

885

387

2414

.206

9.

Ohio State

68

892

365

2388

.221
ASSISTS

S

No.

Avg/S

1.

Ohio State

68

887

13.04

2.

Penn State

68

881

12.96

7.

Michigan State

69

854

12.38
KILLS

S

No.

Avg/S

1.

Penn State

68

943

13.87

1

.

Ohio State

68

943

13.87

7.

Michigan State

69

925

13.41
BLOCKS

S

BS

BA

Total

Avg/S

1.

Purdue

69

51

283

192.5

2.79

2.

Penn State

68

44

291

189.5

2.79

6.

Michigan State

69

37

268

171.0

2.48

7.

Ohio State

68

35

247

158.5

2.33
SERVICE ACES

S

No.

Avg/S

1.

Penn State

68

112

1.65

5.

Michigan State

69

73

1.06

7.

Ohio State

68

67

0.99
DIGS

S

No.

Avg/S

1.

Purdue

69

1130

16.38

8.

Penn State

68

1027

15.10

10.

Ohio State

68

987

14.51

11.

Michigan State

69

962

13.94

Attack % (Min. 3.0
TA/set)
Cl

S

K

E

TA

Pct.

1.

Fisher, Tiffany-Purdue
SR

69

155

37

310

.381

2.

Slay, Katie-Penn State

SO

68

137

36

282

.358

6.

Mathews, Alexis-Michigan State

SO

69

136

49

277

.314

9.

Booth, Mariah-Ohio State

JR

68

137

50

296

.294

10.

Barhorst, Kelli-Ohio State

SR

67

132

47

304

.280
KILLS
Cl

S

No.

Avg/S

1.

Turner, Ariel-Purdue
JR

69

347

5.03

3.

Rathje, Jenilee-Michigan State

SR

69

299

4.33

4.

Scott, Ariel-Penn State

SO

68

268

3.94

6.

Hole, Mari-Ohio State

JR

68

253

3.72

8.

McClendon, Deja-Penn State

SO

68

246

3.62
ASSISTS
Cl

S

No.

Avg/S

1.

Tabberson, Mia-Minnesota
JR

43

502

11.67

4.

Hancock, Micha-Penn State

FR

68

738

10.85

8.

Peterson, Amanda-Ohio State

JR

64

563

8.80
SERVICE ACES
Cl

S

No.

Avg/S

1.

Hancock, Micha-Penn State

FR

68

56

0.82

2.

Danks, Emily-Ohio State

JR

68

26

0.38

3.

Moster, Kori-Michigan State

FR

69

23

0.33

9.

Longo, Ali-Penn State

SO

68

19

0.28
BLOCKS
Cl

S

BS

BA

Total

Avg/S

1.

Slay, Katie-Penn State

SO

68

20

86

106.0

1.56

5.

Mathews, Alexis-Michigan State

SO

69

8

71

79.0

1.14

6.

Booth, Mariah-Ohio State

JR

68

8

66

74.0

1.09

9.

White, Jazmine-Michigan State

FR

46

4

45

49.0

1.07
DIGS
Cl

S

No.

Avg/S

1.

Moster, Kori-Michigan State

FR

69

327

4.74

9.

Longo, Ali-Penn State

SO

68

272

4.00

10.

Mignin, Sarah-Ohio State

SR

67

246

3.67
POINTS
Cl

S

K

SA

BS

BA

Total

Avg/S

1.

Turner, Ariel-Purdue
JR

69

347

6

12

34

382.0

5.54

3.

Rathje, Jenilee-Michigan State

SR

69

299

7

6

27

325.5

4.72

4.

Scott, Ariel-Penn State

SO

68

268

4

4

56

304.0

4.47

6.

Hole, Mari-Ohio State
JR

68

253

10

10

24

285.0

4.19

8.

McClendon, Deja-Penn State

SO

68

246

8

7

26

274.0

4.03