(click images for more info)
The Minnesota women's volleyball team (16-10, 6-9 in the B1G) visits Rec Hall Saturday night for a match against #6-ranked Penn State.  With their straight set (25-14, 25-12, 25-21) win against Iowa Wednesday evening, the Nittany Lions (25-3, 13-2 in the B1G) have swept their last nine opponents.  Including the match against the Gophers, Penn State has five regular season matches remaining.
After the Iowa match,Penn State Head Coach Russ Rose had this to say to Matt Martell of the Daily Collegian:
I didn't think it was one of our cleaner matches.  I'd hope that we'd work a lot harder tomorrow [in practice].  We're not going to win big matches unless everybody's doing that little extra all the time.  Controlling the ball incorporates all phases [of the game].
Russ Rose would almost certainly say that all the B1G matches are big matches, as the only way Penn State has any chance of catching Wisconsin (23-2, 14-1 in the B1G) for a share of the B1G title is to win out in its final five matches.
But the Gophers, who have experienced a down season, would like nothing better than to knock off Penn State at home.  In their last match, they defeated Northwestern 3-1 (20-25, 25-20, 25-18, 25-15) at home.  As has so often been the case this season, they were led by 6-1 Jr. OH Daly Santana, who tallied 21 kills (.429 attack %).  Other standouts for Minnesota included 6-1 So. OH Sarah Wilhite (18 kills — .395 attack % — and 16 digs), 6-1 So. MH Paige Tapp (10 kills — .333 attack % — with 8 blocks), 6-3 Fr. MB Molly Lohman (4 kills, 2 blocks), and 5-9 Fr. libero Dalianliz Rosado (19 digs and 5 assists).
Stat Joust
If stats won matches, then wishes would be horses (or something like that).  They don't, but we still enjoy our Stat Jousts.  Below is a comparison of the team stat rankings (all matches) in the B1G for Penn State and Minnesota (we also included Wisconsin, as they are the first-place team) through 11-12-14.  A few stats jump out:
Penn State's Net Attack % (its own Team Attack % minus it's opponents' team attack %) is an impressive .215 (compared to Minnesota's .042 and Wisconsin's .120).
Minnesota is a very good blocking team (and Penn State is getting better)
Penn State serves very tough (Minnesota is pretty good too).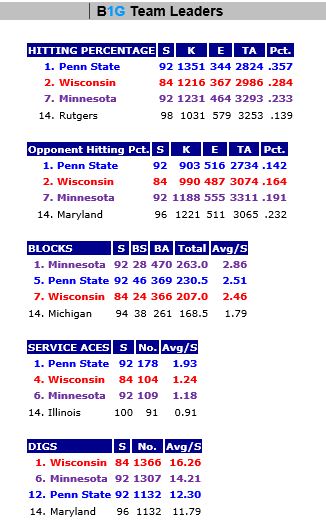 We also compared individual statistical rankings (all matches) in the B1G for Penn State, Minnesota, and Wisconsin.  We cheated a bit, as we included stats for Penn State's Haleigh Washington, even though she didn't play in at least 50% of Penn State's sets (she's close — 44 out of 92). A few stats jump out:
Including Washington, whose .502 attack % would lead the B

1G

if she had played only two more sets this season, Penn State has five out of the top 16 attack percentages in the B

1G.

Micha Hancock's service ace pace has slowed a bit, but she still has more than twice as many aces as any other player in the B

1G

. 

Daly Santana

 is pretty good too.
Those Tapp twins sure know how to block.
Taylor Morey of Wisconsin must be bionic.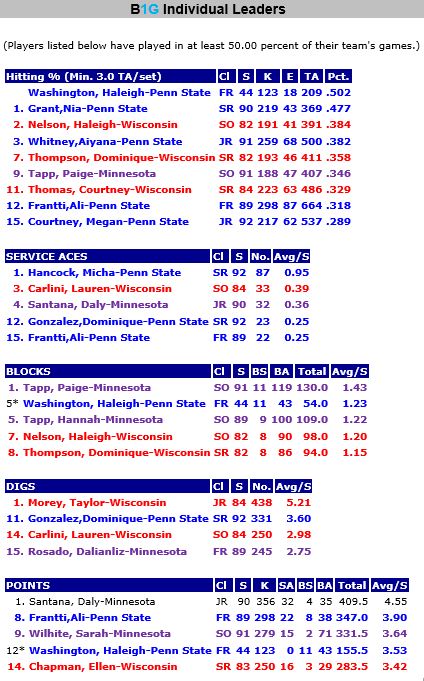 Penn State Stat Update
Attack Leaders: 11-12-14

Setting Leaders: 11-12-14

Serving Leaders: 11-12-14

Rcpt/Dig Leaders: 11-15-14

Blocking/Points Leaders: 11-12-14
___________________________________________
Photo Credits