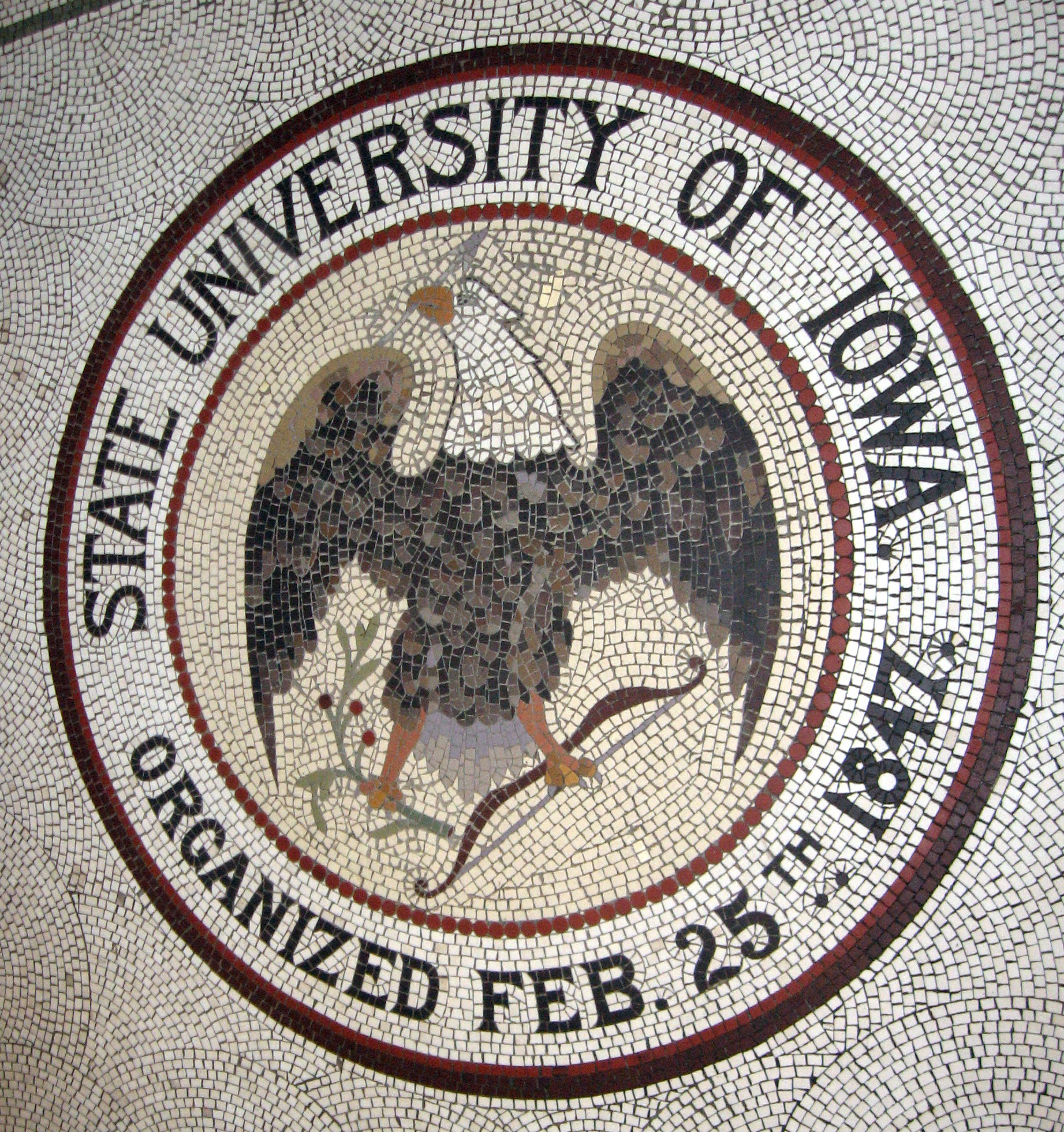 Photo courtesy of Bill Whittaker, Wikipedia Commons
The Match: Penn State  (25-4, 15-3 Big Ten) vs. Iowa (7-20, 2-16 Big Ten)
When & Where: November 26, 2010, 2:00 p.m. ET.; Carver-Hawkeye Arena
Media Coverage: GameTracker; Television: Big Ten Network (live)
Match Snapshot
By traditional measures, this match shouldn't even be close.  Penn State is playing as well as anyone in the Big Ten (probably better).  Iowa has two wins in conference play.  Granted, one of them came against Michigan, but on paper, the Hawkeyes are overmatched at every position. 
Of course, that's what then-#16 Michigan thought, too, and that kind of thinking got them a 3-1 spanking by a  highly motivated Hawkeye squad.  In that match, Iowa dropped the first set 20-25, but led by 6-3 RS Sr. MB
Becky Walters
and 6-1 Fr. OH
Rachael Bedell
 (11 kills each) fought back to take the next three  (25-23, 25-22, 25-23).  Iowa Head Coach Sharon Dingman had this to say:
I'm really proud of how we played and I'm really happy for the Hawkeyes.  We've had our problems executing, but tonight I thought we executed really well and I'm really happy for these players. Everyone played well, but I thought our blocking was tremendous. Everybody contributed at the net. 
For its part, Penn State is coming off back-to-back sweeps of  Ohio State and Northwestern. Here are the Nittany Lions stats to date: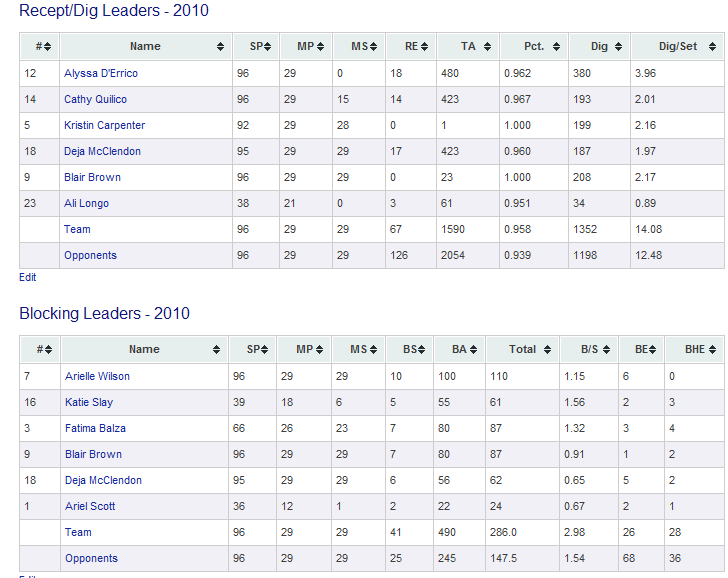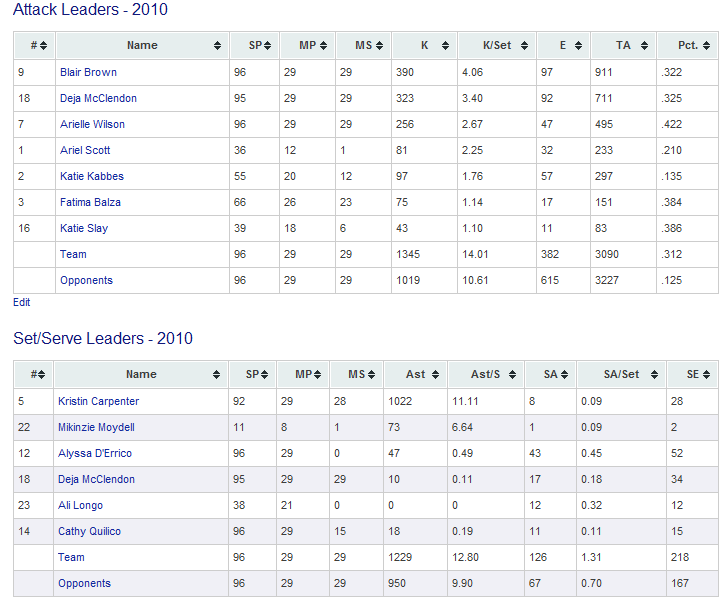 2010 Team Roster
Penn State is a young team this year, with Freshmen Deja McClendon, Ariel Scott, Katie Slay and Ali Longo all featuring prominently as the season has progressed.  But the Nittany Lions have nothing on Iowa when it comes to youth.  Iowas has started four freshmen (6-1 OH Rachael Bedell, 5-9 S Nikki Dailey, 6-3 MB Chante' Thompson and 5-7 L Bethany Yeager) in a single match three times this season, more than any other Big Ten team.  Yeager has started each of Iowa's 27 matches and has played in all 99 sets this season.  She is averaging 4.34 dps.
Although they are a young team, the Hawkeyes have played well under pressure.  Iowa has won four of its six matches that went to a fifth set.  Their most recent five-set loss was to Wisconsin, on October 22nd. 
Here's Iowa's 2010 team roster:
| | | | | | | | | | |
| --- | --- | --- | --- | --- | --- | --- | --- | --- | --- |
| NO |   | NAME | | HT | POS) |   | Year/Class | Hometown | Last School |
| 32 |   | Bedell, Rachael |   | 6-1 | OH |   | FR | Plano, TX | Plano West |
| 1 |   | Dailey, Nikki |   | 5-9 | S |   | FR | Franklin, WI | Franklin |
| 14 |   | Eskew, Megan |   | 5-9 | OH |   | JR | Schererville, IN | Marist |
| 5 |   | Friedman, Lauren |   | 6-0 | MB |   | SO | Waterloo, IA | Columbus |
| 13 |   | Huffman, Aimee |   | 6-0 | RS/S |   | SR | Poth, TX | Poth |
| 3 |   | Husz, Mallory |   | 6-0 | MB |   | JR | Council Bluffs, IA | Lewis Central |
| 23 |   | LeTourneau, Jordanne |   | 5-6 | DS |   | SO | McHenry, IL | Marian Central Catholic |
| 12 |   | Nilges, Tiffany |   | 5-11 | OH |   | JR | Tripoli, IA | Tripoli |
| 6 |   | Stevens, Paige |   | 6-1 | S |   | JR | Naperville, IL | Neuqua Valley |
| 22 |   | Straumann, Allison |   | 5-11 | OH |   | SO | Cary, IL | Cary Grove |
| 8 |   | Thompson, Chante' |   | 6-3 | MB |   | FR | Hurst, TX | L.D. Bell |
| 10 |   | Walters, Becky |   | 6-3 | MB |   | RS SR | Parkersburg, IA | Aplington-Parkersburg |
| 4 |   | Yeager, Bethany |   | 5-7 | DS |   | FR | Brenham, TX | Brenham |