Penn State vs. Indiana
Date
(Time)

Opp.
Site

Media
10-16-15
(7:00 p.m. ET)
Rec Hall
Univ. Park,
PA

No TV





Penn State fans are nervous — to an extent, for good reason, given the uncertain status of 6-2 Sr. OH Megan Courtney, who was helped off the court at the end of the 5th set in the 3-2 loss to Northwestern last Saturday.
But we Penn State fans really are a very spoiled bunch.  After all, the Nittany Lions are ranked #5 in the latest AVCA poll, and are 15-2 overall (4-2 in the B1G).  The team is averaging 3.09 blocks/set — fourth in NCAA D1 and first in the B1G.  It has held its opponents to a .139 attack % — seventh nationally and first in the B1G. Penn State's .291 team attack % ranks seventh in NCAA D1 and second in the B1G.  So even though the team has plenty of room to improve, and even if Courtney misses some action, Penn State presents serious challenges for its opponents.
The concern probably stems more from the way Penn State has lost, rather than the fact that they have lost.  Like losing to Nebraska in five, after taking the first two sets (which followed a five-set win over Minnesota — which also dropped the first two sets to Penn State.)  And appearing to lack focus, or the ability to communicate at critical times in the match.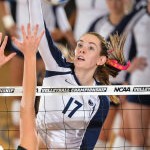 But that's in the past. and we are hopeful the Nittany Lions will come out with renewed energy and purpose against Indiana and Purdue.  No word yet on the status of Megan Courtney, who is now one of only eight Penn State Women's Volleyball players to reach both the 1,000 career digs mark (1,038) and the 1,000 career kills mark (Deja McClendon accomplished the feat in 2013.)  No word on who will fill her place if she's unable to go.  We'll know soon enough.
In addition to Courtney, key players for the Nittany Lions have included 6-3 So. MB Haleigh Washington's ( .454 attack % — 3rd in NCAA D1 and tops in the B1G; 1.53 blocks/set — 11th in D1 and second in the B1G),  and 6-4 RS Sr. MB/RS (we don't know where she'll play this weekend) Aiyana Whitney (3.09 kills/set — reaching  double digits in eight of her last nine matches.)
Here's Whitney talking about the state of the team and this weekend's matches:

About Indiana
The Hoosiers are 12-6 overall for the season (2-4 in the B1G).  They have been led by Sr. OH Amelia Anderson, who ranks 6th in the B1G with 3.70 kills/set.  Indiana's 100 service aces ranks 2nd in the B1G (five players have at least 10 service aces, led by Jr. OH Taylor Lebo with 19.  The two teams last met on Oct. 18, 2014, when Penn State swept Indiana (25-11, 25-19, 25-15) in Bloomington, led by Megan Courtney (9 kills, .500 attack %), Nia Grant and Haleigh Washington. The Hoosiers have dropped eight consecutive matches to Penn State.
About Purdue
Purdue is a dangerous team with multiple options on offense.  6-4 Sr. OH Annie Drews leads the team with 4.32 kills/set, followed by 6-1 RS Jr. MB Faye Adelaja (2.39 — and a team-best .452 attack %), 6-0 Sr. OH Sam Epenesa (2.21), 6-4 So. MB Danielle Cuttino (2.12) and 6-0 So. OH Azariah Stahl (2.10).  Purdue's .294 team attack % leads the B1G.  The back row has been anchored by 5-8 Sr. libero Amanda Neill (3.91 digs/set, with 16 aces). 6-1 So. setter Ashley Evans has contributed 2.68 digs/set.
Penn State leads the series 51-6, having won the last eight contests.
Stat Joust: Penn State, Indiana, and Purdue
(All Opponents)
| Hitting Percentage | S | K | E | TA | Pct. |
| --- | --- | --- | --- | --- | --- |
| Purdue | 57 | 824 | 267 | 1896 | .294 |
| Penn State | 58 | 777 | 231 | 1874 | .291 |
| Nebraska | 60 | 855 | 282 | 2158 | .266 |
| Wisconsin | 61 | 854 | 307 | 2151 | .254 |
| Minnesota | 63 | 852 | 294 | 2194 | .254 |
| Iowa | 67 | 919 | 341 | 2308 | .250 |
| Michigan State | 65 | 931 | 355 | 2317 | .249 |
| Ohio State | 69 | 983 | 372 | 2470 | .247 |
| Illinois | 60 | 842 | 315 | 2140 | .246 |
| Michigan | 67 | 909 | 343 | 2440 | .232 |
| Northwestern | 57 | 780 | 311 | 2055 | .228 |
| Indiana | 70 | 926 | 433 | 2364 | .209 |
| Maryland | 75 | 925 | 412 | 2507 | .205 |
| Rutgers | 66 | 782 | 377 | 2299 | .176 |
| Opp. Hitting Pct. | S | K | E | TA | Pct. |
| --- | --- | --- | --- | --- | --- |
| Penn State | 58 | 656 | 379 | 1989 | .139 |
| Purdue | 57 | 633 | 349 | 1953 | .145 |
| Ohio State | 69 | 751 | 395 | 2387 | .149 |
| Minnesota | 63 | 739 | 390 | 2220 | .157 |
| Wisconsin | 61 | 725 | 363 | 2173 | .167 |
| Nebraska | 60 | 707 | 335 | 2165 | .172 |
| Illinois | 60 | 727 | 347 | 2127 | .179 |
| Michigan State | 65 | 759 | 359 | 2218 | .180 |
| Northwestern | 57 | 677 | 309 | 1980 | .186 |
| Michigan | 67 | 862 | 400 | 2458 | .188 |
| Indiana | 70 | 762 | 325 | 2134 | .205 |
| Iowa | 67 | 842 | 347 | 2293 | .216 |
| Maryland | 75 | 950 | 377 | 2380 | .241 |
| Rutgers | 66 | 928 | 282 | 2302 | .281 |
| Blocks | S | BS | BA | Total | Avg./S |
| --- | --- | --- | --- | --- | --- |
| Penn State | 58 | 46 | 266 | 179.0 | 3.09 |
| Minnesota | 63 | 34 | 297 | 182.5 | 2.90 |
| Wisconsin | 61 | 17 | 297 | 165.5 | 2.71 |
| Illinois | 60 | 31 | 245 | 153.5 | 2.56 |
| Ohio State | 69 | 51 | 248 | 175.0 | 2.54 |
| Nebraska | 60 | 26 | 252 | 152.0 | 2.53 |
| Michigan State | 65 | 29 | 266 | 162.0 | 2.49 |
| Purdue | 57 | 38 | 204 | 140.0 | 2.46 |
| Maryland | 75 | 45 | 239 | 164.5 | 2.19 |
| Northwestern | 57 | 39 | 165 | 121.5 | 2.13 |
| Michigan | 67 | 34 | 208 | 138.0 | 2.06 |
| Iowa | 67 | 30 | 192 | 126.0 | 1.88 |
| Indiana | 70 | 28 | 205 | 130.5 | 1.86 |
| Rutgers | 66 | 18 | 208 | 122.0 | 1.85 |
| Blocks by Opponents | S | BS | BA | Total | Avg./S |
| --- | --- | --- | --- | --- | --- |
| Penn State | 58 | 10 | 161 | 90.5 | 1.56 |
| Purdue | 57 | 9 | 161 | 89.5 | 1.57 |
| Nebraska | 60 | 27 | 149 | 101.5 | 1.69 |
| Minnesota | 63 | 43 | 166 | 126.0 | 2.00 |
| Michigan State | 65 | 34 | 197 | 132.5 | 2.04 |
| Ohio State | 69 | 31 | 232 | 147.0 | 2.13 |
| Michigan | 67 | 37 | 215 | 144.5 | 2.16 |
| Rutgers | 66 | 30 | 230 | 145.0 | 2.20 |
| Maryland | 75 | 35 | 268 | 169.0 | 2.25 |
| Northwestern | 57 | 20 | 217 | 128.5 | 2.25 |
| Wisconsin | 61 | 31 | 214 | 138.0 | 2.26 |
| Indiana | 70 | 19 | 288 | 163.0 | 2.33 |
| Illinois | 60 | 30 | 220 | 140.0 | 2.33 |
| Iowa | 67 | 30 | 271 | 165.5 | 2.47 |
| Service Aces | S | No. | Avg./S |
| --- | --- | --- | --- |
| Maryland | 75 | 116 | 1.55 |
| Indiana | 70 | 104 | 1.49 |
| Purdue | 57 | 77 | 1.35 |
| Minnesota | 63 | 76 | 1.21 |
| Iowa | 67 | 80 | 1.19 |
| Northwestern | 57 | 66 | 1.16 |
| Penn State | 58 | 66 | 1.14 |
| Ohio State | 69 | 72 | 1.04 |
| Michigan State | 65 | 67 | 1.03 |
| Rutgers | 66 | 67 | 1.02 |
| Nebraska | 60 | 54 | 0.90 |
| Wisconsin | 61 | 50 | 0.82 |
| Illinois | 60 | 45 | 0.75 |
| Michigan | 67 | 46 | 0.69 |
| Service Aces by Opponents | S | No. | Avg./S |
| --- | --- | --- | --- |
| Illinois | 60 | 32 | 0.53 |
| Nebraska | 60 | 43 | 0.72 |
| Minnesota | 63 | 46 | 0.73 |
| Wisconsin | 61 | 48 | 0.79 |
| Indiana | 70 | 57 | 0.81 |
| Maryland | 75 | 63 | 0.84 |
| Penn State | 58 | 49 | 0.84 |
| Michigan | 67 | 58 | 0.87 |
| Ohio State | 69 | 60 | 0.87 |
| Michigan State | 65 | 61 | 0.94 |
| Iowa | 67 | 64 | 0.96 |
| Northwestern | 57 | 57 | 1.00 |
| Purdue | 57 | 68 | 1.19 |
| Rutgers | 66 | 89 | 1.35 |
| Hitting Percentage | S | K | E | TA | Pct. |
| --- | --- | --- | --- | --- | --- |
| Haleigh Washington, Penn State | 58 | 155 | 28 | 280 | 0.454 |
| Faye Adelaja, Purdue | 46 | 110 | 21 | 197 | 0.452 |
| Maddie Slater, Northwestern | 57 | 127 | 28 | 250 | 0.396 |
| Haleigh Nelson, Wisconsin | 61 | 151 | 30 | 309 | 0.392 |
| Taylor Sandbothe, Ohio State | 69 | 207 | 42 | 430 | 0.384 |
| Danielle Cuttino, Purdue | 57 | 121 | 32 | 233 | 0.382 |
| Abby Cole, Michigan | 64 | 190 | 39 | 396 | 0.381 |
| Jazzmine McDonald, Indiana | 41 | 78 | 20 | 154 | 0.377 |
| Mikaela Gunderson, Iowa | 67 | 144 | 30 | 322 | 0.354 |
| Katie Stadick, Illinois | 58 | 169 | 45 | 357 | 0.347 |
| Paige Tapp, Minnesota | 63 | 162 | 41 | 349 | 0.347 |
| Aiyana Whitney, Penn State | 58 | 179 | 51 | 392 | 0.327 |
| Gabrielle Hazen, Northwestern | 42 | 86 | 29 | 183 | 0.311 |
| Allyssah Fitterer, Michigan State | 61 | 156 | 48 | 349 | 0.309 |
| Eden Frazier, Rutgers | 54 | 101 | 23 | 253 | 0.308 |
(Must have at least 3.33 attacks per set)
| Service Aces | S | No. | Avg./S |
| --- | --- | --- | --- |
| Abbie Kraus, Northwestern | 57 | 21 | 0.37 |
| Brooke Peters, Purdue | 56 | 20 | 0.36 |
| Abby Bentz, Maryland | 71 | 22 | 0.31 |
| Taylor Lebo, Indiana | 65 | 20 | 0.31 |
| Holly Toliver, Michigan State | 45 | 14 | 0.31 |
| Daly Santana, Minnesota | 63 | 18 | 0.29 |
| Megan Tallman, Indiana | 58 | 17 | 0.29 |
| Bryanna Weiskircher, Penn State | 58 | 17 | 0.29 |
| Makayla Lundin, Indiana | 21 | 6 | 0.29 |
| Haleigh Washington, Penn State | 58 | 16 | 0.28 |
| Amanda Neill, Purdue | 57 | 16 | 0.28 |
| Amy Dion, Maryland | 75 | 20 | 0.27 |
| Annika Albrecht, Nebraska | 60 | 16 | 0.27 |
| Haleigh Nelson, Wisconsin | 61 | 16 | 0.26 |
| Kelsey Wicinski, Maryland | 75 | 19 | 0.25 |
| Dalianliz Rosado, Minnesota | 63 | 16 | 0.25 |
| Rachel Minarick, Michigan State | 64 | 16 | 0.25 |
| Blocks | S | BS | BA | Total | Avg./S |
| --- | --- | --- | --- | --- | --- |
| Amber Rolfzen, Nebraska | 46 | 6 | 65 | 71 | 1.54 |
| Haleigh Washington, Penn State | 58 | 14 | 75 | 89 | 1.53 |
| Paige Tapp, Minnesota | 63 | 12 | 79 | 91 | 1.44 |
| Tionna Williams, Wisconsin | 57 | 5 | 71 | 76 | 1.33 |
| Danielle Cuttino, Purdue | 57 | 14 | 60 | 74 | 1.30 |
| Haleigh Nelson, Wisconsin | 61 | 6 | 67 | 73 | 1.20 |
| Gabrielle Hazen, Northwestern | 42 | 8 | 42 | 50 | 1.19 |
| Taylor Sandbothe, Ohio State | 69 | 18 | 63 | 81 | 1.17 |
| Katie Stadick, Illinois | 58 | 6 | 61 | 67 | 1.16 |
| Megan Tompkins, Michigan State | 51 | 5 | 54 | 59 | 1.16 |
| Heidi Thelen, Penn State | 43 | 6 | 44 | 50 | 1.16 |
| Ali Bastianelli, Illinois | 58 | 8 | 58 | 66 | 1.14 |
| Abby Cole, Michigan | 64 | 17 | 55 | 72 | 1.13 |
| Molly Lohman, Minnesota | 56 | 7 | 56 | 63 | 1.13 |
| Alyssa Garvelink, Michigan State | 65 | 11 | 59 | 70 | 1.08 |
| ATTENDANCE |  Home |  Avg. |  Away |  Avg. |  Neutral |  Avg. |  Total attend |  Avg. |
| --- | --- | --- | --- | --- | --- | --- | --- | --- |
| Illinois | 5-16158 | 3231 | 6-13496 | 2249 | 6-13021 | 2170 | 17-42675 | 2510 |
| Indiana | 6-5970 | 995 | 7-8837 | 1262 | 5-665 | 133 | 18-15472 | 859 |
| Iowa | 10-11368 | 1136 | 5-21967 | 4393 | 4-294 | 73 | 19-33629 | 1769 |
| Maryland | 10-10657 | 1065 | 5-6588 | 1317 | 6-281 | 46 | 21-17526 | 834 |
| Michigan | 10-12441 | 1244 | 6-18983 | 3163 | 2-0 | 0 | 18-31424 | 1745 |
| Michigan State | 7-17067 | 2438 | 7-16706 | 2386 | 4-567 | 141 | 18-34340 | 1907 |
| Minnesota | 4-13143 | 3285 | 8-17097 | 2137 | 5-2282 | 456 | 17-32522 | 1913 |
| Nebraska | 9-73539 | 8171 | 6-26884 | 4480 | 1-0 | 0 | 16-100423 | 6276 |
| Northwestern | 4-3334 | 833 | 7-10610 | 1515 | 6-213 | 35 | 17-14157 | 832 |
| Ohio State | 7-10354 | 1479 | 5-6328 | 1265 | 6-543 | 90 | 18-17225 | 956 |
| Penn State | 9-37072 | 4119 | 4-8870 | 2217 | 4-2787 | 696 | 17-48729 | 2866 |
| Purdue | 9-23610 | 2623 | 5-7845 | 1569 | 3-619 | 206 | 17-32074 | 1886 |
| Rutgers | 7-986 | 140 | 6-4970 | 828 | 6-718 | 119 | 19-6674 | 351 |
| Wisconsin | 8-35381 | 4422 | 6-10862 | 1810 | 3-3797 | 1265 | 17-50040 | 2943 |