Match Recap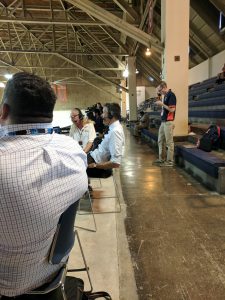 The final match of the 2017 Big 10 – Pac 12 Challenge, in Champaign Illinois, between #3 Penn State and #4 Stanford lived up to its advance billing, as Penn State downed the Cardinal in a veryvery close contest, 3-2 (24-26, 25-22, 23-25, 25-17, 15-11).  Courtesy of psumaui, we have the match video below (though it's without commentary, doesn't show the score, and (not the fault of psumaui) is in FD — fuzzy definition.)
6-1 Sr. OH Simone Lee struggled in the first three sets, but boy did she come on strong in sets 4 and 5, ending with a match-high 21, one ahead of 6-1 Sr, OH Ali Frantti, who finished with 20 kills (.310 hitting %) — her highest total for the season.  For her efforts, Frantti was named the B1G's Player of the Week.
The defense also did well.  After being out blocked by Colorado the day before, Penn State registered 20.0 blocks, which GoPSUsports noted is the second most in program history for a 25-point five set match.  6-3 Sr. MB Haleigh Washington (who last week was named both the Sports Imports/American Volleyball Coaches Association National Player of the Week and the Big Ten Player of the Week) led the Nittany Lions with 10 blocks, and finished the match with 11 kills.  6-0 RS Jr. setter Bryanna Weiskircher registered 29 assists and 12 digs, while 5-5 So. libero Kendall White totaled a match-high 22 digs and played lights-out throughout the match.  The full match stats follow the Q&A with Talking Head.
Q&A with Talking Head
We're speaking today with Talking Head, who played D1 volleyball and has coached the sport for many years.
DigNittany:  That was some match between Penn State and Stanford.  Your overall thoughts?
Talking Head: You had two heavyweights going at it.  Stanford and Penn State have some of the best collegiate volleyball players in the nation.  This was a match that was really in question.  Penn State missed a number of serves in set one, fought back to take set two, lost a close one in set three.  But in set 4, you started to see a really different Penn State and a really different Stanford, and the Nittany Lions really started to separate from the Cardinal.  A fifth set between two teams as talented as Stanford and Penn State can be something of a coin toss.  But Penn State kept grinding in sets 4 and 5, and really just wore down Stanford with defensive fortitude.
Penn State made so many quick reaction plays, and the players weren't even surprised by what they were doing, but I was very impressed.  Bryanna and Kendall White, to name just two, made fantastic defensive plays.  But all the Penn State players were diving for balls — and I mean everyone.  If you've ever seen a Penn State practice, it is a cardinal sin (no pun intended) if you don't go for a ball.  And Saturday night how what you do in practice, and the mindset you have in practice, translates to the game.  The Penn State players were determined not to give up any easy points, and there really were no easy points for Stanford in sets 4 and 5.  And that's what I really like, that's what I think is really cool.
DigNittany:  For the past couple of years, some people have questioned the team's resolve, grit, determination, call it what you will.  Your thoughts?
Talking Head: I think you saw a lot of grit and determination on Saturday night.  You saw Haleigh Washington diving from her five position going clear across the floor to the one position to try to dig a ball.  You saw Kendall White going into the bleachers.  When those things happen, all the players are going to play that much harder for the person next to them.  That's what you saw — all the players playing really hard for the next person.
DigNittany: Two of Stanford's big guns (literally and figuratively) — 6-6 Kathryn Plummer and 6-8 Merete Lutz — ended up hitting .148 and .172, respectively.  What contributed to those outcomes?
Talking Head:  I think our power and our mental fortitude just wore them down.  A good example is Kathryn Plummer.  We served a ton of balls at Kathryn Plummer, and you saw her statistics fall throughout the match, and had two reception errors, and four service errors.
DigNittany: Stanford has what may be the tallest starting team in D1 women's volleyball history.  How did Penn State out-block them?
Talking Head:  Height often will win out.  But when height faces determined, talented "smaller" players, who are playing hard all match, that can be a leveling factor.  Not that Stanford didn't play hard — of course they did.  But as we discussed earlier, Penn State was playing really hard.  That showed in our serving, and it showed in the digging — Penn State out-dug Stanford 59 to 44.  We never let the ball go to the floor uncontested.  So by the fourth and fifth sets, Stanford was having to attack the ball two, three, maybe even four times.  So their quick strike offense was, to a large extent, negated, and that played in the favor of the more defensive team — Penn State.
DigNittany: How much of that is conditioning?  That kind of defensive play must take a lot of energy.
Talking Head:  I think Penn State looks really fit.  Some of that may have to do with this senior class saying "I'm going to be in the best shape I can."  You can see that the players feel good about themselves.
DigNittany: We're seven matches in to the modified 6-2.  Your thoughts on setter Bryanna Weiskircher?
Talking Head: In my opinion, Bryanna is quietly one of the most consistent players Penn State has right now.  She is playing at a very, very high level.  Her defense against Stanford was phenomenal.  And we scored a lot on that first dig from the setter.
DigNittany: Lee and Frantti both played well overall against Stanford.  Your thoughts on Penn State's two outside hitters?
Talking Head: I am really impressed how complete those two players have become.  They are passing, they are blocking, and who for stretches in matches are siding out almost at will.  If they aren't both six-rotation players, they are very close.  Haleigh Washington is another player who has really matured this season.  Her blocking and her understanding of the flow of the game have gone to another level.  The same is true of Heidi Thelen, who has improved as a blocker, but also knowing what to do with the first ball.  For all of them, it's reps and experience — the maturation process we've talked about before.  I think Penn State is going to be a very, very dangerous team.
DigNittany: Thanks so much for your time.  We really appreciate it.
Match Stats
(Courtesy of GoPSUsports.com)