Penn State put in a workmanlike performance Wednesday night against a tough Northwestern squad.  In the end, superior talent won out, but not as convincingly as the straight-set box score might indicate.  Granted, the outcome was never really in doubt, but there's a lot of room for improvement by the Nittany Lions.  One wrinkle that some fans pointed out was 6-1 Fr. OH Simone Lee seemingly playing at RS/Opp at one point, with 6-2 Jr. Megan Courtney joining 6-1 Fr. Ali Frantti at OH.  Stay tuned on that one.
Here's what the SIDs for Penn State and Northwestern had to say about the match (with Match Stats and updated Season Stats below):
UNIVERSITY PARK, Pa. – A pair of double-digit kill performances from redshirt junior Aiyana Whitney and junior Megan Courtney propelled the No. 5 Penn State women's volleyball team (16-2, 4-1) to a straight set (25-20, 25-17, 25-17) victory against No. 24 Northwestern (13-3, 3-2) Wednesday evening at Rec Hall.

Whitney led the offense with 12 kills on .500 hitting, adding a match-high seven blocks. Courtney tallied 10 kills on .400 hitting, posting eight digs and two blocks. Senior Nia Grant finished third on the team with seven kills on .500 hitting, notching five blocks. Senior Dominique Gonzalez anchored the defense with 10 digs.

Senior Micha Hancock paced the offense to a .340 team hitting clip, dishing out 30 assists while also logging seven digs, three blocks and a match-high four aces.

For the complete release from GoPSUsports.com, Click Here.
No. 24 Northwestern Falls at No. 5 Penn State

(
University Park, Pa. — The defending national champions protected their home floor Wednesday night as No. 5 Penn State downed No. 24 Northwestern at Rec Hall, 3-0 (25-20, 25-17, 25-17). The Wildcats dropped to 13-3 on the season with all three defeats coming against teams ranked 15th or better in the AVCA top 25 coaches poll.

The Wildcats, which came into the night hitting .273 as a team, but they were hampered by 22 attacking errors against the Nittany Lions, including eight that were blocked by the home team.

The first set was a close one, but Penn State's early blocking effort was too much to overcome. The Nittany Lions notched half of their eight blocks on the night in the first frame as they chiseled out a 25-20 triumph. Northwestern had no answer for PSU's Megan Courtney in the first set as she buried seven of her 10 kills for the match at that time. On the other side, Maddie Slater and Katie Dutchman teamed up to post three kills apiece, accounting for half of NU's output in the opening game.

For the complete release from nusports.com, Click Here.
Match Stats (Courtesy GoPSUsports.com)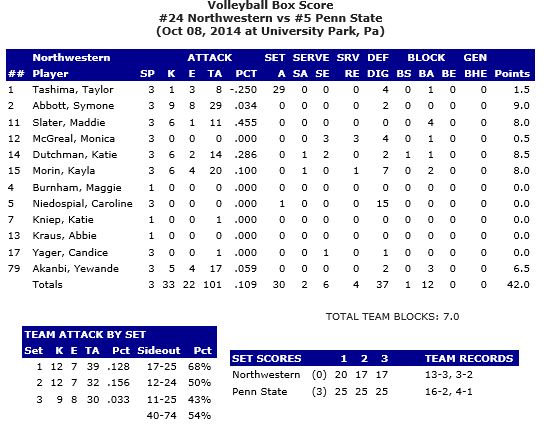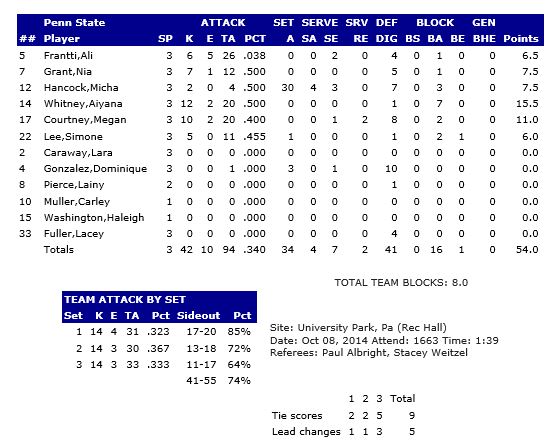 Updated Season Stats
Attack Leaders (10-8-14)

Setting Leaders (10-8-14)

Serving Leaders (10-8-14)

Rcpt/Dig Leaders (10-8-14)

Blocking/Points Leaders (10-8-14)
#
Name
Cl
SP
MP
BS
BA
TB
B/S
BE
BH
E
Pts
Pt
/S
5
Frantti,
Ali
1/Fr.
56
18
3
23
26
0.46
2
2
209.5
3.74
17
Courtney,
Megan
3/Jr.
59
18
3
38
41
0.69
1
1
193.0
3.27
7
Grant,
Nia
4/Sr.
57
18
8
45
53
0.93
3
0
185.5
3.25
14
Whitney,
Aiyana
3/RS
Jr.

58
18
3
50
53
0.91
9
0
180.0
3.10
12
Hancock,
Micha
4/Sr.
59
18
3
28
31
0.53
4
1
150.0
2.54
22
Lee,
Simone
1/Fr.
49
16
3
17
20
0.41
4
0
122.5
2.50
Team
n/a
59
18
27
210
132.0
2.24
23
5
1117.0
18.93
Opp.
n/a
59
18
10
142
81.0
1.37
29
14
658.0
11.15