Match Recap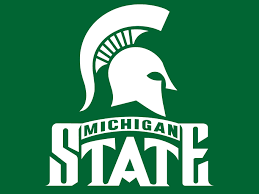 Make no mistake about it — the #9-ranked Michigan State women's volleyball team is tough, skilled, and plays really, really hard.  Fortunately for fans of the #1-ranked Penn State women's volleyball team, the same is true of the Nittany Lions.
As expected, the two teams didn't hold back on Wednesday night, trading metaphorical punches in their second match of the season (Slugfest 2?).  Penn State ultimately prevailed 3-1 (27-25, 25-19, 25-27, 25-21), but it was a match that could have gone either way.
Among the leaders for Penn State was 5-5 So. libero Kendall White, who put in another exceptional performance with a season-high and four-set personal-best 29 digs (a combined 19 in games 3 and 4). 6-3 Sr. MB Haleigh Washington and 6-1 Sr. OH Simone Lee  registered 18 kills each.  Teammate 6-1 Sr. OH Ali Frantti followed close behind with 13 kills (along with 7 digs and 3 blocks).  6-2 Sr. RS/Opp Heidi Thelen added seven kills and three blocks.  6-0 Sr. setter Abby Detering contributed to the win in many ways, totaling 9 kills (.471 hitting %), 27 assists, 7 digs, and 3 blocks. Bryanna Weiskircher finished with 34 assists and 11 digs.
Penn State hit .342 as a team, compared to .237 hitting for Michigan State.
Q&A with Talking Head
We're speaking today with Talking Head, who played D1 volleyball and has coached the sport for many years.
DigNittany: For the past several matches, the team has really seemed to be "connected," and that certainly appeared to be the case against Michigan State.  And that's been true for the starters and for the subs — whether it be a Nia Reed against Wisconsin, or a Lainy Pierce against Michigan State.  Your thoughts.
Talking Head:  Coach Rose wants those kids [the substitutes] to be successful too.  He wants Nia Reed to become the player everyone hoped she would be.  He wants Lainy Pierce to be successful.  When he sees kids come in like those two did — calm, cool and collected — that's exciting for him.  It's a good sign, and I think it brings a lot of energy to the other kids too, when they see Nia Reed come in like she did against Wisconsin, or Keeton Holcomb as she has in several matches, and Lainy Pierce against Michigan State on Wednesday.
DigNittany: You've spoken several times recently about teams having an "identity."  Tell us about that.
Talking Head:  It's interesting to see how this year's team has been developing an identity.  You  see Ali Frantti at the start of the Michigan State match, in great shape and ready to go, and dominating early.  And then, when she started to cool off a bit, her teammate Simone Lee just picks it up and says "Alright, I'll take it from here," and absolutely takes over the match, at least offensively.  It's becoming their identity — that if one player falters a bit, the players expect that someone else will rise up.  And it's been happening.
DigNittany: Penn State showed great resilience in the first game — down 19-22 and coming back to score 8 of the next 11 points, and win the game.  That seems to be part of this team's identity too.
Talking Head:  For sure.  A few things go into that.  Serving is an important part.  The pressure our servers are putting on teams is huge.  Against Michigan State, even though we had 11 service errors, being on the road, going up against the home-court advantage and the home crowd, I think that's acceptable.  Michigan State actually seemed to play things a bit safe with their serve.  I've seen a couple of their servers go after it a bit more with their serves than they did Wednesday night against Penn State.  If you look at our serves, we were getting Michigan State out of system a lot.  They were having a lot of trouble with Kendall White's serve, and with Bryanna Weiskircher's serve, and with Lainy Pierce's serve.  I'd love to have seen the stat that showed how many times we got Michigan State out of system, because I think that number would be very high.
DigNittany: You mention home court advantage.  How important was it for Penn State to come away with this road win — not just for the standings, but for the team's mindset?
Talking Head: Michigan State is a really good Big Ten team.  We went into their house and came out with what I would say was an impressive victory.  The girls have got to feel good about how they're traveling on the road right now.  They clearly are having fun.
DigNittany:  In the fourth game, Penn State was up 13-6, then all of a sudden, Michigan State had run off eight straight points, and Penn State was down 13-14.  What happened there?
Talking Head:  At that point they had taken Simone Lee out, and point Keeton in — which normally would be a stabilizing move.  It just didn't work out.  We had a couple of poor passes in a row, and a couple of poor swings.  And give credit to Michigan State.  They could have rolled over, but they didn't.   And maybe we got a little bit lackadaisical, or lost focus.  It was one of those things that can happen in a volleyball match, where mistakes just compound.  But the important thing is, we recovered.   Coach Rose did a really good job — that may have been one of his best coached games — his timeouts helped change momentum, and his challenges were effective — even though they weren't successful.
DigNittany: Penn State only has three more home matches, with four road matches coming up — including at Iowa, at Wisconsin and at Minnesota.  What's your outlook for the remainder of the season?
Talking Head: I think the mojo is really strong right now, so I could see this team winning out.  The girls have firmly established who they are and what they want to do this year.  We've got five kids that have proven they are capable of terminating against top competition, and are ready to step up.  Looking at the road matches, are Iowa, Wisconsin, or Minnesota capable of beating Penn State?  Of course they are.  But assuming Penn State plays the way they have been playing, it will take an extraordinary match for someone to beat them. Also worth noting that even if we lose one more match, I don't think it will stop Penn State from being a regional host (assuming they get through the first two rounds).
DigNittany: It certainly would be great if they end up hosting for the Regionals.  Fingers-crossed, and thanks, as always, for your time.  We all appreciate it.
Match Stats
Courtesy of GoPSUsports.com