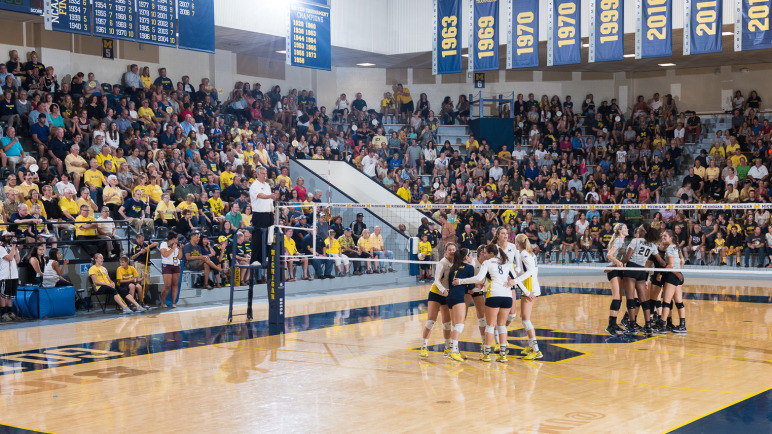 Penn State (17-2, 6-2 in the B1G, #5 in the AVCA poll) will face AVCA #23 Michigan (15-4, 5-3 in the B1G) on Wednesday, Oct. 21st at 7 p.m. ET in Cliff Keen Arena.  The teams last met in Ann Arbor on Nov. 19, 2014, with the Nittany Lions walking away with a 3-0 win  (25-19, 25-23, 27-25).
Penn State Russ Rose knows this will be a tough match, as will the match on Saturday against Michigan State:
The conference is really tough — that's the bottom line.  You play every match, and you do the best you can.  I've been here a long time.  We've won matches and we've lost matches at Michigan and Michigan State, so I know they are two tough places to play, it's a tough travel week for us.  Because of television we have to fly [to Ann Arbor] on Tuesday to play Wednesday, and then come back, and then fly again on Friday to play on Saturday.  So it will place some challenges on the kids . . . but that's what you have to do.  If you want to be in a big conference you have to play by big conference rules.
5 Things to Know About Penn State

1. 6-1 So. OH Simone Lee has led Penn State in kills the last three matches, averaging 3.27 kills/set and hitting .351.   That's what we call "timeLee" (and terrific) performances.

2.  6-3 So. MB Haleigh Washington is averaging 1.58 blocks/set (9th in NCAA D1; 2nd in the B1G) and hitting .450 (3rd in NCAA D1 and 1st in the B1G).  6-4 RS Sr. MB/RS Aiyanna Whitney's .320 attack % ranks 12th in the B1G.
3.  6-0 RS Fr. setter Bryanna Weiskircher's .33 service aces/set ranks 2nd in the B1G.
4.  Penn State is averaging 3.19 blocks/set — 5th in NCAA D1 and tops in the B1G.
5.  Penn State is hitting .290 as a team — good for 6th in NCAA D1 and 1st in the B1G.
5 Things to Know About the Wolverines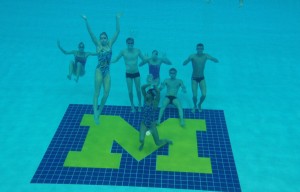 1. Michigan is led by 6-5 Jr. MB Abby Cole — a unanimous selection for the pre-season All-Big Ten team.  In the Wolverine's 3-1 win over Rutgers on October 14th, in which the Wolverines overcame a 25-21 Rutgers win in the third set to take the fourth set 25-23 and win the match 3-1, Cole's 18 kills led the way.  Cole is hitting .380, which ranks 5th in the B1G.  Her 1.07 blocks/set ranks 15th in the B1G, and her 3.10 kills/set ranks 15th in the B1G
2. Like Penn State, Michigan may be missing a key player.  The Wolverine's 5-8 So. Caroline Knop, has missed the Wolverines last two matches.  Prior to her injury, she was one of three Wolverines to play in every set this season, and (according to the U-M SID) was U-M's only player to stay on the court for all six rotations. Her 2.72 kills/set is second on the team (she is listed on the roster as a DS), as are her points total (167.5) and her 2.98 digs/set.
3.  In the absence of Knop, 6-1 Fr. OH Carly Skjodt has stepped in, registering a career-high 16 digs in Michigan's 3-0 loss against No. 4-ranked Nebraska. Like Penn State's Simone Lee, Skjodt has started each of her team's past six matches.  She was named the Big Ten Conference Freshman Player of the Week last week.
4.  Also like Penn State, Michigan has a pair of sisters on the team: 5-6 Fr. DS Jenna Lerg and 5-7 Sr. DS Lindsey Lerg, both of whom have recorded double-digit digs in the Wolverine's last two matches.  Here's a link to a video of the Lerg Family: Lerg Family Video Feature
5.  Michigan has not defeated Penn State since a five-set 3-2 victory in 2002.  Penn State leads the series 36-3.
6.  Bonus: OK, we admit it.  Michigan does not play in a pool.  They play in a former swimming pool.  A gym previously known as a pool.  But you know what they say: Once a swimming pool, always a swimming pool.  Or maybe they don't say that.  Perhaps they should?
Stat Joust: Penn State, Michigan and Michigan State
Below are selected statistics for B1G teams and individual players, vs. all opponents, for matches played as of October 18, 2015.  The top row is the league leader in the category, and, for team statistics, the team listed in the bottom row is last in the league in that category:
| | | | | | |
| --- | --- | --- | --- | --- | --- |
| Hitting Percentage | S | K | E | TA | Pct. |
| Penn State | 64 | 853 | 253 | 2069 | .290 |
| Michigan State | 68 | 977 | 364 | 2404 | .255 |
| Michigan | 70 | 958 | 354 | 2559 | .236 |
| Rutgers | 69 | 806 | 396 | 2389 | .172 |
| | | | | | |
| --- | --- | --- | --- | --- | --- |
| Opp. Hitting Pct. | S | K | E | TA | Pct. |
| Penn State | 64 | 727 | 427 | 2215 | .135 |
| Michigan State | 68 | 783 | 378 | 2308 | .175 |
| Michigan | 70 | 907 | 414 | 2584 | .191 |
| Rutgers | 69 | 974 | 291 | 2389 | .286 |
| | | | |
| --- | --- | --- | --- |
| Kills | S | No. | Avg./S |
| Michigan State | 68 | 977 | 14.37 |
| Michigan | 70 | 958 | 13.69 |
| Penn State | 64 | 853 | 13.33 |
| Rutgers | 69 | 806 | 11.68 |
| | | | | | |
| --- | --- | --- | --- | --- | --- |
| Blocks | S | BS | BA | Total | Avg./S |
| Penn State | 64 | 51 | 306 | 204.0 | 3.19 |
| Michigan State | 68 | 35 | 274 | 172.0 | 2.53 |
| Michigan | 70 | 37 | 212 | 143.0 | 2.04 |
| Indiana | 77 | 29 | 221 | 139.5 | 1.81 |
| | | | | | |
| --- | --- | --- | --- | --- | --- |
| Blocks by Opponents | S | BS | BA | Total | Avg./S |
| Penn State | 64 | 13 | 177 | 101.5 | 1.59 |
| Michigan State | 68 | 36 | 205 | 138.5 | 2.04 |
| Michigan | 70 | 38 | 221 | 148.5 | 2.12 |
| Iowa | 74 | 36 | 301 | 186.5 | 2.52 |
| | | | |
| --- | --- | --- | --- |
| Service Aces | S | No. | Avg./S |
| Maryland | 78 | 118 | 1.51 |
| Penn State | 64 | 73 | 1.14 |
| Michigan State | 68 | 69 | 1.01 |
| Michigan | 70 | 49 | 0.70 |
| | | | |
| --- | --- | --- | --- |
| Service Aces by Opponents | S | No. | Avg./S |
| Illinois | 66 | 40 | 0.61 |
| Penn State | 64 | 50 | 0.78 |
| Michigan | 70 | 60 | 0.86 |
| Michigan State | 68 | 64 | 0.94 |
| Rutgers | 69 | 91 | 1.32 |
Individual Leaders
(Must have competed in at least 50% of team's games)
| Hitting Percentage | S | K | E | TA | Pct. |
| --- | --- | --- | --- | --- | --- |
| Haleigh Washington, Penn State | 64 | 170 | 29 | 313 | 0.450 |
| Faye Adelaja, Purdue | 54 | 126 | 28 | 231 | 0.424 |
| Taylor Sandbothe, Ohio State | 78 | 237 | 47 | 489 | 0.389 |
| Maddie Slater, Northwestern | 64 | 139 | 32 | 278 | 0.385 |
| Abby Cole, Michigan | 67 | 208 | 43 | 434 | 0.380 |
| Haleigh Nelson, Wisconsin | 65 | 157 | 31 | 332 | 0.380 |
| Danielle Cuttino, Purdue | 65 | 136 | 36 | 274 | 0.365 |
| Jazzmine McDonald, Indiana | 42 | 80 | 21 | 162 | 0.364 |
| Mikaela Gunderson, Iowa | 74 | 156 | 33 | 349 | 0.352 |
| Paige Tapp, Minnesota | 67 | 173 | 43 | 371 | 0.350 |
| Katie Stadick, Illinois | 64 | 187 | 53 | 398 | 0.337 |
| Aiyana Whitney, Penn State | 64 | 191 | 53 | 431 | 0.320 |
| Allyssah Fitterer, Michigan State | 63 | 162 | 48 | 357 | 0.319 |
| Gabrielle Hazen, Northwestern | 48 | 100 | 34 | 212 | 0.311 |
| Cecilia Hall, Nebraska | 63 | 114 | 42 | 232 | 0.310 |
(Must have at least 3.33 attacks per set)
| Service Aces | S | No. | Avg./S |
| --- | --- | --- | --- |
| Abbie Kraus, Northwestern | 64 | 24 | 0.38 |
| Bryanna Weiskircher, Penn State | 64 | 21 | 0.33 |
| Daly Santana, Minnesota | 67 | 21 | 0.31 |
| Brooke Peters, Purdue | 64 | 20 | 0.31 |
| Holly Toliver, Michigan State | 48 | 15 | 0.31 |
| Abby Bentz, Maryland | 74 | 22 | 0.30 |
| Amanda Neill, Purdue | 65 | 19 | 0.29 |
| Taylor Lebo, Indiana | 72 | 20 | 0.28 |
| Megan Tallman, Indiana | 65 | 18 | 0.28 |
| Amy Dion, Maryland | 78 | 20 | 0.26 |
| Annika Albrecht, Nebraska | 66 | 17 | 0.26 |
| Luisa Schirmer, Ohio State | 77 | 19 | 0.25 |
| Molly Kelly, Iowa | 73 | 18 | 0.25 |
| Rachel Minarick, Michigan State | 67 | 17 | 0.25 |
| Haleigh Washington, Penn State | 64 | 16 | 0.25 |
| Haleigh Nelson, Wisconsin | 65 | 16 | 0.25 |
| Digs | S | No. | Avg./S |
| --- | --- | --- | --- |
| Caroline Niedospial, Northwestern | 64 | 319 | 4.98 |
| Annika Olsen, Iowa | 74 | 348 | 4.70 |
| Justine Wong-Orantes, Nebraska | 66 | 303 | 4.59 |
| Brandi Donnelly, Illinois | 66 | 300 | 4.55 |
| Taylor Morey, Wisconsin | 65 | 296 | 4.55 |
| Valeria Leon, Ohio State | 78 | 350 | 4.49 |
| Dalianliz Rosado, Minnesota | 67 | 283 | 4.22 |
| Amanda Neill, Purdue | 65 | 250 | 3.85 |
| Amy Dion, Maryland | 78 | 293 | 3.76 |
| Abby Monson, Michigan State | 68 | 244 | 3.59 |
| Megan Courtney, Penn State | 58 | 203 | 3.50 |
| Keeton Holcomb, Penn State | 63 | 220 | 3.49 |
| Courtney Harnish, Indiana | 77 | 259 | 3.36 |
| Tiffany Morales, Michigan | 57 | 190 | 3.33 |
| Ali Schroeter, Rutgers | 69 | 220 | 3.19 |
| Blocks | S | BS | BA | Total | Avg./S |
| --- | --- | --- | --- | --- | --- |
| Amber Rolfzen, Nebraska | 52 | 7 | 78 | 85 | 1.63 |
| Haleigh Washington, Penn State | 64 | 18 | 83 | 101 | 1.58 |
| Paige Tapp, Minnesota | 67 | 12 | 81 | 93 | 1.39 |
| Tionna Williams, Wisconsin | 61 | 6 | 76 | 82 | 1.34 |
| Danielle Cuttino, Purdue | 65 | 15 | 68 | 83 | 1.28 |
| Haleigh Nelson, Wisconsin | 65 | 6 | 72 | 78 | 1.20 |
| Gabrielle Hazen, Northwestern | 48 | 11 | 46 | 57 | 1.19 |
| Megan Tompkins, Michigan State | 52 | 6 | 55 | 61 | 1.17 |
| Ali Bastianelli, Illinois | 64 | 8 | 65 | 73 | 1.14 |
| Taylor Sandbothe, Ohio State | 78 | 20 | 68 | 88 | 1.13 |
| Katie Stadick, Illinois | 64 | 6 | 66 | 72 | 1.13 |
| Molly Lohman, Minnesota | 60 | 7 | 60 | 67 | 1.12 |
| Alyssa Garvelink, Michigan State | 68 | 14 | 61 | 75 | 1.10 |
| Heidi Thelen, Penn State | 47 | 6 | 45 | 51 | 1.09 |
| Abby Cole, Michigan | 67 | 17 | 55 | 72 | 1.07 |
| Kills | S | No. | Avg./S |
| --- | --- | --- | --- |
| Daly Santana, Minnesota | 67 | 297 | 4.43 |
| Annie Drews, Purdue | 65 | 274 | 4.22 |
| Jocelynn Birks, Illinois | 54 | 214 | 3.96 |
| Elizabeth Campbell, Ohio State | 77 | 298 | 3.87 |
| Meme Fletcher, Rutgers | 54 | 208 | 3.85 |
| Amelia Anderson, Indiana | 76 | 285 | 3.75 |
| Michelle Strizak, Illinois | 63 | 225 | 3.57 |
| Lauren Brobst, Iowa | 74 | 250 | 3.38 |
| Symone Abbott, Northwestern | 64 | 214 | 3.34 |
| Brooke Kranda, Michigan State | 66 | 215 | 3.26 |
| Megan Courtney, Penn State | 58 | 189 | 3.26 |
| Adreene Elliott, Maryland | 78 | 253 | 3.24 |
| Kadie Rolfzen, Nebraska | 62 | 197 | 3.18 |
| Lauryn Gillis, Wisconsin | 65 | 204 | 3.14 |
| Abby Cole, Michigan | 67 | 208 | 3.10 |