B
1G

Stat Wrap: Where Penn State Stands
Team Hitting % and Opponents' Hitting %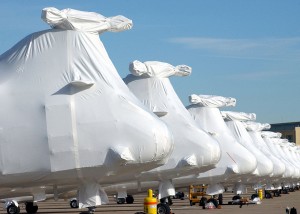 With all due disclaimers that the quality of competition for pre-conference opponents differs from team-to-team, so any statistical comparison clearly isn't apples-to-apples, we're going to forge ahead and make the comparisons anyway.
Penn State heads into Week Four sitting atop the B1G in both Team Hitting % (leading with a .361 over #2 Wisconsin's .315) and Opponents' Hitting Percentage (having limited their opponents to .125 hitting; Purdue is second at .149). So far, both Penn State's offense and defense have been pretty efficient.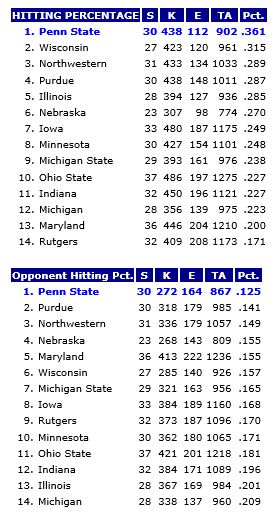 Team Service Aces; Opponents' Service Aces
Led by Micha Hancock's 27 service aces, Penn State ranks 3rd in the B1G in Team Service aces (behind Indiana and Iowa), and sits at 2nd in fewest Opponent Service Aces (behind Wisconsin). Without Micha's game-changing serve, Penn State's ranking would look much different. But Micha is still serving for the Nittany Lions, and still changing the trajectory of games.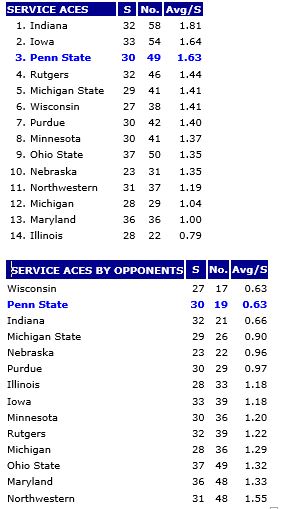 Team Blocks; Opponents' Blocks
Penn State ranks 10th — that's right, 10th — in the B1G in Team Blocking (it ranks 1st in the league in Opponents' Blocking). How does that square with their #1 ranking in Opponents' Hitting Percentage? Tough serving helps a lot, along with overall solid team defense, led by Sr. Libero Dominique Gonzalez and fearless defender Sr. DS Lacey Fuller, with excellent defense from, among others, Sr. Setter Micha Hancock and Jr. RS/Opp Megan Courtney.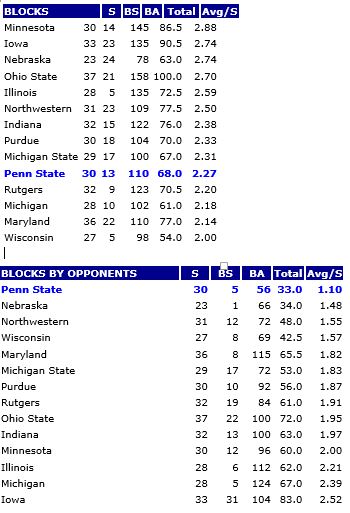 Individual Hitting % and Kills/Set
Penn State's 6-2 Sr. MB Nia Grant, who has been absolutely on fire with the slide, leads the B1G in Individual hitting % (.513), with 6-4 RS Jr. MB/OH Aiyana Whitney and 6-1 Fr. OH Ali Frantti sitting at #13 and #14, respectively.  It's early, and the competition isn't apples-to-apples, but these are nice stats.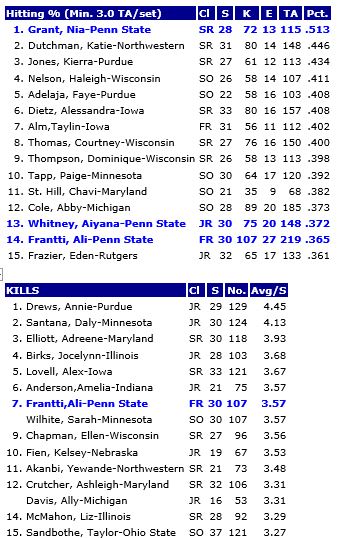 Individual Service Aces and Digs
Micha Hancock.  Deadly serve.  Enjoy it while you can, because she graduates after this season.  And don't underestimate the importance of Dom Gonzalez to this Penn State team.  She's a big reason Penn State is holding its opponents to .125 hitting.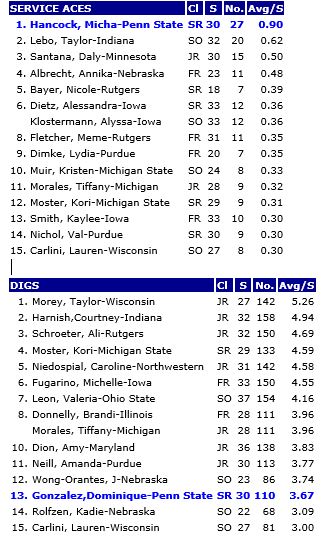 Individual Blocking and Points
Where do Penn State's players rank on the list of the 15 top blockers?  With Katie Slay gone, the answer so far is "nowhere."  6-2 Fr. OH Ali Frantti, Penn State's leading attacker through nine matches, ranks #10 in the B1G with 4.00 points/set (tied with So. Abby Cole of Michigan).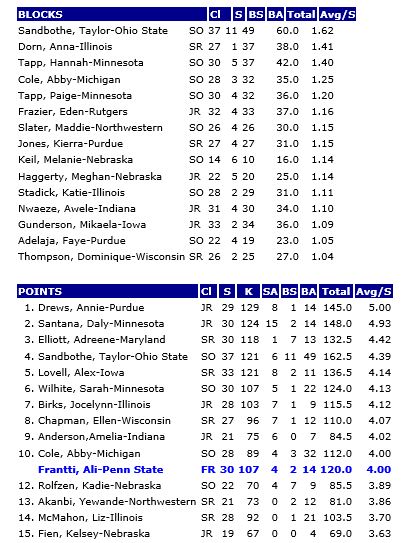 ________________________________
Photo Credits
"US Navy 030116-N-2069B-001 Sea Knights sit on the ramp at North Island after being shrink wrapped" by U.S. Navy photo by Photographer's Mate 3rd Class Gregory E. Badger. – This Image was released by the United States Navy with the ID 030116-N-2069B-001 (next). Licensed under Public domain via Wikimedia Commons – http://commons.wikimedia.org/wiki/File:US_Navy_030116-N-2069B-001_Sea_Knights_sit_on_the_ramp_at_North_Island_after_being_shrink_wrapped.jpg#mediaviewer/File:US_Navy_030116-N-2069B-001_Sea_Knights_sit_on_the_ramp_at_North_Island_after_being_shrink_wrapped.jpg