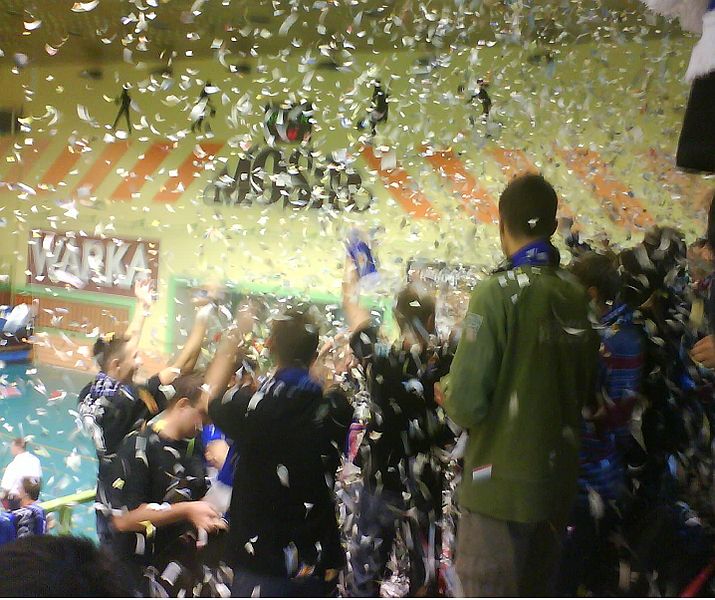 We have two pieces today.  The first features some thoughts on the Nebraska match, by PhillyTom. 
The second is a statistical look-back at Penn State's serving from 2002 through the Nebraska match.  We're not sure what conclusions to draw from that, other than that Micha Hancock is a very effective server (our entry in the "Stating the Obvious" contest for 2011).  We think it's interesting, nonetheless. 
Fanalysis: Thoughts on Nebraska
by PhillyTom
Serving up the Heat 
The serving obviously was the big difference in the match.  Not just Micha Hancock, the whole team served tough. Hancock's tremendous serving run in the 1st set was bookended by a great serving performance by Kristin Carpenter in the 2nd.  Carpenter took the ball when PSU was up 16-14 and she kept Nebraska off-balance with an assortment of perfectly located serves hard soft, long and short.  Her first serve went to 5-10 Fr. L Lara Dykstra.  5-8 Jr. S Lauren Cook set 6-4 Sr. MB Brooke Delano on the right side, but Delano, facing a single block by 6-5 Fr. OH Aiyana Whitney, hit it wide, making it 17-14.  Carpenter's second serve was short, to 6-1 Jr. OH Gina Mancuso, forcing Mancuso to her knees.  Because Mancuso wasn't ready to hit, Cook only had one option — Delano — and Delano's attempt went into the net.  18-14 Penn State.   After a short serve to 6-1 Jr. OH Hannah Werth (who slipped), Cook went to Mancuso who, facing a good PSU block,  hit long.  19-14.  Another short one to Werth was passed tight to the net.  Cook, who was in the front row, tried to dump the ball, but her attempt was sent back by Whitney for another PSU point and a 20-14 PSU lead.  Carpenter then ripped a jump serve to a seam for an ace and a 21-14 lead, and PSU was in control. 
Smiles from Deja
I think that was the most we've seen Deja McClendon smile since last season's NCAA finals.  A lot of things seem to be falling in place for her — defenses are worrying more about A. Scott; Hancock is giving her faster sets; they're developing back row attacks nicely.  And maybe Deja is just worrying less.  It is really interesting that she seems to raise her game when the competition is the toughest.  Behind that huge smile is probably a super competitive volleyball player.
On A. Scott
A. Scott continues to develop, quietly, into one of the elite hitters in the country. Her combination of elevation, power and precise stroke is as good as anybody.  At times she appears to be almost unblockable — somewhat like Megan Hodge was.  And she's just a soph — she still has room to get a lot better.  And speaking of improvement, Scott has really stepped up her defense this year.   It's easy to overlook because of her hitting, but she seems so much more engaged this season on the defensive side.
Golden Diggers
Was this 5-6 Fr. DS Dom Gonzalez' coming out party? What a match for her and for Ali Longo.  Russ Rose gave Gonzalez playing time early in the season, so he clearly saw her potential to be the primary DS, but that playing time diminished.  If Coach Rose was waiting for her to learn positioning and get her legs, I think she's got them now. I counted three or four truly spectacular digs from her.  A great save that leads to a transition point can rally a team almost more powerfully than a great swing — see Alyssa D'Errico's and Cathy Quilico's work the last two NCAA finals.  Hitters like Werth and Mancuso, who seem to who feed off emotion, can definitely get frustrated when their best efforts get scooped off the floor and turned into points for the other side.
Rotation Code
I'd love to see a better informed fan than me comment on what the Penn State coaches were doing with the lineups. Interesting to see Hancock serve third instead of first.  Having her serve after the game was a little bit warm certainly paid off.  PSU had to earn points for her first two serves, and THEN came the aces that basically put PSU in control of the first set and may have convinced them they could win the match.
Kudus to Nebraska
Nebraska did have problems on serve-receive (but against Hancock, so has almost everyone). But otherwise, I don't know how much better Nebraska can get. They are a mature team, and my guess would be Werth, Cook and Mancuso are all pretty much at the peak of what they can do athletically.  Which is a lot — Mancuso might be the best player in college VB today.  But I don't know how much more learning curve is left for them.
What I do know is that PSU can get better — a lot better.  And that is pretty fun to contemplate as a PSU fan. Their rate of improvement since the start of the season suggests they have worked hard and that there is tremendous potential. This team just beat the No. 1 team in the country (and not only won, but, except for the third set, thoroughly dominated), and offensively, they're just starting to work in the back row attacks, and still having a lot of difficulty with location and timing of sets. It's an offense with very creaky wheels. Hancock is doing great for this stage in her development, but a year from now, maybe six weeks from now, her setting will be almost unrecognizably better. For talented but young teams like PSU, the kind of grinding schedule the Big Ten offers is a tremendous gift.
What's Not to Like?
What's not to like? Some lack-of-concentration errors in the 3rd set, and the fourth set should have been put away early, but stayed competitive only because of PSU errors. Hancock is still struggling to get the timing with Slay and sometimes with McClendon. (It may be my imagination, but every time I see Carp in the game setting Deja, the set is just perfect. Hancock will get there, and probably sooner rather than later).  Serve-receive was poor at times, particularly the third set.  But really no need to nitpick this match at all.  At one point, Coach Rose was so happy with the tenacity on defense that he actually clapped (for him, that's almost like dancing a jig).  I haven't seen him like that all year.
Looking Ahead 
The team oscillates. Last night was the top of the wave. Iowa was the bottom. If they revert to the bottom — statistically very possible — against Minnesota or Purdue or Wisconsin or Ohio State or Northwestern — they are going to lose another match or two.  So I wouldn't presume they've lost their last league match just because they beat Nebraska.  And likewise I don't think it's a crushing blow if they do.  In the grander scheme, winning streaks do not matter now, nor especially do league titles (that's not to say losing is fine and don't worry about it).  What matters is being the best they can be, set by set, trying to narrow the oscillation from the good to bad days, but mainly trying to make the top of the wave as high as they can by the start of the NCAA tournament.
Tough Servers, Serving Tough
Freshman setter Micah Hancock is poised to break the all-time Penn State single season record for service aces (her season total of 70 — with eight regular season matches remaining on the schedule — is two short of Penn State's all-time single-season record of 72, set in 1988 by Noelle Zientara, an AVCA All-American in 1988 and 1990).
We were curious how she (and this year's Penn State team) compared to other top servers for Penn State over the years.  We wish we had statistics for total serve attempts (let us know if we're overlooking the obvious), but we included what we could in the chart below from the 2002 season through this season to date: service aces, service aces per set, service errors, and the ratio of service aces to service errors.  There's always room for improvement, but we'd say Micha stacks up pretty well.  
Serving Tough: 2002 to 2011
#
Name
Pos.
Class
SP
MP
MS
SA
SA/Set
SE
SA/SE
Ratio
12
Hancock, Micha
S
2011 - Fr.
81
22
21
70
0.86
47
1.49
12
D'Errico, Alyssa
L
2010 - Sr.
123
37
0
49
0.40
70
0.70
12
D'Errico, Alyssa
L
2009 - Jr.
122
38
0
62
0.51
69
0.90
1
Fawcett, Nicole
OH
2008 - Sr.
114
38
38
40
0.35
97
0.41
4
Holehouse, Roberta
L
2008 - Sr.
107
35
0
37
0.35
61
0.61
1
Fawcett, Nicole
OH
2007 - Jr.
120
36
36
47
0.39
81
0.58
4
Holehouse, Roberta
L
2006 - So.
114
35
1
50
0.44
70
0.71
6
Glass, Alisha

S
2006 - Fr.
113
35
35
21
0.19
39
0.54
6
Tortorello, Sam
S
2005 - Sr.
111
n/a
n/a
28
0.25
34
0.82
6
Tortorello, Sam
S
2004 - Jr.
109
32
32
30
0.28
27
1.11
13
Iceman, Erin
Opp
2003 - Sr.
126
36
36
34
0.27
33
1.03
6
Tortorello, Sam
S
2002 - Fr.
107
n/a
n/a
37
0.35
19
1.95
n/a
2011 Team
2011
2011
82
22
22
146
1.78
187
0.78
n/a
2010 Team
2010
2010
123
37
37
160
1.30
272
0.59
n/a
2009 Team
2009
2009
122
38
38
173
1.42
242
0.72
n/a
2008 Team
2008
2008
116
38
38
156
1.34
337
0.46
n/a
2007 Team
2007
2007
122
36
36
194
1.59
338
0.57
n/a
2006 Team
2006
2006
114
35
35
215
1.89
329
0.65
n/a
2005 Team
2005
2005
111
34
34
151
1.36
244
0.62
n/a
2004 Team
2004
2004
109
32
32
137
1.26
180
0.76
n/a
2003 Team
2003
2003
129
36
36
154
1.19
219
0.70
n/a
2002 Team
2002
2002
112
33
33
209
1.87
235
0.89