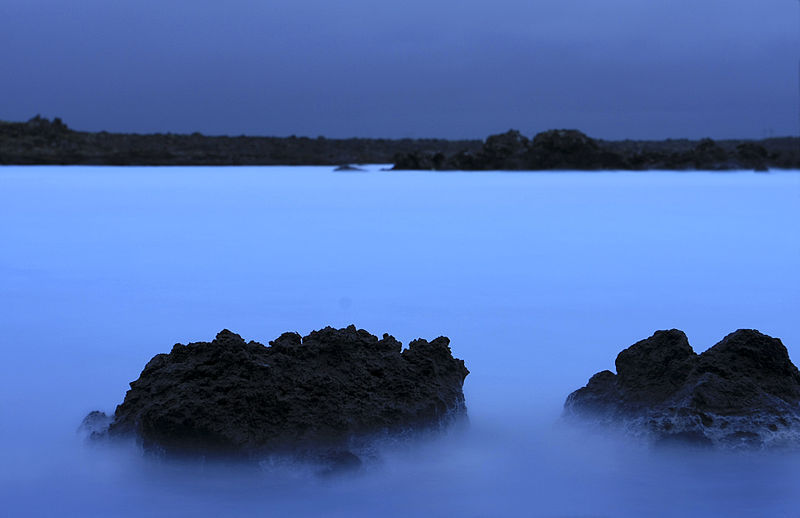 This photo has nothing to do with the Michigan match, but it is blue, and we like it
McClendon Steps Up B1G in Lions Win
Every team is extra fired up when they play us, so you just have to match people's energy and commitment to the event.  I thought that [Saturday] we controlled the first two games and then Michigan played a little harder.

(Russ Rose in an interview with Matt Buffano of The Daily Collegian)
For the first two sets in Penn State's 3-2 (25-19, 25-18, 21-25, 22-25, 15-10) win over Michigan on Saturday, Michigan didn't appear to be particularly fired-up and, as Coach Rose said, Penn State controlled both of those sets.
The next two sets?  Different story.  With 6-1 Jr. OH Lexi Erwin leading the way on offense (22 kills and 14 digs for the match) and  5-6 Jr. DS/L Ally Sabol (18 digs) spearheading the defense, Michigan charged back to take sets 3 and 4.
In the fifth set, Penn State gathered itself, and closed out the match 15-10.  On the subject of fifth sets, mgoblue.com had this to say:
Michigan is the only team in the Big Ten to take Penn State to five sets in the first half of the conference season. Penn State had only lost three sets in Big Ten play coming into tonight's match.
We were relieved to read this, as it meant that all our angst about the near-loss/great comeback against Illinois in what we thought was a 3-2 Penn State win on October 6th was over nothing.  Penn State must have defeated the Illini in straight sets (or else it won 3-1, and either Indiana, or Iowa, or Nebraska must have gone down in straight sets.)  Color us relieved!
Back on planet earth, and the real world, 6-4 Jr. Opp/RS Ariel Scott was tops for Penn State with 18 kills, 6-1 Jr. OH  Deja McClendon had 16 (and a career-high 29 digs!), and 6-2 Fr. OH Megan Courtney  had 13 (along with 8 blocks — yet another impressive performance for Courtney).  5-11 So. S Micha Hancock totaled 53 assists, 5-6 So. L Dominique Gonzalez's 22 digs topped her previous career-best, and 6-6 Jr. MH Katie Slay led the Lions with her career-best of 12 total blocks (6-2 So. MH Nia Grant had six and Scott had five).
Fatigue Factor?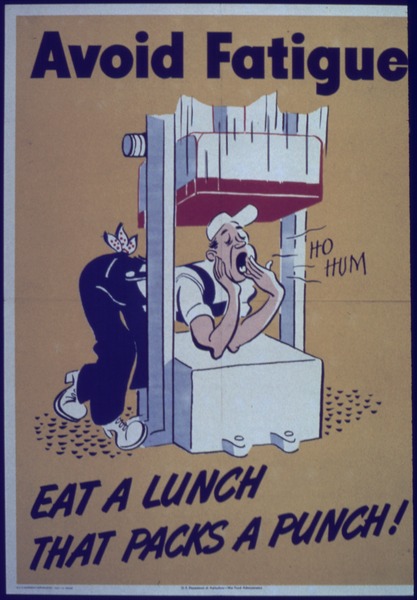 Don't forget to eat!
OK, admit it, if you're a Penn State fan, you're probably spoiled by the Nittany Lion's success from 2007 through 2010.  You watch each match at least hoping for, if not expecting, a straight-sets victory, and if the Nittany Lions go to five sets — particularly against a "weaker" opponent, well, you're tied up in knots.
What we as fans sometimes forget (Guilty!) is that the B1G season is a grueling, unforgiving, marathon.  Student-atheletes face a demanding routine of travel to away matches (in the case of Michigan, via a chartered flight), playing the match, flying home and getting in late, grabbing a few hours sleep, writing papers, studying, watching film, practice, more studying, more writing papers, getting therapy/lifting, going to class, more practice, more classes, more writing papers, more studying.
Oh, and yes, some sleep, meals (see poster above), and more travel and more matches.
Without making any excuses, it's understandable if, from time-to-time, for part of one match or another, for one player or another, fatigue sets in.  And, as a result, a win isn't as clean and quick as we, well-rested fans, might wish.
Match Stats
(Courtesy GoPSUsports.com)